Hey, look, our old pal, Ka-Zar. And he's brought Stegron, The Dinosaur Man. How lucky for us, to get in on the ground floor of this sure-to-be-beloved new character! It's Len Wein, Gil Kane & Frank Giaocia taking us on this journey. Spider-Man is being taken to Antarctica by a SHIELD jet, whose pilot says they'll be over the drop point in 45 seconds. Well, then. Hit the ground running.

I like Roy Thomas getting to do the editor's note on that story since he wrote it. Spidey flashes back to let us know he's here on behalf of Curt Connors. In the recent past, Doc Connors describes to Spider-Man how he took on an assistant, Dr. Vincent Stegron (SURE!), to work on a project for SHIELD. It involved working with dinosaur DNA SHIELD got from Ka-Zar. But Stegron became obsessed with the idea that, if Connors' lizard formula could turn him into a lizard-ma, why, surely the same process could turn someone into a dinosaur-man. Does every assistant Curt works with end up mutated? Seriously. So, anyway, Stegron stole their experimental "dinosaur extract" and took off for The Savage Land eight days ago, and Curt wants Spidey to go find him (Took a while to get in touch). Back in the present, Spidey is still parachuting down, and thinks Nick Fury owed him after the events of MTU 13, so that's how he got the free ride.Exposition out of the way, Spidey touches down, and soon enough, is being attacked by a Plateosaurus. He webs its feet to the ground and runs away, though. Easy! Except…

Zabu is looking quite fearsome! The combined power of the 2 heroes and the big cat defeat the dinosaurs, and then Spidey is able to tell Ka-Zar why he's here. Ka-Zar says he's heard about Stegron, and will take Spidey to him. He says he's heard this guy has started living with the, er, Swamp-Men, and declared himself "Lord of the Long-Tails." I mean, why not? But as the heroes approach the Village of the Swamp-Men, they are attacked by those same Swamp-Men.

Oh, Savage Land stories. Why must you be so uncomfortable? Hang on, though, it's time to meet Stegron:

Stregon isn't as bad as, say, Basil Elks, but it's certainly in the vicinity. And he's aiming high! In much the same way The Lizard is always trying to make reptiles the dominant species on Earth, Stegron is upping the ante and wants to make dinosaurs the dominant species on Earth. Ka-Zar tries to reason with The Swamp-Men (In their language, so Stegron won't know), but they club him in the face for it. But then he suddenly cuts the ropes holding him on a spear and leaps into action. Spider-Man is also just being held by some ropes, as if he can't pick up a whole car, but Ka-Zar cuts him loose. Spidey frees Zabu from the net he's in, and it's once again time for action. But instead of beating up Swamp-Men, the heroes run off after Stegron, who's gone to his "ark" which he plans to bring dinosaurs out of The Savage Land with. Aaaand like The Lizard can control reptiles, he can command dinosaurs, so they start piling into his ark. Stegron tells his dinosaurs that dinosaurs didn't survive in the past because their brains were too small (???? When did the idea of an extinction level event come into play? For real?), but this time it will be different. Just then, the heroes appear, and Stegron causes a dino-stampede, in a rare 2-page spread and everything.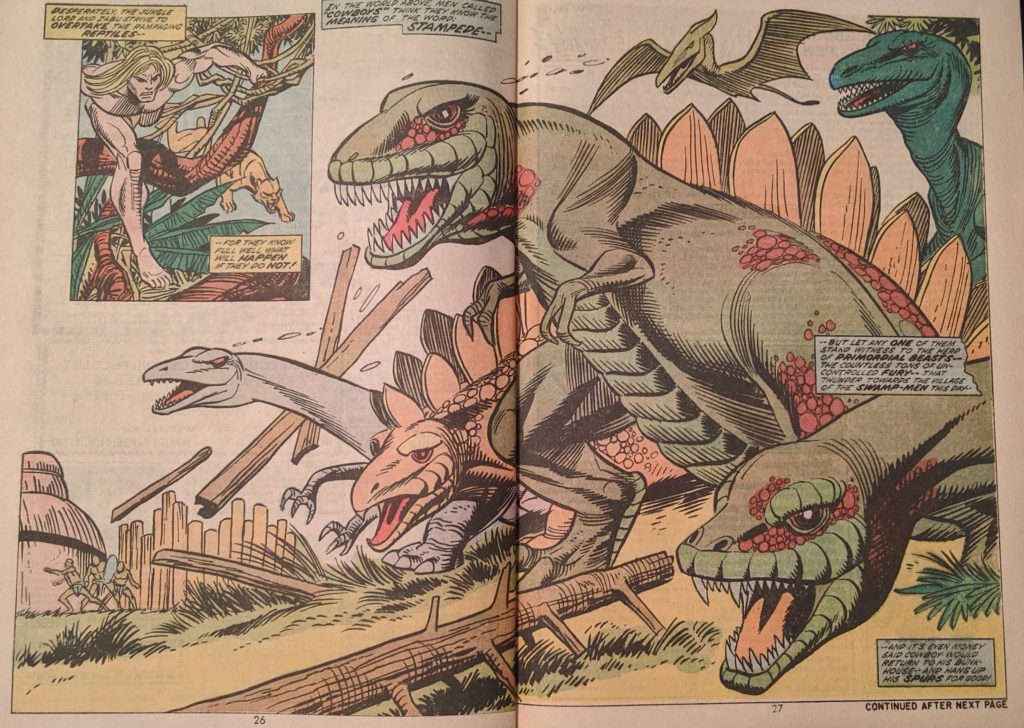 Scientifically accurate! While Ka-Zar decides if he can stop the T. Rex leading the charge, he can stop them all, Spidey tackles Stegron, and gets tailwhipped a few times for it.

As excuses for the guest hero not to continue on to the next issue go, this is a pretty good one. Where did Stegron get this insane spaceship? Should that not have been in the exposition? Maybe we'll find out next time. And, hey, Black Panther! Always nice to see him. And just so ya know, Marvel Value Stamp: intact!