An "O" phrase on the cover 2 months in a row. That's wacky. Looks like there's gonna be a real Batman-style trap in this one. This one gets a bunch of mileage out of "1st Gwen Stacy cover!" with collectors. Bah. The credits continue to credit the book to Stan Lee and John Romita and then in much smaller text say Don Heck pencilled it. Very strange. I got curious and looked it up, and Jazzy Johnny only actually pencils one or two full issues between here and where we came in in block one! I had no idea! I mean, his layouts are detailed enough that you can surely see his work in the pages, but… that's rather crazy to me. As we get going, Peter is walking around feeling terrible about the Stacys, while at their home, George sees Gwen with the paper and admits to the crime. But he can't remember why he did it, and Gwen finally notices something's wrong with him. He says he can't disobey orders. 

Spidey rolls up to the Stacys' home just in time to see some of Kingpin's gang busting in, so he takes them apart. He's already pretty angry, so when they start shooting at him, he takes it as an excuse to really lay into them for a few pages. But when he tries to question one, he finds they've been brainwashed, too, and can't tell him anything. Meanwhile, Mary Jane Watson runs into Harry Osborn, doing the usual bit, not knowing about the chaos of the last issue.

The scene shifts to Norman so he can go figure out why there's been an equipment delivery to his lab without authorization. When he heads down there, he finds the little weirdo who was running Kingpin's brainwash machine setting up another one. Norman doesn't like that he ordered stuff without permission, but he works here, so Norman allows it and leaves, not suspecting Kingpin is in the next room waiting.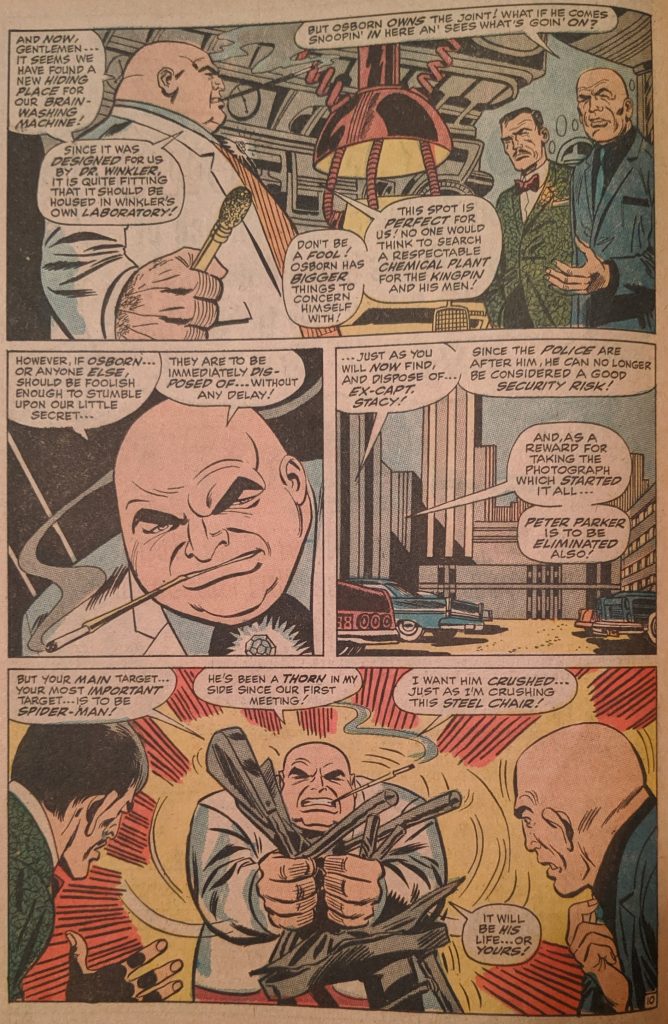 Dr. Winkler's come up with a gadget that can track anyone they've brainwashed (It's no more ridiculous than a spider tracer, I guess), and Kingpin sends his men to get Stacy to use as bait for Spider-Man. Elsewhere in the building, Harry goes to see Norman, who's thinking about The Green Goblin still. Harry says he never explained how he helped defeat The Goblin, and a frustrated Norman says he can't remember. Over at the apartment Harry & Peter share, Pete has just finished making a little gas mask to wear under his regular mask, in case Kingpin tries to gas him again. As often as Spider-Man is defeated by gas, one wonders why that's not a standard part of his kit after this. Now he's ready to go find the Stacys.

These early bits between JJJ and Spidey are all pretty great. Gwen's trying to talk her dad out of fleeing the city, but it doesn't matter when the goons catch up to them. Meanwhile, Spideys' found The Gloom Room closed, but unlike MJ, he can just sneak in and snoop. He finds a panel from the brainwashing equipment with "Osborn Laboratories" written on the back. He decides to head over there and see what's what. And it's a good thing, too, because the Stacys are being herded in there right now.

Spidey & The Kingpin start to mix it up again, and when he's on the back foot, Kingpin deploys his gas, but this time, it does nothing. He didn't expect that, and that gives Spidey a chance to get the upper hand.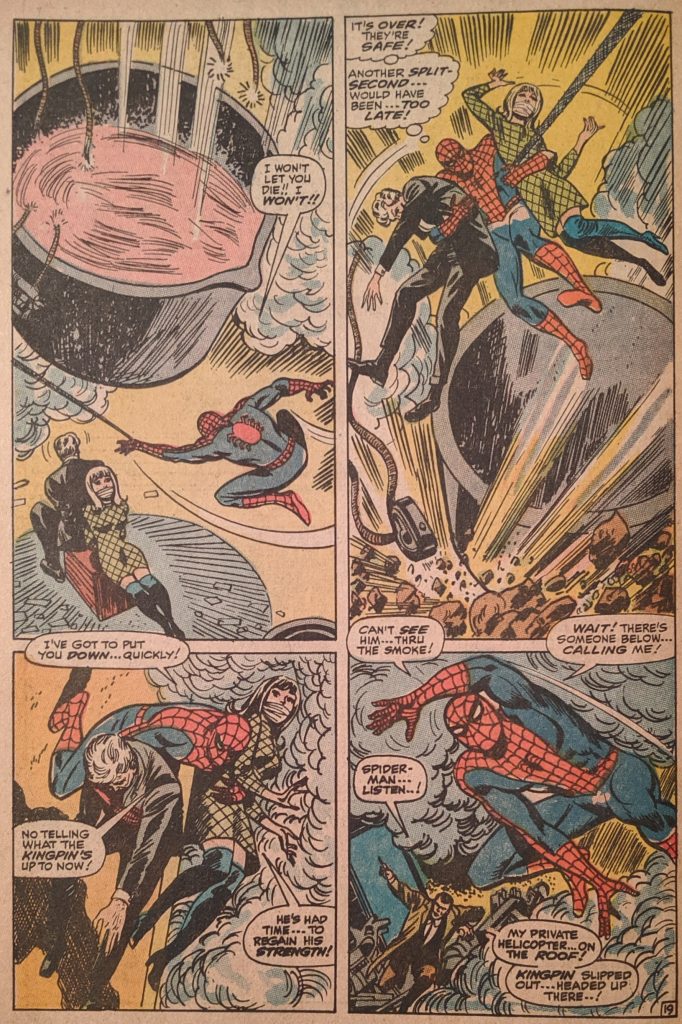 Well, how about that? It all works out, and Norman Osborn even gets to be a hero for once. Pretty neat. That was a pretty long stretch of issues with no gap between them, wow. Almost surprised this one had a concrete ending. This issue's letter page features one from someone apparently named York Battery. That's amazing. Coming up next: something completely different!