That banner across the top is pretty funny. In this, the 11th part of a 14-part story called Atlantis Attacks, Atlantis… finally attacks. Woulda been nice of them to put what part of the story it is on the covers. At any rate, chapter 11 is brought to you by Gerry Conway, Javier Saltares, Randy Emberlin & Bob Sharen. And Atlantis Attacks right away, on page 3. Reporter Trish Fox lets her audience/us know the armed forces are prepared to repel "the biggest invasion of US soil since The War of 1812," with help from Spider-Man and The Fantastic Four which, as the cover suggests, currently has 5 members. Ben has stopped looking extra weird and gone the other way, now returned to normal. Also his girlfriend, Sharon Ventura, the 2nd Ms. Marvel, has also been hit with Cosmic Rays and become The Thing. What luck! I don't think Ben has started going into battle in a robot Thing suit yet, but he soon will. Anyway, WAR!

The heroes get to work, Spidey webbing up a bunch of Atlanteans, Invisible Woman tossing that web ball into the ocean. Mr. Fantastic wraps a bunch of them up, Ms. Marvel throws one of their tanks back at them, and Ben is just punching everyone in sight. In the chaos, Trish Fox is getting more and more upset with her anchor not taking this seriously.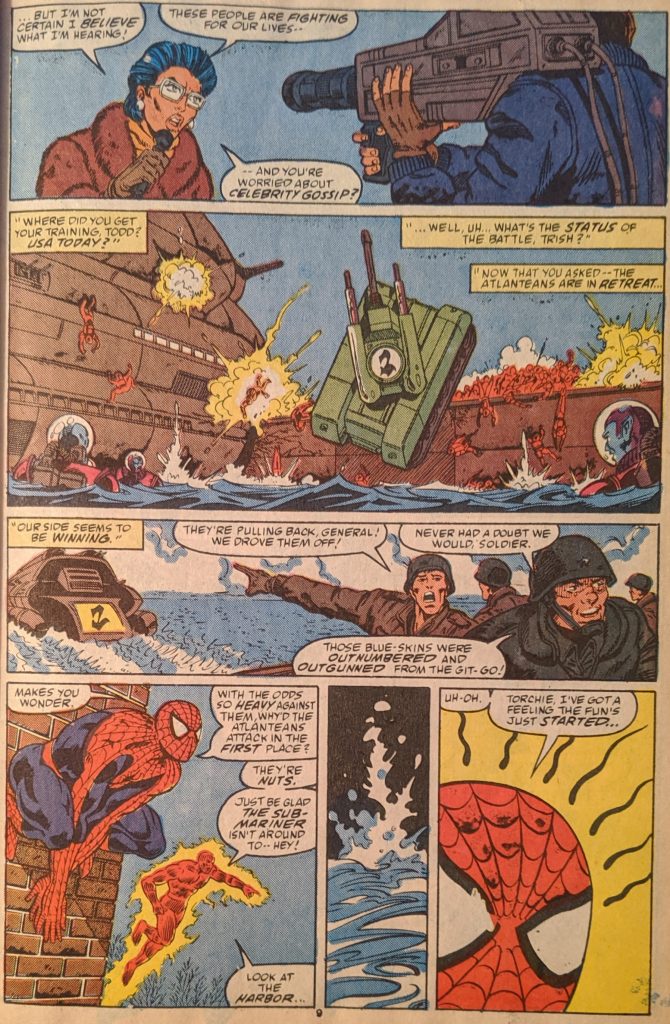 Take THAT, USA Today! Conway throwing surprise elbows. Naturally, a giant sea monster erupts out of the water. Meanwhile, at the bottom of the bay, Namor's old enemy Attuma, currently leading the forces of Atlantis, is conferring with Lord Ghaur and Llyra. One of his most trusted generals bursts in, badly wounded, and says this war was a mistake. Attuma is not known for being super nice, so…

So I guess Llyra is still Atlantean, just totally willing to kill her entire race. Gotcha. Back in New York, the heroes and military are sizing up the big monster when Ben notices it's being driven by someone. Further in the city, several human troops are saved from Atlantean tanks by a mysterious snake-lookin' dude. Who is he? I don't know. Back at the fight, things aren't going too well.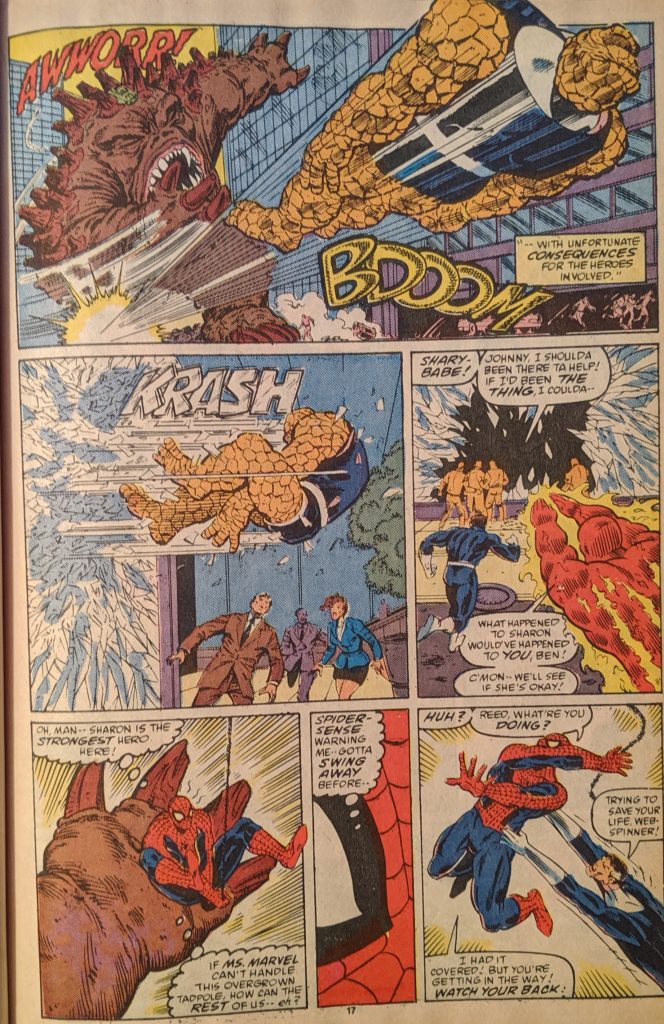 Seems like Spidey shoulda gone after the pilot the second Ben saw him, but I'm not in charge here. Reed gets swatted away, but saved by one of Sue's force fields. Johnny goes for the driver, but he gets swatted down, too. Throughout, Trish is berating Todd for being lame. This must've been some really entertaining TV for Marvel New Yorkers.

Yikes! Reed blurrily sees his wife being kidnapped before passing out, and then it's Spidey vs. giant sea monster, 1-on-1. It's not looking good, but…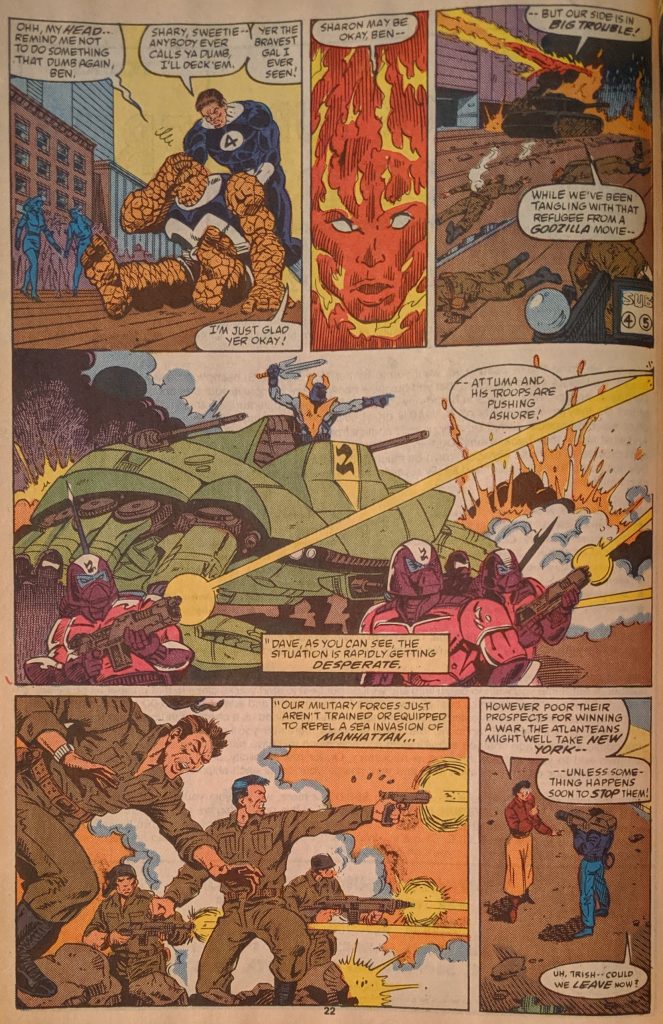 Meanwhile, Atlantis is nuked by the Lemurians. That's pretty grim, and a pretty radical development in the Marvel Universe, but it only gets one page. That's wild. Then, back to the fight.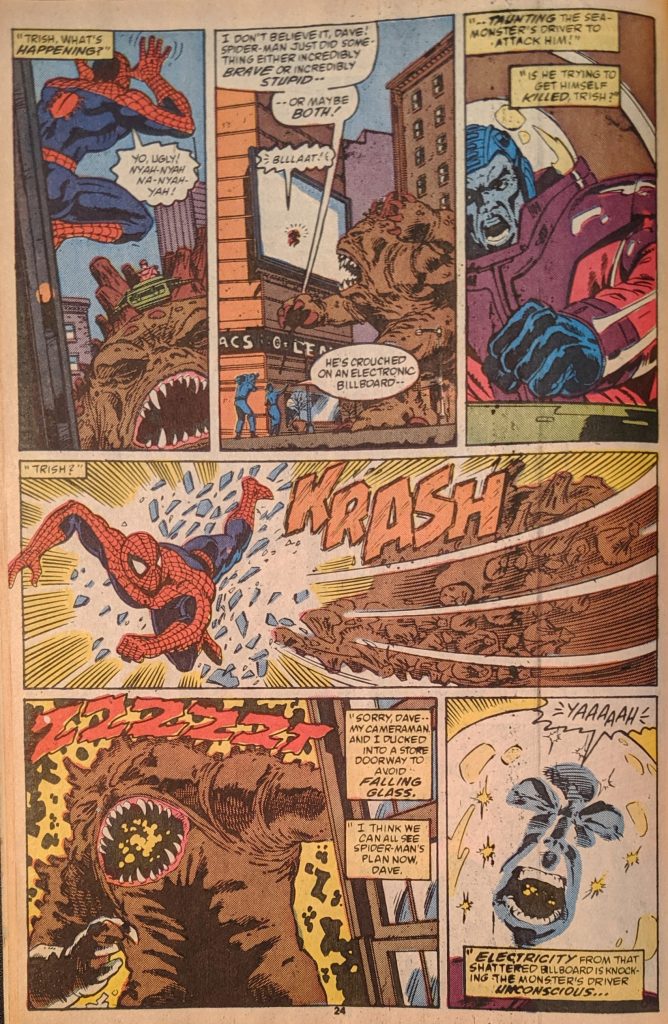 With the driver knocked out, Spidey is able to lure the monster back to the water, where it just leaves. He webs up the driver for the authorities and swings back to what's left of the FF. The news people have been made aware of the nuking of Atlantis, but Trish isn't interested.

Upon hearing the news of their homeland, the entire Atlantean army runs for it. Everyone but Attuma, left in a state of shock trying to grapple with the betrayal he's just suffered, and presumably with the near-extinction of his race on his hands.

Things are looking dark! Good guys win, of course. But oddly, Spider-Man isn't there when they do. There's 2 more parts before the grand finale, and by then, the Avengers, West Coast Avengers, FF & Namor have teamed up to rescue the Seven Brides of Set and defeat Ghaur and Llyra before they can plunge Earth into darkness, but… Spidey stays home. Seems strange. But, since he's not there, I don't feel the need to get into it here. So… that's it for Atlantis Attacks! This was another thing that mystified me as a kid. Reading parts 2, 11 and 14 of  14-part story was confusing and also really interesting. Especially the finale in FF, yet another book from the magical comic box. So many heroes! What a lot to take in. But unlike other things, I never really sought out the rest. Maybe I should.

The 2nd story involves Peter's professor Doc Swann becoming the host of Captain Universe. This is a thing where, in advance of some great catastrophe, something called The Enigma Force chooses a mortal champion, imbues him or her with immense power, and sends them off to stop the disaster. Thus, in a tale by Gerry Conway and Steve Ditko, Doc Swann becomes Captain Universe to stop… a very goofy looking giant robot. Nothing too amazing. By this point, Ditko refused to draw any comic where the hero was anything but purely heroic, so seeing his name guarantees a lack of nuance. Kinda wild. He was getting a lot of work doing tie-ins for children's cartoons as a result. Co-creator of Spider-Man drawing Chuck Norris Karate Commandos due to his insane personal philosophies. Ah, well. What can ya do? Next, one of Fred Hembeck's frankly dreadful "Petey" strips, alleged comedy strips about Peter Parker as a young boy. Then Hembeck does a rundown of, essentially, all the dumbest Spider-Man comics, as one-pagers called "Spider-Man's Most Dubious Accessories, Friends & Foes, and Situations."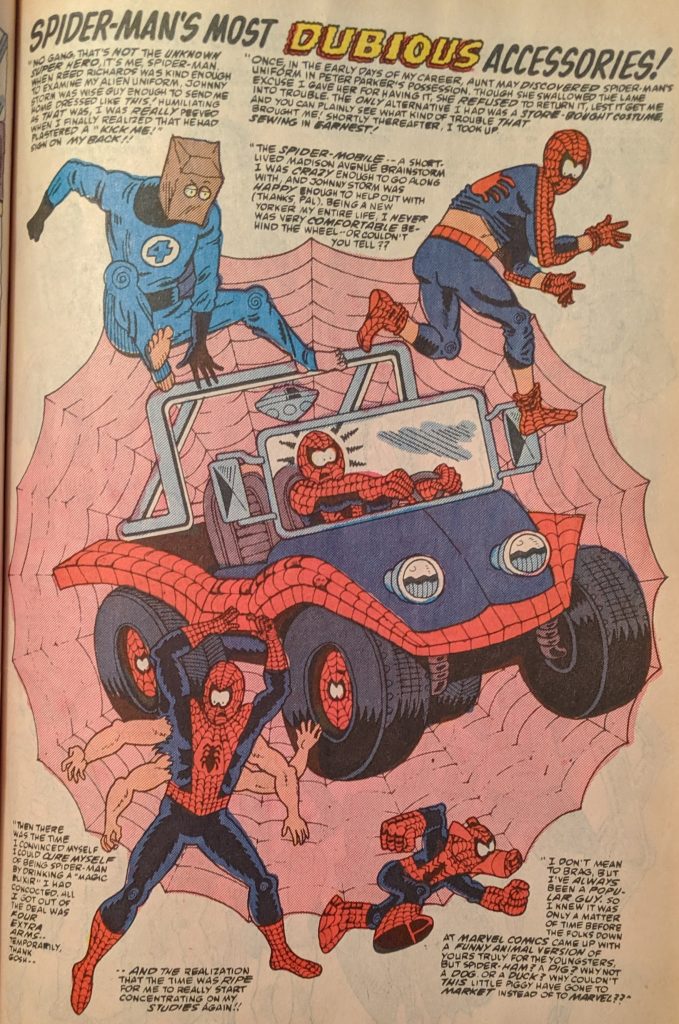 Right-o. Then a Silver Sable story, then more of The Serpent Crown Saga. I gotta say, after 3 annuals back-to-back, I am really, really eager to get back to some normal comics.