Check that lens flare! Like anyone who just got Photoshop, John Kalisz is all-in on effects! As this one gets going, Kaine is digging through the rubble of The Jackal's exploded lab, knowing he would never let his work be truly destroyed, and eventually does uncover a reinforced bunker still intact. He goes through The Jackal's files for info on who's the real Peter Parker, and copies some info to a floppy disk (1994!), thinking it confirms what he has long suspected. But this also seems to trigger one of the pods in the lab to rise up, and out comes Peter Parker, just like on the cover.

Still more "all the cool mysterious people know each other," though obviously, once Kaine's identity is revealed, this one will be more earned than usual.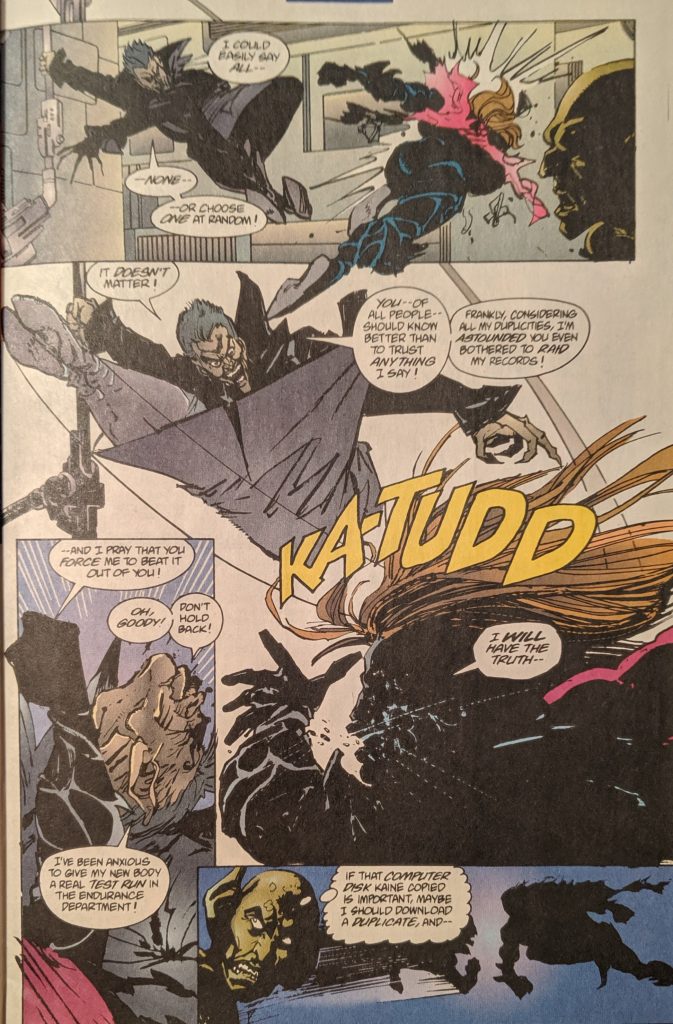 KA-TUDD! Jack sees a figure lurking in the shadows and literally jumps into The Jackal's arms out of fear, allowing for a lot more terrible Joker-eqsue "comedy." Guess who?

/sigh Jackal assumes Scrier is here to fight, but Scrier says not yet and vanishes. Jackal belts Jack across the room for good measure and prattles on about Judas Traveller's previous appearance before announcing they're packing up the computers and moving to their new home. This guy would love to know about the cloud! Meanwhile, Ben Reilly is creepily watching Flash Thompon coach some kids playing basketball, thinking his/Peter's old rival seems to have made a good life for himself. And thinking that, if there's a chance he's not a clone, maybe he can, too. Then we cut to Kaine hopping around town when he has another flash of MJ dead and realizes he hasn't saved her by killing The Grim Hunter and Doc Ock. Speaking of MJ, she's having a doctor's visit, where the doctor says they've detected "a minor anomaly" with her child that is nothing to worry about, but won't say what it is, which is exactly how you keep someone from worrying. Great job! MJ leaves worrying.

So hilarious, The Jackal. Hey, this comic is half over and Spider-Man hasn't been in it, what's he doing?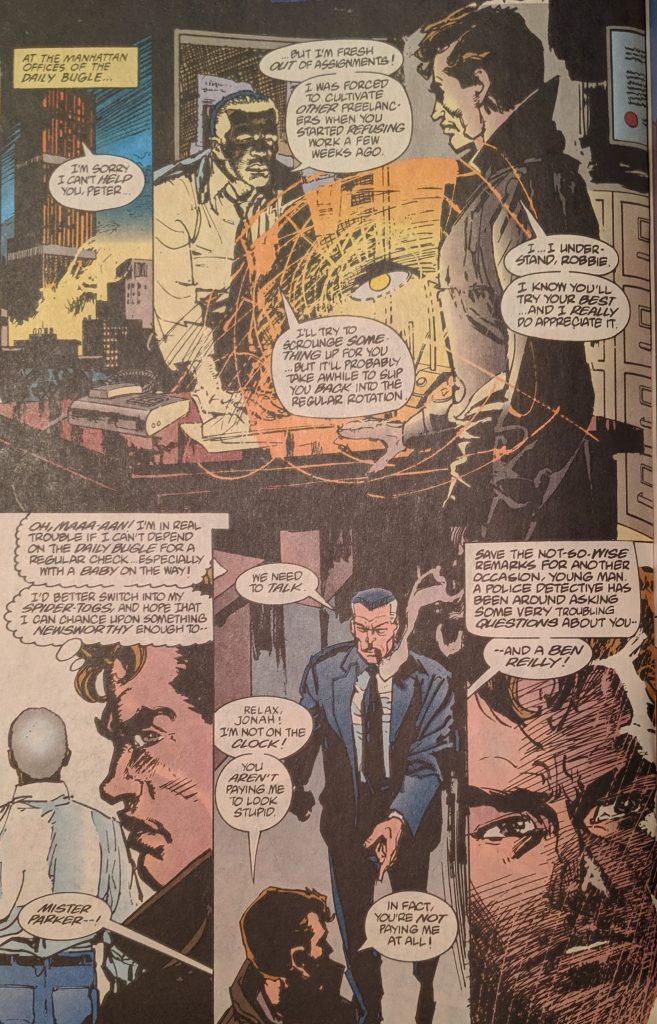 Seinkiewicz is going bananas with the white out. A trend that will continue throughout this partnership, if memory serves. Speaking of that detective, we cut to Detective Connor Trevayne, Howard Mackie's contribution the long list of cops Spider-Man has had friendships and rivalries with, telling his boss that, thanks to Jacob Raven, they have a case strong enough to get Murder One for an unnamed party. Who could that be??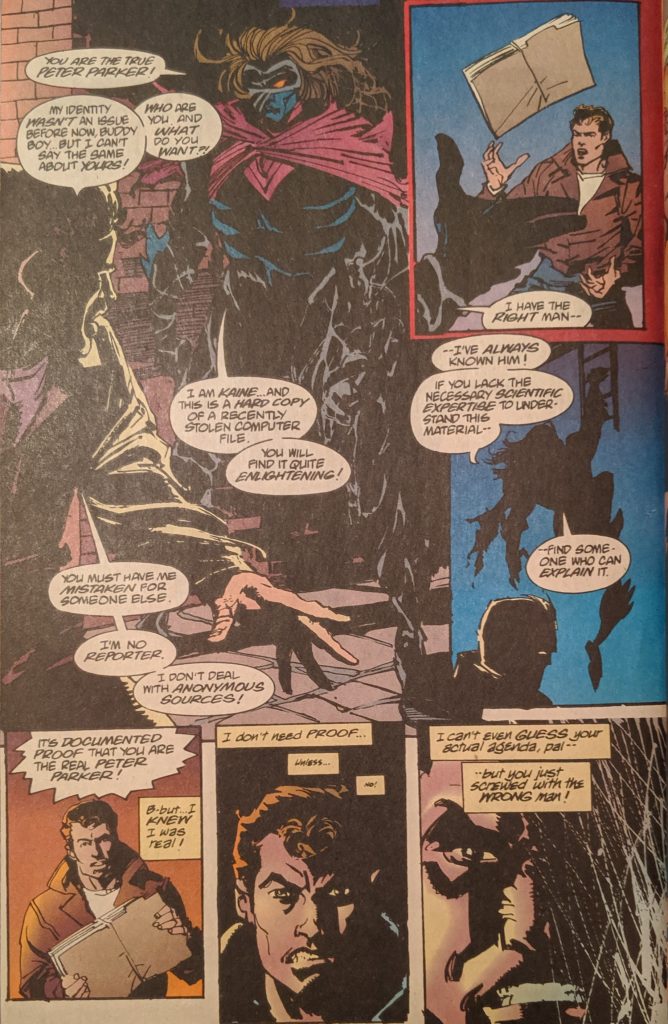 Kaine is an idiot. While Kaine is being an idiot, The Jackal attacks the YMCA where Ben is watching Flash play basketball, come to bother Ben. He unleashes some weird monsters he's created and makes some lame jokes while Ben runs off to get suited up.

We cut from there to Spider-Man attacking the completely shocked Kaine, who never even considered throwing a file at Peter Parker to prove he's real as THEIR FIRST MEETING would make him upset. Like, he is dumb as dirt. And, finally, the 3rd Peter Parker hitches a ride with a passing trucker, explaining that his mind is hazy. He thinks he may have been in an accident, doesn't know his own name, and has a feeling he should be doing something really important. Egads! Is this the real Peter Parker? Of course not. More on that next post.