Spider-Man Unlimited launched as the first chapter of a crossover, deeply embedded in the goings on of the Spider-world. But as we saw before, it didn't take long to devolve into a collection of inconsequential stories by weak and rushed creative teams, and guess what, the trend continues here. The first story is the Ben Reilly one, written by Spider-Man artist Tom Lyle. Ron Lim, perhaps stretching himself too thin, does breakdowns for just under half of this story, finished by the heavy hand of Tom Palmer. Recent Web fill-in artist Chris Gosier pencils the rest, inked by Palmer, John Kalisz colors the whole thing. It begins with Ben getting some food when he sees some goons robbing a check cashing place across the street.

Not sure why he only has his mask. But he does, so he leaps into action with just his mask and webshooters added to his regular clothes. He makes short work of the robbers, of course, crushing one guy's gun in his hand.

I know wallowing in not being a real person is Ben's thing, but that's a weird thing to say to someone, and he should stop being weird. From there, we meet a guy called Rich Gannon, who is homeless, as he tries to buy some food but is turned away for smelling bad by a couple of jerks at a grocery store. He says he used to be a designer for Stark Industries, but they don't want to hear it.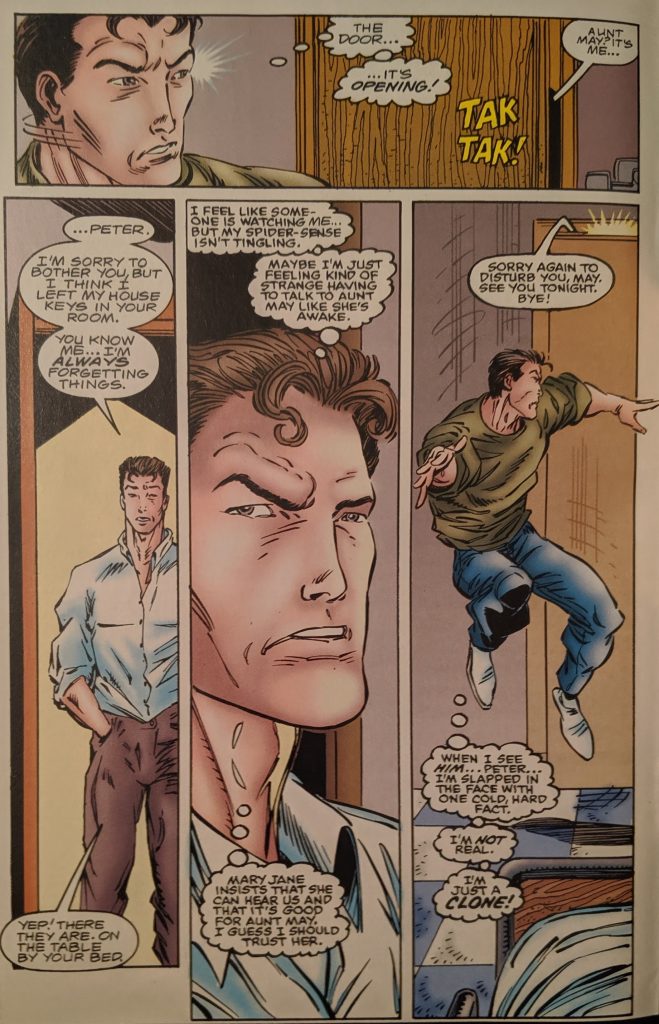 As we have established that Aunt May can hear what people are saying to her, this must be incredibly strange for her. Ben runs off talking about how he's not real and blah blah blah, the usual, and then the art team changes. I don't know whose fault it is, but Chris Gosier's art looks way worse here than it did in Web, as Ben walks by Rich Gannon.

This story looks like it was done in a weekend. Rich is harassed by some more goons as Ben walks by with some groceries. Ben steps in, and of course, it's not a friendly chat.

I am once again motivated to say even I could've gotten a job drawing Marvel comics in this period, sheesh. The storytelling completely falls apart on the next page, as Ben helps up Rich, the goons act like they're not going to let them leave, and then Ben is back in his apartment, getting his suit on. All one one page! Did he leave Rich? What happened? Too late, he's headed back down there in costume.

I guess he did just run off and leave Rich to the mercies of those guys. Nice! Ben takes them all out, of course, and when the cops show up, the random "good samaritan" guy who was introduced on that very panel offers to help Rich find a job. Everyone goes home happy. Man, that hurt my eyes. Next up: Tom Brevoort & Mike Kanterovich write, Bob McLeod draws, Randy Emberlin inks and John Kalisz colors a Spidey story. The sudden shift to a professional penciler from the pre-Image era and solid inker is really jarring. Anyway, this one concerns Cardiac, a weird character who is a doctor by day and vigilante by night, usually not on Spidey's side on account of wanting to kill people. Tonight, he's come for one James Kapoztas, who runs an automotive company that just got away with making faulty airbags. This is the kind of thing Cardiac goes for, miscarriages of justice.

That's pretty much Cardiac's deal in a nutshell. He's about to execute ol dude when Spider-Man smashes through the window.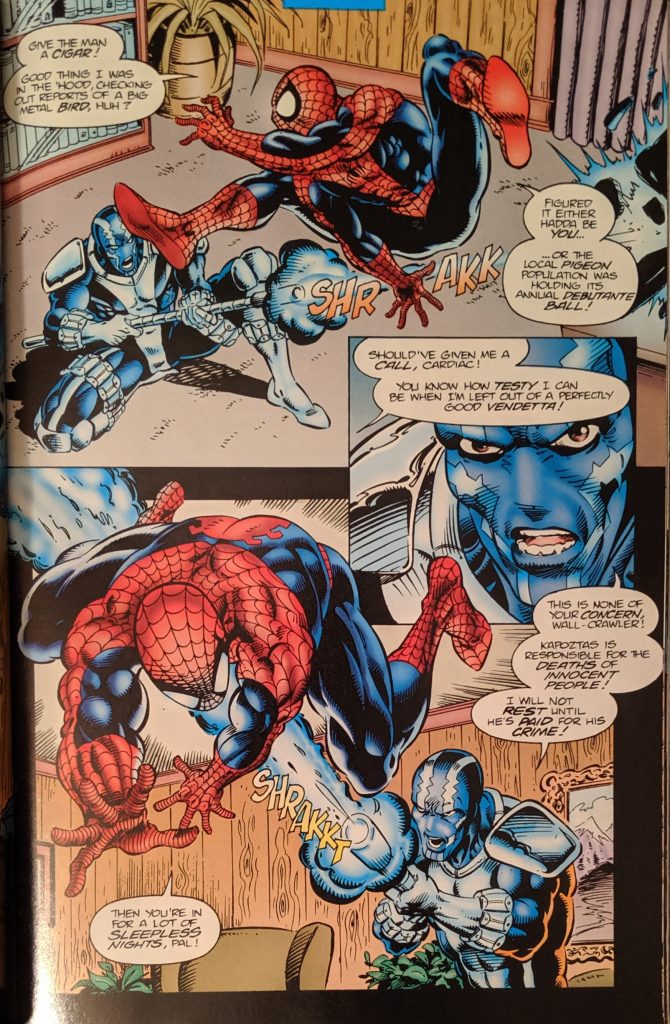 As they fight, Cardiac's intended victim sneaks out, but he's so scared he has a heart attack out in the hallway. Spidey breaks Cardiac's staff, prompting him to flee. Spider-Man finds Kapoztas out in the hallway and has someone call 911. Meanwhile, Cardiac goes back to work at his regular job as Dr. Eli Wirtham. Can you guess that he will be called on to operate on the guy he tried to kill? He totally is!

In the end, he saves the guy, so that's nice. The whole thing where he thinks about how he's sworn to protect and kill people seems like it'd be enough to end your vigilante career, but maybe that's just me. Spidey leaves to go find Cardiac, and later, he does, as Cardiac is now hovering outside his victim/patient's window.

Cardiac decides it's time go kill that dude, but while he's fighting Spider-Man, his intended victim has another cardiac episode (Eh???) and dies. When Cardiac sees this, he just flies away. And I guess got back to the hospital, like, super fast.

Aaaaalrighty. The Mary Jane story has more eye-bleeding art by Chris Gosier and says it takes place before ASM 388, which we haven't read yet. Maybe I'll cover it when I get there. Maybe I never will. We shall see.