Another of the incredible 75 issues of Team-Up I got for $48. They can't all be winners, but none of them are more messed up than this one. Len Wein stays on as writer, Gil Kane and Jim Mooney are on deck to illustrate this one, which begins with a quick introduction to Rick Jones & Captain Marvel. Andru goes from MTU to ASM, Kane goes from ASM to MTU.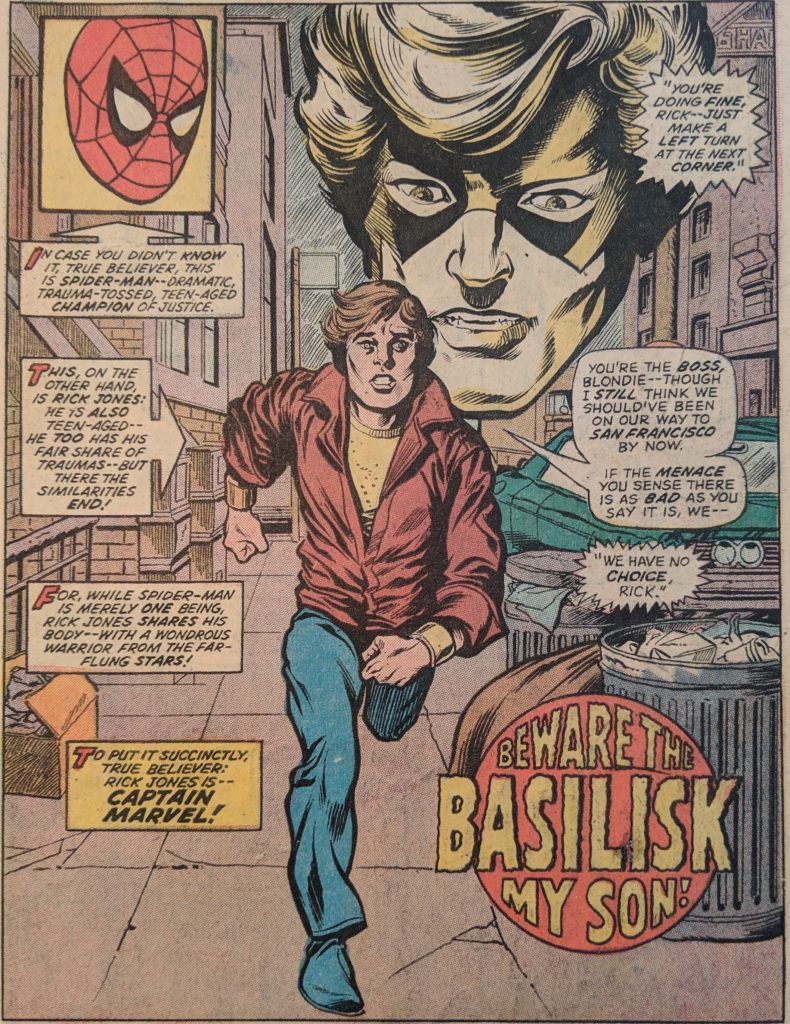 Cap is propelling Rick toward a terrible threat he's sensed nearby: The Alpha Stone. I believe that, by this point, Jim Starlin had begun to introduce some of The Infinity Gems (Though I don't think they'd been called that yet), so I guess Wein was like "I gotta get in on that!" The Alpha Stone looks like a big emerald, and is currently being stolen from a museum by… well…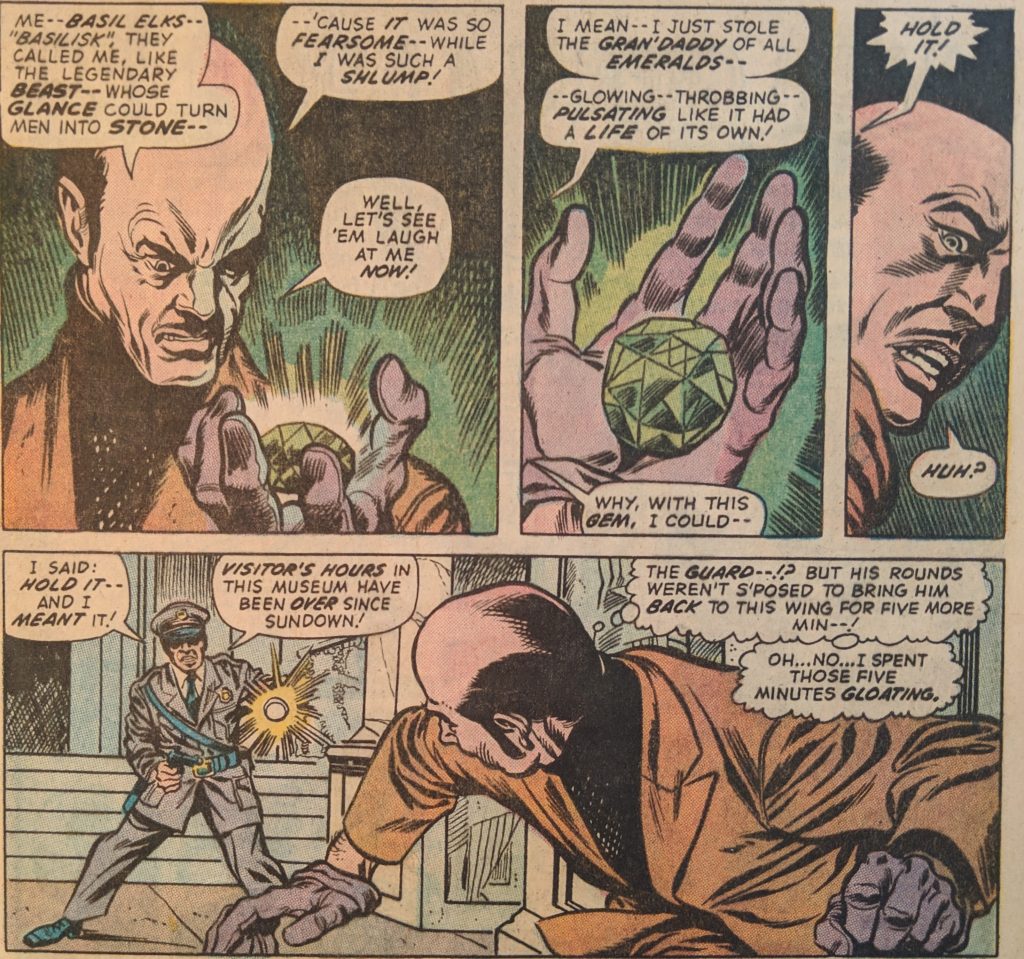 Basil Elks! Maaaaan that's a reach. Basil says he's not going back to prison and reaches into his coat, so the guard shoots. Terribly, hitting The Alpha Stone instead of any part of the dude right in front of him.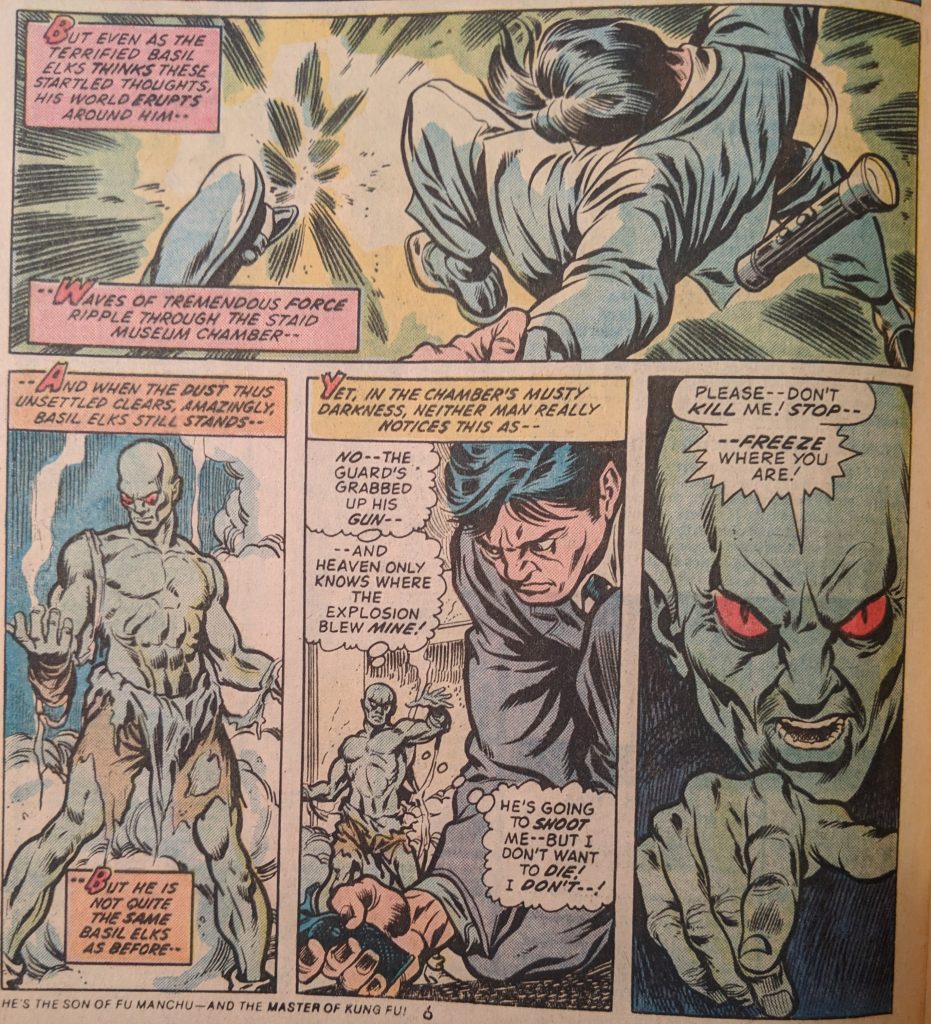 Just like the mythical basilisk he was referring to just a second ago, Basil Elks freezes the guard with his eyes. He puts together that the gem changed him, sees himself in a mirror and is remarkably cool with it, and then…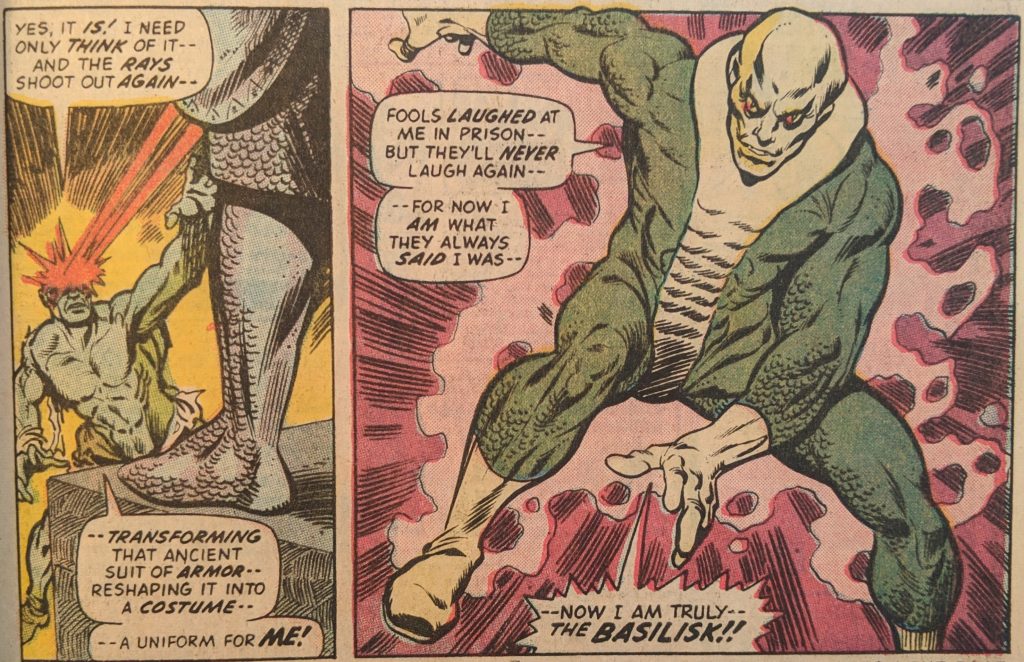 Well, alright. Way to embrace your situation. At that moment, one Peter Parker is walking to see a late movie, having officially decided to take the night off from being Spider-Man. So, naturally, he walks by the museum just in time to see a wall smash open and The Basilisk emerge, talking about how he senses another gem of power in the city and must have it. He even helpfully yells his super-name so Spidey will know who he's addressing when he appears on the following page.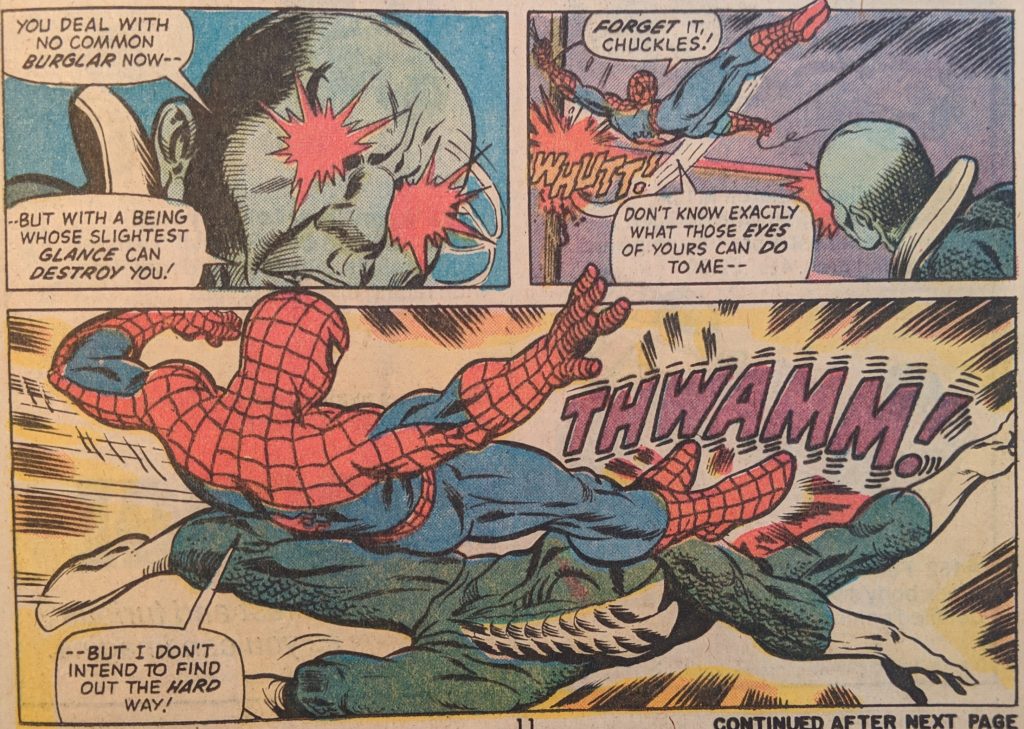 Spidey webs up his foes eyes, but Basilisk can shoot right through the web, which catches Sider-Man off guard and allows The Basilisk to get in some big hits that leave Spidey on the ground. Things are looking bad when Rick finally shows up.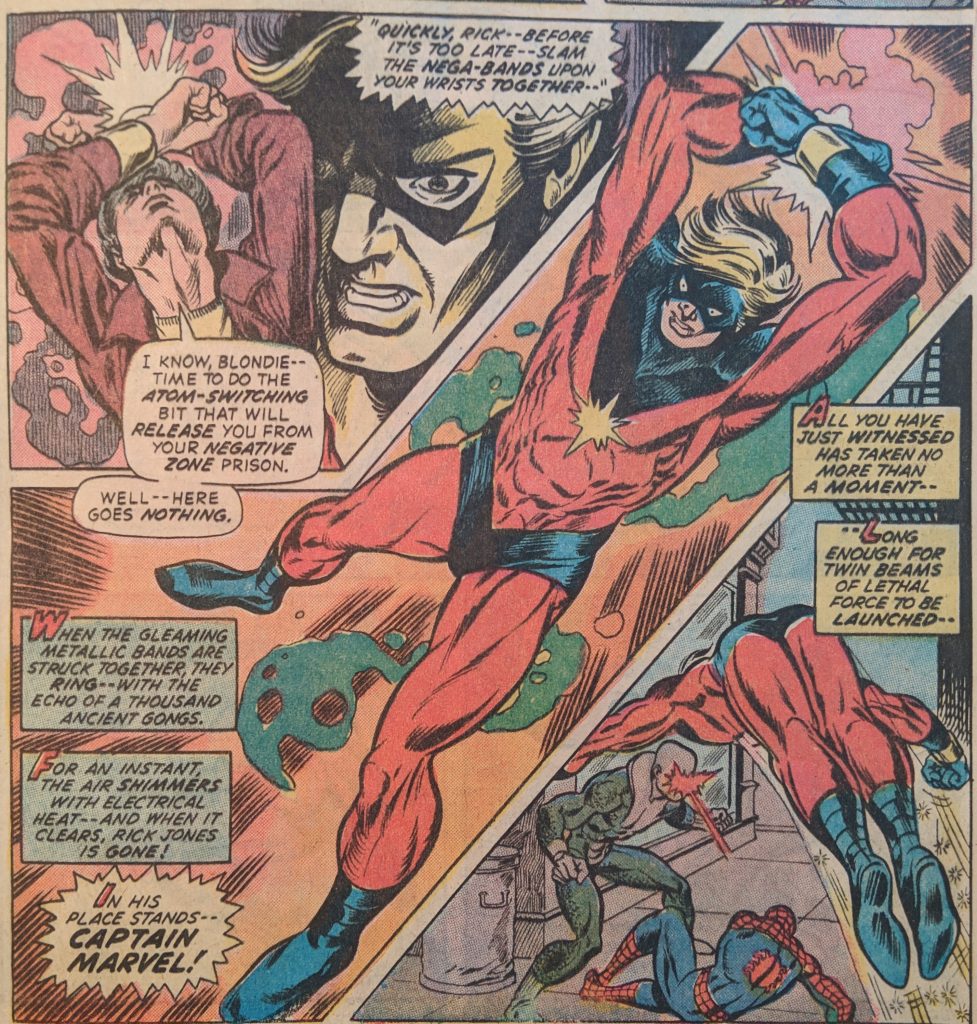 Mar-vell leaps into the fray to save Spidey. The Basilisk calls him a cretin in good supervillain form, but thinks to himself that he didn't know that word before, and therefore the gem must be increasing his intelligence. Suddenly becoming smarter prrrrrrobably wouldn't magically teach you vocabulary, but who am I to argue with a guy shooting multipurpose eyebeams thanks to a broken jewel? Speaking of, his eyes have turned a man to stone, made a costume, set a lamppost on fire, and now turn the sidewalk under Captain Marvel to quicksand. Feeling a little OP, there, Basil. A guy who can fly isn't too bothered by quicksand, though, so…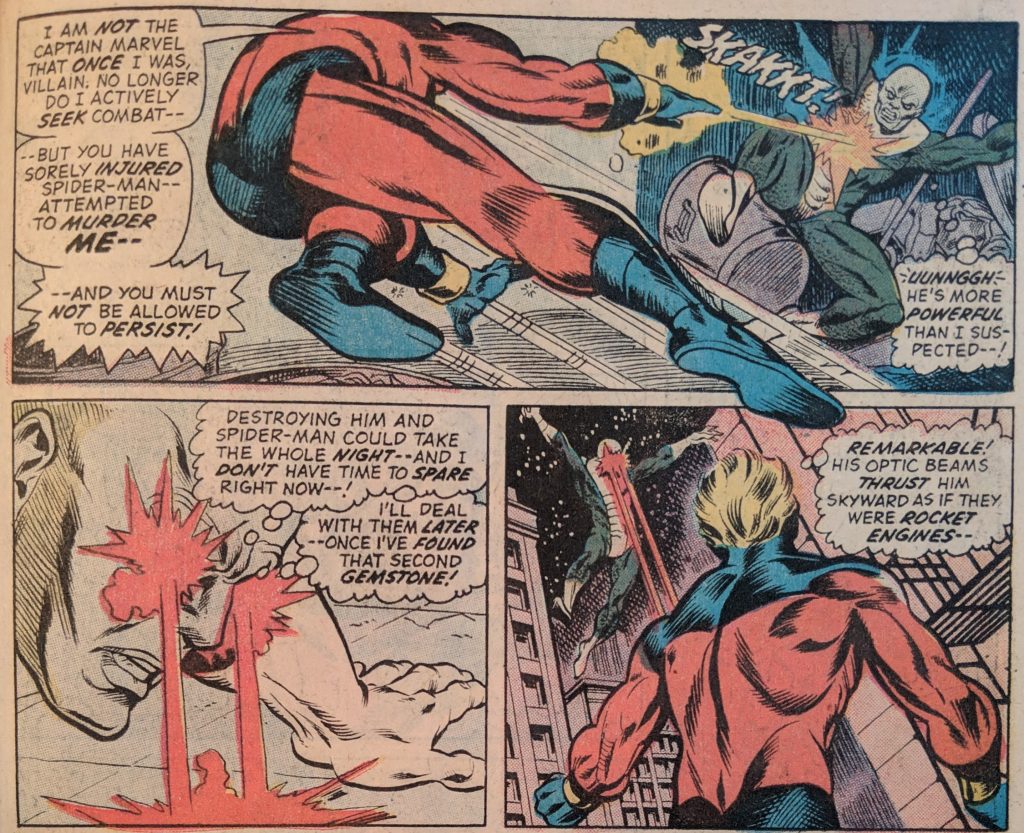 Next time someone asks me which superpower I'd want, I'm going with The Basilisks "can do anything" eyebeams. The next thing on the list is "solidifying the air around" Captain Marvel until he's trapped in a big see-thru prison, falling to his doom, until Spider-Man puts a web net under him, giving him time to smash loose. Mar-vell tells Spidey The Alpha and Omega Stones (naturally) were super dangerous things the Kree set out to destroy hundreds of years ago by dumping them into a star, but one guy was overcome by a lust for power and tried to take them for himself. Instead, and the whole ship blew up, and the gems floated through space until winding up on Earth. So now Basy is on his way to get The Omega Stone. Exposition out of the way, our heroes race off to catch up to The Basilisk, who has arrived at a construction site, where he senses the gem somewhere underground. Bad news for the guard on site.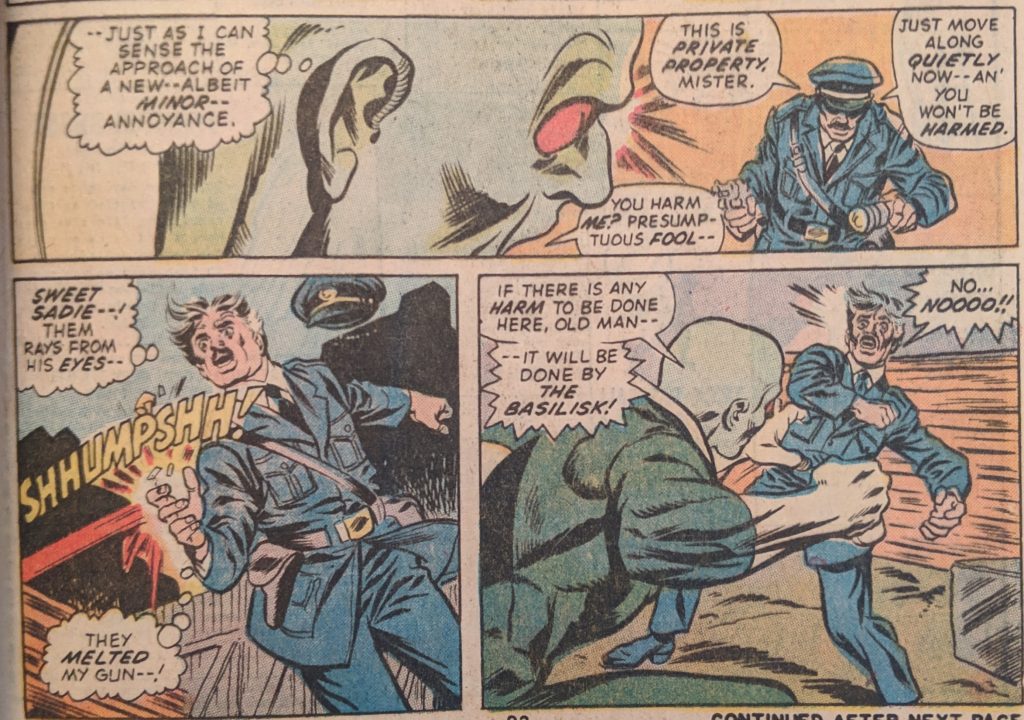 Sweet Sadie! Cap & Spidey arrive on the scene, and as Spidey swings into action, Basilisk's eyebeams make the crane his web is attached to bend and throw him like a trebuchet. But it at least distracted him enough for…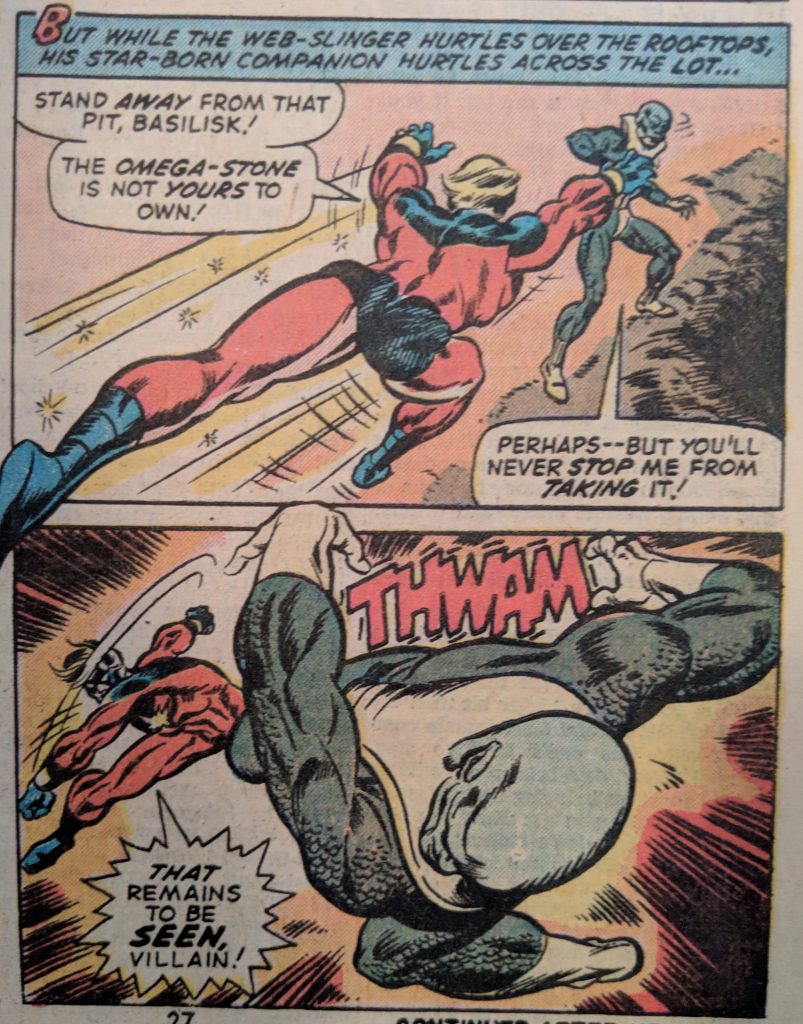 Signature Gil Kane punchin' action. With his foe dazed, Marvel tries to recover The Omega Stone himself, but Basilisk is already winding up for another eye blast, so Spidey swings in and kicks him pretty good. Marvel tells him to keep The Basilisk busy while he digs.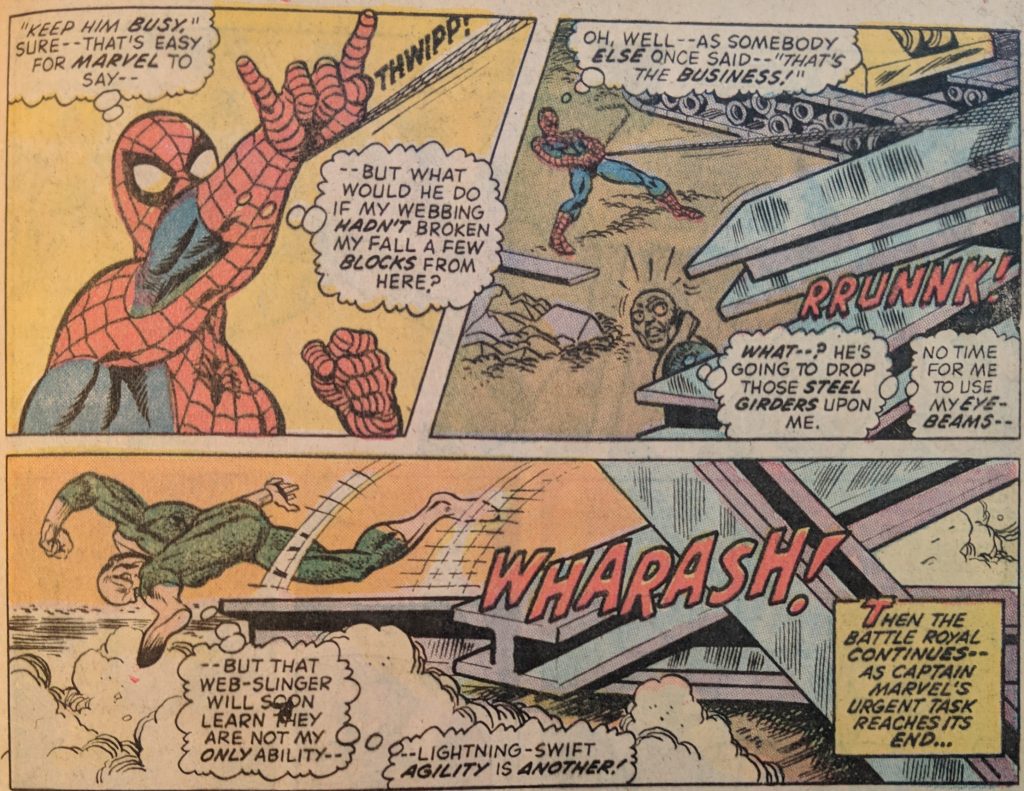 Mar-vell finally gets the gem, but it begins to grow in his hand.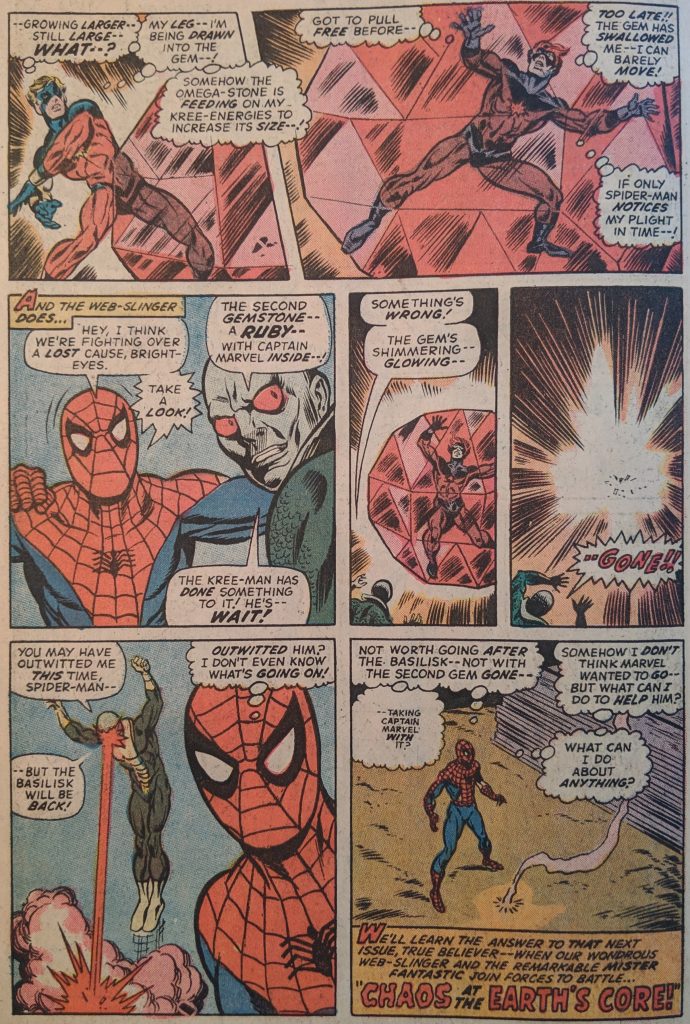 Well, that's a weird ending. Will Spidey team up with Mister Fantastic to rescue Mar-vell next issue? Did this continue in his own comic? I guess we'll find out. Here's the whole cover, so we can both find out what it looks like: