I just noticed Romita doing it, and then went back and looked, and it seems all the artists have abandoned the unnecessarily complicated web pattern on this Spider-suit in exchange for the usual "straight down from the mask" pattern. That was quick. Speaking of quick, Spider-Man has already tracked down Kaine & Muse on page 2 of this issue, having allegedly gotten a tracer on Muse last issue. No wasting half a comic on exposition from this team. Which, by the way, is back to Romita alone on pencils and inks by Williamson, Giordano & Milgrom. Romita's Kaine is far creepier than anyone else's.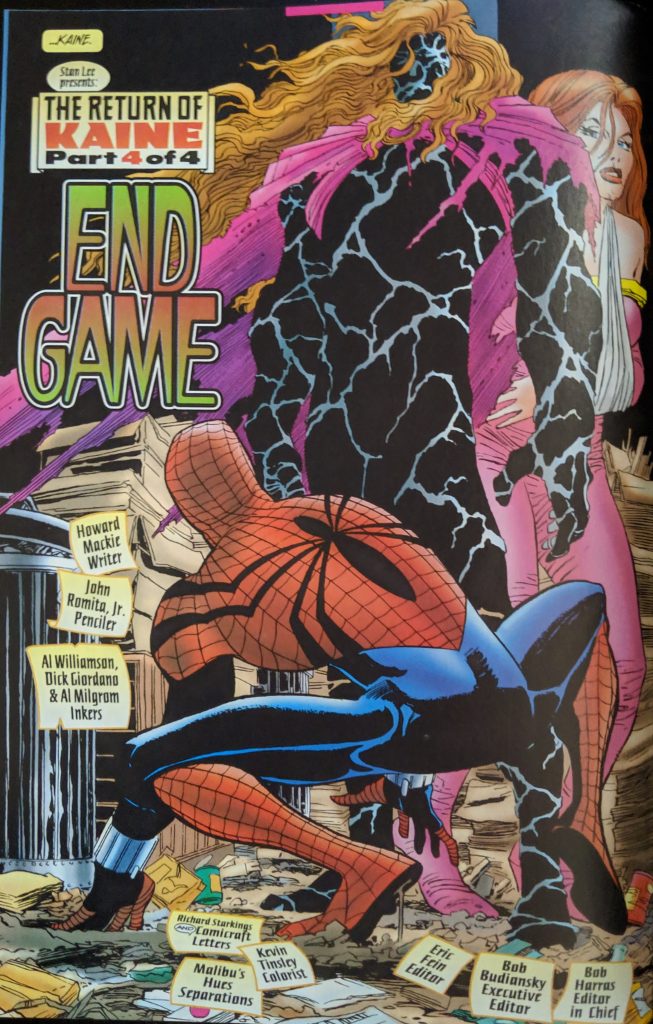 Like, he's supposed to be creepy, or at least he was when he was mysterious, but he isn't in the hands of most of these guys. The cops show up shortly after Spider-Man, blocking both sides of the alley they're in. Kaine pulls down a wall, like he seems to do every issue, making one side's cops a non-issue. The police on the other end announce they're actually here for Spider-Man since he stole the skeleton, but they'll take everyone present, and Kaine starts fighting his way out.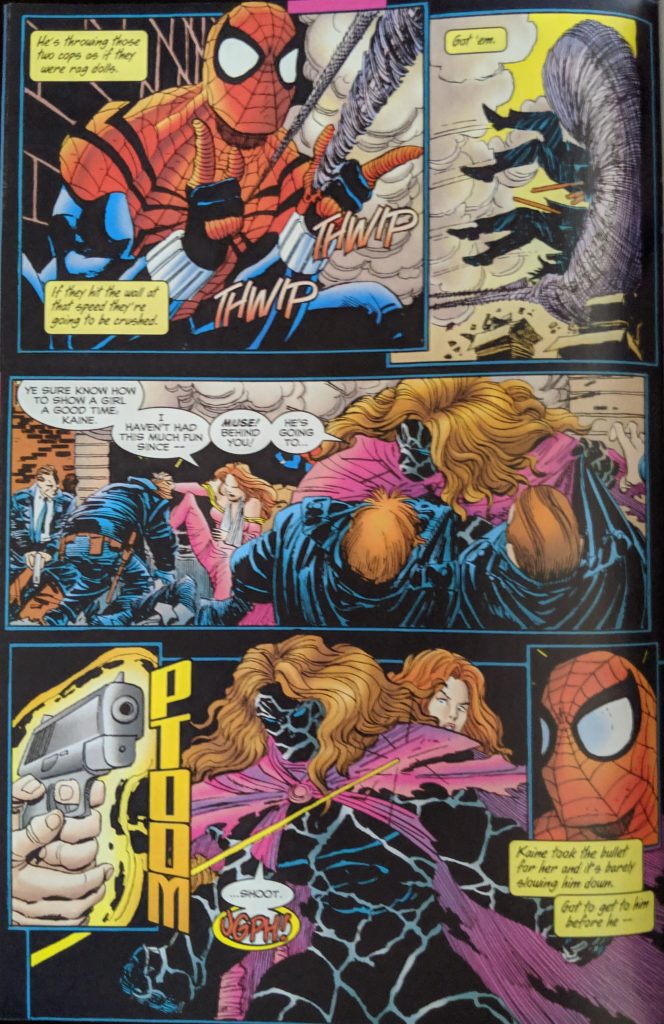 Ditko & Romita, Sr. would have Spidey shoot webs with all sorts of hand gestures. It was only after them that the familiar quasi-devil horns gesture was codified into law. Until John, Jr. showed up and stayed true to his dad's work. Almost no one else deviates from the norm on this. One of the billion reasons I love that dude. And as Kaine pulls yet another wall down (Find a new gimmick!), Spidey shoots more webs to save the cops, and the size of the webs, right hand thinner and left hand thicker, is consistent with the previous image. Spidey can turn the nozzle to widen the spread, and Romita is treating that mechanism realistically. I just love the thought that he puts into it.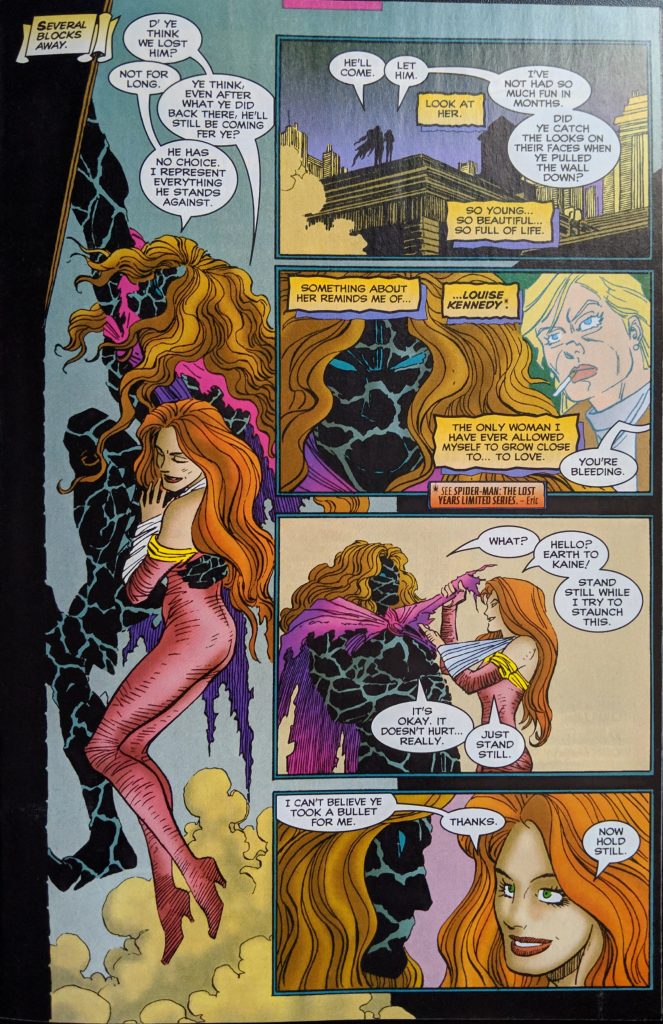 I mean, Peter Parkers are canonically suckers for redheads, I guess. Wasn't Muse's hair brown in all the previous issues? I have already forgotten. Kaine declares he's going to bring down The Great Game if Muse will take him to Jeff Jacksmoore's headquarters which, luckily, is apparently in Manhattan, in spite of him checking in from posh spots all over the world in previous appearances. Jerk JamsMerch knows Kaine is coming because that was his plan, and he keeps the other players upping their wagers, none of them suspecting he's rigged things with Muse. Meanwhile…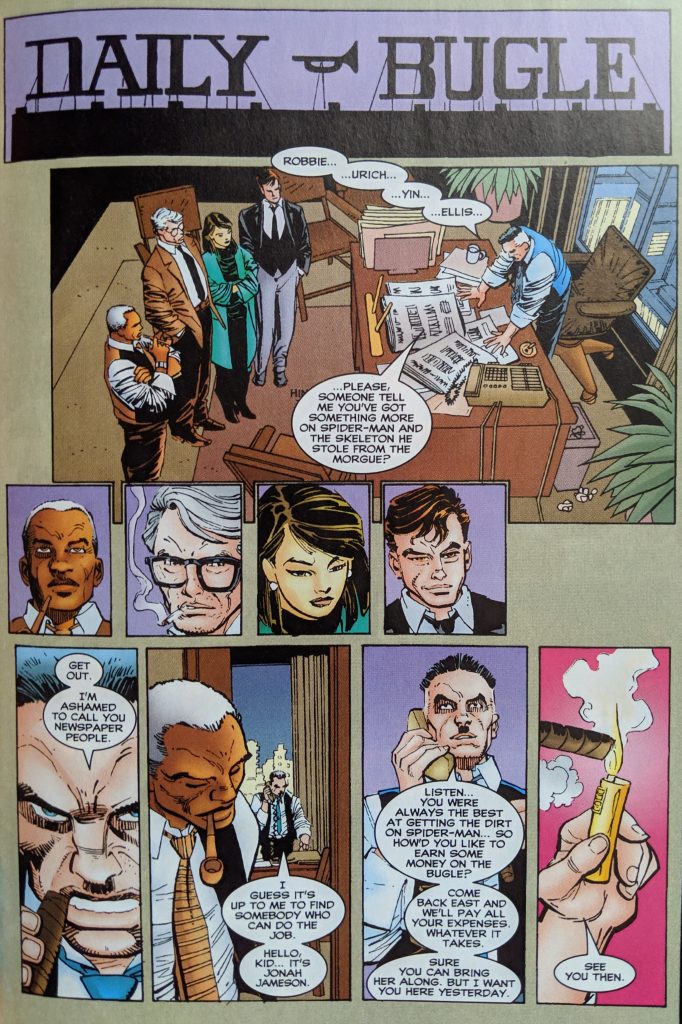 Mm hm. Peter Parker has been out of the books for all of 4 months (And technically only 2 issues, since 2 of those months were Scarlet Spider comics), and they're already starting to back pedal. Back at Jimbo Jamsbands' place, Kaine is wrecking his comically futuristic security system… from the roof? Why'd he start on the roof? If there's laser cannons like something off The Death Star up there, was there nothing anywhere else to prevent him from getting up there? He internal monologues about how he was a cool guy once and now he's all mean and sad.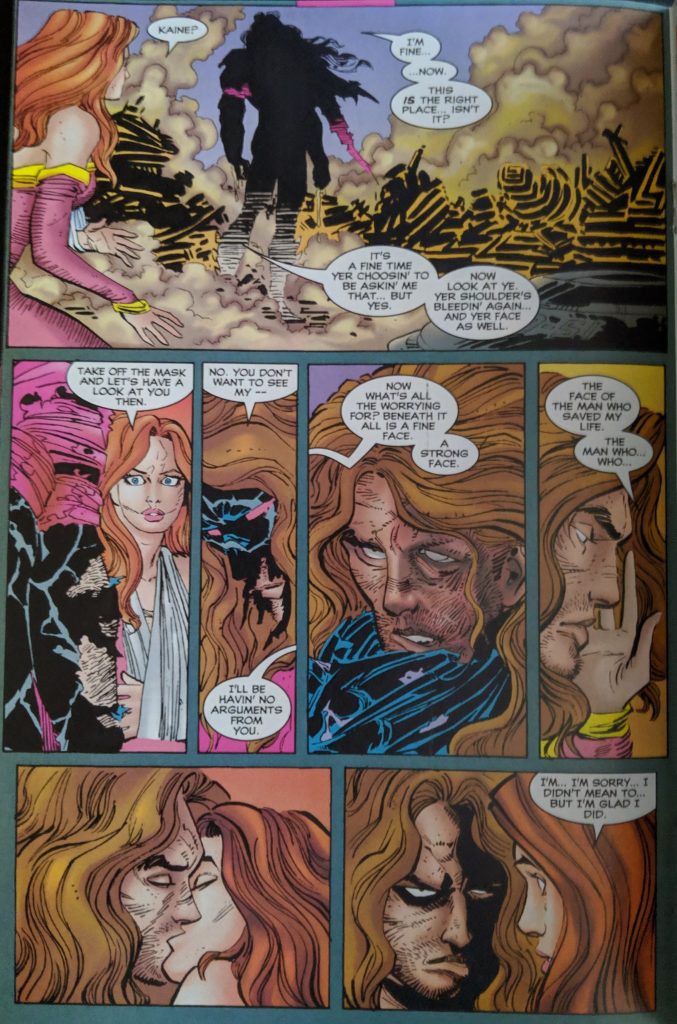 I say again, did anyone not see this coming? The old "They told me to betray you… but I didn't mean to fall in LOVE!" bit? Wah wah. Kaine has one of his premonitions (His brief glimpses of the future were explained as his malfunctioning Spider Sense, which really strains credibility with me), and it features Muse dead with his mark on her face, and he has a good emo rage about it, the kind Peter would've had in our last block, before shouting "the game ends now!"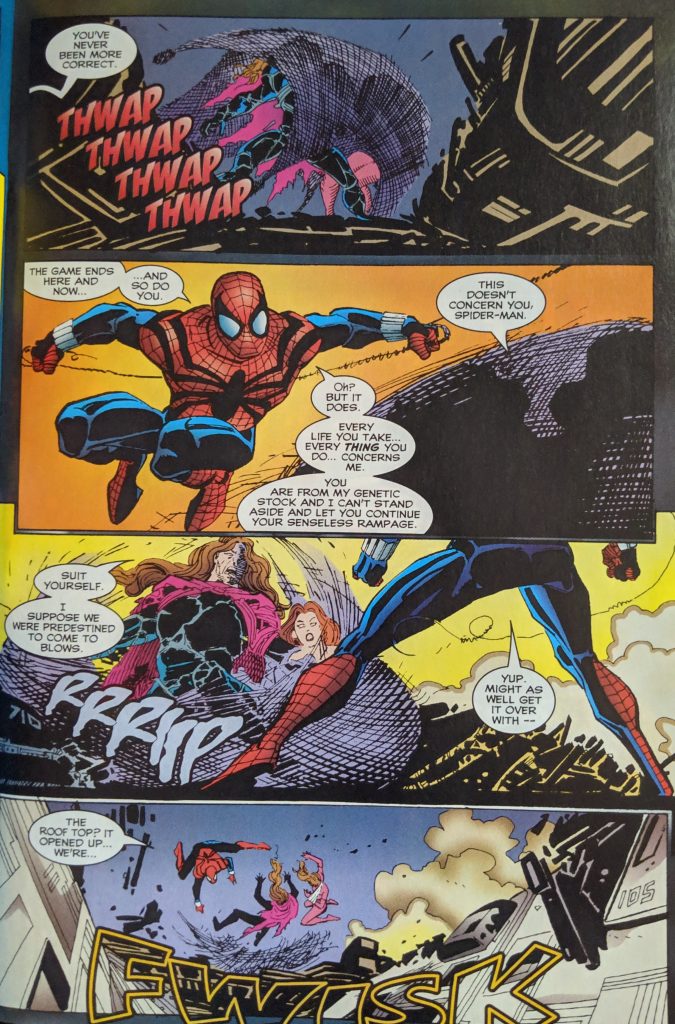 They fall into an even more preposterously technological room full of giant screens with The Great Game's players on them as Johnny Junkman reveals Muse's treachery.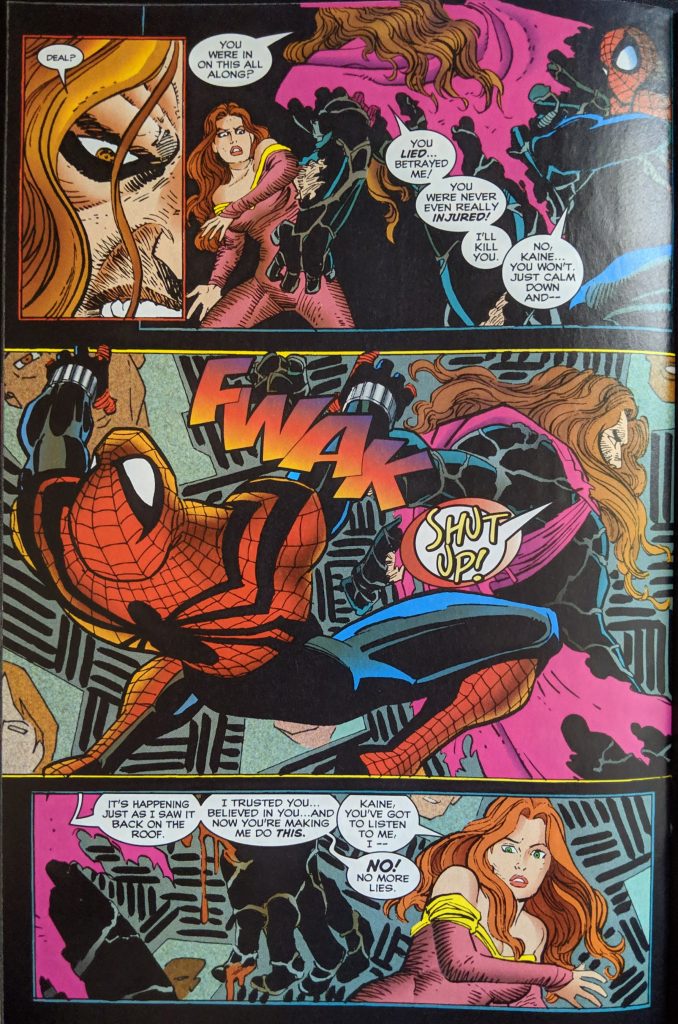 Kaine's hellbent to kill and scar her, and the Game guys up their wager as a result. Spider-Man tries to appeal to the good man deep down in Kaine to make a choice to be better, right now.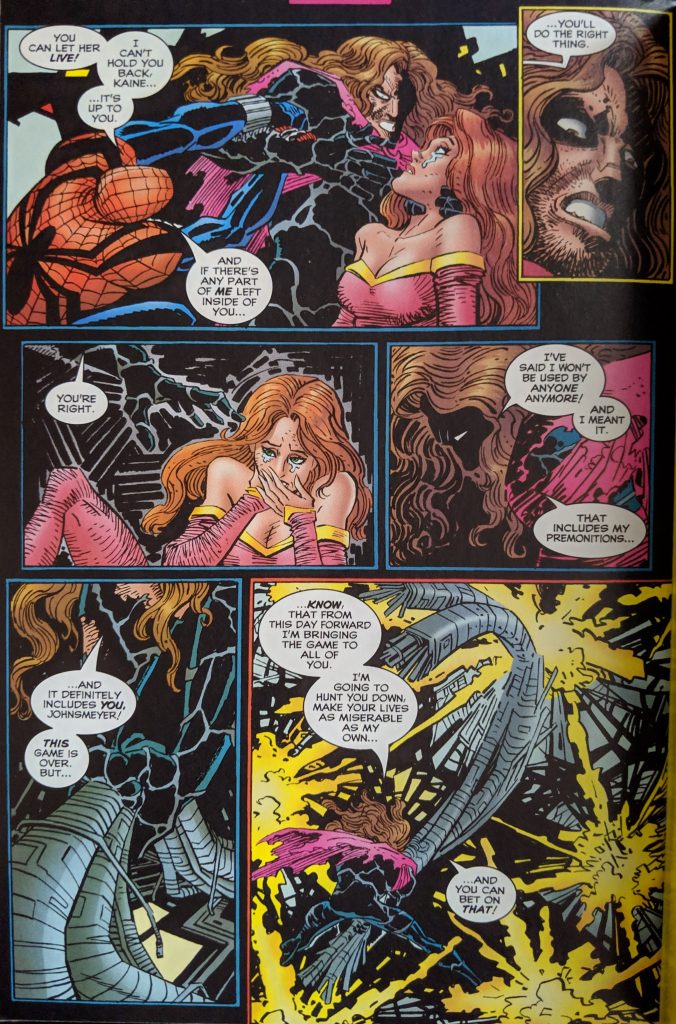 Spidey says he can't let Kaine walk away, and Kaine says he knows that, so it's fightin' time. For a sec. Then Muse zaps Spidey, noting to Kaine that she intentionally didn't kill him and then zaps them up an escape route.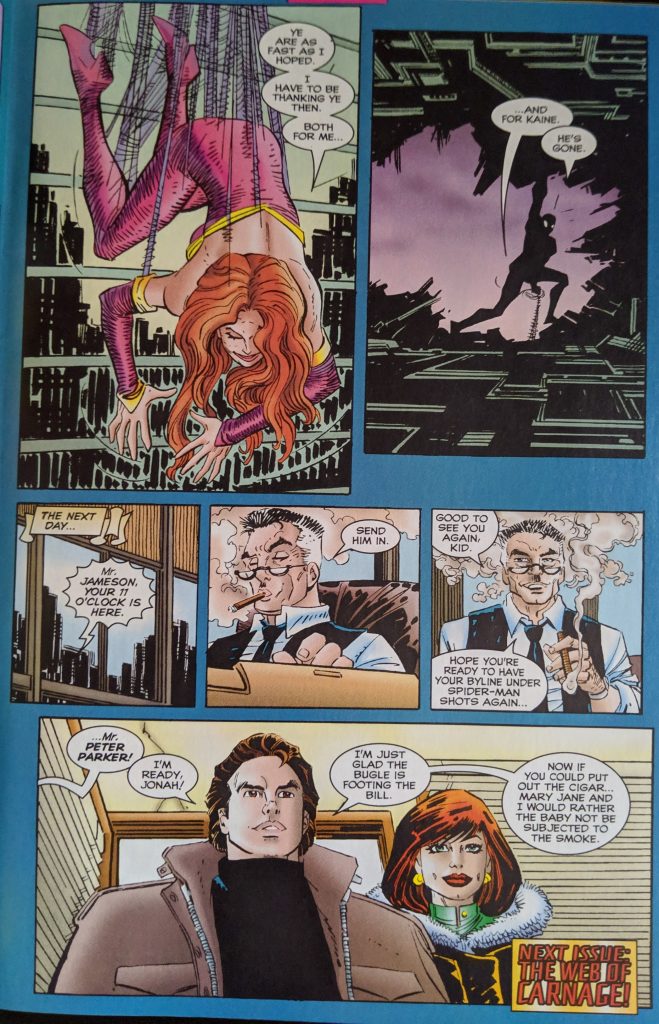 There they are! Just can't stay away, like Too $hort said. Apparently, while the Spider-Office was in a state of permanent chaos at this time regarding what the direction was, or who the real Peter is or any of that, it was Dan Jurgens who went to the boss and made a case for bringing back Peter. And MJ, it must be noted. Jurgens had just come off writing a married Superman, I guess the marriage didn't bother him as much as it did the more entrenched guys. He took this gig wanting to work on the real characters, and much like, you know, 99% of the fanbase, was disappointed that every character people love in Spider-Man wasn't in Spider-Man anymore. Crazy, right? He got editorial to reverse course on Ben being the "real" Spider-Man. It threw a lot of ongoing plans into disarray, but let's be real, it was the right idea. And here we have the very beginning of that becoming the new direction. And also, full credit to Dan Jurgens, because I don't think you could guess he didn't want to be writing Ben in his time on Sensational, you know? He's doing his best with what he was given. Sadly for him, he wouldn't be around by the time the machinery managed to reinstall Peter as the real Spider-Man.