It is the opinion of this blog that there are no good Kraven The Hunter stories, even the one everyone loves, but this does not seem like it's going to be one of the better ones. Bob Hall tags in on the revolving penciler door as some dudes are running terror through the alleys of Manhattan from Kraven. Well, sort of.

Good God, where to even start? Kraven built a whole cardboard New York? He thinks hunting these random lames in a cardboard city is prepping him to fight Spider-Man? How were these random lames duped into this? What is going on???

(There are some printing issues with a lot of this book's right pages) This is actually kinda interesting. Not the story, the story is ridiculous. But the fact that we have here the prototype for the Kraven in Kraven's Last Hunt. His obsession with his honor as it relates to Spider-Man and the probably racist magic drums are all super crucial to that famous story, and yet here they are some 4 years earlier. This characterization of Kraven & Calypso's last encounter with Spider-Man, wherein Kraven was trying to be a good person for once and Calypso betrayed him, is, uh, not terribly accurate, but I guess that's supervillains for you. Anyway, Peter Parker is on his way to yet another version of the exact same conversation he keeps having with Dr. Sloan. Sloan says his grades are slipping, Peter thinks of the 3 reasons why (Money, Aunt May & Spider-Man), and decides to keep them all to himself, even though 2 of them are perfectly valid, and then leaves with no resolution. Sloan suggests giving up his Teacher's Assistant gig, and Peter worries that would make his money problems even worse. Poor Deb Whitman tries to get him to talk to her about it, but if you guessed he just brushes her off, you really get their dynamic.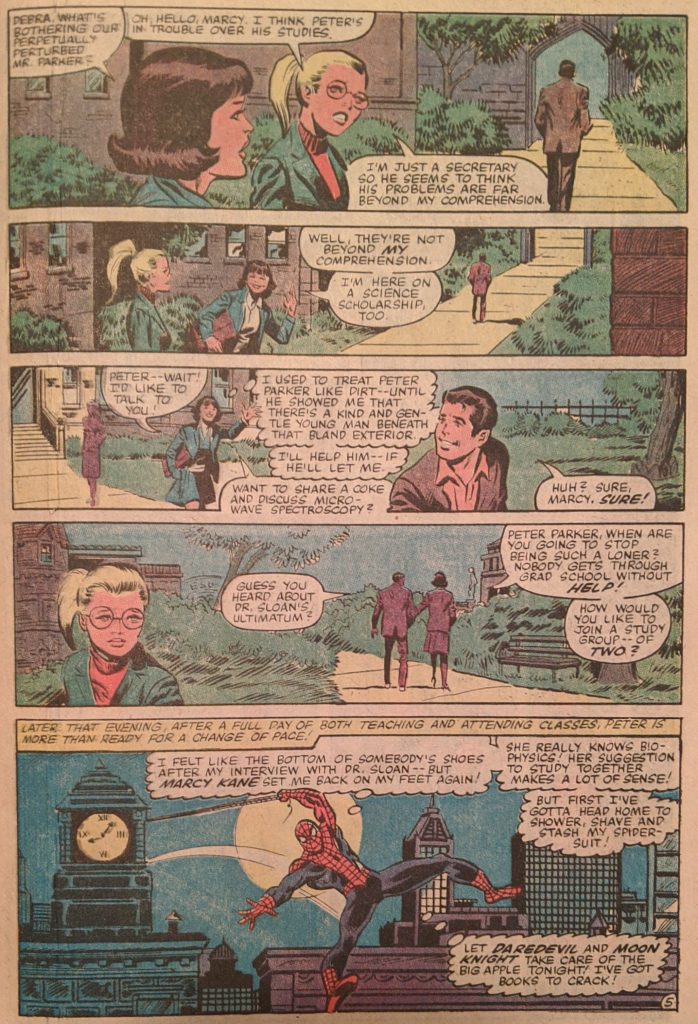 Bill Mantlo is the one who introduced Marcy Kane as a sort of foil for Peter in school, a dedicated, no-nonsense person with no time for his lateness and excuses, so this reversal into lovin' the dude for no reason other than that's how Peter Parker's life works coming from Mantlo is kinda disappointing. And it bears repeating: Poor Deb Whitman. But if Peter thinks he's gonna study tonight, he clearly hasn't seen this issue's cover, as he is ambushed on the way home by Kraven & Calypso. As Calypso uses "Bira Bells and Yoruba Drums" to cloud Spider-Man's mind, Kraven throws an "African war axe" at him, almost connecting. I don't pretend to be an expert on Africa, the Yoruba people, or anything, really, but I'm bettin' Mantlo made all this stuff up. As Spidey finally faces Kraven, he gets the spiel about restoring honor and all, and puts a pin in it immediately, saying Kraven starts these fights, loses, and then comes around "whining for a rematch." Nailed it. Not that Kraven is listening, of course. He throws a ton of spears and produces another axe, but none of that gets him very far.

Again, not an expert on the Bantu people, but probably fake. I do like Spidey just ridiculing Kraven mercilessly, tho. Also, is that a club or an axe, Kraven? Make up your mind. Spidey does a smooth move where he webs the axe-club inches from his face, yanks it out of Kraven's hands and then whips him in the face with it. So Calypso tosses him yet another weapon, the "Lovedu war whip" (Again, real African ethnicity, almost certainly a fake weapon), but Spidey webs her drum away from her so he can get his danger sense back.

This is only Calypso's 2nd appearance, and yet her character is completely different. Bob Hall is really doing some great fight choreography in this issue.

Spidey is totally done now, and Kraven knows something is up. Calypso starts singing his praises while putting "the Annuak trophy mask" on Spider-Man (I'm not even sure that's a real word) and demand Kraven kill his prey, but then Kravey notices the dart in Spidey's leg, and is furious that Calypso used "the Kwele crossbow" to rob him of a fair fight (I think Mantlo just had a list of African ethnicities).

Kraven and Mysterio are perhaps tied for my least favorite villain for the kinds of stories they inevitably appear in, and this story is now essentially giving me both at the same time. As Spidey wrestles an imaginary snake, Kraven tries to swing down to save him, wanting to regain his honor in a fair fight still, but the drug makes him look like a monster, Spidey belts him away, fighting various imagined monsters down to and on the street below, as gargoyles, streetlights, cars and whatnot all seem to be attacking him. Kraven tries to get to him again, but he is once again punches aside like nothing. Then a cop car comes skidding up to him, and Spidey sees it as another monster.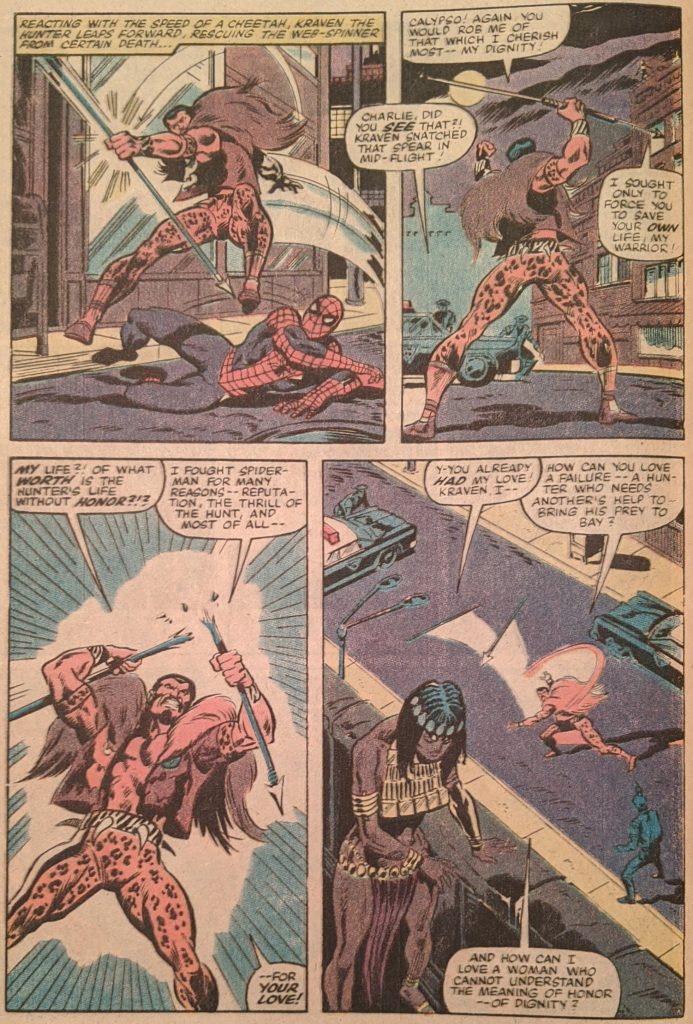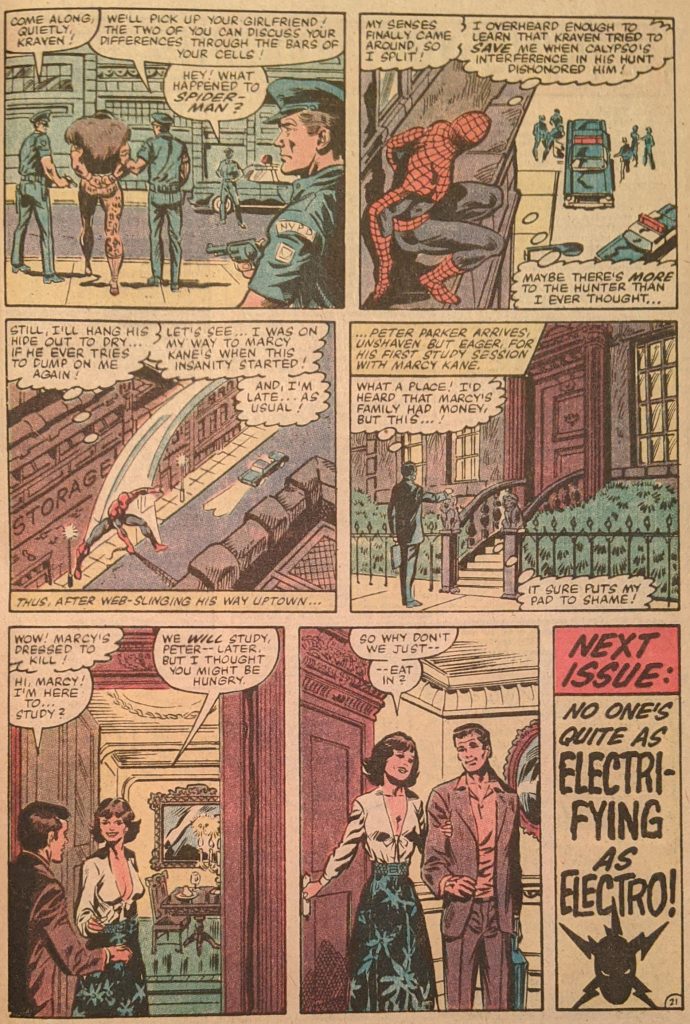 Well, there ya go. That explains why Calypso was out of the picture in Kraven's Last Hunt. Kraven would bounce around the Marvel U jobbing out to Ka-Zar and harassing Tigra again in West Coast Avengers, but he won't meet Spider-Man again until Kraven's Last Hunt. And no one's gonna see Calypso again until Todd McFarlane's Kraven's Last Hunt fanfic in his own Spider-Man title. But that's all in the future.