Onslaught! It's happening. What is it? I don't think Spider-Man really knows, so I'll save the exposition for later. Al Milgrom helps Larry Mahlstedt out on inks this month, as Peter & Mary Jane's taxi is stopped by a sentinel blocking the 59th Street Bridge. It helpfully announces that Onslaught has sent it here, and that all mutants and powered individuals must surrender. Bad timing on the ol' powers coming back, Pete.

The Amazing Peter-Man leaps down and rescues the child, wondering if he can find her parents before another sentinel spots him, while we turn our attention to The Daily Bugle. We learn Onslaught is based in Central Park and the heroes are having "some kind of summit" at The FF's place, and then the building shakes as a sentinel begins attacking it. That's no good. Also no good is the situation at The Daily Grind, where Shirley is shooing employees and customers alike into her basement for safety. Someone has to go outside to lock the gate on the front door, and that makes for a great excuse for Ben Reilly to ditch everyone and do his Spider-Thing as Devon calls him a wimp and Al Milgrom very obviously takes over the inks.

While Ben heads out to work, another sentinel catches up with Peter & MJ. Peter tells MJ to make for The Bugle and begins trying to lead the robot away from his wife. But on the way, the sentinel says it detects a lifeform inside the female "beyond range of embryonic normalcy" (You'd think a robot would say "normality.")…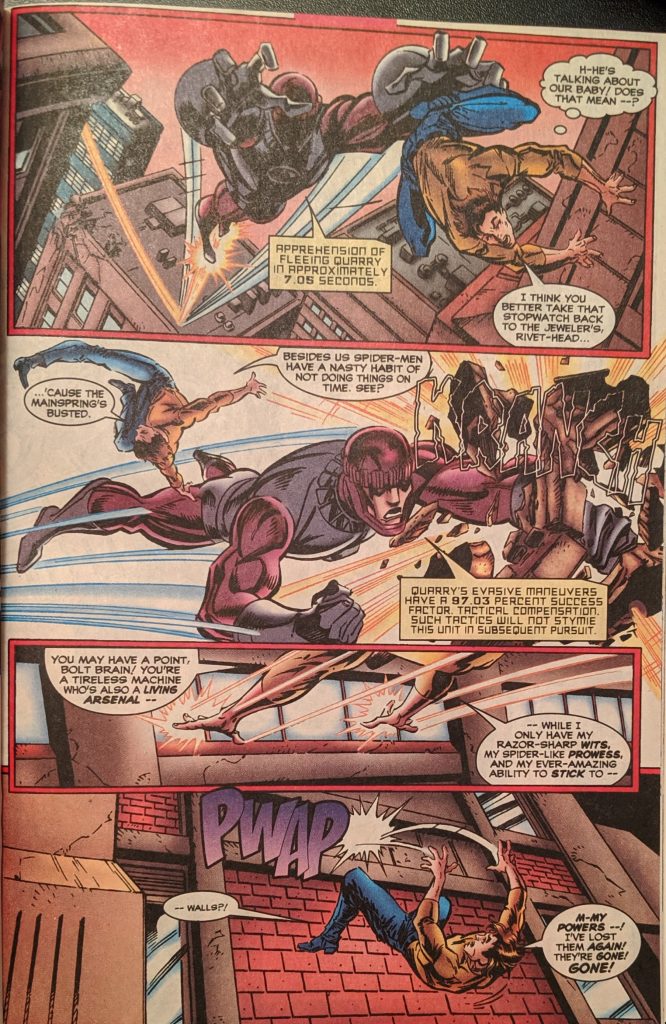 This actually works in Peter's favor once he manages to grab a ledge and not fall to his death. With his powers gone, the sentinel gives up and leaves, no longer sensing a superhuman to apprehend. Back at The Bugle, we find out the reason a sentinel is attacking: Ben Urich's nephew, Phil, who has recently been operating as a heroic new Green Goblin. It's a whole dumb thing, mercifully shortlived.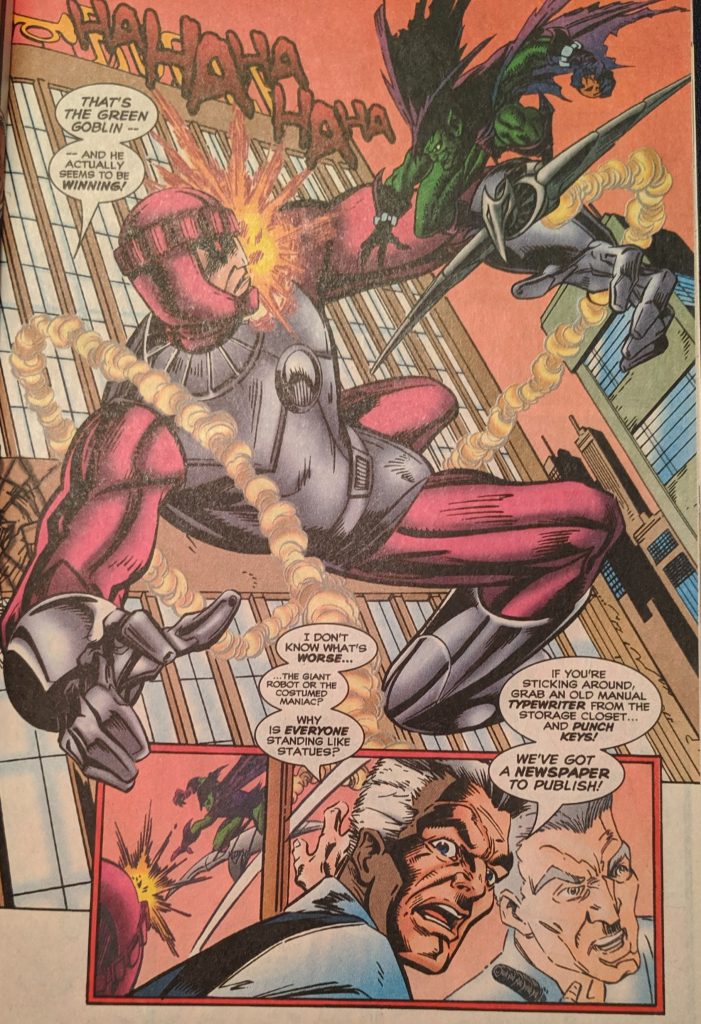 He's a hero, and not crazy, but he still cackles like a madman while doing his thing. Why? Because. Elsewhere, Spider-Man is breaking up some looting when a sentinel catches up to him, and then we go back to The Bugle in time to see our other Spider-Man arrive.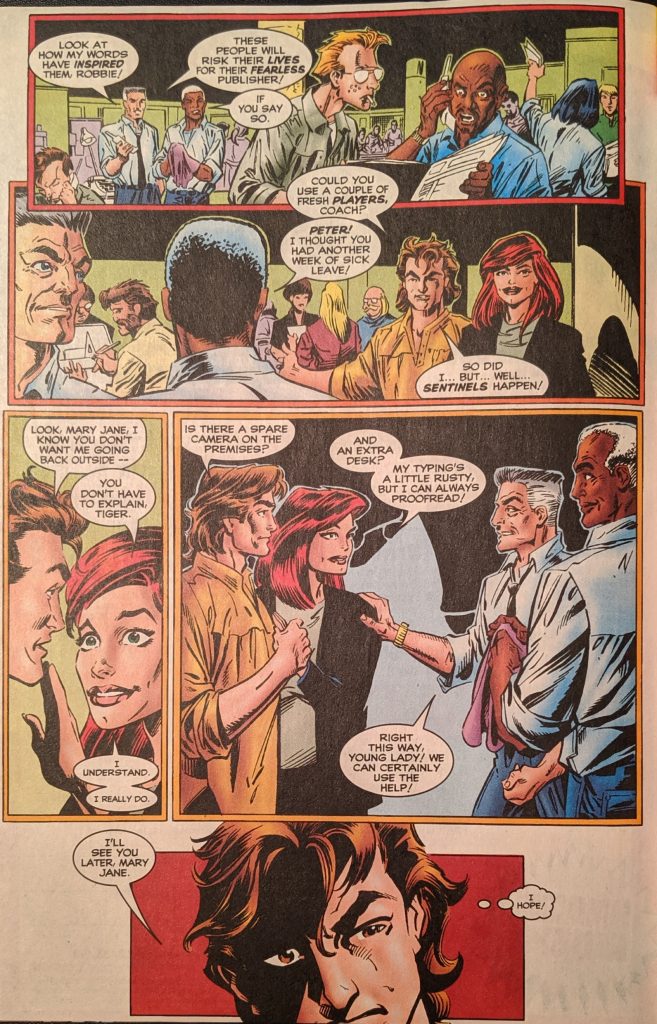 And also, Spider-Man begins to get the upper hand against his sentinel.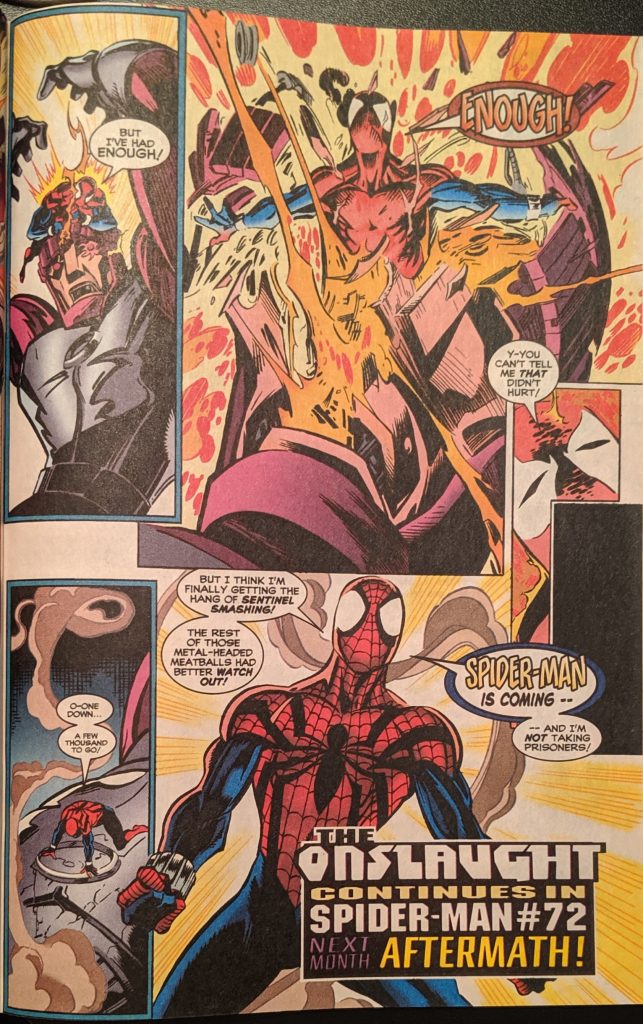 Weird page. Weird composition, weird dialogue. Spider-Man's war on sentinels continues in our next post. But one thing will not continue. After 64 issues, many of them drawn concurrently with a 2nd monthly title, Mark Bagley is off The Amazing Spider-Man. Strange place to stop. He's sure not done with Spider-Man, though. Even though at this time, he wanted to be. He's going to a long run on Thunderbolts with Kurt Busiek, but in a few years, he'll begin a truly impressive, uninterrupted 110+ issue run on the groundbreaking Ultimate Spider-Man. And then find himself pulled back into Spider-Things over and over no matter what, whether it's a symbiote-centric Avengers run, various Spidey anniversary issues, or the incredible Spider-Man: Life Story miniseries, not even a stint at DC could keep him away from Spider-Man for too long. He's a lifer.