Ok, so, Tombstone killed Spider-Man last issue. For sure. We come back to that same moment, and he recaps how he did it, and then Black Cat swoops in and attacking him some more.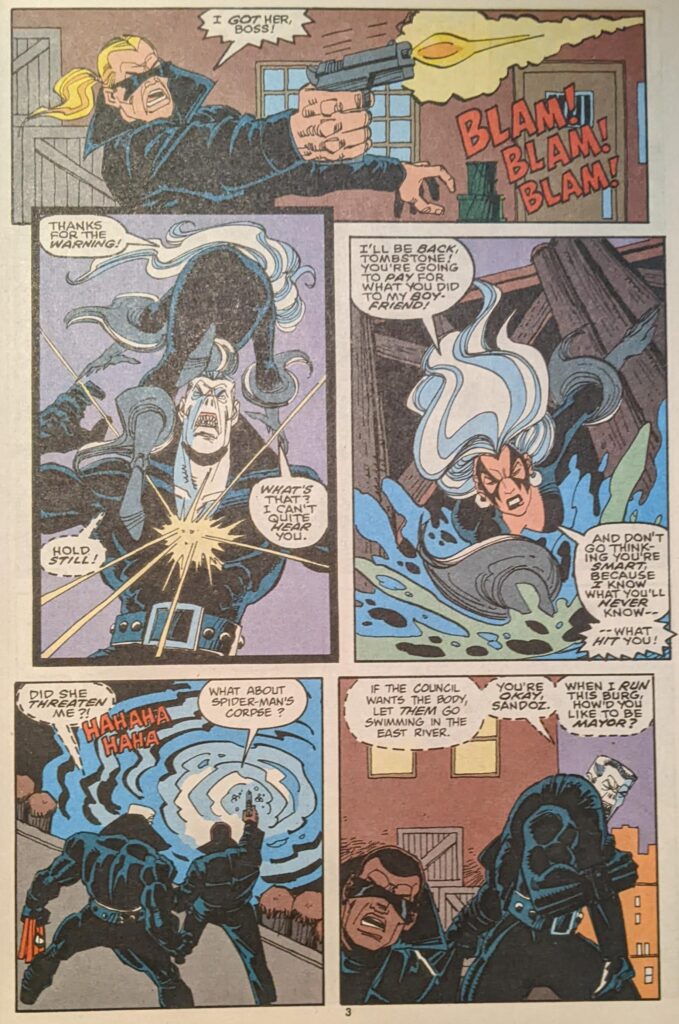 Feel like that guy's career as a Tombstone goon probably isn't gonna last much longer. This new, super-tuff Black Cat is pretty over the top. But I guess that's the 90s.
That is very funny. And also does beg the question: How does Flash not know? Shouldn't he know? On the following page, Peter arrives home as MJ is getting off a phone call, and in the time it takes him to open the fridge and drink some milk out of the carton, MJ has informed him one of "Sammy's" other clients (Is that her agent? Her realtor?) has left for Hollywood, and they can move into a 4-floor brownstone on the upper east side on a lease-to-own basis Wednesday. Just like that in 7 panels.
:Gee, Mary Jane, a miraculous solution to a very serious problem just fell in our lap, but I need to live in The Village…" Sheesh. Elsewhere, Tombstone produces Spider-Man's mask at the council of mob guys and claims his seat. That Kaska guy refuses, saying the mask is fake. As Black Cat watches from the window, Tombstone his his limit with that very dumb guy and smashes the table. Kaska tells his goons to kill Tomby, but bullets don't hurt him, and he picks up his rival by the neck and throws him through the window, right by Felicia. While going through that window probably didn't do the guy any favors, Spider-Man is at least on hand to catch him.
Legit funny first panel. As Spider-Man takes apart Tombstone's goons, he keeps up the banter, in a pretty Bugs Bunny mode, which I always enjoy, and then it's just him and Tombstone. Up on the roof, Felicia frees herself and angrily heads down just in time to beat up some fleeing goons. Tombstone's 2 primary goons start shooting at Spider-Man, keeping him off balance so Tomby can charge him ("How do you want to die?" "Surprise me, I'm flexible" A+). Spidey webs the guns and then starts makin' with the Buscema punch for Tombstone… which really messes up his hand. Tombstone says he's stronger and faster than he used to be (Somehow?) and tackles Spider-Man out the window, saying not even this fall can hurt him.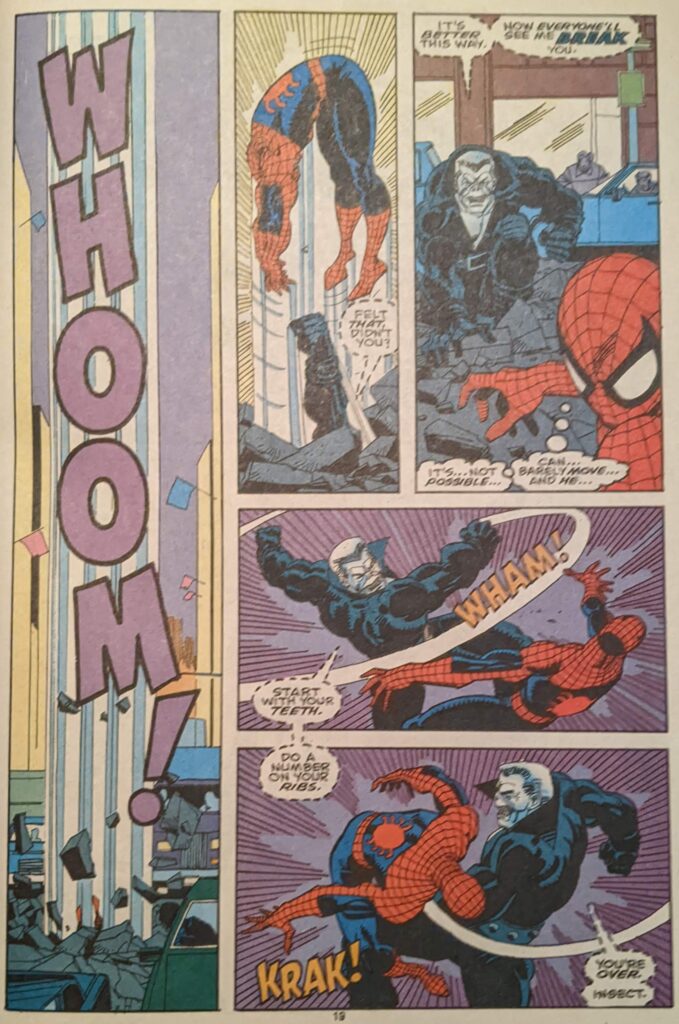 Spider-Man puts some distance between them, pretending not to be as hurt as he is, webs up one of his hands, and puts everything he's got into a flying punch in dramatic Sal style.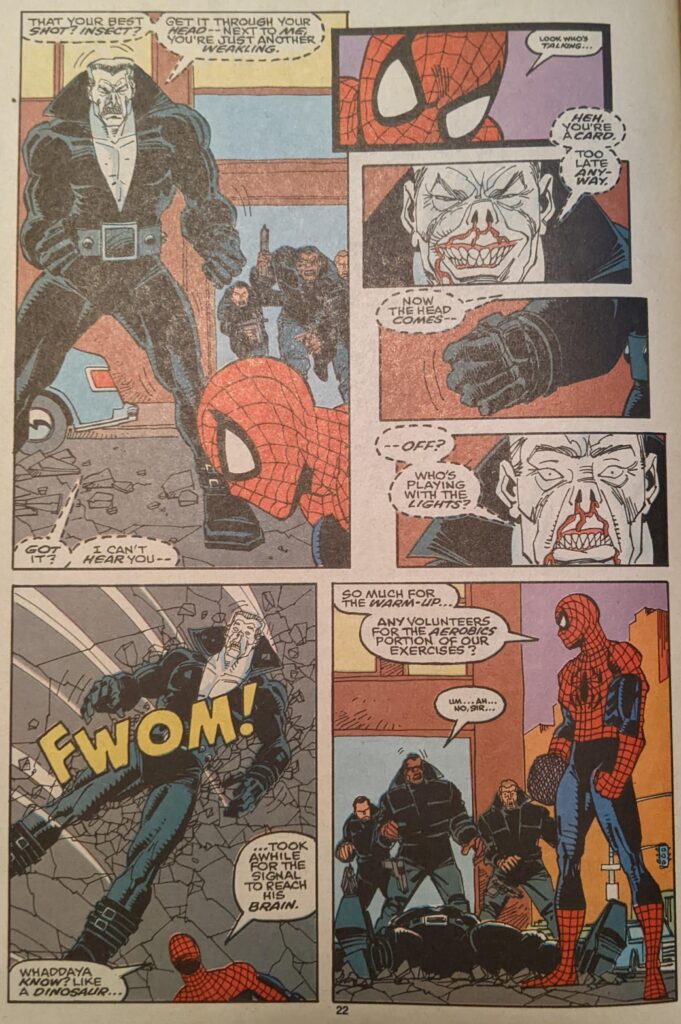 Weird stuff. It was pretty uncool to web her up, but she was also raging mad and completely outclassed. But, there you go. Meanwhile, in the backup feature by the same folks as last issue, JJJ is wandering down by the docks in real Gerry Conway 70s fashion when a mugger puts a knife to his throat.
Well, this is weird. JJJ wanders off, thinking it's not just "his kind" that think his paper's a joke and wondering how he could have been so blind. Hours later, we find him in a bar, almost passed out, being told he has to go home. He asks the bartender what he thinks of The Bugle, and the bartender says it's "ok." Pressed, he also says he has a degree in journalism. How convenient!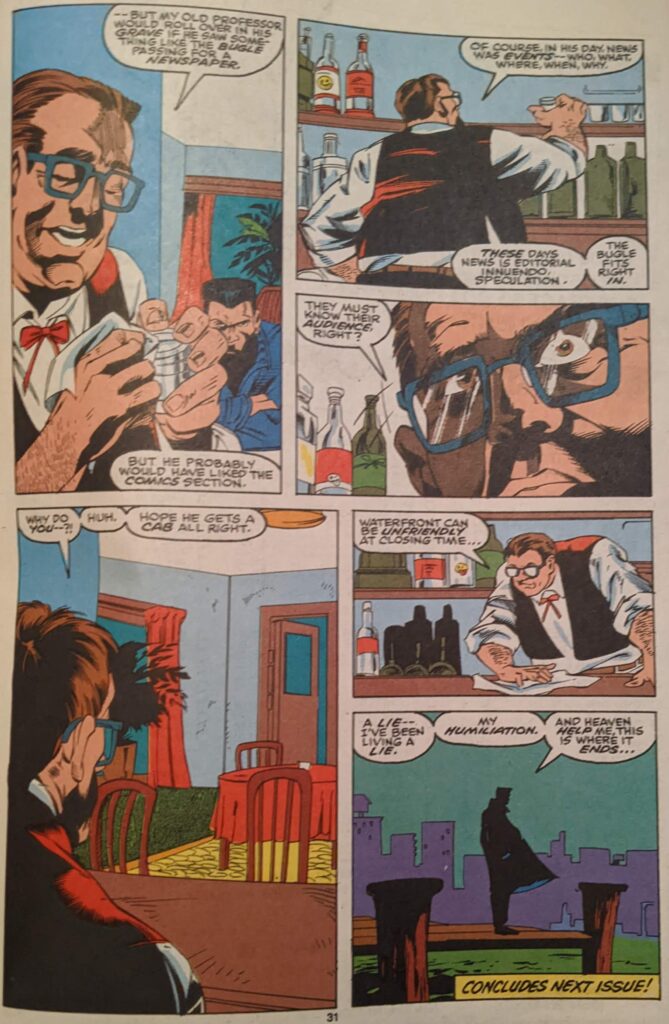 This all feels very abrupt. Well, I guess next issue JJJ is gonna kill himself. After whatever Spidey gets into…