I wonder if Sal was like "Oh yeah, this guy. Been a long time." Tombstone was big business when Gerry Conway was around, and after he left, people started using him in other books, like Daredevil and Darkhawk and Moon Knight and Luke Cage, but at this point, it's been 3 years since he was in a Spider-Man title. And here he is! Steven Grant gets his own separate "introducing!" credit box as he joins Sal and Bob Sharen for what will most likely be a shorter run than anticipated. Steven's only onboard until TAC 210, and I've never read any of this run. But his take on Spidey was fun in SM 32, 33 & 34, so here's hoping for a good time. We open on Tombstone smashing open a door and yelling for Hammerhead.
A big opening move. Hammerhead is such a dopey villain, why not try to replace him? It could never stick, both of these guys are gonna keep turning back up, but why not? From there, we turn our attention to the office of a lawyer, where Peter & MJ, Liz, Normie and Mark Raxton, and Flash & Felicia are gathered to hear Harry Osborn's last will & testament. Now this not being done by JM DeMatteis feels wrong, but I guess that's just how it is. Instead of a paper document, we learn Harry's left behind a video tape. The lawyer puts it on, and Harry, clearly in his Green Goblin costume, says he must be dead.
That is insanely risky behavior, Mr. Parker. That's ridiculous. Spider-Man is furiously swinging away, looking for a place he feels will be safe to open the box, thinking he's tired of being afraid of The Green Goblin, very much on par with the usual attitude in JM's Goblin stuff. He lands on a garbage scow and…
Is he? Seems unlikely. Back at what is now Tombstone's office, a rep from the local council of mob bosses (Is that a thing?) arrives to tell him his application for Hammerhead's seat has been rejected. Tomboy takes that as well as you'd expect, smashing the guy around the room in Sal buscema fashion, demanding to know the names of the people opposing him. He's told it was just one guy, then has the messenger thrown out and tells his boys he's not going to fight the council, he's going to run it. Later that night, Spider-Man creeps through Liz's window, trying not to panic her, but telling her he thinks her husband is alive. Liz explodes into anger and frustration, understandably, rousing the attention of MJ from the other room, who yells at Spider-Man that this woman is in mourning and to get out. Spider-Man does, thinking he must be crazy. Liz collapses into MJ's arms, crying that she thought they were free, but it just won't stop.
Tombstone and his boys proceed to rob an illegal gambling den run by the guy who kept him off the council. Goons rush in to fight them, but Tombstone fights them pretty much single-handedly until one appears with a grenade launcher.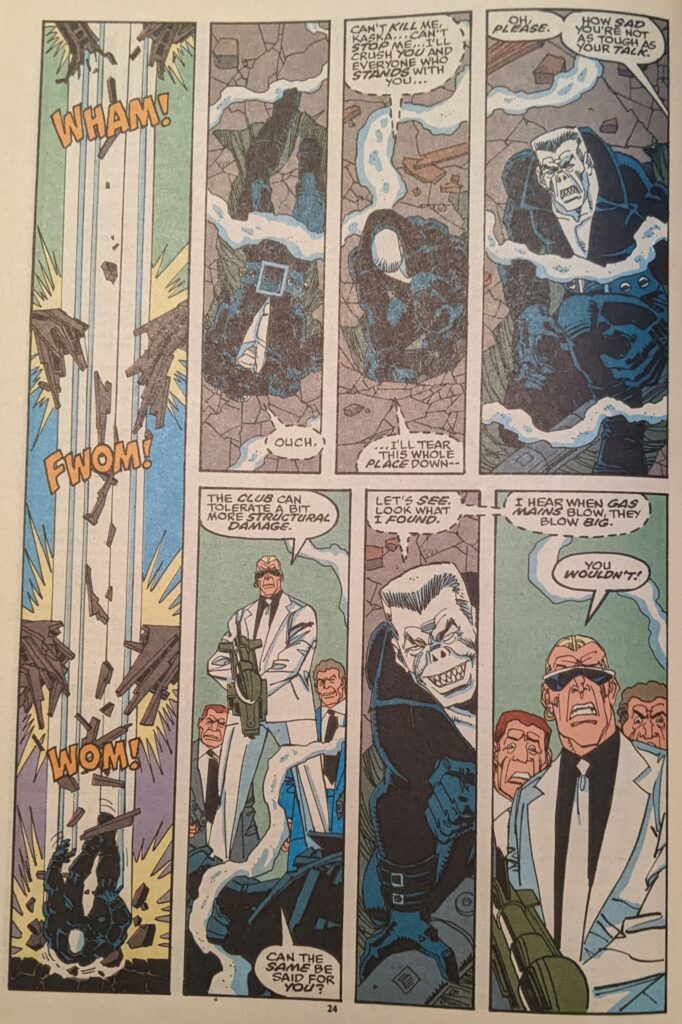 He would, and the resulting explosion is so big Spider-Man sees it from far away and rushes over to see what's going on.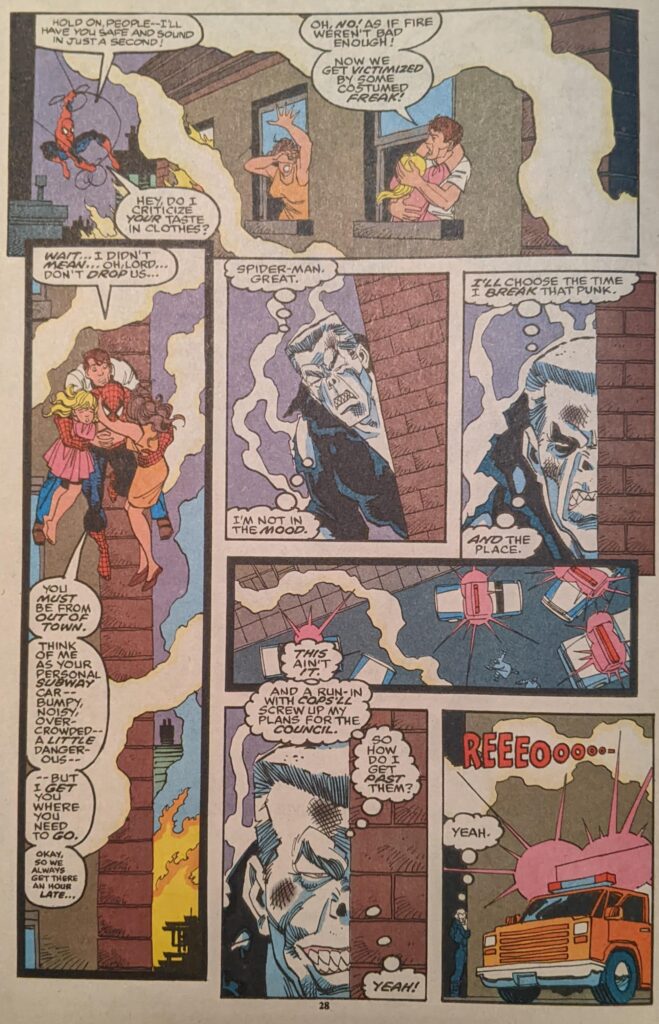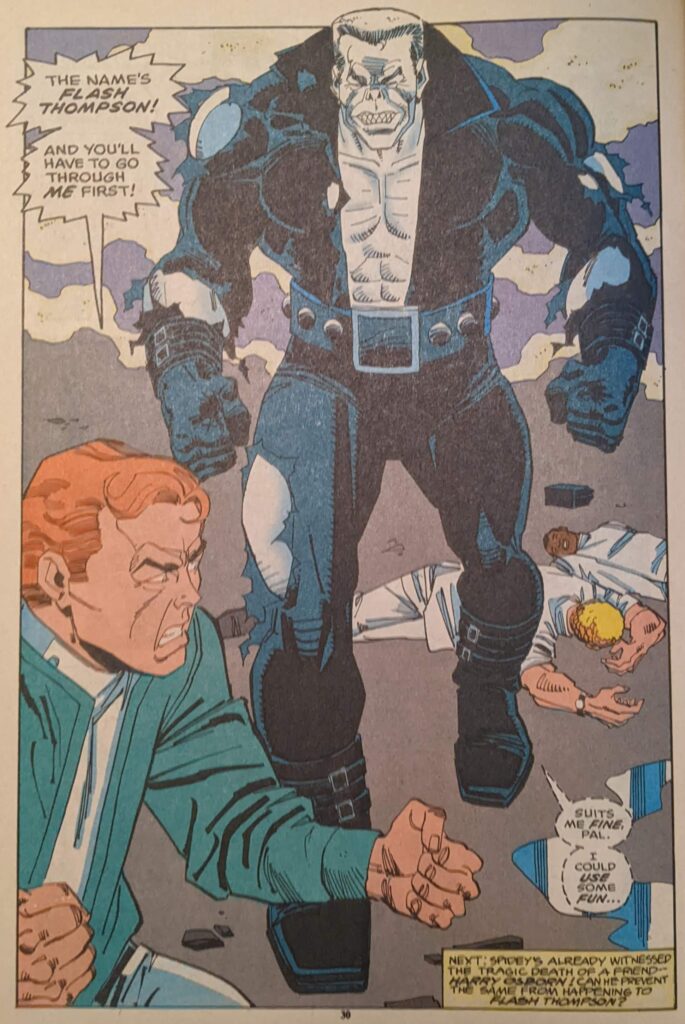 Why on Earth is Flash there? I assume there will be some kind of reason. The letter page features people loving TAC 200, and 2 people asking for the return of Tombstone, who must've been happy to get this issue.