Why are we dooooooing this? I cannot believe this. ASM 19 is called "Spidey Strikes Back!" It's the big, triumphant end to a rare-for-its-time 3-issue arc. And we jam not one, but THREE of these in before the 3rd one. I do not get it, man. But here we go. The mysterious GL Lawrence still co-writing as Flash Thompson is still crusading for Spider-Man's honor at school, this time at Peter directly, as Liz tries to change the subject to Jason acting strange lately. Then we cut to The Vulture, the 2nd member of the Sinister Six immediately back in the book, as he flashes back to his origin for some reason, is sordid history with Gregory Bestman and all…
Vulture finds himself uncomfortable with this hit, and then sees a guy holding a paper with the "Spider-Man A Coward!" headline. He steals the paper and reads it, sort of expanding his panel from ASM 18, and rants to himself that he was gonna get his revenge on Spider-Man as soon has he finished this hit, and then he notices someone else on the roof with him.
Insane. Totally insane. Then we cut to Memorial Hospital, which Aunt May is still in. How could this possibly be happening during ASM 18? Leaving her room, Peter runs into Betty, they have their now usual fight, she storms off.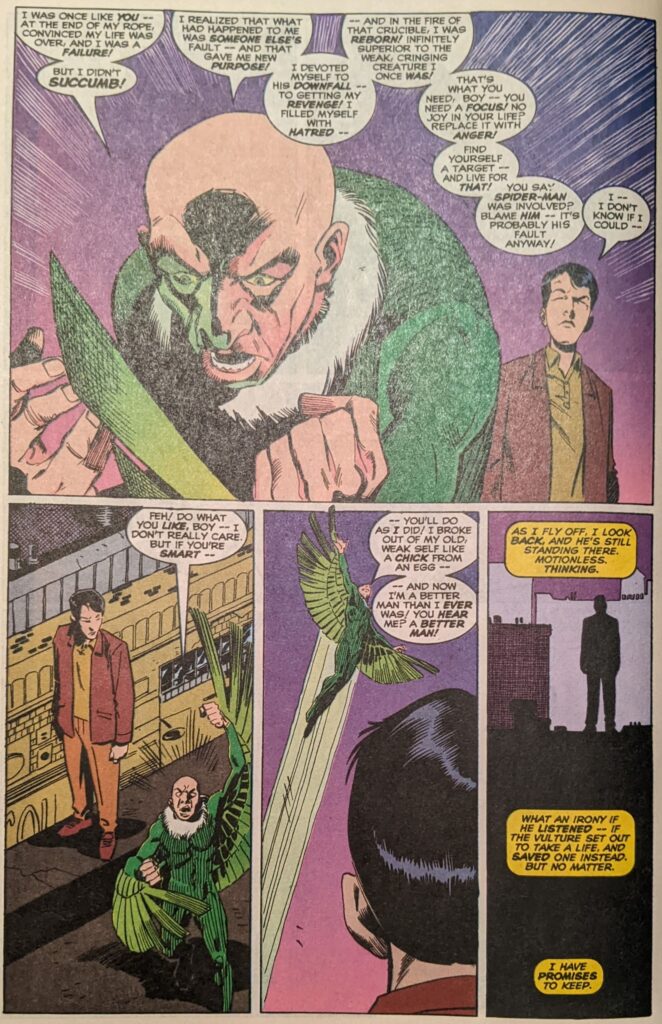 Not only does this fit very poorly into the established issues, but everyone was reading this without them as it came out. This hinges so completely on an issue of ASM you probably didn't have. This is just bonkers.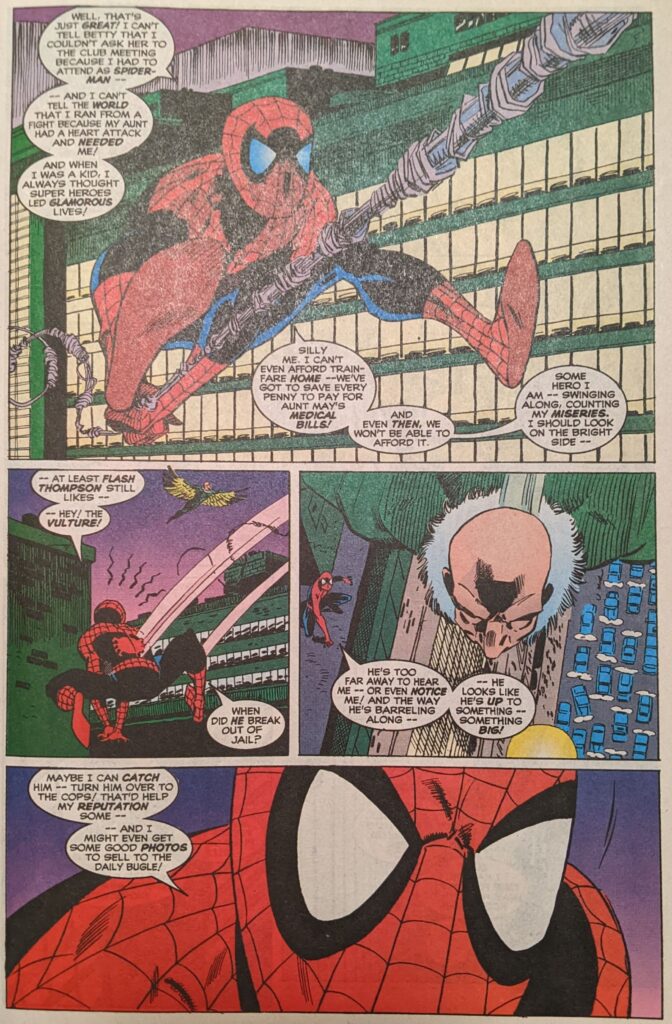 He spent all of last issue afraid to fight even just some lame mobster goons, and here he is fighting Vulture, apparently before Aunt May gave him his pep talk. This is a disaster. Vulture shakes Spidey and rams into him, leaving him falling to his apparent death, and we cut to JJJ at The Century Club, yukkin' it up over Spider-Man's bad press. He runs into someone who makes the same point I did:
Kinda funny. We learn Vulture's target is, perhaps unsurprisingly, Wilson Fisk. He smashes through Fisk's window, but before he can do anything, he gets webbed right back out. Sits somewhat uneasily with Kingpin's first appearance in ASM 50, but that's the least of this issue's problems. Spidey got a tracer on Vulture earlier, so it was no problem to catch up, and they're fightin' again. Vulture keeps ranting about how he's fueled by hate, and Spidey's not having it.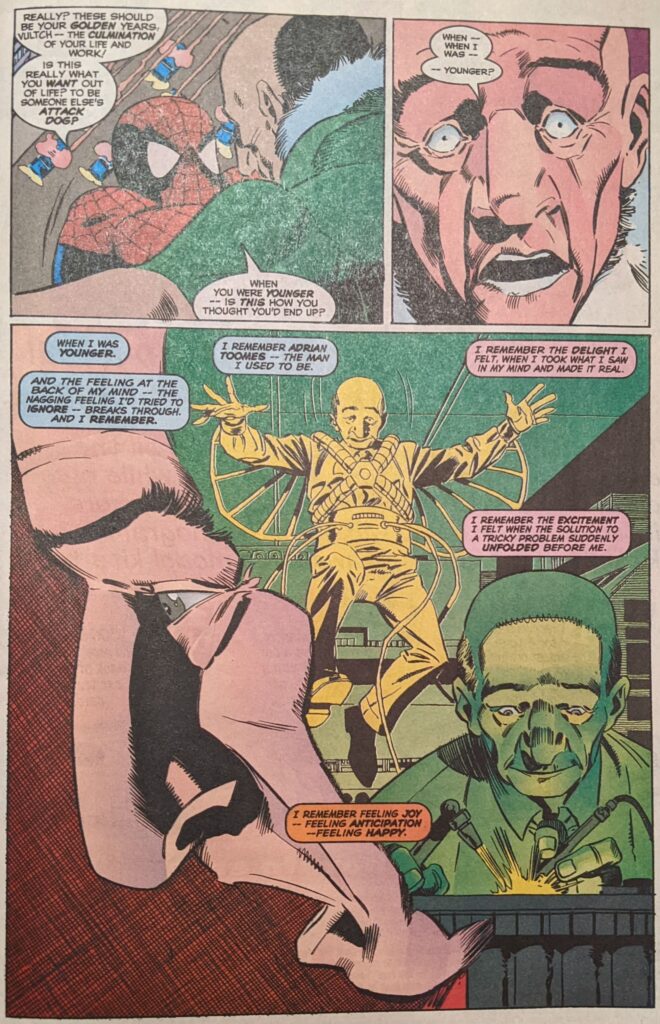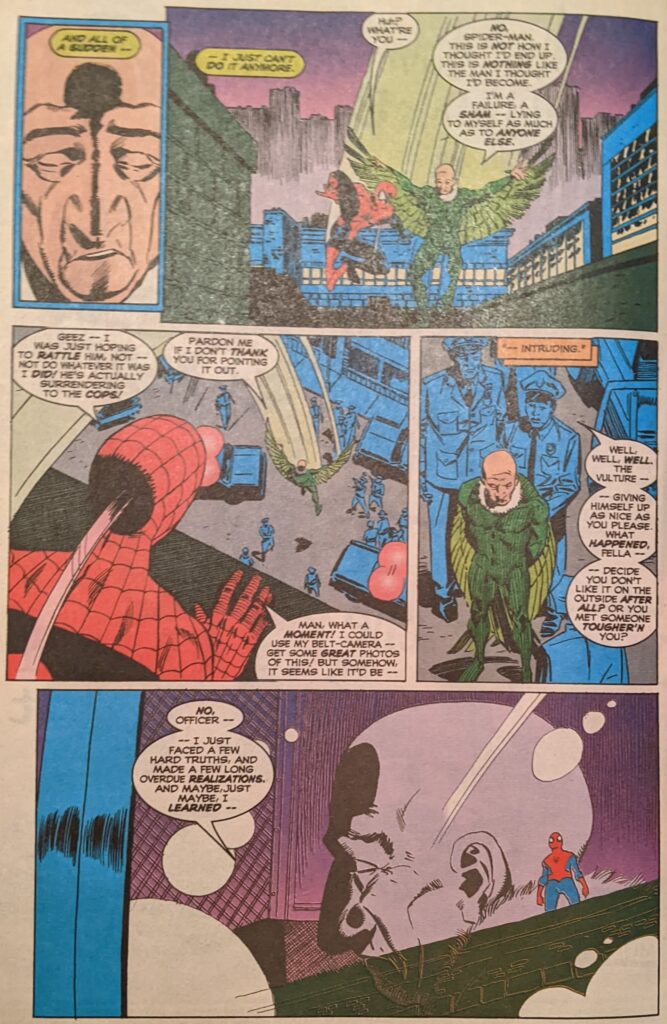 This is all so confusing that I flipped through future issues til I found their next reading order, in UTS 25, naturally. They say you're supposed to read ASM 17, and the first TWO PAGES of 18, then UTS 20 & 21, then the rest of ASM 18 "simultaneous with" UTS 22. Spider-Man is somehow gonna run from the Sandman in 18 while having a totally separate adventure simultaneously. This is so unnecessarily complicated! Why would anyone do this??