The story you never expected to read, but will read with remarkable frequency in the coming decades! The splash is mostly JJJ grinning like a goon in front of his expose on the coward, Spider-Man. A community reacts:
I love that JJJ has managed to spin "Spider-Man is an evil menace" to "Spider-Man's just a big chicken" and it's worked. What is the risk to public safety of having an easily frightened guy in tights running around? Doesn't this actually invalidate JJJ's usual crusade?
The friendship of Anna "Watkins" and Aunt May getting more established. The next day, Flash is vigorously defending Spider-Man at school, but no one's buying. Liz basically asks Peter to a movie, but he says he's got something to do. He thinks to himself that Liz "isn't a bad kid, though I prefer Betty Brant," and I gotta wonder again… why? Because she literally won't stop accusing him of not wanting to be with her? Because she takes every opportunity to think he's seeing other girls? I mean, sheesh. Not a lot of trust. It would be nice if we saw them actually happy together more often for balance. But I guess it's a pretty teenage romance in its heightened drama. Then Spider-Man swings in the window of a company that makes sports cards, trying to sell the idea of Spider-Man cards, but he's picked a pretty terrible time to try this and is flatly rejected. On his way home, he sees some goons about to rob a jewelry store, but thinks of Aunt May and doesn't dare get in a fight, instead just calling the cops. Thenhe rushes home and finds Dr. Bromwell making a housecall, saying May is fine, but she must keep taking the medicine they can't afford.
I had a boss with that smile once. A predator smile, like a shark.
Betty torments Peter during the most stressful time of his life instead of just talking to him. Liz Allan is practically throwing herself at him, and he's still more into this. JJJ tells Peter not to bring in more Spider-Man photos, he's done, and Peter thanks him for the get well card as Betty bloo hoo hoos her romance comic nonsense in the distance. Then Spider-Man tries a new tack, selling the formula for his webbing. It's patently impossible strength and versatility certainly impresses the scientists he brings it to, until they find out it dissolves in an hour, and understandably lose interest. A very frustrated Spider-Man heads for home, dropping into an alley to change clothes, and has the incredibly bad luck to run into Sandman. Sandy can't wait to get another crack at him, but he's too scared to leave Aunt May alone to actually fight.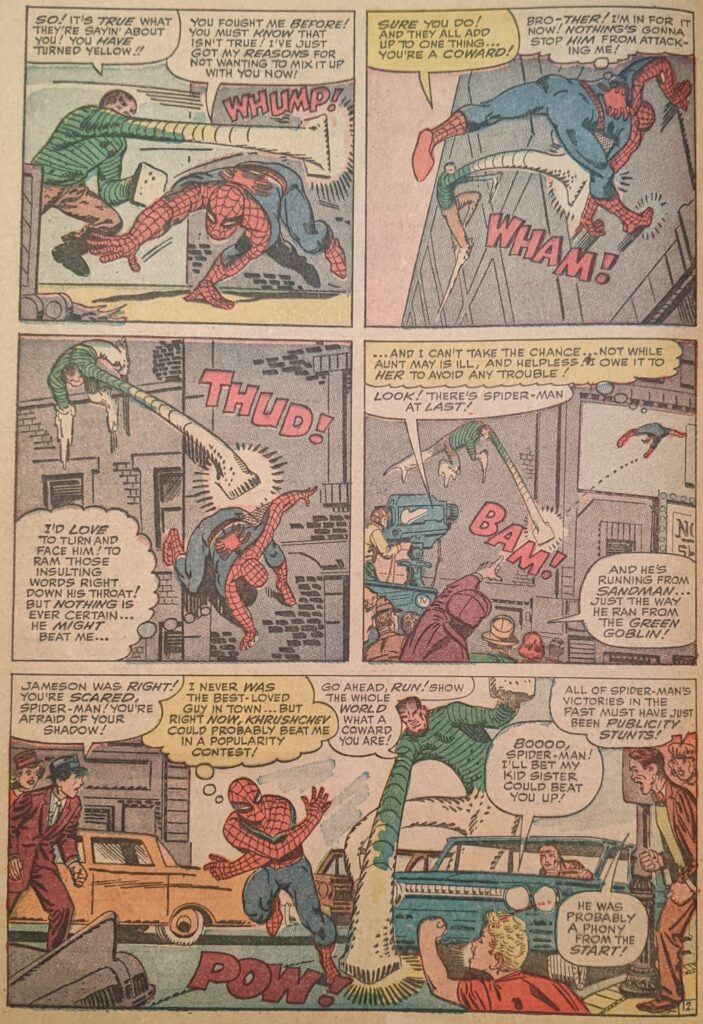 Anna's husband, you say? I wonder when he gets written out of the book. Or maybe that line is just forgotten later. JJJ runs a mercilessly petty campaign in the media celebrating Spider-Man's cowardice as the days roll on, and we find Johnny Storm utterly fed up with it. He can't believe Spider-Man has turned coward and sets off to find him and get the truth. He writes his first ever flaming message in the sky telling Spider-Man to meet him at their spot, which of course is the Statue of Liberty, but Spider-Man never shows up, because Peter doesn't dare leave May's side. At school, Flash is still fighting a one-man war against Spidey's declining rep, but it's not going too well. And so…
Poor Flash proceeds to get wrecked by those goons until the commotion summons some beat cops. Peter arrives just in time to see the cops arresting the goons and a very loopy Flash getting helped to his feet. The next day, he approaches Flash to talk to him and sees he's got a really bad black eye, which seems like he got off light to me.
From possibly senile and loving Doc Ock's nice manners to a stern and important lesson for Peter. A complicated lady. I love that Peter quits and un-quits on 2 consecutive pages.
And there you have it. Spider-Man's ready and willing to go fix his damaged reputation. And thus… we insert no less than THREE Untold Tales issues between this one and ASM 19? How could that possibly be a good idea???