Coverless and cheap, that's fine with me! That really could be Jason behind Liz on the splash. The way literally everyone in this class hates Peter except Liz is a bit over the top. I know bullying is/was a serious issue, but even random no name background dudes hate on him for no reason.
Comics sometimes like to do the "would there be no villains if there wasn't a hero to oppose?" thing, and boy, does early Spider-Man make a case for them. Doc Ock literally going on a national crime spree just to get Spider-Man's attention in #11, now this. But, hey, they introduce the glider, ditching the broomstick. The broomstick thing worked with Goblin's weirdly witchy armory, but the glider is an obvious improvement. One more thing to get the wheels in motion…
The other weird thing about Peter's life is how there's exactly 2 girls in this series and they just happen to both be into him. Hated by men, loved by women! Thinking about how they made a future plot point of Flash saying he never bullied Peter, that he only gave back what he received… doesn't really fly in the old days. Peter was definitely mean, but always in response to people being mean to him. Later on, Peter's walking down the street when people begin looking up and shouting, which is never a good sign, but it's not The Green Goblin, it's 2 guys running on a roof with big cartoon money bags toward a waiting helicopter. Changing quickly, Spider-Man leaps up to stop them, only to discover they're part of a movie being filmed, and he's just ruined it, which is pretty good. I'm not the only one who thinks so.
We quickly learn Liz's dad has put an ad in the paper for Flash's club, and allowed them to use his dinner club for their meeting. Flash had the ad say Spider-Man will be there, fully confident he'll see the ad and show up, since he's such a great guy. Liz is adamant about Peter coming, but of course, he can't if he chooses to appear as Spider-Man. There's also a bunch more catty Betty/Liz stuff. While all that's going on, Peter's Spider Sense goes crazy, because The Green Goblin just walked by in his still mysterious civilian persona. He's reading about the fan club, and probably deciding to crash the meeting. Liz finally says if Flash won't let Peter come to the meeting, she'll tell her dad not to let him use the dinner club. Peter walks Betty home, and she's secretly upset he didn't invite her to the club meeting he didn't even agree to go to, and he didn't invite her because he plans to go as Spider-Man. Typical stuff. Then he becomes Spider-Man and tries to find Green Goblin, but quickly realizes he can't just go around scaring people. He gives up and switches back to Peter just in time to hear a gunshot as he walks out of an alley.
The rivalry continues! An interesting bit of dialogue on the next page…
The still mysterious MJ likes Spider-Man so much Aunt Anna told Aunt May about it, eh? That works with the retcon. Well, now the entire cast of the book except Aunt May converges on The Avenue Dinner Club. Someone goofs and has Flash call Liz's dad "Mr. Brant" as he thanks him for letting the club meet here, and he's happy about the publicity. There's a big crowd, and even Johnny Storm and his girlfriend Dorrie have turned up to see if Spider-Man will appear, Dorrie warning Johnny she told him he's not allowed to flame on tonight. Then Spider-Man arrives. As the crowd cheers, an unseen Green Goblin throws an exploding frog that cuts his webline. He does some flips and lands,, but Johnny could tell something was up.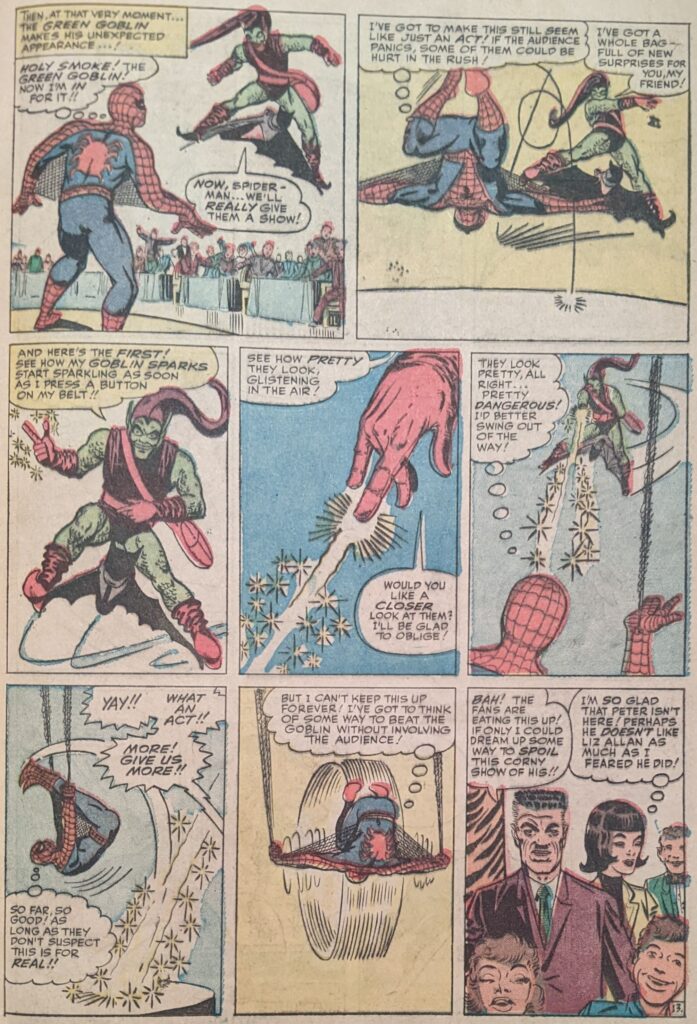 The battle kicks into high gear as Goblin debuts a new bat gimmick that creates a smoke screen and throws what I think is his first pumpkin bomb (He had bombs last time, but I don't think we got a good look at one) and shows off how maneuverable his new glider is as he jukes away when Spider-Man leaps at him. Johnny's convinced this isn't an act, but the rest of the crowd is way into it. As the fight goes on, Peter overhears Liz wondering why she never sees Peter and Spider-Man in the same place, and gets so worried about that he loses focus. But only for a moment, and he gets The Goblin right where he wants him just in time for…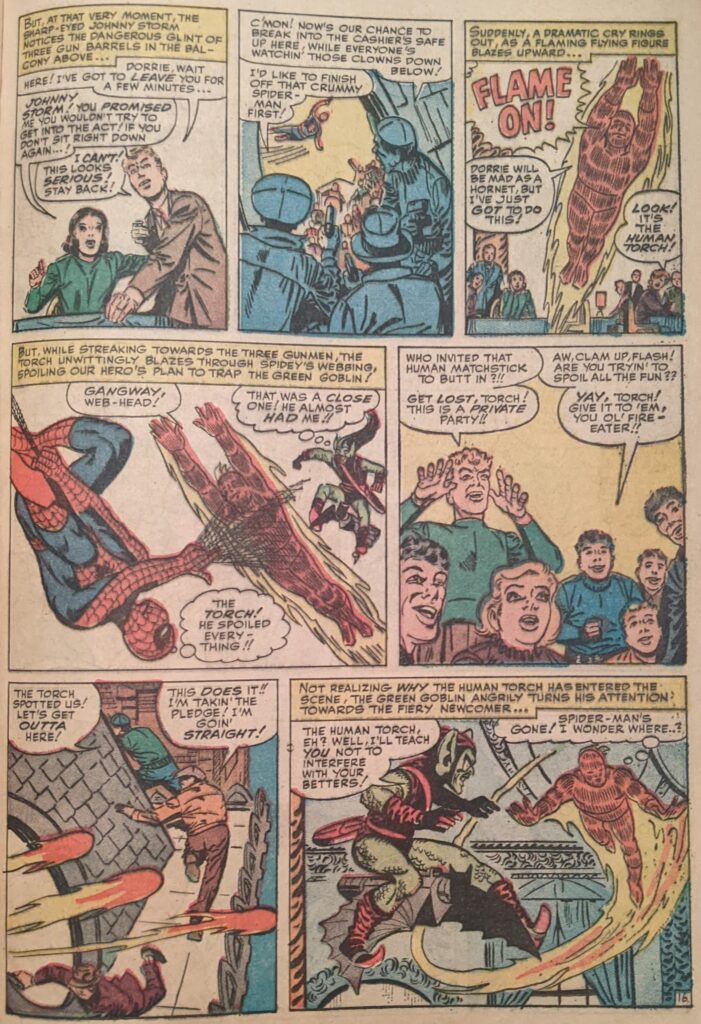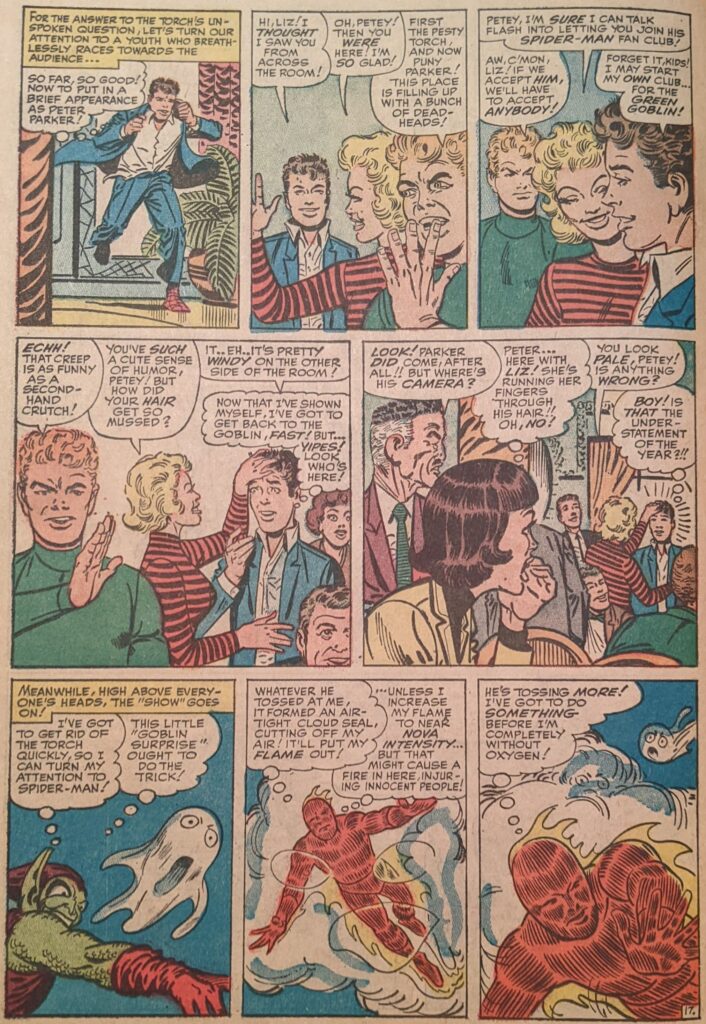 That's a pretty wacky turn of events. Peter rushes off to become Spider-Man again, Betty weeps because she's sure she's lost Peter to Liz, and The Green Goblin makes a real fool out of The Human Torch with his various smoke clouds and explosions until the crowd finally figures out this is a real fight. Then Spider-Man reappears.
I sincerely doubt Ditko intended the punch in panel 3 to be a miss. But man, there's a lot going on in this issue! I wonder if someone's ever counted all of Aunt May's heart attacks? Maybe I should've been. It's insane. She's both the most vulnerable and most powerful person in the strip. Who could possibly survive having 50 heart attacks?? At any rate, the crowd begins to turn on Spider-Man for running out, and JJJ is lovin' it. Torch tries to fight The Goblin, but having no beef with Torch, he just throws a few more gimmicks at him and leaves himself. Peter is rushing to the hospital as we check in with the aftermath…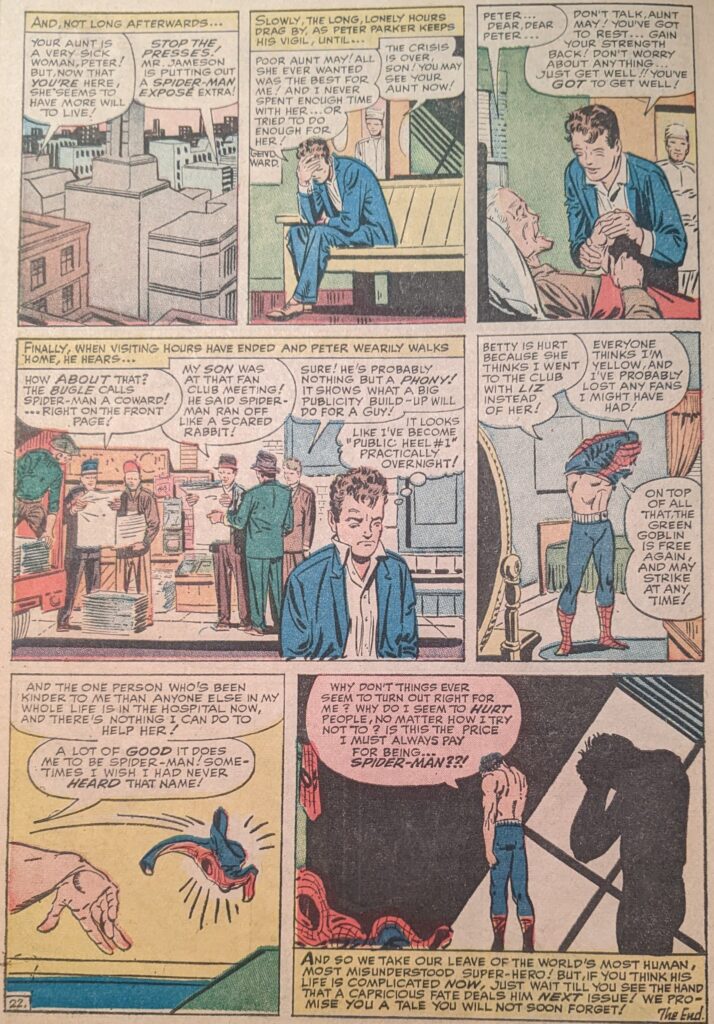 Peter really can get into the worst trouble. Maybe he can get things back on track next issue… or maybe not! This issue features a letter from Doug Moench, future co-creator of Moon Knight. I feel like this isn't the first letter I've seen from him. As it happens, the mail in this issue is about Green Goblin's first appearance, with fans and detractors. Doug was a fan.