I believe we're still firmly in the period where Hawkeye The Marksman (Always Hawkeye The Marksman) was an Iron Man villain rather than an Avenger. In retrospect, that was actually pretty radical, when they took all the founding Avengers off the team and left Captain America in charge of 3 reformed supervillains and called that The Avengers. This month, Pat Olliffe is inked by Al Williamson, an honor for any penciler. As always, he keeps it clean:
Betty protests, of course, and Peter stops to point out that this is his job, and also how they met, and beg her not to be mad. Then Spider-Man is rushing off to see if that figure was who he thinks it was.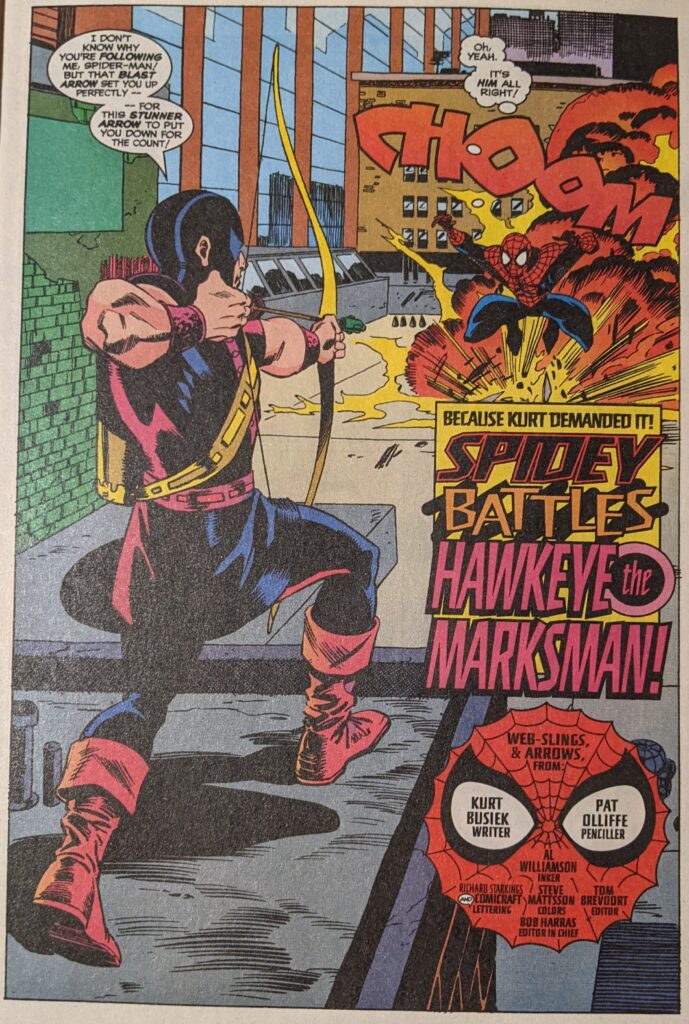 The "Because Kurt demanded it!" made me laugh. I seem to recall he has a soft spot for The Avenging Archer. The problem with archer characters is two-fold: 1, in a medium based on cool pictures, they have a single action pose, and 2, in a medium full of heroes who don't want to hurt or kill anyone, they've chosen to fight crime by shooting lethal projectiles. Their super gimmick is basically always the worst thing about them. But ol' Hawkeye's not fighting crime just yet…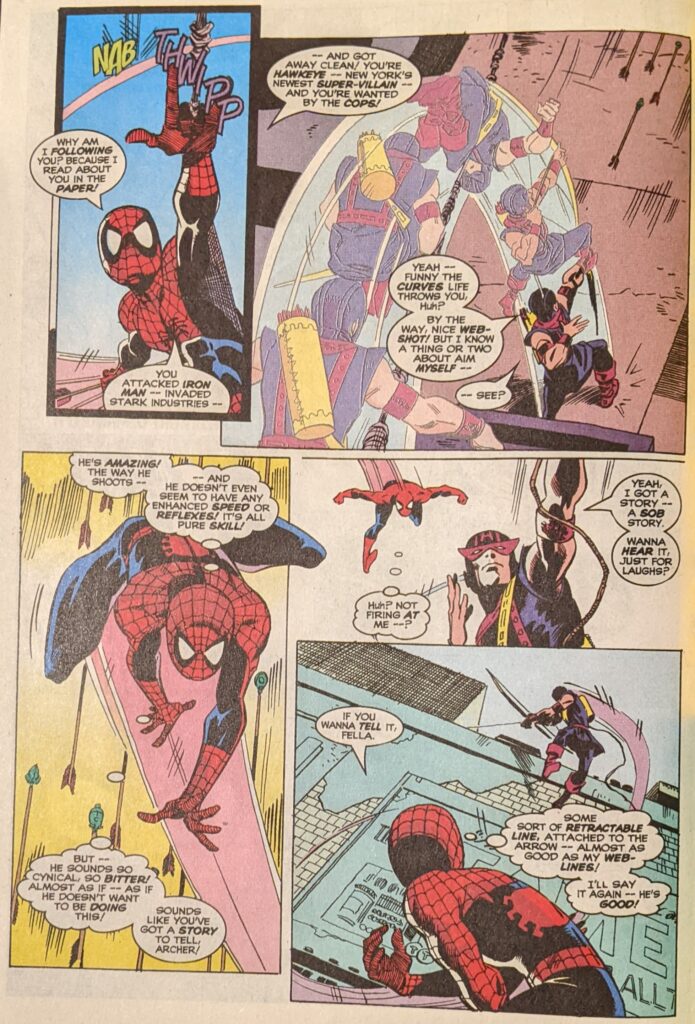 Hawkeye actually does recount his tale of woe, how he was a circus trick shooter inspired by Iron Man to become a hero, but was mistaken for a jewel thief and then picked up by the villainous Black Widow (Also later reformed) and turned into an enemy of the very hero he set out to emulate.
Spidey sees that Hawkeye has stolen medical supplies, and decides to put a tracer on him so he can follow at a distance. Then he remembers he doesn't have the receiver. So he runs home, almost gets caught by Aunt May, thinks he better miniaturize the receiver "or try to rig the tracers so I can follow 'em with my Spider Sense," and heads back out. Meanwhile, Hawkeye arrives at Black Widow's lair. This is taking place the same day as their fight with Iron Man, as it turns out. Black Widow was wounded, and he's bringing her stuff to heal with, but he catches her on a video call with her Russian masters, and realizes for the first time that she's a spy. Man, Kurt's putting some major stuff for Hawkeye & Black Widow in this random Spider-Man comic.
Spidey's ruminations are interrupted by goons working for Black Widow. He pretty handily dispatches some of them, but then one launches a grenade at a nearby theater, sending Spidey off to save people while they escape. He webs the awning into place before it can kill anyone, but the Russian gang is gone by the time he can get back. He takes some photos of the mess…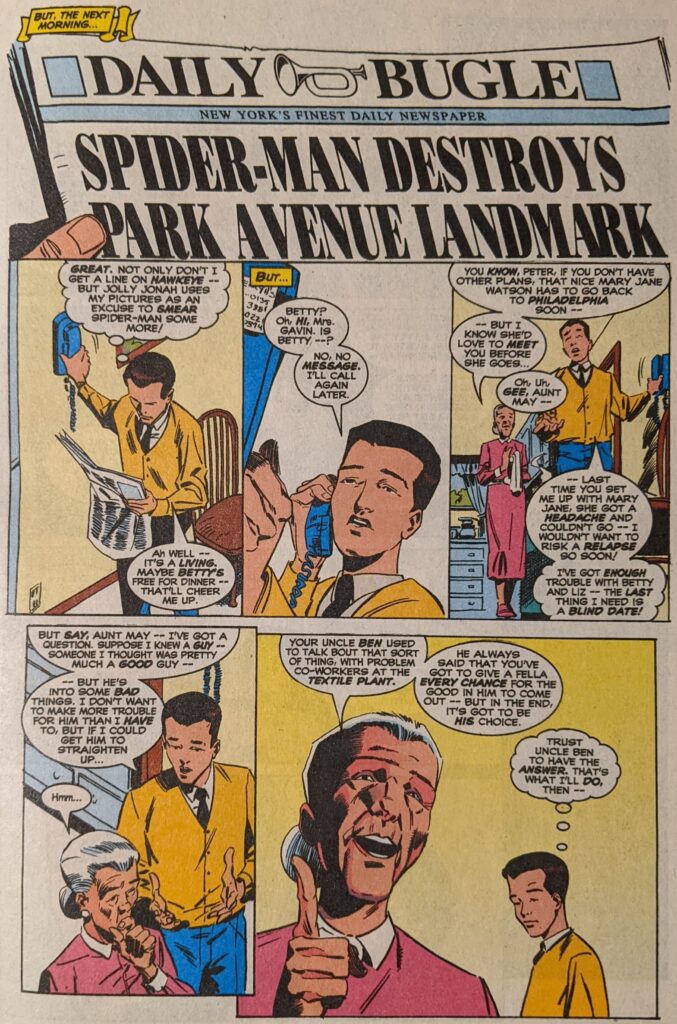 Elsewhere, Black Widow keeps up her act, convincing Hawkeye to go steal a special McGuffin for her, and he relents, despite not wanting to commit treason. Thusly, we soon find Hawkeye stealing an experimental targeting unit, and Spider-Man showing up to try to talk him out of it.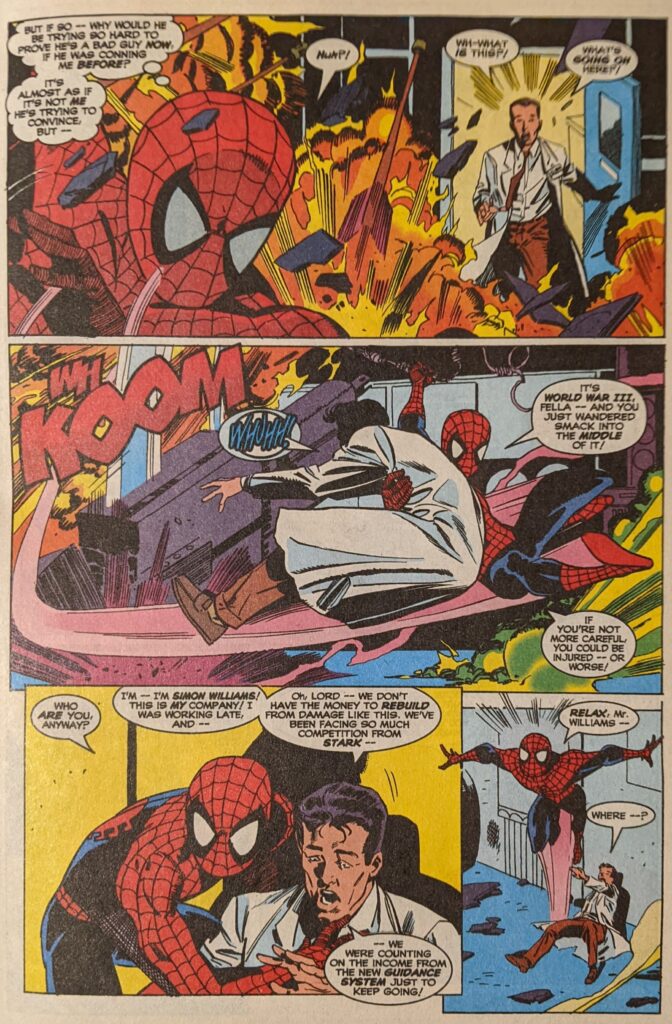 Simon Williams, the future Wonder Man, is the 3rd soon-to-be-Avenger to appear in this comic written by soon-to-be-Avengers writer Kurt Busiek. I'd say he was definitely the guy for the job. Spidey flips behind Hawkwye and webs his quiver off him, leaving him with just the arrow that was in his hand. He grabs his future teammate and threatens to blow him up with his last blast arrow, but Spider-Man says this is where he has to make a choice between being the hero he set out to be or the goon of villains.
This was a wacky one. I don't think Kurt ever referenced Hawkeye holding Wonder Man at arrow point once he had them on a team together, but he should have found a place for it. Next issue sees the return of The Headsman, but before we see that, we need to go back to ASM for a very special first meeting.