A great new tale of Venom! Somehow, I wound up with 2 copies of this issue. Thinking on all these "why did I have this?" comics, I recall that this is probably around the time my Mom found out about this very weird annual event at our local coliseum. I don't remember what it was called, but basically the arena floor was filled with tables and kiosks of all kinds of vendors giving away free samples. Mostly food, snacks and such, but also kitchen knick knacks and various things. We went 2 or 3 times, as I recall. And one table was just giving away comics. Big, big piles of them. Who was this? Why? No idea. But every person in line got X free comics, they just handed you some, you didn't choose, and I went through those lines at least twice. I know I got all kinds of random loose issues from there, though I don't recall which ones. But that seems like a good source of some of these random parts of multi-part stories. A lot of empty space on this cover. Well, anyway, Peter Parker is about to be incinerated on a conveyor belt for the 2nd time in recent blocks (Having also escaped this trap in TAC 45). 
Bags is one of the artists who most often had that little nozzle on Spider-Man's wrist somehow shooting the web past or through his hand despite it being physically impossible, and this page is a very good example. Richard comments on Peter's left hook, which he explains away with adrenaline, saying he had something worth fighting for. I know he's got a secret to hide, but Peter is a visibly fit young man who, at least when drawn by Romita, Jr. or Bagley, tends to wear sleeveless t-shirts. You don't get in that shape by accident. It seems like he should cop to being a big exercise nerd or something during these situations. The various parties are telling each other what they did was dangerous when an Agent Abrams of the FBI shows up. He knows Peter's photography, and wants to keep this out of the paper. As it happens, Peter has the transmitter from that robot spider in his pocket, and…
Shaky, but efficient.
Uuuuugh. Well, 2 hours later, Spider-Man is approaching Smythe's lair. He's reconfigured the tracker for his spider tracers based on what the FBI guy told him (Which seems like a reach considering how short that phone call was), and it's led him there. But he finds no resistance as he sneaks in, almost like Smythe is expecting him, which also makes no sense, and then, naturally…
Smythe hits a button on his chair, and all the other chairs begin shooting out a hundred wired darts, such a cloud of them that even Spider-Man can't dodge them all, and when they tag him, he gets pretty seriously electrocuted.
Begs the question of why he bothers to zoom around in his space chair, but maybe it's just really comfy. Naturally, it's fightin' time. There's some trading of blows and the realization that Smythe is really strong and now covered in weird blades. Spidey gets thrown into one of the other guys, smashing his chair and freeing him, but he says they're locked in here and can't escape. When Spider-Man tries to put some distance between him and Smythe, a webshooter emerges from Smythe's wrist. As usual with any person with their own webbing, it happens to look just like Spider-Man's, which has always seemed dumb to me. All webbed up, our hero is subjected to quite a beating. When the guy who was knocked loose earlier tries to stick up for Spider-Man, he is brutally killed.
The "near" loss of life? That dude was dead, man. Maybe they changed their minds in the edit, but Smythe clearly broke his neck. Kind of an anticlimax After all that, the villain is beaten in less than 5 pages, and never got the chance to really feel like a threat. Seems like the parents story shoulda wrapped last issue, with Spider-Man electrocuted as a cliffhanger and more business this issue. But, what do I know?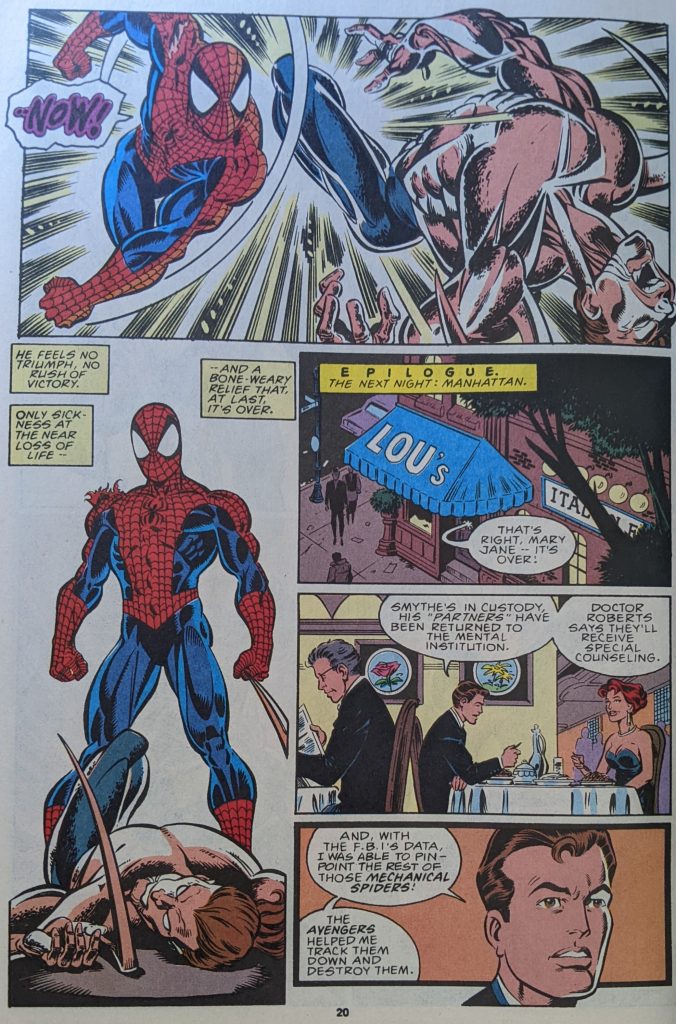 Well, ok. Venom Venom Venom! First real appearance in ASM 300. Next in ASM 315-317. Next in 332-333. Roughly 15 issues between Venom stories, not yet over doing it. But then only 11 issues until his next appearance. Roughly 15 til the next one, but he jobbed out to Darkhawk in the meantime. Then in Darkhawk again, then in the recent Web story, and now here in quick succession, and next month, alongside his return to the main story in ASM, his own 6-issue miniseries launches, which turns out to be the first of a chain of rolling miniseries (Which I once heard explained as Marvel wasn't comfortable having a villain lead his own regular book, so he just happened to always have a miniseries out). The floodgates had opened, and there was no going back. The big slobbering weirdo was improbably the most popular new Marvel character since the 70s, at least. And here he comes now, in a backup by Michelinie, Tod Smith and Bob Sharen, which starts with him being zapped with sonics by his minders in a secret facility while they wait to take him to The Vault. 
The big mean guy crumples up the paper instead, and Eddie is so mad he pushes part of the symbiote through the field to slither over and shut it off.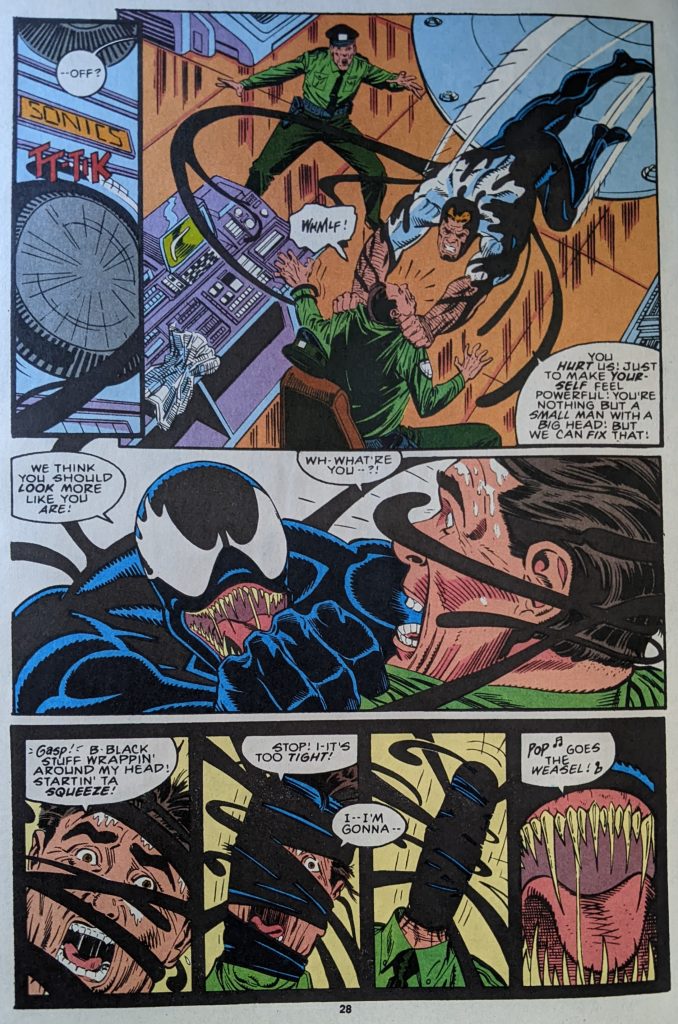 I find it interesting that Smith is very much drawing Mark Bagley's Venom. Like they're trying to establish an official look (And it's not Todd's, for some reason). Venom knocks the other guard out instead of killing him since he was nice, and then smashes through a wall to escape.
So, look forward to that! Or don't. It's coming up later in this block. Since these 6 issues came out twice a month, I have the titles more-or-less lined up. Adjectiveless Spider-Man is a month ahead, but the other 3 are in the same spot. That's gotten pretty rare. Now it's time for some detours.