Invasion of the Spider-Slayers. I haven't seen this since it came out, but I recall not being too into it. Peter's parents being confined to the one title makes this whole thing feel weird. We're 18 issues into this block and haven't seen them yet. But, of course, with all these books coming out at once, it didn't feel that way at the time. ASM is still David Michelinie, Mark Bagley, Randy Emberlin and Bob Sharen. The invasion starts on page one, as a big robot attacks Spider-Man in mid-air.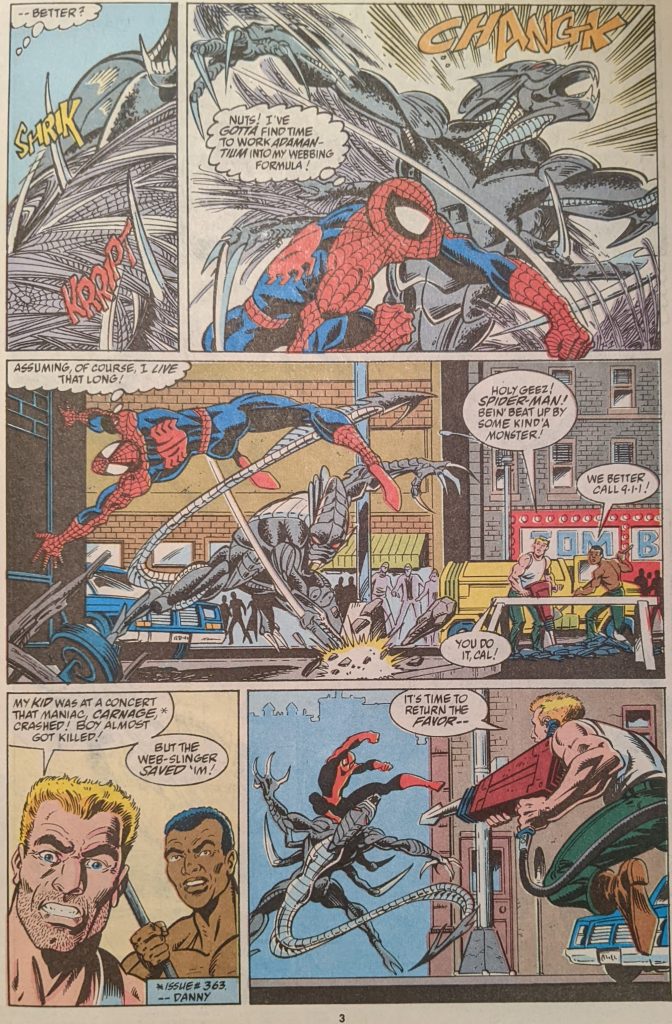 That brave construction worker gets the robot in the back of the head with his jackhammer. It starts flailing wildly, but Spidey's able to wrench its whole head off, and that's that. Spider-Man thanks his partner for the help and swings over to The Daily Bugle, oblivious to a little spider robot watching him go by. Once there, after selling his photos, he hears reporters talking about reports of little mechanical spiders all over town. JJJ knows who did it, of course, but Peter wonders if it's related to his recent sparring partner.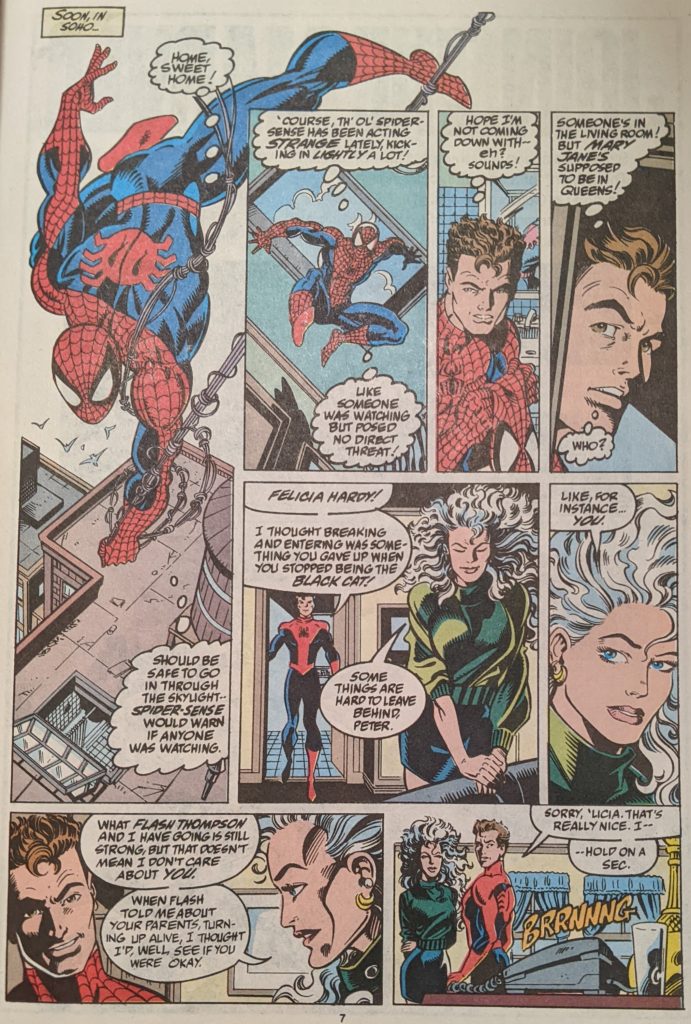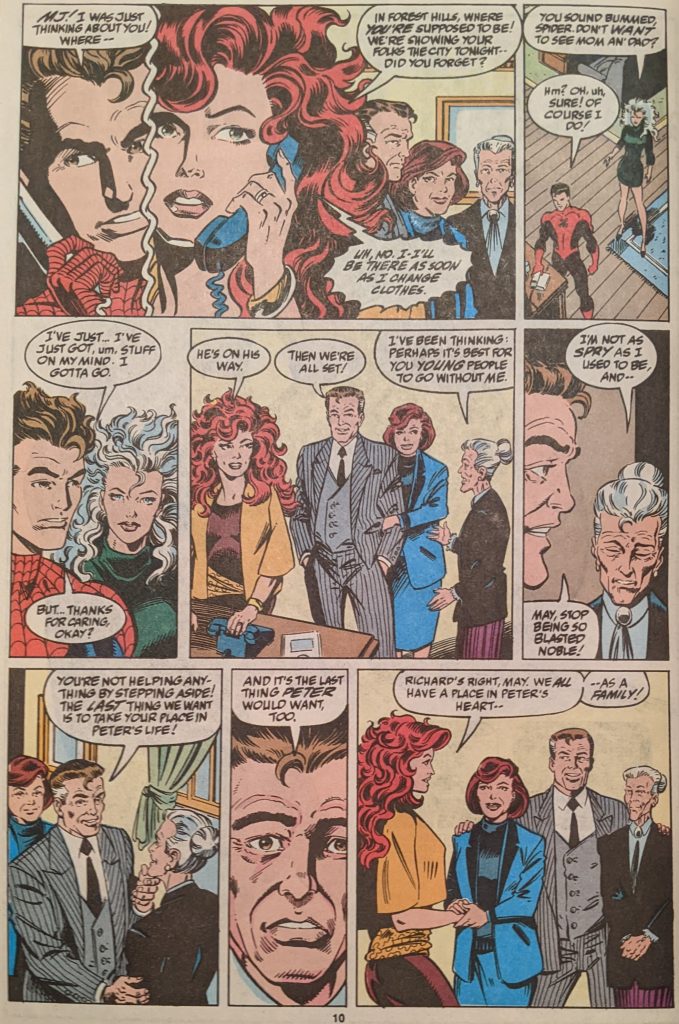 Women's hair just constantly looks like they're standing in front of a fan in the 90s. Felicia sure has matured by this point. Calls him "Peter" and everything. As he approaches May's house in regular clothes, Peter notices someone watching it, and end up grabbing an FBI agent by the collar, demanding to know what he's doing. Then The Parkers are off to Manhattan, where Richard & Mary are often amazed by all that's changed in the last 20 years. Everyone's getting ready for dinner when they witness a purse snatching. Peter runs off to "call the police," and soon Spider-Man has webbed up the would be robber. But he's gonna be late getting back, as another robot has him its sights.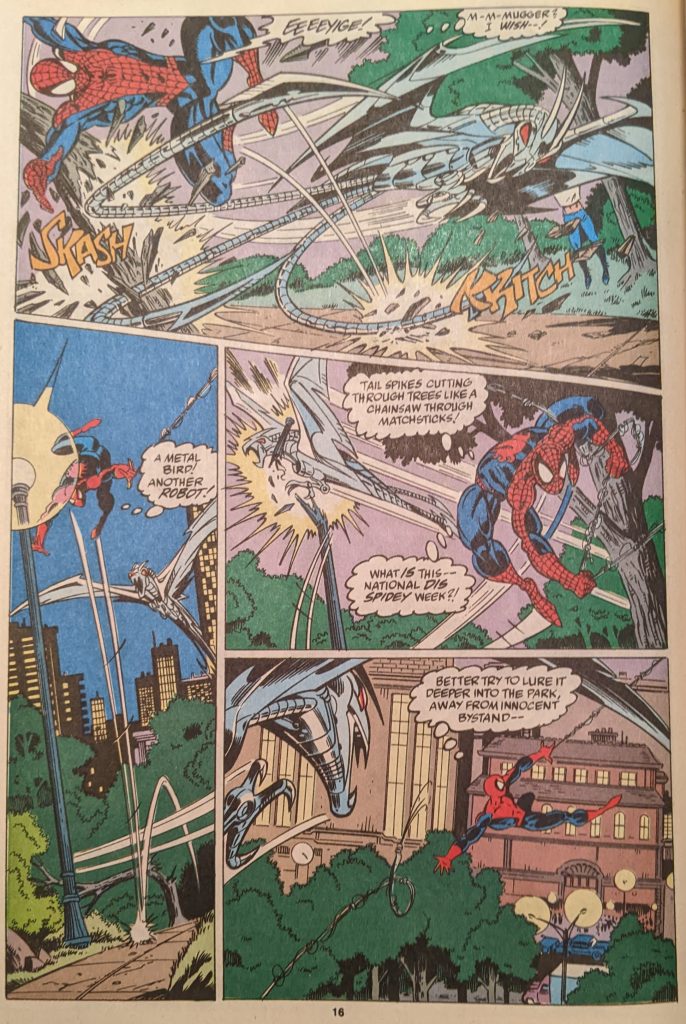 The thing cuts his web and grabs him, but he gets the better of it, winding up riding on its back. The fight moves back toward the street, and Richard & Mary get a look at what May calls "a rascal SOME people call a hero!" when the robot start spitting metal bolts like bullets, our hero has no choice but to attack it head on.
Who could that be, in a comic called "Invasion of the Spider-Slayers?" Who indeed? Well, as that blurb says, they're handling the twice a month pace of this year's event by having backup stories. This one's by JM DeMatteis, Aaron Lopresti penciling and inking, and Bob Sharen. Aaron Lopresti's art is awful, and these days, he's one of these douchebags throwing a tantrum because comics companies dare to introduce a title or two not starring a white man, so I have no problem saying so. At any rate, JJJ has called Peter in to see him, ostensibly to apologize for refusing to help him look into the mysterious reappearance of his parents. Except…
Plenty of earmarks of a DeMatteis book here. Peter instantly enraged, difficult to read narration text. If only he would work mass hallucinations or child abuse into this scenario, all his boxes would be checked. Peter's about to, I dunno, smash JJJ's head in when Robbie bursts into the room and pulls him off his boss. Peter begins to worry that he's losing control, blah blah blah. Man, all this nonsense in just a few pages.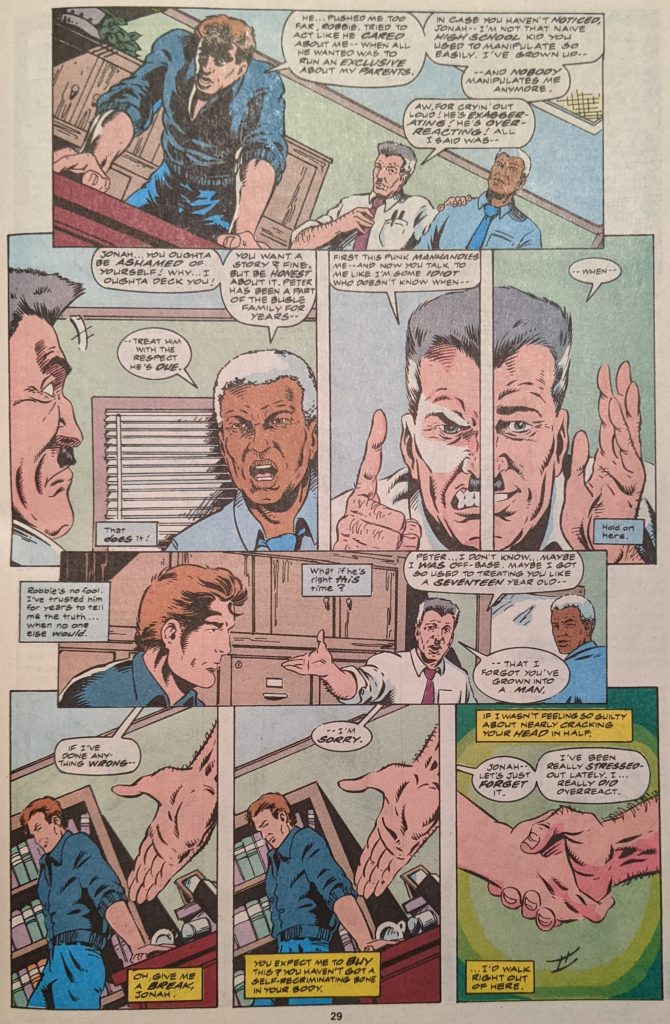 Not the best portrayal of Jonah. Usually he's only crappy about Spider-Man. Well, one down. You might think this would be 6 issues of Spider-Man: Robot Fighter, but you may be surprised…