90 cents! This comic bag featured the two strongest piece of tape ever made holding it shut. Let's see how this rumination on lying and self-image dressed as a superhero story wraps up. Spider-Man's in a bad way. He apparently passed out in the cement mixer he got dumped in, and has rather improbably been poured into a foundation. He's also sort of hallucinating, thinking all his lying brought this punishment on him, an after effect of MD2020's mental powers. But he recalls that, as he was dumped out of the mixer, purely on instinct, he shot out webs with each hand, and they're his literal lifelines now, sticking up out of the cement. He's slowly getting his head together and trying to figure out how to escape.
Seems like that cop should be fired, hm?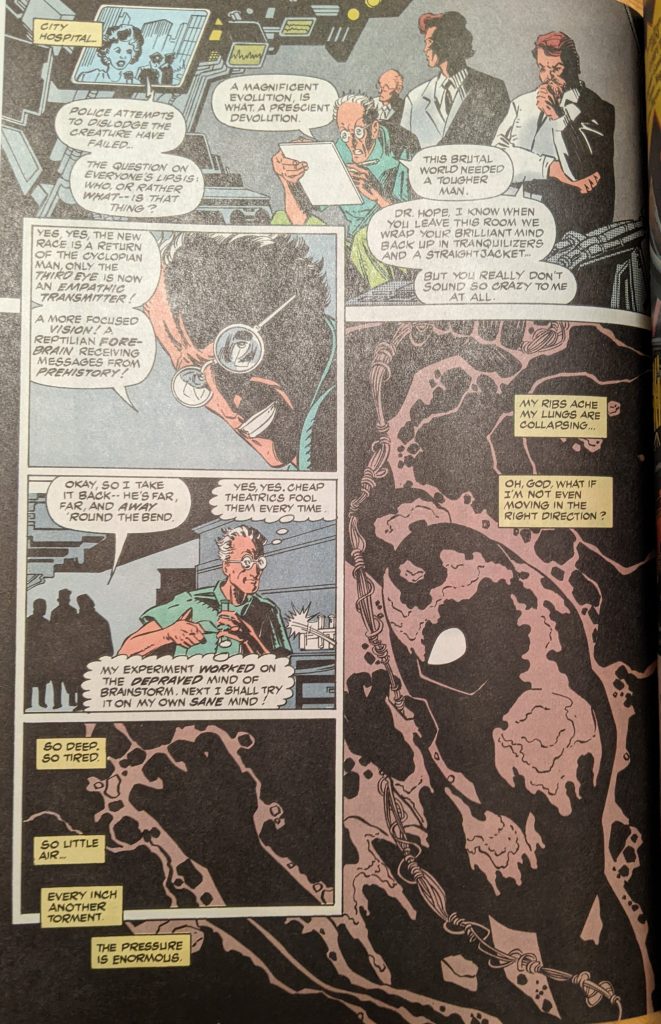 Kinda one-upping the Kraven's Last Hunt buried alive business here. Oh, we gotta check in with our last 2 cast members…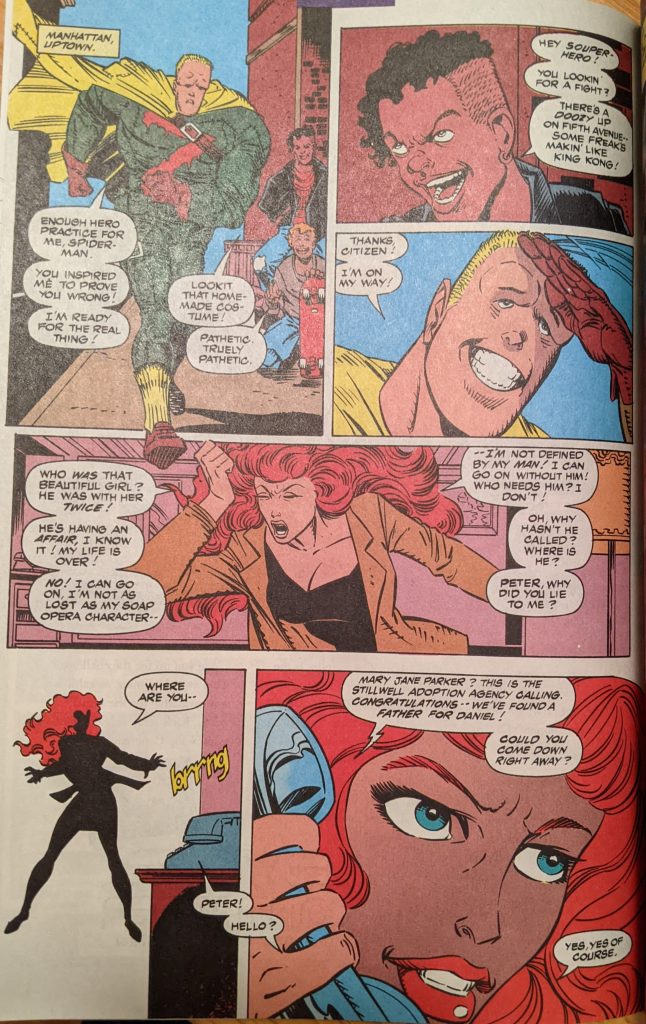 A bit too crazed of an MJ for my liking. Spider-Man keeps digging up through the muck as Captain Zero catches up with Mad Dog on a rooftop. They recognize each other, and don't much like each other, either. Mad Dog tries his mind whammy on Zero, but he says he's been through way too many drugs and shock therapy to be affected, which, you know, fair point. So it's gonna have to be a brawl. MJ goes to meet the nice fancy guy who wants to adopt her little alien friend while Mad Dog starts beating the crap out of Zero, and elsewhere, Spider-Man's web breaks, his only tie to the surface of the muck. That's no good.
MJ storms out, and reassures herself that she can trust Peter and he'll come back to her, intercut with the surface of the hardening concrete starting to crack, and then…
I didn't think of it for Kraven's Last Hunt, but the whole "digging out of the ground" business is kind of a twist on Spider-Man Must Lift A Heavy Thing. A bit more visual similarity this time. Back a the fight, the live wires are starting to cook Mad Dog, and Maggie is begging Zero to stop, but he doesn't know what'll happen if he does. Then Spider-Man swoops by and separates them. He gives Zero a speech about how if he becomes as ruthless as the bad guys, he becomes one, but then Mad Dog is after them again. MD is about to crush Spider-Man when Zero produces from his superhero utility belt… a spray bottle with soapy water in it, which he sprays in the villain's face, distracting him and letting Spider-Man free.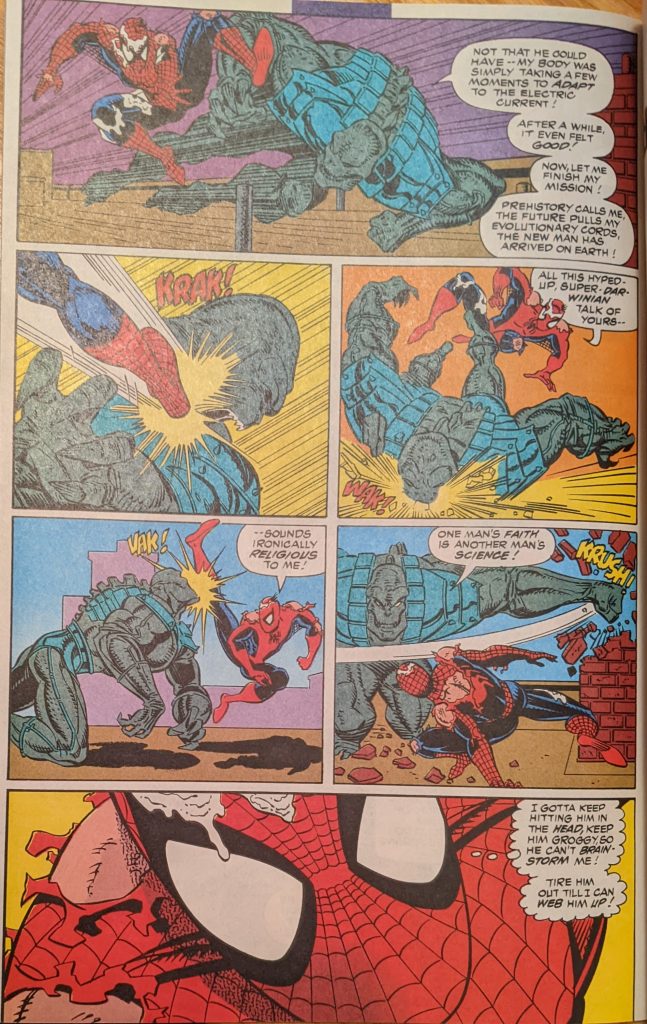 This thing felt rather undercooked. Most of the stuff that's appeared in Spider-Man since the end of Larsen's story has felt kind of rushed or tossed off, like they were filling these pages in a hurry. I wonder if that's true. Well, there you go. A weird ending to a weird story. Alright, we've been reading around the annual ASM bi-monthly event, and now it's time to dive in. And this one… is a weird one.