The Death of Vermin? How can this be, as we have seen him in future comics? Could it be a swerve? We shall see. Weird cover! Weird kiss! We begin with the thrice-damned hard to read cursive text DeMatteis likes for internal monologue when he's being artsy. It's not good! I guess it's Spider-Man's, tho the first page is a bunch of eyes in the darkness like the ones on the cover. Then a 2-page splash with a nice "Spidey in motion" thing by Sal. Ok, so the monologue is not Spider-Man, it someone saying they weren't "an eyewitness to all this," but have heard so much about it. Sure. And that Spider-Man had recently been through an event that changed him, and made him want to see the good in himself and the world for the first time in a long time. Uh, ok! He's only been depressed in this comic. That's ¼ of his overall adventures. But ok.
Nice lights & darks on MJ by Bob Sharen. That sort of thing was hard to do in these days.
Oh, naturally this issue picks up right where the last one left off. It's not like there's 3 other monthlies to take into account, no sir, just keep pretending this is the only Spider-Man comic. I just think this is rude to the other creative teams, maybe that's just me. The mystery narrator, continues over panels of Vermin trying to escape his cell, talking about how Spider-Man is so lucky to have people in his life, and is revealed to be Dr. Kafka. A raging Vermin yells he doesn't want to die, that he kept him safe, as he slowly transforms back to Edward Whelan. Sal's an old hand at this kind of thing, having done a long run on Hulk.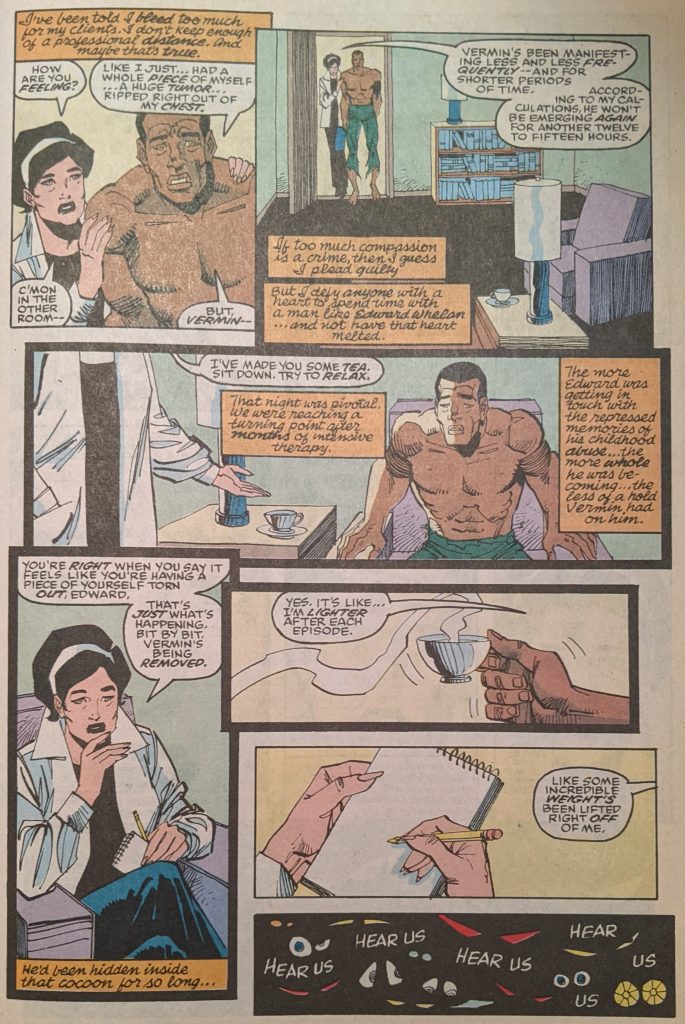 Sal seems to be having fun with those eyes. Glad someone's having fun. Edward is starting to grapple with the fact that Vermin, you know, ate people, and wondering how horrible a person he must be, while Ashley tells him he can't blame himself for what Baron Zemo did to him. As it happens, I recently read the Captain America story that DeMatteis created Vermin in. It's funny that he wound up being a Spider-Man thing. We look back in on Peter & MJ, now slow dancing around the apartment, all forgiven, tumbling into bed, as Kafka's narration talks about how she wishes she had someone to depend on like that. Back wherever Kafka is (Is this her apartment???), Edward is seeing those eyes in his sleep, and half-turns into Vermin, but resists. Ashley comes running in.
Elsewhere, Peter wakes from his own nightmare, and tells MJ he's just got to go clear his head after all he went through with Puma and Black Crow. So he goes back out in the rain at 5am. Also:
There's something you don't see every day. A page of Spidey swinging panels over which Kafka's narration says if he ever stops being a superhero, he'd be a great therapist, then…
Uh… wut? The weird monsters drag Kafka and Edward out of the office and out onto the street, beating up cops on the way.
Ya blew it, Parker! More on this weirdness next time.