$2.25?? This comic, as it turns out, is in pretty bad shape? Very worn, some creasing, a hole in the cover! $2.25??? I've bought like-new books at McKay's for 90 cents! Man, what is the deal here? Sheesh. Joe Rubenstein swaps in on inks this month, what's with the revolving door here? We pick up moments after the end of last issue, with Spider-Man swinging Hobgoblin to the cops like he said he would. They bicker for a page, and then…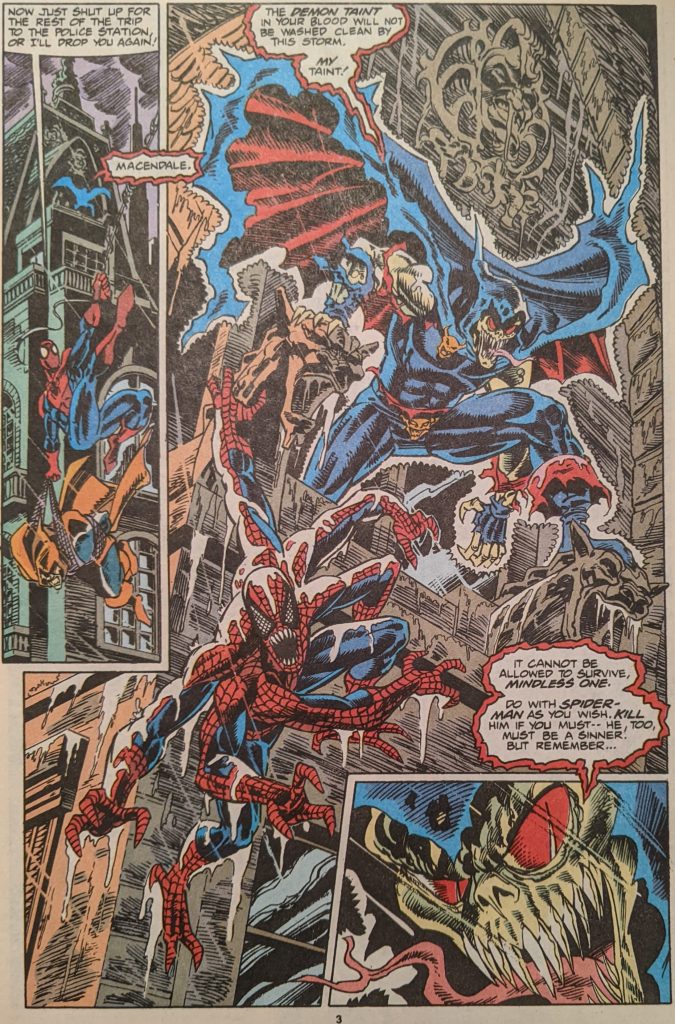 It's insane, this guy's taint. This is very much part 3 of the preceding storyline, and calling it part 1 of something else is bizarre. Spidey shoots a new web and lets their momentum swoop them up onto a roof. Hobby demands to be set loose so he can help fight Doppelganger like in SM 24 (Which really shoulda been an issue of Web), but Spidey's not having it. Then Demo shows himself and Hobby gets much more worried. He gives his usual speech about sinners and all that for a whole page, and then it's fightin' time.
Doppel hanging around long past the Infinity War crossover that spawned him was, indeed, pretty weird. He goes crashing into Demo, and Spidey grabs Hobby and runs for it. But, Doppelganger shoots one of his razor webs, cutting Spider-Man's own line and sending he and Hobgoblin falling to certain doom. This time for sure. Meanwhile, this is a crossover, after all…
Deathwatch and The Deathspawn, on tour and coming to a city near you!
This is a very crowded story. Elsewhere, Spider-Man & Hobgoblin have wound up in a church, and the priest takes them down into tunnels beneath it to avoid their foes. That's convenient! Demo & Doppel arrive almost immediately. Demogoblin won't let his mindless buddy kill the priest, but they find Spider-Man and get back to fighting. And down in the sewer, all the other people are also fighting.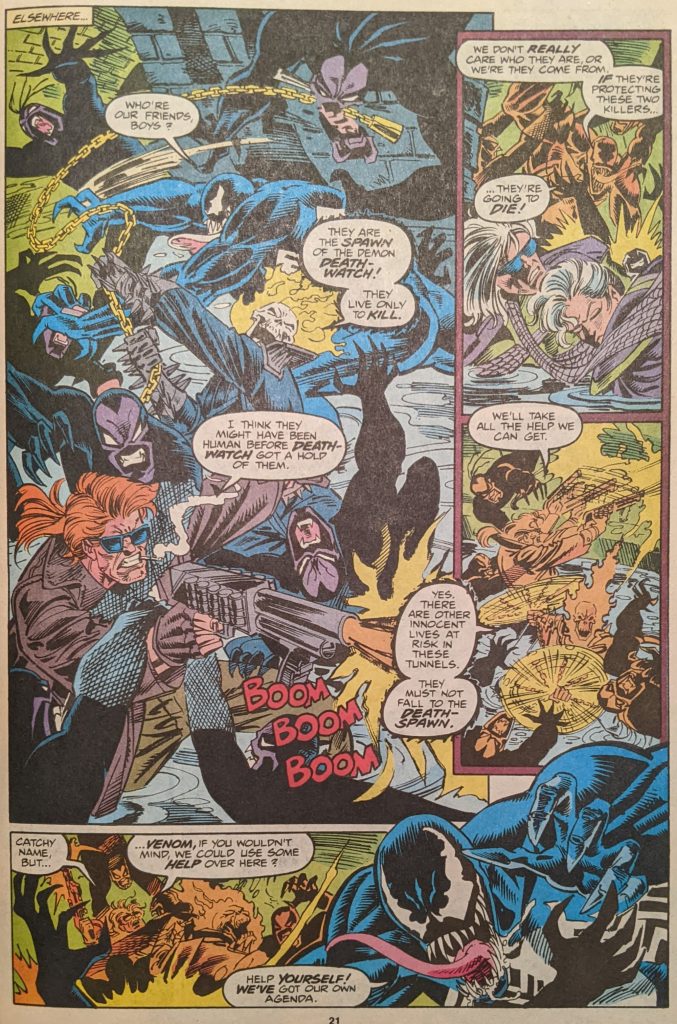 That's some good teamwork. Blaze shoots a hole in the ceiling, hoping to flee through it, and Venom grabs Hag and Troll and takes off through it to go kill them somewhere. So much for protecting whatever innocents GR is worried about down in the sewer! And in the catacombs under the church, a big explosion suddenly shoots up from the floor, and guess what?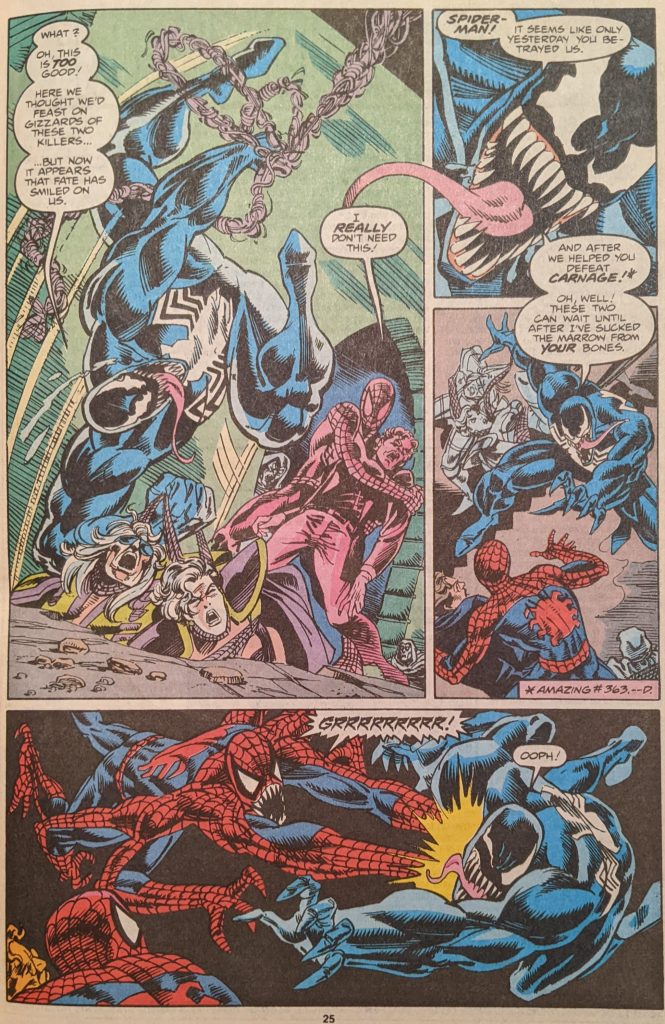 All your favorite Spider-Man characters with a big mouthful of pointy teeth, in one place! What a bargain. As Demo and Venom roll around in a Looney Tunes dust cloud, Blaze, Ghost Rider and a bunch of those thingies emerge from the hole, and Demogoblin is delighted to be face-to-face with the famous demon, Zarathos. Good night for people with grudges. In the chaos, the Deathspawn things drag the helpless Hobgoblin back down into the sewer.
And so, we're To Be Continued into the awkwardly named Ghost Rider & Blaze: Spirits of Vengeance. GR was so popular by this point that he got a 2nd monthly. Punisher has or is about to have 3. Wolverine has 2 if you count MCP, plus always being front & center in at least one X-Book. It's the 90s, and the dark tough guys are takin' over. This is interesting for it being Venom's first real appearance outside of ASM in the Spider-Man line. By now, he's jobbed out to Darkhawk of all people (They were really trying to sell Darkhawk), but the other 3 Spidey titles couldn't get their hands on Spidey's biggest villain in 30 years until now. This same month, he also fights Wolverine in Marvel Comics Presents. Oversaturation is on its way!