Ladies & Gentlemen, Roger Stern! This issue begins Roger Stern's 2-year run on Spectacular, which we've seen the end of in the time Denny O'Neil was on ASM, but now we're back to the start. What a weird way to run a website. I only found out Roger did these issues of Spectacular after my years spent collecting his Amazing run, but by then you could just buy comics on the internet, what a miracle! So I just got the whole thing. Haven't seen these in many years, though. To kick things off, Mike Zeck hangs around on pencils from the last issue (That guy is everywhere here lately), with inks by Steve Mitchell and colors by, who else, Bob Sharen. The story opens with Peter Parker and Steve Hopkins working in a lab at ESU when some masked goons break in.
Peter Parker: Science Hero! Peter chases them outside and gets a Spider Tracer on one of them, but campus security shows up before he can become Spider-Man and go after them. Steve helpfully explains to the cops that neo-atropine isn't rare or expensive. Once everyone's left, Spider-Man does his thing. His Spider Sense leads him to a building in midtown, where one Roderick Kingsley is up late working on some fashion designs. Yes, one of Stern's favorite supporting players is introduced in his first Spidey comic. And so is his first villain, as Roderick is interrupted when the goons from earlier burst in with their boss: Madame Belladonna.
Is "flaming simp" a slur? The "flaming" part sure feels like it, but I don't think I've ever seen "simp" used in that context. I hope not. When our man busts in, Belladonna calls him "The Spider-Man!" No one puts a "the" in front of his name. So dramatic, these fashion industry people. He gets to work on her goons, but he couldn't know the gas Belladonna is filling the room with would not only make him lightheaded, but also dissolve his webbing. Still, he manages to make them retreat, if not beat them.
The next day, Peter tries to get some info about Kingsley out of his co-worker, fashion editor Sandy Jones. She tells him Kingsley's not only known for stealing designs, but drove "a dozen small European cosmetics firms" out of business to start his own (Somehow?). She also tells Peter Kingsley is having a show tonight, and that no fashion photographer would even cover it, so he volunteers to.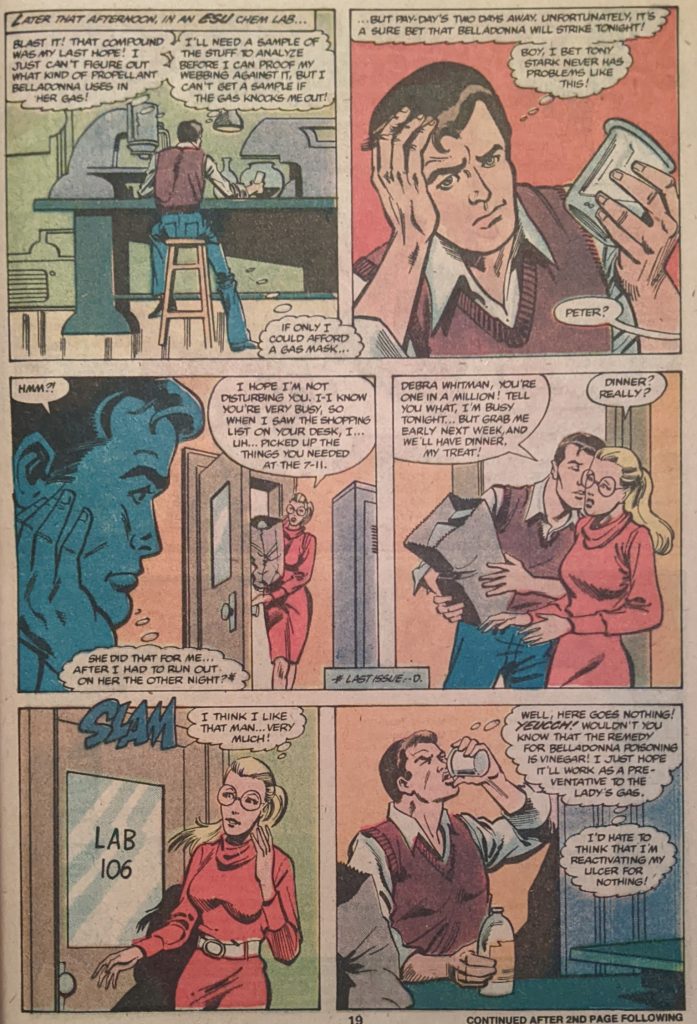 Ladies Love Cool Peter, there's no getting around it. Later, Belladonna naturally attacks Kingsley's fashion show, and also announces she and her goons are robbing all the guests to teach them not to support Kingsley.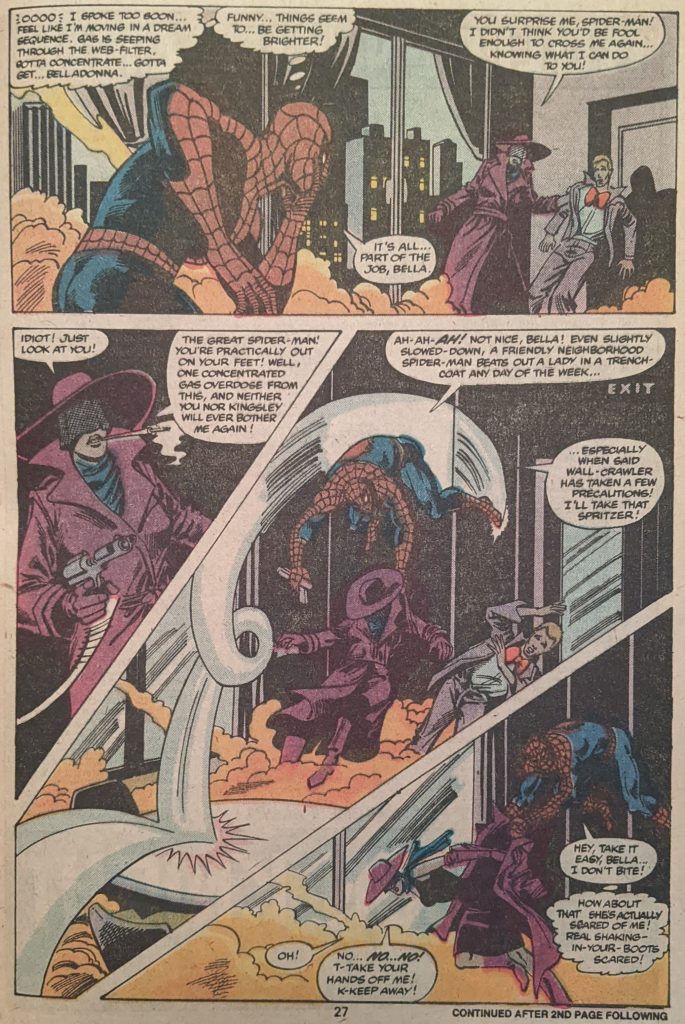 And that's the ballgame. Stern stakes out his territory pretty quickly, with new characters and an adventure that leans on Peter's scientific skills as much as his superpowers. And he's got a perfect feel for Spider-Man banter. Silly and constant, but not too corny or too mean-spirited. He's off to a good start. In the letters, they say with Bill Mantlo departing, we may never know what he had in mind for Peter and Marcy Kane, but, he told them, it would be "like no relationship ever seen before!" I wonder if he was planning on her being an alien from the start.