I love that sticker. $3! Yes, young me chose to pass on Carnage at first, I guess. I don't have any strong memory of it. Might've just missed it, might not have had $1 when I saw it. This issue came out the same month as Spider-Man 21, halfway through Erik Larsen's swan song. If I could only buy 1 Spider-Man that month, it wouldn't have been ASM. But I obviously rectified that before the price on this issue got out of control. Three dollars. These days a copy in this shape is probably gonna cost you hundreds. Who coulda known at the time? Carnage is a simple but very specific design, and in my opinion, no one's ever quite drawn it like Bagley, aka, correctly. Myself included. It's deceptively difficult. The very first page is a drawing that was reused a lot: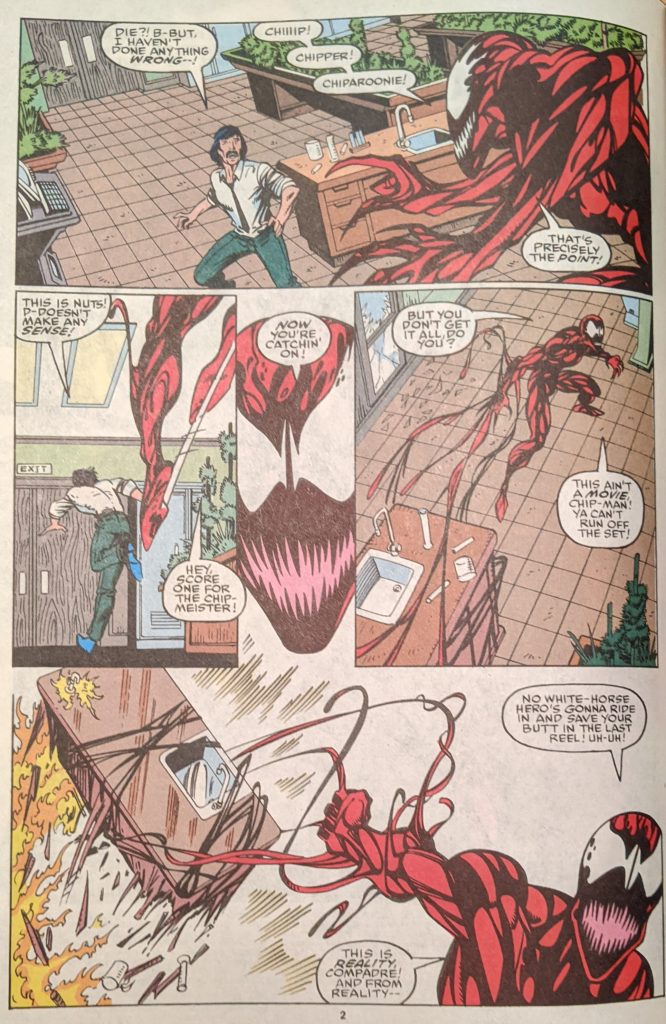 And that… at least until later writers get ahold of him… is literally all there is to know about Carnage. He loves killin' people, and doesn't need a reason. If Venom's motivations seemed pretty thin, Carnage's are basically invisible, they're so thin. But he's certainly an avatar of his time in the comics industry. Anyway, meanwhile, Peter Parker is at Aunt May's house, doing some light repairs so she doesn't have to call a professional, and happy to be able to help out. But their domestic moment is ruined when he gets a phone call (At her house, for some reason), and is told of Chip's death. Chip is one of "the green team," those guys from the annuals who had the synthetic Vibranium and almost destroyed the city, and Peter is shocked to hear of his grisly demise. Making his excuses and swinging off as Spider-Man, he thinks that there's been a rash of brutal murders lately.
Spidey is listening in an air duct, and is more and more worried these killings are being committed by Venom. He's also late for lunch with MJ. And when he arrives to meet his very annoyed wife, he tells her Chip's dead (Would she know Chip?) and then… explains the entire history of his alien costume and Venom to her like she doesn't know for our benefit.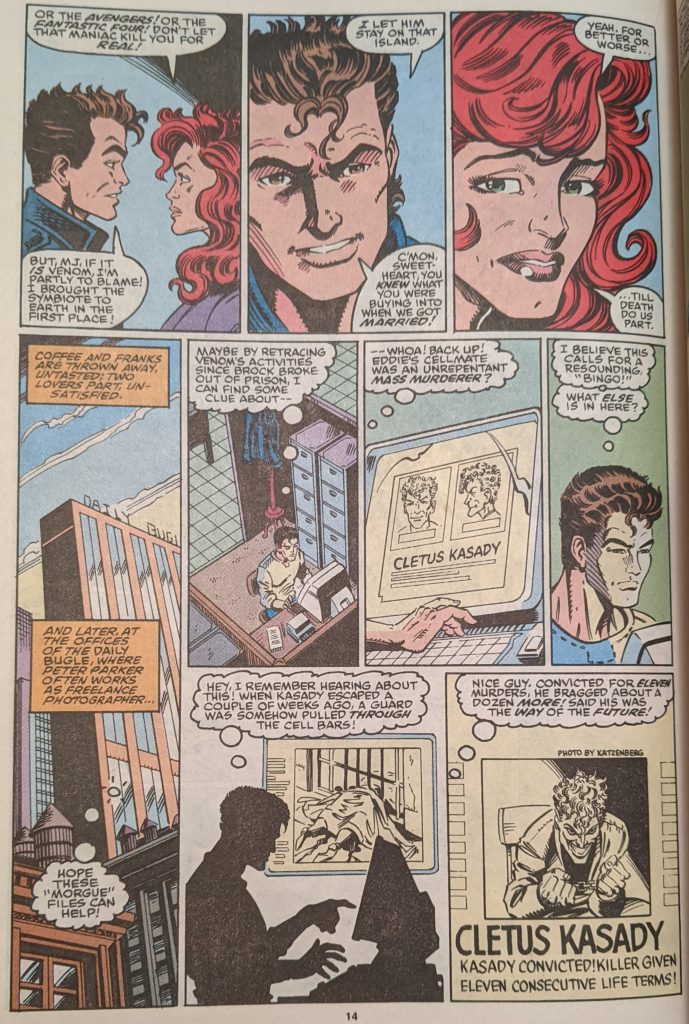 This sequence did a really good job of setting Carnage up as a scary villain for me at 13. Peter Parker goes to question people who knew Kasady, while Spider-Man tries to rough up some criminal associates. All he comes away with is intimations of more murders in Kasady's past. Then he heads to the ruins of that orphanage, where he finds Cletus talking to a teddy bear. But, Carnage is a symbiote, and it senses Spidey in the dark before he planned on it.
Right off the bat, they do a good job of differentiating Carnage from Venom here. He's not just "Red Venom." The distinction of him being able to "solidify his costume" will sadly be lost pretty quickly as they let Venom start doing it, too. But Carnage can also form blade weapons from his suit, which he begins to make and throw at a badly caught off guard Spider-Man. Our hero is distracted by noting that the pieces of the symbiote Carnage chucks at him turn to dust almost immediately when separated from the host, and this allows Carnage to vanish. As some cops pull up outside, Carnage's tendrils come right through the wall Spider-Man is clinging to, quickly smashing through and enveloping him. Carnage drags our hero to the floor…
Carnage has disappeared, but not before leaving a "CARNAGE RULES" graffiti on a wall. Spidey notes that he didn't get near that cop long enough to use his blood to write his message, and therefore must've used his own. What he may lack in character, they are working very hard to make up for in horror. And doing pretty well, I'd say. The next day, Peter tells a very upset MJ he's tried to get the Avengers and the FF involved, but they have "planet-sized" problems to deal with and can't come look for a lone serial killer. What about the whole thing where a reserve Avenger could call in the cavalry? Is it not in the public's best interest? Would any member of The Avengers or FF not want to stop a string of serial murders? Seems weak.
A pretty good hook, I must say. A real deal with the devil situation. Very effective on me when I was a kid. And the unwanted beginning of the "MJ smoking" subplot. Of all the attempts to create tension in the Parker home, this is perhaps the least effective and longest running. Bad combination. But that's for later.