That cover copy is really overselling it. "You've seen Spider-Man team up with people like Punisher, Wolverine and Solo, people who straight up execute their enemies, but how could he ever team up with a guy who causes property damage to people who deserve it!?" Anyway. Spidey has to choose between 2 people in peril, but he's a superhero, so…
2 for 2! As Spider-Man deposits the guy safely, Cardiac pays him back for saving his life by continuing to blow everything up, which, as we have discussed, is 100% the right thing to do, but Spidey remains unhappy. He follows a fleeing Cardiac, which gives him a chance to recap last issue, but then finds his quarry in a lab, far more high tech than anything that should be in a toy factory.
Spidey heads home and finds MJ just getting in from being downstairs visiting with Liz. Harry is still AWOL after turning back into The Green Goblin in the recent TAC story ending in 185, and she was has been trying to comfort Liz in this trying time. But, as tends to be the case in Michellinie stories, she immediately drops what's going on in her/their lives to let Peter talk to her about Spider-Man's life. It gets kinda awkward. He feels guilty about partly leading Cardiac to his targets, but also doesn't want to let his job down. For his part, Dr. Elias Wirtham is currently studying the documents he stole from TechToys, which seem to indicate they're working on something that can cause a human nervous system to fail. Not nice. Speaking of not nice: 
Bit weird for someone else to technically get to draw Bagley's design before him in a published book. The next morning, Peter goes up to work and backs out of Ben's series, not wanting to be part of Cardiac's attacks anymore. JJJ is furious, but that's somehow the end of it? He doesn't threaten to fire him or anything. Then Peter goes down to the morgue to research the gear he stole. He managed to connect them to Stane International, Stark Industries' arch rival. Peter takes off to look into this, but unfortunately for him, Joy Mercado snoops into what he was looking at and gets a free tip. Later, Dr. Wirtham is at some kind of charity event manipulating a city councilwoman who knows who TechToy's parent company is. Thusly…
This is a really awkward time to do this, Eli.
Who could read this and not be Team Cardiac? Spider-Man can go outside the law to stick a purse snatcher to a lamppost, but Cardiac do it to be literally the only person holding corporations accountable? Rubbish. Spidey doesn't think so, tho, and is not moved by Cardiac's tale. Then the high tech goon squad on the cover bursts in, and it's fightin' time. The two heroes decide to team-up for now, and with each passing page, Marrinan leans more and more into the Erik Larsen impression that's about to become his career.
Pretty different from his stuff in Web awhile back. The boys fight their way through various goons and smash through various walls. Cardiac manages to start a fire along the way, and then they get separated so Cardiac can go do his thing. And when Spider-Man catches up…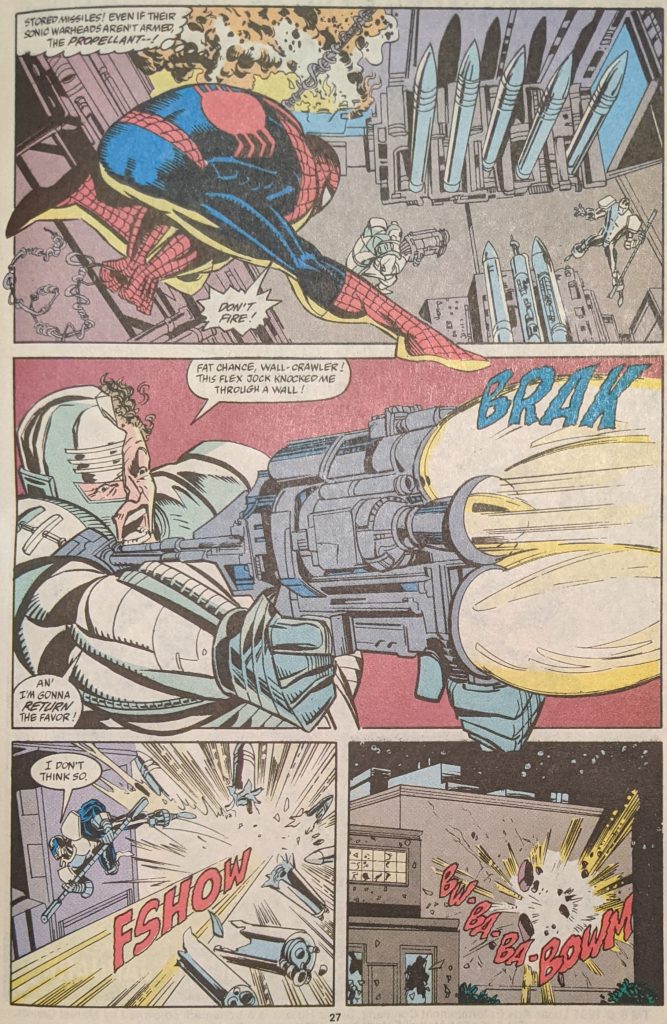 "Flex jock?"
Well, there you go. Still don't see how Cardiac is "on the other side of the law," but no sense in arguing with a 30 year old comic book. Next up: Carnage.