One of 77. Still Claremont & Byrne again, although now Byrne is being butchered by an inker credited as "R. Villamonte." I note with some interest the library-looking "Mar 21" stamped over the series name in the top corner. This one picks up with Havok & Polaris living on Muir Isle, recovering after various X-Men stories, when they're attacked by goons in ancient Egyptian outfits. Havok identifies them as the goons of old X-Men villain and our acquaintance, The Living Pharaoh.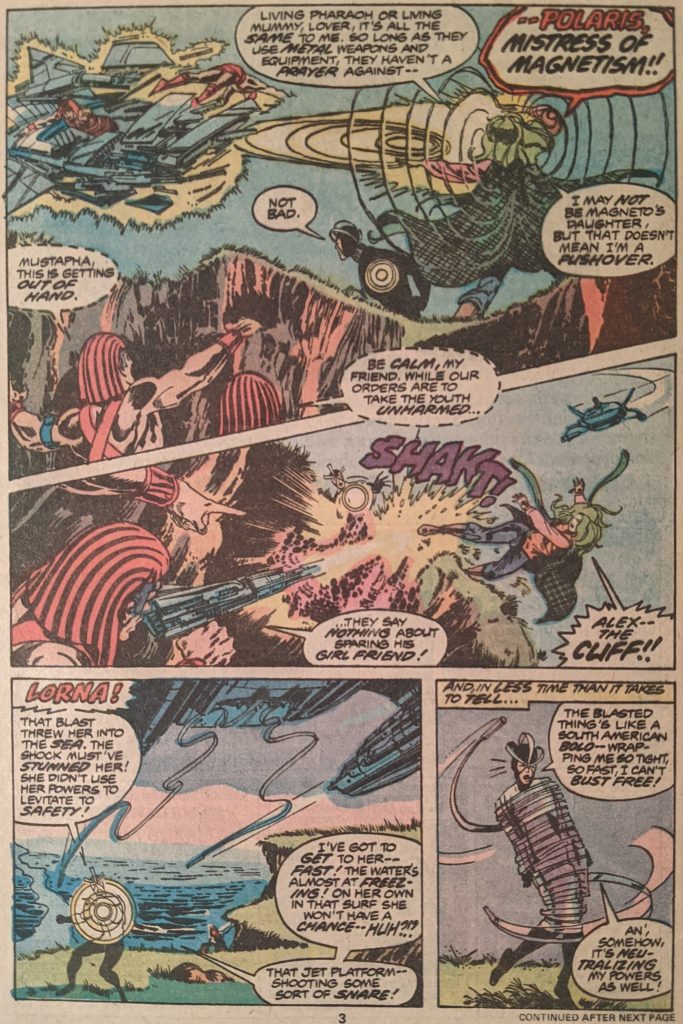 They subdue him & Polaris, leaving her to her fate and absconding with Alex, who they were sent for. Meanwhile, in the ESU science lab, it's 2am and Peter Parker is ready to stop studying and go to bed. Except he heard Egyptian-themed goons in a professor's office, retrieving "the master's ankh" and talking about the other team's success in nabbing Havok. Spidey webs up the door so they can't get out, but realizes they have a flying vehicle outside. So he rushes in…
Real smooth, Spidey.
I mean, I got a problem, I'd bring Thor, if that's an option, but that's me. But he's apparently rushing off to appear in Uncanny X-Men #111, not this comic, so I don't know why we bothered with that detour. Anyway, Spider-Man has caught up with the goons, and when he sees them unloading Havok from an ambulance, he gets in there and frees him. Havok thinks these guys killed Polaris, so he's not in a good mood and begins zapping everyone. The goons are no match for our heroes, but their boss, The Living Pharaoh, is another story.
Spider-Man's dead! It could happen! Why is that lady calling to Allah? Shouldn't she be on the ancient Egypt kick? Havok is taken down pretty quickly, too, and then carted off to a mysterious device and some exposition…
Well, ok! I don't get why any of that would be true, but ok! I also don't get why all these faux-ancient Egypt guys talk like stock Muslim bad guys from the time. I really feel like they should be invoking Ra and Osiris and whatnot instead of Allah and calling people "infidel"." But, what do I know? But, hey, it turns out Spider-Man's not dead, so he webs the machine and takes out all the goons. When The Living Pharaoh shows up, Spider-Man takes every opportunity to make fun of his terrible costume while dodging his blasts. But things don't go his way, as a punch meant to end this has the opposite effect…
The Living Monolith. Which is to say, the same dude, only gigantic and gray now. The now giant bad guy has Spider-Man in his clutches, and things are looking grim!