One of 77. Bob Wiacek on inks this month. I know it's classic Marvel style to hit you with an exciting first page and then wind back the clock, but this one goes too far. Page 1, Spider-Man is being attacked by The Man-Thing in a dark swamp! Oh, no!
Page 2…
Wah wah.
In an unusual change of pace, the guard is a big fan, and happily tells Spider-Man where the circus got Man-Thing. They found him stumbling out of his swamp in Florida, on fire, and he wasn't able to put up much of a fight after that, so they turned him into an attraction. Peter can sense that the creature has feelings, and the guard concurs. So Spidey decides to spring Man-Thing just as the owner and his goons show up. Spidey easily webs them up and makes off with Man-Thing, still in his small habitat, and the guard quits on the spot rather than try to stop them. Not all good guys were web patterned tights. But now Spider-Man has a problem: How's he gonna get Man-Thing back to Florida? He apparently hit up Curt Connors and got put in touch with a lady named Nina who flies Connors and his family to Florida all the time (With a co-pilot who looks like Stan Lee), but that's all explained as we've already zoomed forward in time almost a day and are now in a plane flying over the swamp in Florida. This issue and the flow of time are not friends. But as they're trying to decide where to put down, one of their engines explodes. Only Spider-Man webbing them all up in a giant ball saves them from being torn to bits.
It's a real testament to Steve Gerber that a silent pile of goop could become a cult hit character. A few hours paddling through the swamp behind Man-Thing brings Spider-Man face-to-face with D'Spayre, a villain known for his fear powers and disregard for reasonable spelling. He has what I guess is Man-Thing's supporting cast tied up on the porch of a house (I dunno nothin bout Man-Thing). Spider-Man isn't able to sense the true extent of the evil around D'Spayre like Man-Thing can due to his whole weird deal and goes charging in. 
That'll hurt in the morning.
I guess that's what was happening when he was caught. Few Marvel properties are better suited to the writers of the 70s' penchant for purple prose than Man-Thing. So it's up to Spider-Man, but he's once again overwhelmed with fear, which supercharges Man-Thing, who D'Spayre then puts the fear in, so he catches fire again. This cycle repeats a few times until Spider-Man has and enough and goes a little crazy.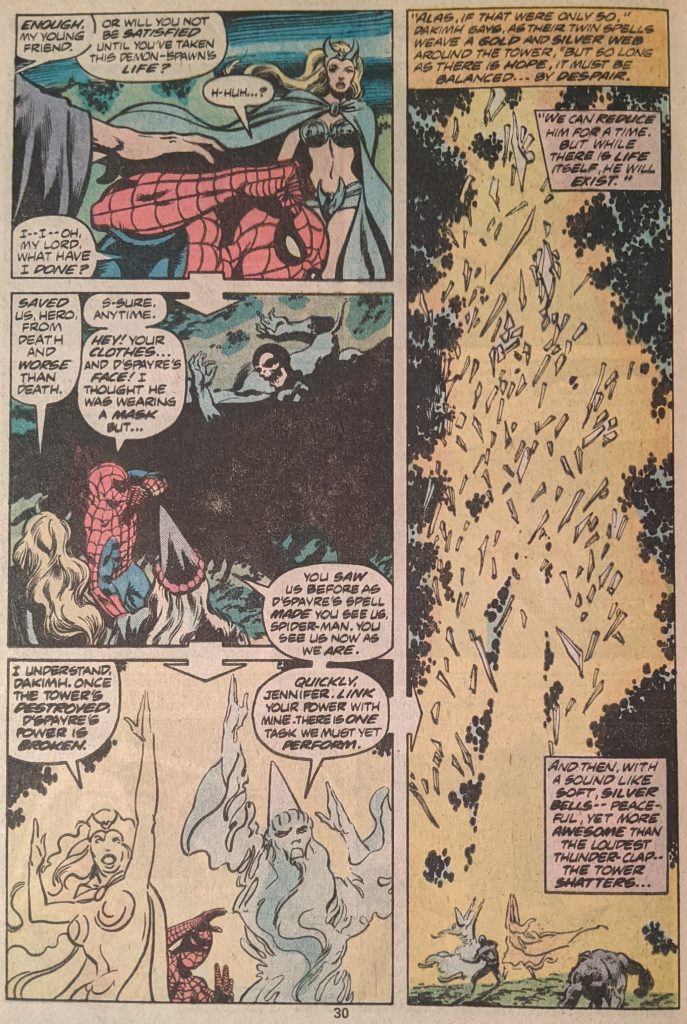 This was another one where the baggage the other character brought kind of eclipsed Spider-Man. Man-Thing sort of demanded a lot of backstory, exposition and such. But at least this one happened in MTU and not TAC. I'm wondering how Spider-Man's gonna get back to New York. I suspect we'll never know.