I mean, where to start. As if the villains from last issue weren't dopey enough, we get this. Love the hook "I'm invulnerable from the back." Well, you have 3 other sides, buddy. A Janice C. tags in for color this month, most likely Janice Cohen, I think. Our man's trying to shake off the cobwebs after his fall last issue when a shadow looms over him.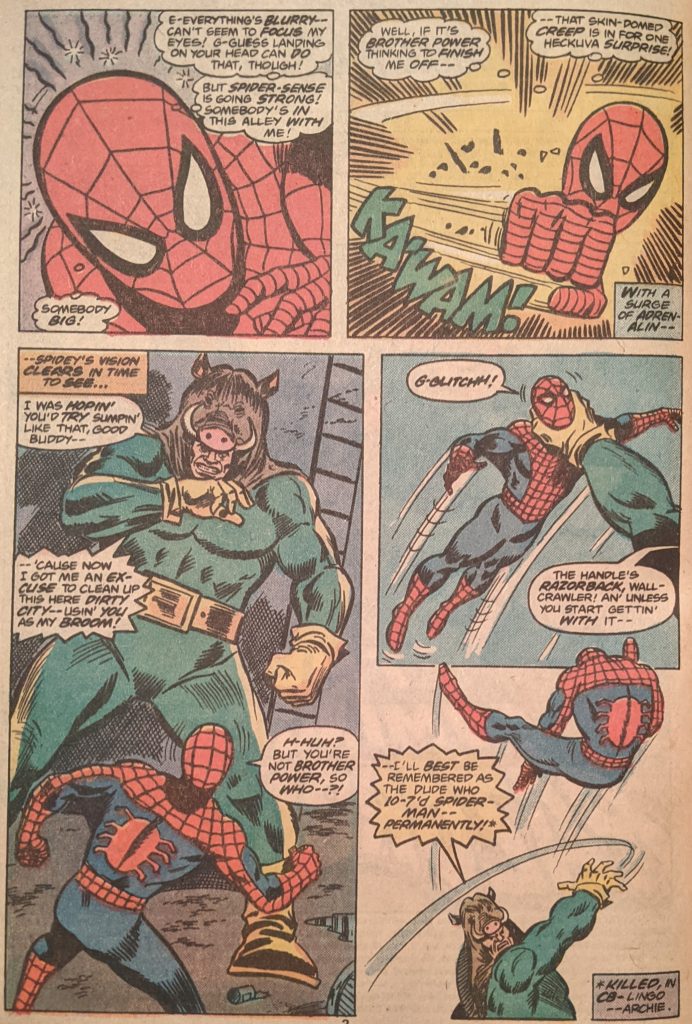 CB-lingo. Tres hip.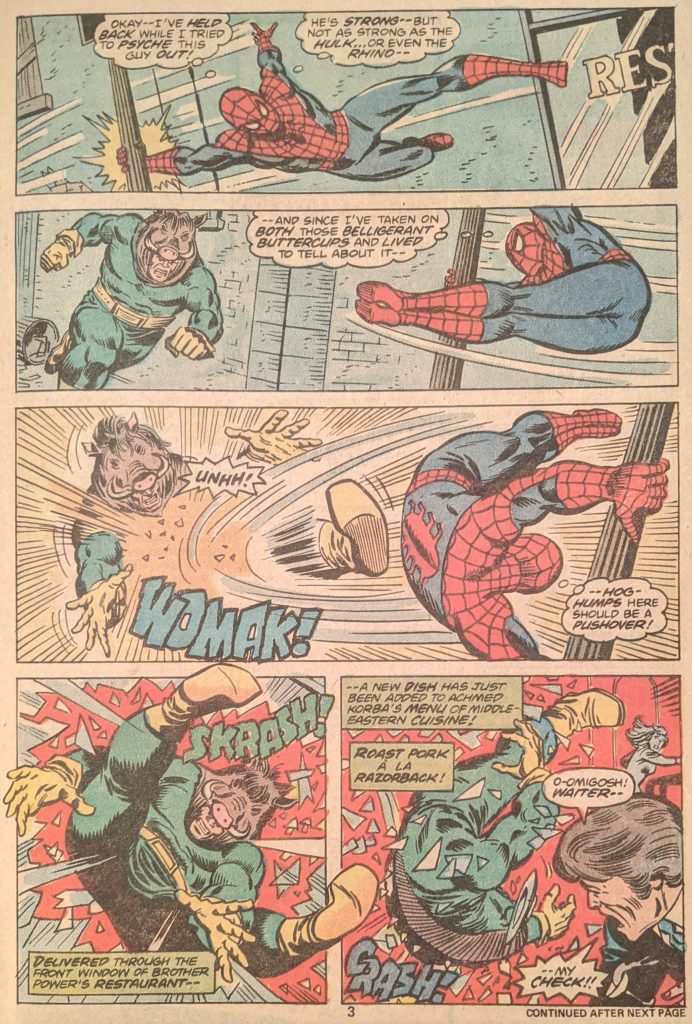 Hog-humps!
This is, like mindboggling. I'm kind of speechless. A CB-talking, truck driver, hog-themed superhero. The 70s were something else. Spidey indignantly asks if he picked a fight just to prove himself and gets a 10-4. Our outraged hero rushes off, saying a murder could be taking place during all this, but he finds Flash beat up, but alive. He says Brother Power seemed about to finish him off when he & Sha-Shan stopped cold, like they heard a message in their helmets. Spidey looks outside in time to see them escaping in a car and tries to take off after them, but Razorback grabs him out of the air. Razorback says he was watching the same car, and put a homemade tracer on it, so they can follow it. This is the family business he mentioned. What luck!
This comic is off the rails nuts. The… Big Pig… does a wheelie as they lurch into action. Meanwhile, their quarry to a fancy estate outside the city, where the power behind Brother Love & Sister Sun is not happy they used their powers in public, and is revealed to be…
I can't win Archie's No Prize offhand. I know Hatey first appeared in a pretty wild, early issue of Fantastic Four. Turns out it was #21. Wild, wild story wherein the villain used his "hate ray" to make amplify feelings of hatred and division among people and was eventually unmasked as maybe being Adolf Hitler, not as dead as advertised. Looks like his last appearance before this was Creatures On The Loose #17. I guess he fought Man-Wolf? But he's 2 years out from the retcon that makes him a clone of Hitler. Then any appearances he made over the years were new clones. Wacky. Anyway, this guy doesn't seem like he'd share the vision of love Sha-Shan and her man were claiming to espouse.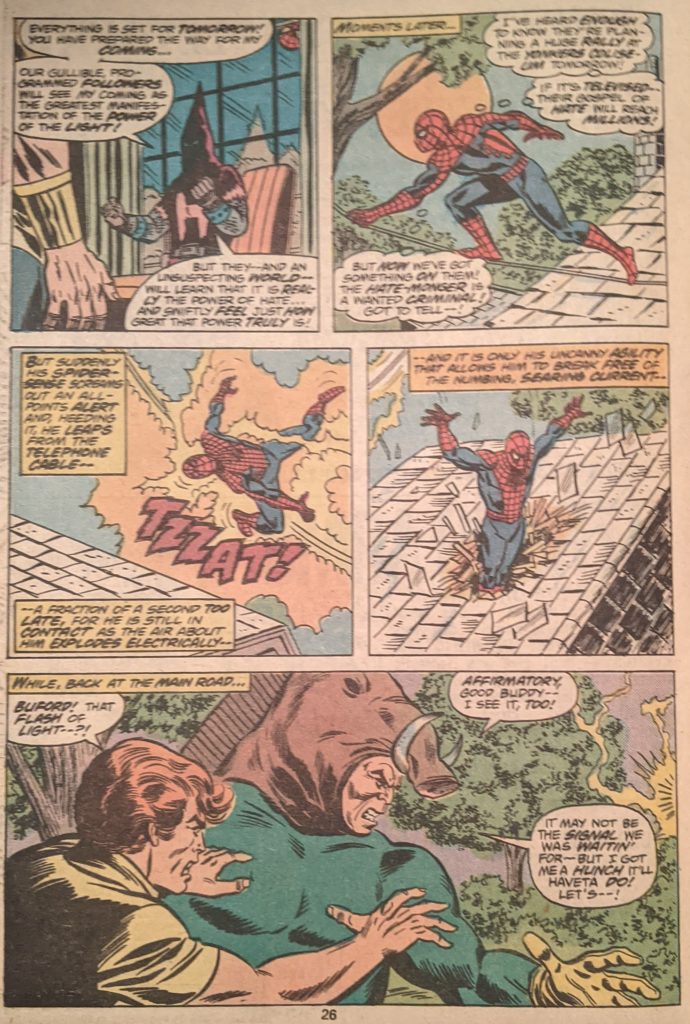 Razorback is… something. He tells the boys he's after his younger sister, Bobby Sue ("finest little chick in Texarkana," which is certainly not weird at all), who's been brainwashed by the cult as they moved across the country. Then Flash lets us know Sha-Shan told him all kinds of exposition between panels. She was apparently with her dad at their new temple in Vietnam when he told her there's a precarious balance between light & darkness, and "an emissary of darkness" has come and empowered a guy, and she has to be the light that balances him, because her dad's too old. So, that's how she wound up marrying a supervillain, and they fled her temple as it was blown up in the war to go start the cult. Sheesh. At any rate, Spider-Man convinces the boys to stay with the truck while he sneaks in to get the situation, and soon he spies Hate-Monger through a window. He read H-M died in FF 21 in the paper, so he's very surprised. Meanwhile, Hatey is claiming to be the evil being that came from space to empower Achmed, which is really gonna be tossed out, I guess.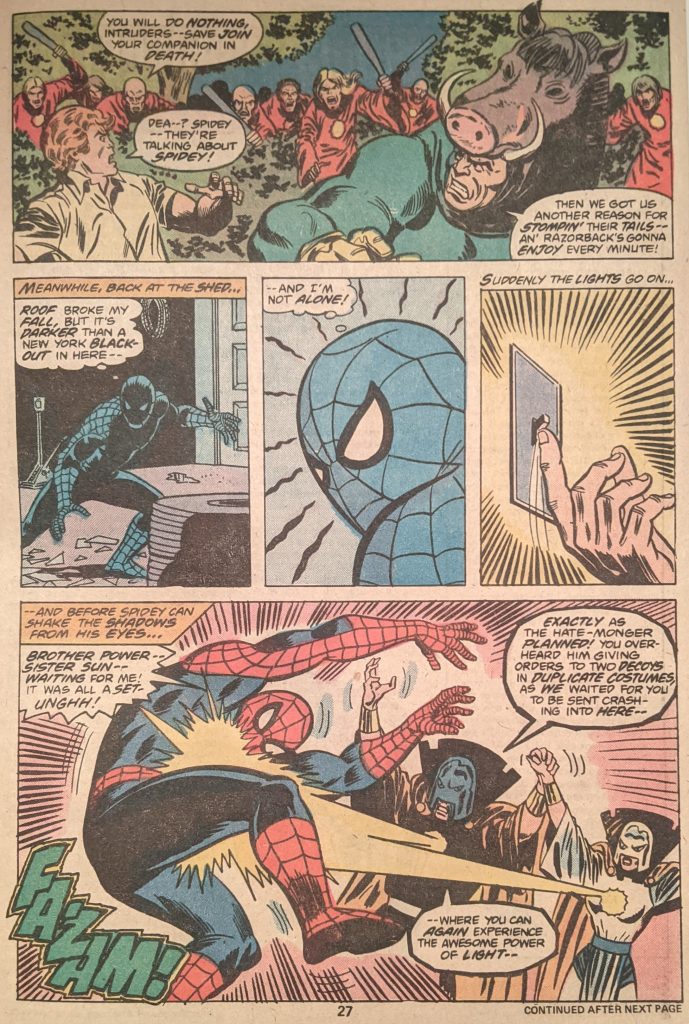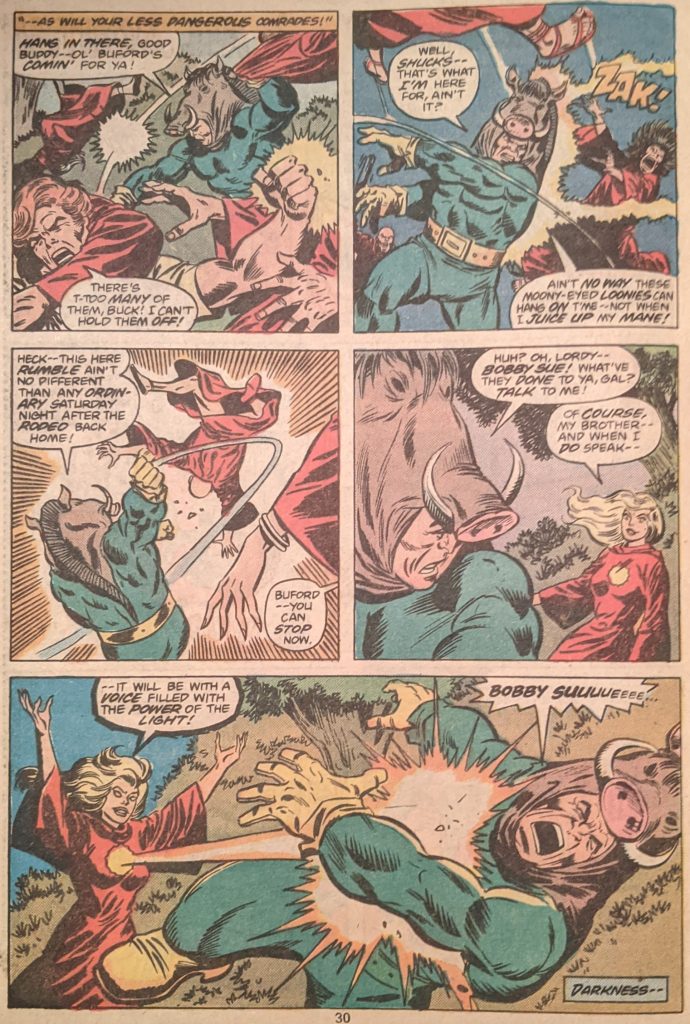 But… How does Bobby Sue shoot the beam without a partner? And how is Sha-Shan "balancing" this darkness by just going along with it? This is a mess. I presume it will only get messier. In the letters, a woman applauds The White Tiger as a chance for people in mostly white communities to see good things about Latinos, which is… awkward, but I mean, if that was actually happening, all praise due. They give Bill Mantlo a few paragraphs to talk about Hector, saying he was the first character he created at Marvel, and how thrilled he's been by the response he's gotten. He also casually let me know White Tiger came out of co-creator George Perez's first Marvel gig, which I didn't know. The man who'd go on to be one of the biggest names in the industry got his start in Deadly Hands of Kung Fu. Ya never know. Mantlo also mentions Perez's wife, Yvie, translated all the Spanish in Tiger's initial adventures. Maybe she kept helping in TAC, he doesn't quite say. But that's all pretty interesting info.