This time out, Alex inks himself on the cover. Watching him and Sal try to adjust to the 90s is one of the most fascinating things about this whole exercise. Just a couple years prior, he was more or less doing the Romita, Sr. vibe, and now look at him. But he's still kind of an old school guy, no matter what. This doesn't have that weird pop of the soon-to-be-Image guys. It looks nice. In a lot of ways, he's a better artist. But he just can't really catch that 90s wave. We've seen how they later bring in that Stephen Baskerville guy to just slather 90s crosshatch nonsense all over his work, but you can't change a guy's fundamentals. Sam De La Roas swaps in on inks this month, and as always, we begin on a training fight. This time, it's Richard vs. the various martial artists.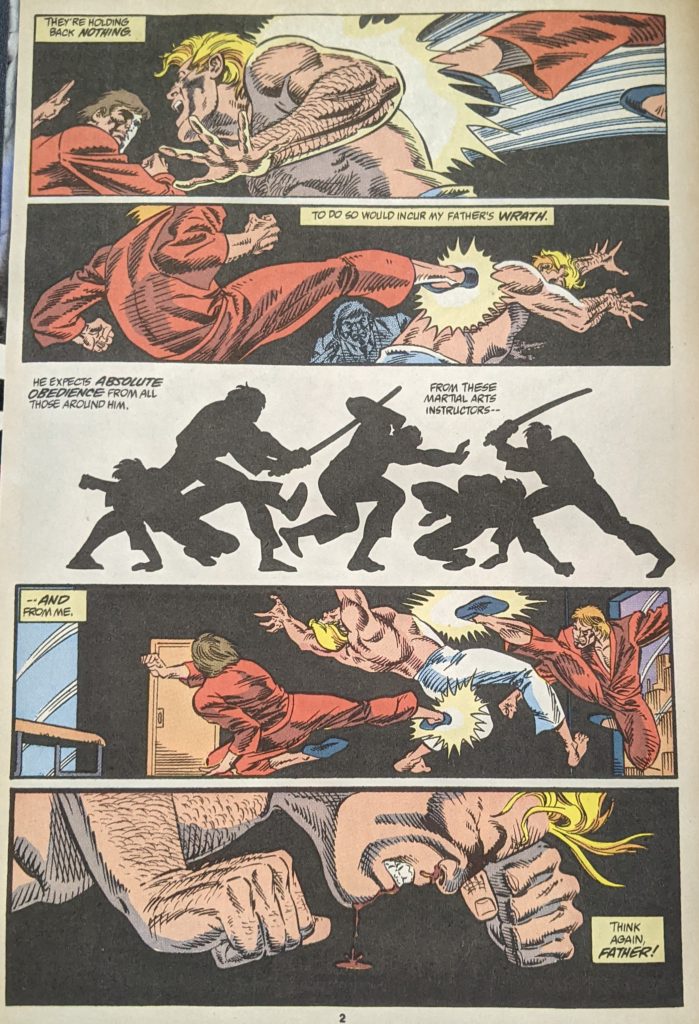 Richard beats up on the guys while thinking about how he's gonna take down his dad, but then one of them gets the drop on him. But we turn to Spider-Man before we see what happened. He's swinging around telling us what's been going on, saying he can't even go home to change clothes because he's sure the apartment's being watched, when he spots Demogoblin out on the prowl.
Meanwhile, a guy breaks into the Parkers' apartment, which seems remarkably un-trashed given how it looked last time we saw it. He claims to be a cop as he calls out for Peter, saying he should fix the lock on his elevator door, but is snooping all over as MJ chooses a bad time to call and give a rather comically detailed description of where she & May are and how much fun they're having on the answering machine. The alleged cop takes notes and leaves. The next day, Richard Fisk (Who I note Alex is trying to make resemble his dad more and more as this goes on) is hanging out with his fiance, who looks way, way, way too much like his mom! White streaks in the hair and all that! And her name is "Rebecca," pretty close to "Vanessa!" You got issues, man! He looks at some photos of his mom and his dear old friend Alfredo, people he says meant a lot to him.
Fisk randomly wants revenge on Macendale for the role he believes Macendale played in the death of the original Hobgoblin, his partner. That's random. Especially since they worked together a bit after. Macendale handily takes out all Fisk's goons and they wind up getting to pistols at the same time, a stand off. Macendale says he's all about business, and says he can do a better job bringing Fisk Parker or Spider-Man than his own goons. Richard puts his gun down and seems to agree. Meanwhile, Spider-Man is shaking down more guys for info.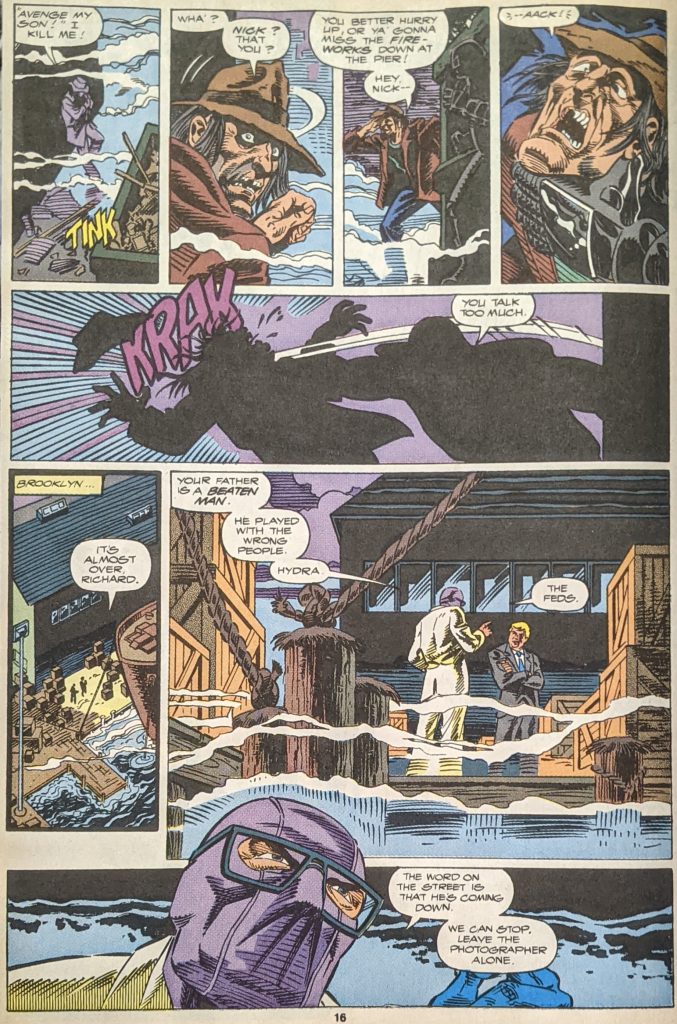 Now who was that 90s-shoulderpad-wearing silhouette? Rose refers to the collapse of Kingpin's empire that unfolded in recent issues of Daredevil. Richard, I swear being drawn chubbier and more Kingpin-y every scene, disagrees, and he & Rose almost get into it, both their goons closing in anticipating a fight. Fisk backs off, saying tensions are running high, and suggests they go watch a demonstration of the power he plans to use to take down his dad, even as Rose reiterates they don't need to do that anymore. Then Spider-Man arrives on the scene, his Spider Sense barely giving warning that it's a trap in time.
Rose begins to realize he's being set up as his own men start moving on Fisk's. Outside, Spider-Man is just barely keeping ahead of his foes. And to make things worse, he leaps behind some crates for cover and finds a couple of kids hiding there. Back inside, Rose says he & Fisk need to talk, but then Hobgoblin smashes through the ceiling.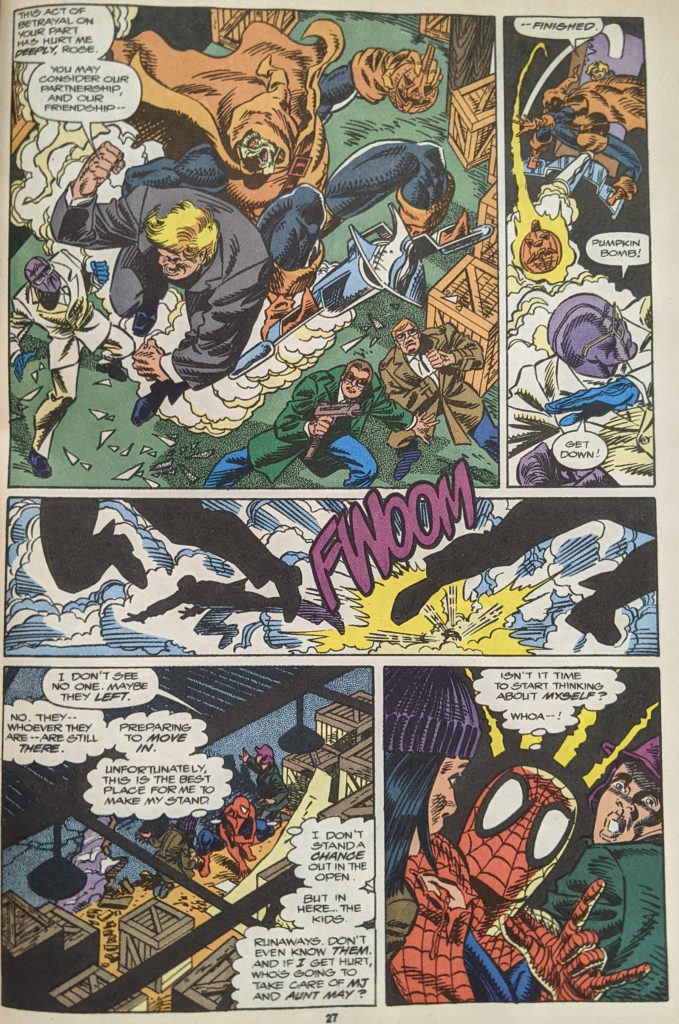 A big explosion at what's left of Rose's base catches them off guard. Spidey webs up a shield for him and the kids, and tells them to stay behind it as he leaps out to lure the goons away. But then fire a time of explosives at him, too, sending him flying.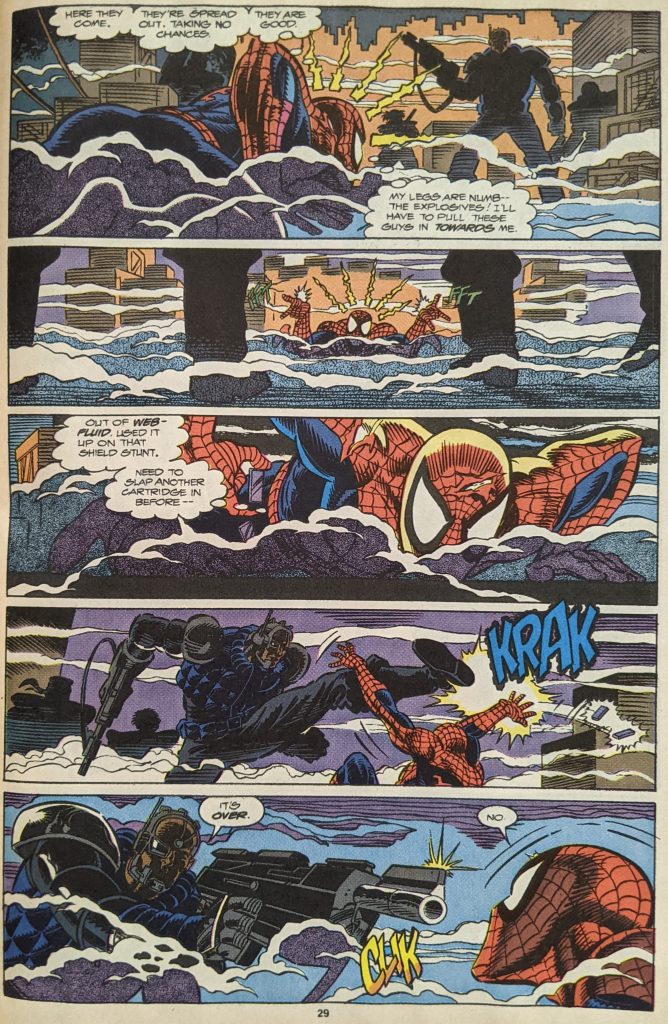 Things are looking pretty bad for our hero! And as next issue's cover will indicate, it's about to get weird.