Still sideways for the grand finale. I don't believe Domino has any kind of energy power or wrist-mounted weaponry, so she's just, like… pointing her fist? No reason to analyse these drawings, but they just get worse and worse the longer you look at them. I dare you to figure out Cable's left arm.
Most of my life, I have been haunted by whatever is supposed to be happening with Spider-Man's butt here. Does he have the ability to grow and shrink his buttcheeks at will? Perhaps! Juggernaut calls them feebs and charges at them in a 2-page spread. I think I hate "feebs" as much as Nicieza loves it. Best thing, tho, is the blood around Juggernaut's briefly wounded eye has switched to the other side of his helmet between issues. Spider-Man unveils his grand strategy: "Everybody dog pile on The Juggernaut!" So, you know. They all sort of rush at Juggernaut in typical Liefeld fashion, but then none of them actually clear the, like, 3 feet between them on the next page except Spider-Man, who… webs Juggernaut's eyes again. Thrilling stuff.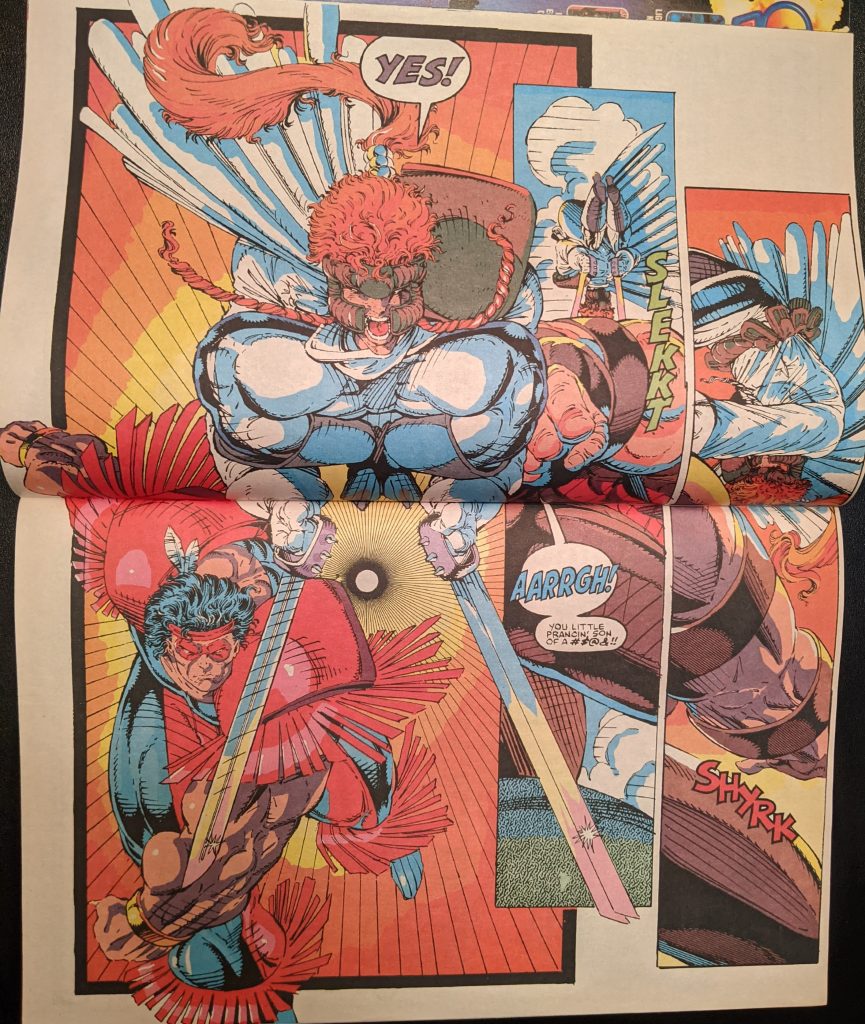 I've always wondered how much of this was just Nicieza riding the train. Putting dialogue over whatever random junk Liefeld chose to draw on any given page was one of the most lucrative gigs in comics at this point. No one reading would even care what you wrote, they're just excited to see this 2-page spread. Why put in much effort? It's impossible to see what, if anything, Shatterstar may have accomplished in those 2 smooshed panels, but as of the next page, Juggy's helmet now has 2 bloody eyeholes, so that's kind of funny. More empty threats and posturing as we switch back up into the tower to find Cable hunting Black Tom with the intent to execute him. Tom gets the drop on Cable, who calls him a dead man twice in 3 panels, asking what he hoped to gain from all this. Tom says the return of his friend, Juggernaut (No idea what that means in this context), and "that Black tom Cassidy is a man willin' t'back his threats with actions!" which also makes no sense.
The sideways format somehow makes Liefeld's compositions even worse. Despite not apparently being anywhere near a wall, Tom is shot into an elevator shaft, where he clings to a cable for his life. Cable remarks on how funny that is. Tom tells him to haul him up so he can surrender, and Cable shoots him 2 more times, because the 90s. But Tom is caught and teleported out by Deadpool, and I do not care why. Back down on the ground, there is still nothing happening but a bunch of people standing around posing. SHIELD agent GW Bridge is seen spying on them from above in a ship or something for a sec, and then Warpath gets punched away as a distraction while Siryn pulls Juggernaut's helmet off. While it's supposed to be magically bonded to his suit, Shatterstar's blades can cut through magic or something, who honestly cares? Even with their foe at something of a disadvantage, everyone just stands around saying tough guy stuff for awhile, until what is, for me, the most memorable page in this book:
This page encapsulates the essence of Rob Liefeld's complete lack of interest in his own "art." What's going on with that gun? Is he switching hands real quick? Is he pointing it at himself in one of those panels? Who cares? Certainly not Rob! All his guns look like paper towel tubes, there's no way to know which end is up.
Deadpool's tiny cameos in this are only his 3rd appearance. It would later turn out Cable, Domino & Bridge have history. I learned this in a 2-issue Cable miniseries which, while more or less as stupid as this was, had incredible art by John Romita, Jr., and was totally worth the purchase for that alone. John, Jr. went through his own kinda 90s excess phase, but his version was just pushing the guns and technology Cable uses to ludicrous levels. It was like if Jack Kirby was an Image artist, it was wild stuff. But, anyway. Glad this is over. What a bunch of nothing. The best part of this comic is a 2-page pin-up by Mike Mignola:
Haaated his art at this time. What a little fool I was. Mignola would go on to draw a whole issue of this series, tho I have never seen it. What a dizzying switch from comics' most successful con men to one of its greatest artists for a month. When Liefeld jumped ship to help form Image, his replacement on X-Force was one Greg Capullo. Greg would soon be poached by Todd McFarlane to become the penciler of Spawn for many years when Todd got more interested in running a toy company and collecting baseballs than doing the thing that made him a millionaire. One last detour before we move on: Once upon a time, in the 90s, I ordered comics from some company. I don't even remember who, at this point. But I remember the order included a Spider-Man book, and instead of what I ordered, they sent me the trade paperback collection of this mess, collectively titled SABOTAGE, with an apology saying they didn't have my book, so please take this instead. A collection of terrible comics I already had instead of a refund. I never did business with them again. Come back next time for a comic that's actually good.