All the pages of this entire issue, as well as the following issue of X-Force, are sideways. So they're not gonna be too legible here. Good thing no one actually reads this. It's weird how lumpy Todd's take on X-Force looks to my adult eyes. Todd & Rob were frequently compared to each other in this period, but I mean, look at this. They don't have much in common besides slathering everybody in 20 bazillion little lines. Also strange how this is part 1 of the crossover. If you haven't read X-Force 3 (As I hadn't initially when this issue came out), well, good luck. We get started right, with Todd acting like Spider-Man didn't see anything going on before the blast despite the last few pages of the previous issue AND having Spidey act somewhat inconvenienced by the bombing. But he chooses to go see what's up, anyway…. On the ground, rather than where the bomb went off. Uh… good idea.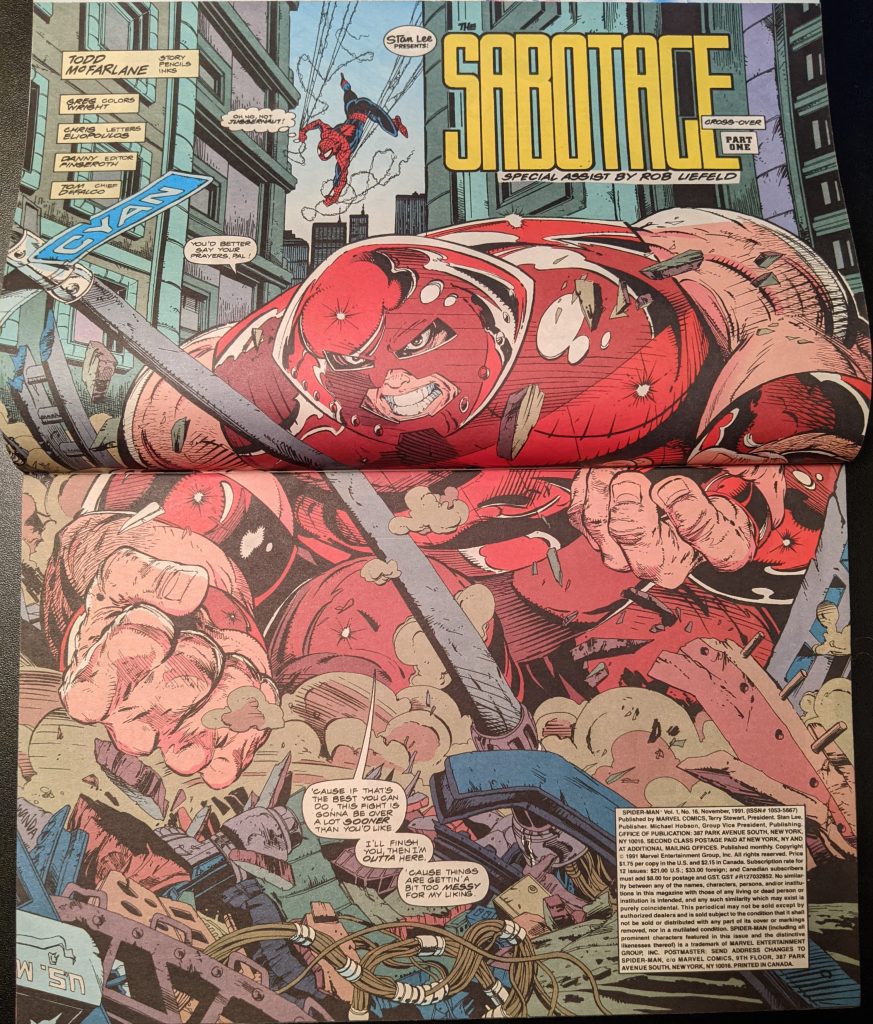 "Cyan" is the name of Todd's daughter, newly arrived at this time.
The smouldering tower there just can't be seen without remark these days, huh? Probably seemed as ridiculous as a guy swinging around on a web in 1991. McFarlane's having no problem keeping up the god-awful "banter" from X-Force. As the 3 members of X-Force convene to talk about fighting Juggernaut while he obligingly just stands there, Spider-Man debates getting involved. Very heroic. But as the X-Force gan poses at Juggy, he thinks they don't know what they're getting into, and they're going to need help from someone who's fought Juggernaut in the past. Then Cannonball comes zooming out of the WTC and decides to try flying right into Juggernaut. All these new kids I can excuse, but Sam should really know better.
I've noted for the first time during this re-read that McFarlane's not too good at action, but that particular impact sure works. I'm not sure I think Spider-Man would know who Cable is, especially at this point. Cable, Domino, Syrn, Gideon, and Sunspot, now mysteriously in uniform, are digging out of the rubble upstairs. Cable tells Dom & Syrn to go help with Juggernaut, to "take him out as soon as possible," while he goes after Black Tom. Has Cable just managed to not hear about Juggernaut, or…? Speaking of, the X-Kids are flopping around him in vaguely action-y poses as some prose talks about how it's impressive none of them as died yet. Almost halfway through this issue, our man decides maybe he ought to, like, get involved.
Good job, Spider-Man. We cut back upstairs so Gideon, Syrn and Cable can have a characteristically whiny McFarlane argument about whether or not Cable's helping the situation for 2 pages instead of, like, doing anything, and then it's back down to ground level, where, after some really terrible dialogue where neither Spider-Man nor Juggernaut acknowledge that Spider-Man actually stopped him once, Spidey webs his face and has Warpath push him over, thinking, "Spidey, you're a GENIUS" to himself. As Juggy peels the web off and begins another terrible speech, whatever advantage this may've given the heroes is lost when Boom Boom hovers the ship down near the fight to complain about being left out, distracting everyone long enough for Juggernaut to start beating them up. Back upstairs, a 2-page pin-up of Cable stomping away form the others comes with still more grumpy old man complaining, and then…
The lore has it that Todd wanted panel 4 to be a graphic shot of Juggy getting stabbed in the eye, but editorial wouldn't let him (I mean… obviously). And that this was the last straw. That this guy who'd been allowed to crap out 14 of the most poorly written, most unpleasant, most meandering and ultimately pointless Spider-Man comics ever made due to his stardom was nevertheless feeling more and more constrained by editorial telling him what to do every month, and losing this eyeball stab was just one step too far. It's hard to imagine editorial telling him to change much about his previous 14 issues. You'd think if he were truly being edited, his stories might've had some kind of structure, or purpose, or satisfying conclusion. But, allegedly, this page is it, and thus, in a way, this page is responsible for the existence of Image Comics.
"Alright, gang, I've been saying Juggernaut can't be stopped for several pages despite having beaten him in at least two different fights prior to this, but now, we're going to stop him!" This issue was just filler. I never really realized that as a kid. You could easily read X-Force 3 & 4 without it. Jeez. But, that's pretty par for the course with this series, anyway, and we're out. Todd has a paragraph on the letter page thanking his artistic collaborators and editor Jim Salicrup, saying he's leaving the book to spend time with his newborn daughter, and then listing the names of every person who's written to the book since he started it. Todd will begin rallying his fellow star artists to tell Marvel to shove it and go start their own company, and comics history will change. The early Image titles are pretty uniformly terrible, but the company itself has gone on to publish a wide variety of good stuff in the decades since, while also generally standing for creator freedom and ownership (Most of the time). Pretty cool, all told. Todd launched Spawn in 1992, and continues to make it to this day, somehow, despite it being absolute dreck. You might think writing hundreds of comics since these would've given him a chance to grow and improve, but you'd be surprised. My lil' idiot fanboy self was heartbroken to see him leaving this series I hadn't enjoyed a single issue of, and went on to by well over 100 issues of Spawn I didn't enjoy, either, all out of misplaced loyalty to my favorite artist, who only drew 20 of those issues. Almost 10 years' worth of comics I didn't even like! It's a stupid hobby, comics, but it's far too late for regrets. But speaking of regrets, there's a whole 2nd issue of X-Force next post!