Ghost Rider! It's the 90s, when Spider-Man and/or Wolverine would guest star in any series that needed a boost, ya never know. Just about 6 months after Todd McFarlane turned Hobgoblin into an ill-defined religious fanatic and portrayed Ghost Rider as not caring about innocent lives, the creator of this version of Ghost Rider will have their say. That would be Howard Mackie, alongside line artist Mark Texiera and colorist Gregory Wright. Curiously, penciler Javier Saltarez co-created & drew this book first, inked by Tex, but now it's just Tex. Texiera has an arresting visual style, but his figures can get weird, and having him embellish someone more solid worked really well, actually. This Ghost Rider is Danny Ketch, whose origin is kind of cribbed from The Crow. His sister killed in a confrontation between gangs, he fled with her body to a nearby junkyard, where he touched the weirdly shiny handle of a motorbike with his bloody hand and became Ghost Rider, The Spirit of Vengeance. Hey, it is what it is. And he hangs out with Johnny Blaze, the original Ghost Rider, who is now perpetually sporting a ponytail,sunglasses, trenchcoat and 5 o'clock shadow, because 90s. And he's got a "hellfire shotgun," so don't laugh at his ponytail. As we begin, Mr. Rider has been badly beaten in whatever happened in recent issues, winds up back in the cemetery where this series started, turns back into Danny, passes out, has a nightmare where he's told Blaze has been trying to kill him and wakes up in the hospital.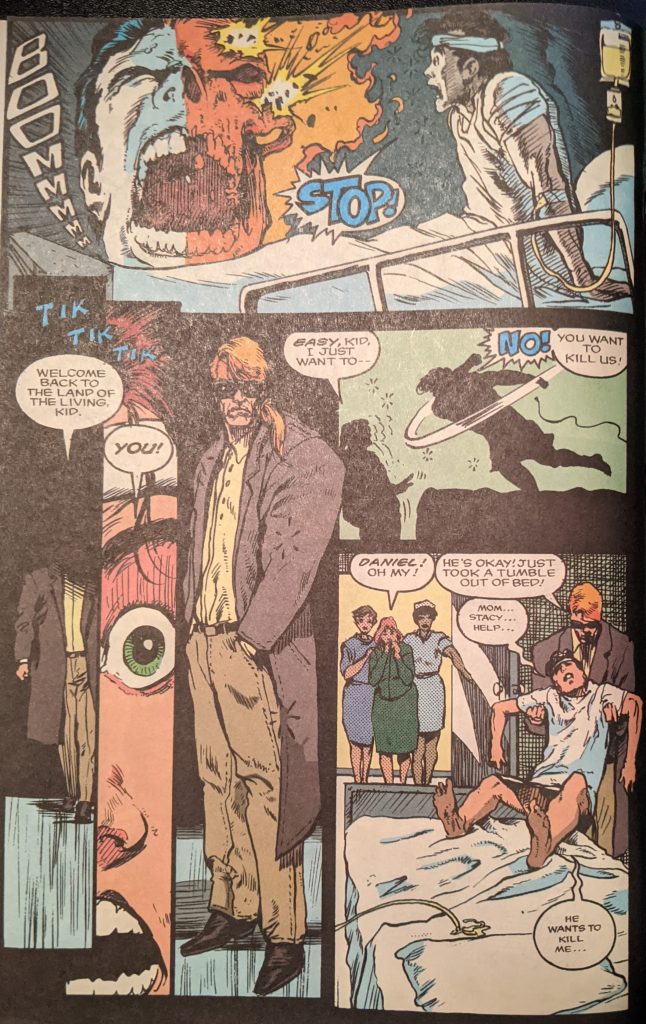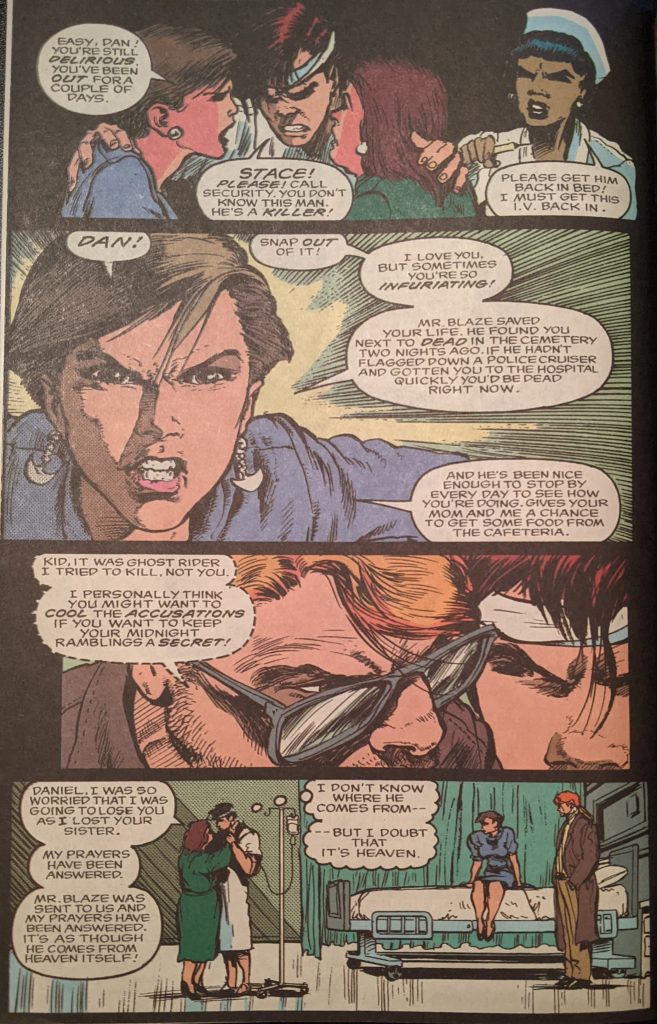 I mean, look at the intensity of what is basically just people talking. Tex really knew how to bring it. I guess this is where Blaze comes in? That's surprising, I coulda sworn he was part of the book from early on. I've read the first 6 issues in a trade and then this, and neither one in decades. Well, so, anyway, a week later, it's Blaze who picks up Danny from the hospital instead of his family, to lecture him on how Ghost Rider will change his life forever even if he never changes again. And then a montage shows us Blaze teaching Danny how to fight for a few weeks. He also teaches him about motorcycles. Then a limo shows up to take Danny's Mom to church? Only he says there's no mass tonight and he doesn't like the look of the driver and takes off after them? Man, I don't remember this at all.
This sort of thing would be much more suited to a Ghost Rider comic than Spider-Man if it wasn't, you know, The Hobgoblin. That's a one-page interlude as the boys reach the church, which is abandoned, and also the wrong denomination for Danny's Mom. They knock out an armed guard patrolling the area.
Reverend Styge kinda looks like Daniel Day Lewis. Danny yells "NO!" and gets him and Blaze captured. Styge ends the service early and has his goons question the fellas. One of them whacks Blaze with the butt of a rifle, which makes Danny jump in, which makes Danny's Mom jump in, which gets her batted across the room, ouch. Then it's a good ol' fashioned church brawl until…
Cannot get over the Batman logos. Danny briefly flashes back to Spider-Man 6 & 7, and that's enough to finally turn him into Ghost Rider.
Well, it sure took awhile, but there's our man. I guess it'll be a big fight next issue. Weird thing about this issue: I absolutely believed I owned it. 100%. And yet, I found I no longer owned it. That I must've traded it away, or maybe given it away during a period where I was clearing out comics I didn't want anymore. But reading it, I'm now pretty sure I've never seen it before. How strange. I couldn't tell you what happened in it, but I was sure I had it. I remember this cover so clearly. Very surprising. I think maybe it was in a very common ad? But, I have it now, and I've even gotten part 2!