EVERGREEN Throw Mama From The Train reference on the cover. Brilliant. The way "SPIDEY" is emphasized has made it worse for me since the day it came out, for some reason. Let's move on. Al Milgrom inks this month, because Pat Olliffe requires at least one Al every issue, and the team starts by remaking the splash from ASM 2…?
Interesting choice. As they fight, Spider-Man lets us know Vulture broke out of jail this morning with a pre-programmed set of wings that swooped in and carried him out of the prison yard, and now he's trying to make some money getting pictures of him. But the fight's not going so well for our hero, who gets thrown into a roof pretty hard. He webs onto Vulture's back, as he so often does, and is taken on a joyride, as he so often is, until he has to bail before Vulture smashes him into a billboard.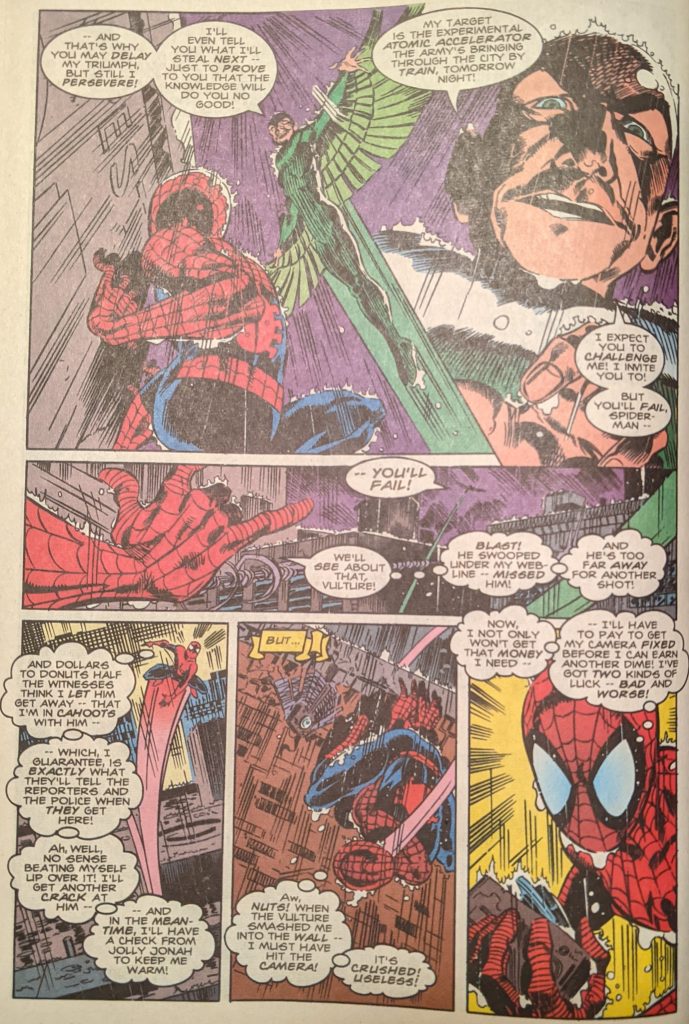 Well, then. The next day, Aunt May is going to Florida yet again, and wants Peter to see an optometrist about not needing glasses anymore. He heads to school, thinking he just doesn't anymore, and worrying an eye doctor might see something weird in his eyes that would expose his identity. Bit far-fetched, but totally in character. Then…
How did Flash cut the bottoms off those bottles? I assume they're the glass kind. Pushing Liz's eventual change of heart on Peter a little early here. At any rate, hours later, Spider-Man is on the scene at the military base where the accelerator is stored. And it isn't just guarded by the military, it's guarded by General Thunderbolt Ross, The Hulk's nemesis, who is not exactly the most level-headed guy. Spider-Man tries to warn him of The Vulture's plan, but Ross dismisses him and tells his men to arrest him, and Spider-Man flees in a hail of gunfire. Ya try to help a guy… And that's Peter's lunch break, so it's back to school and gym class where, as Peter showers later, Jason steals his gym bag, leaving him with nothing but a towel.
Sally and Jason breaking with the gang. Why, it's almost like they're only supporting cast members in this title, so the team has more leeway with them. Soon, at The Bugle, Peter's checking railroad times, telling Betty it's because Aunt May is going to Florida by train, but obviously, really because of The Vulture. He thinks she's really going by car with The Abbotts, but we already saw them leave, so… bit of a hiccup there. JJJ storms by demanding pictures of The Vulture, but Peter's camera is in the shop, so that's probably not happening. Cut to the evening, and Spider-Man approaching the train to try to help. But the soldiers are waiting for him, and fire a big net over him. It's strong enough to contain him, even.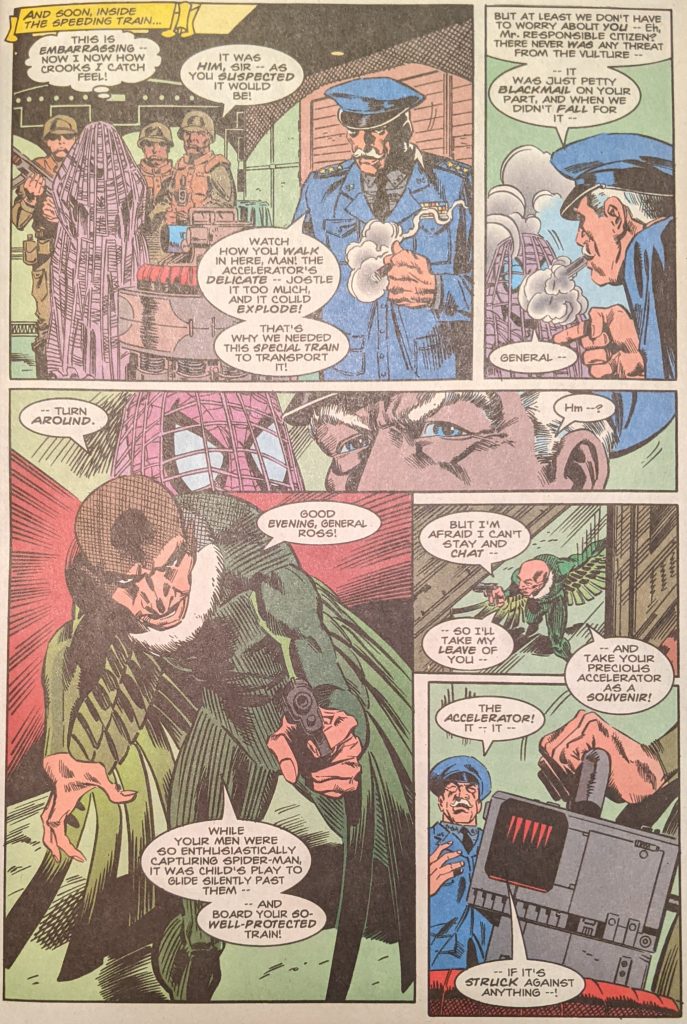 Our man races off and lands on Vulture's back, briefly stealing the accelerator back before Vultch pops him a good one and manages to re-grab it. They flight takes them back by the train, where soldiers begin shooting indiscriminately at both of them. Vulture actually tosses the accelerator to Spider-Man to go knock all the soldiers off the train, forcing our hero to hang onto the dangerous thingie while also webbing up a cushion for them to land on, even as Vulture swoops back in.
"–your luck can change when you least expect it!" he says, webbing onto the accelerator. With his feet planted on the train, he points out the oncoming tunnel to his winged foe, telling him he'll either give up the accelerator or slam into the wall with it and explode.
Egad! What could Jason be up to? Outside of killing or unmasking Peter, it's kind of wide open since he's not in ASM. We shall soon see.