We are back to Untold Tales with another all-new menace for Spider-Man to face.
Gantry, Orbit, Satellite and Vacuum, The Spacemen. Not too Ditko-y to my eye. They bring the whole building down and escape in the chaos. Spider-Man survives, of course. John tells us they later found the safe empty with the cash missing, like we should know what that means, but he doesn't think Spider-Man stole it. His dad does, tho, and when he goes to see JJJ to tell him NASA is considering Spider-Man to be an astronaut due to his remarkable abilities, his dad blows a gasket. John doesn't understand why his dad is holding onto this grudge.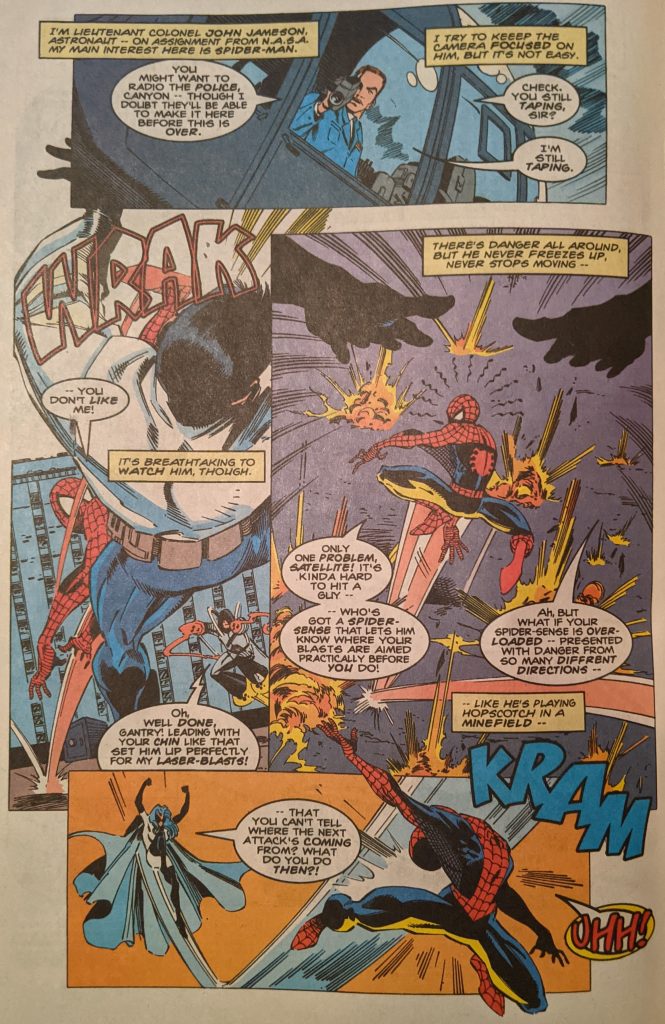 John further hypothesizes that Spider-Man must have a lot of friends as Flash and the gang pull up next to him and offer him a ride only to drive off. He almost webs the tailpipe in revenge, but catches himself as John says he can't imagine Spider-Man keeps his abilities completely to himself. Then reporter Frederick Foswell calls in a new story about The Spacemen.
John tells us that, in the following days, Spidey keeps fighting The Spacemen, and the fights keep covering robberies. He wonders who's doing the actual stealing as, in their latest confrontation, Spider-Man gets attacked by an angry mob. As Spidey escapes, John notes he always escapes, and wonders why The Spacemen don't just capture him as Gantry, signing autographs, says this is a piece of cake. Pretty clear what's going on there. Well, to some people.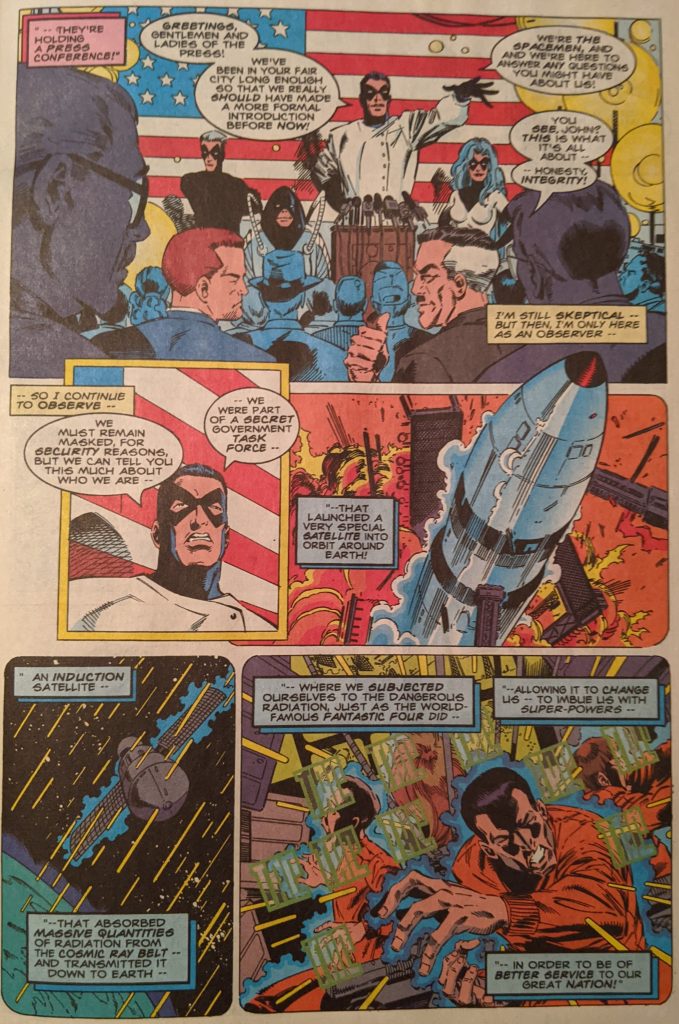 That bit fits into the period really well. Busiek generally has a great feel for the Ditko/Lee era.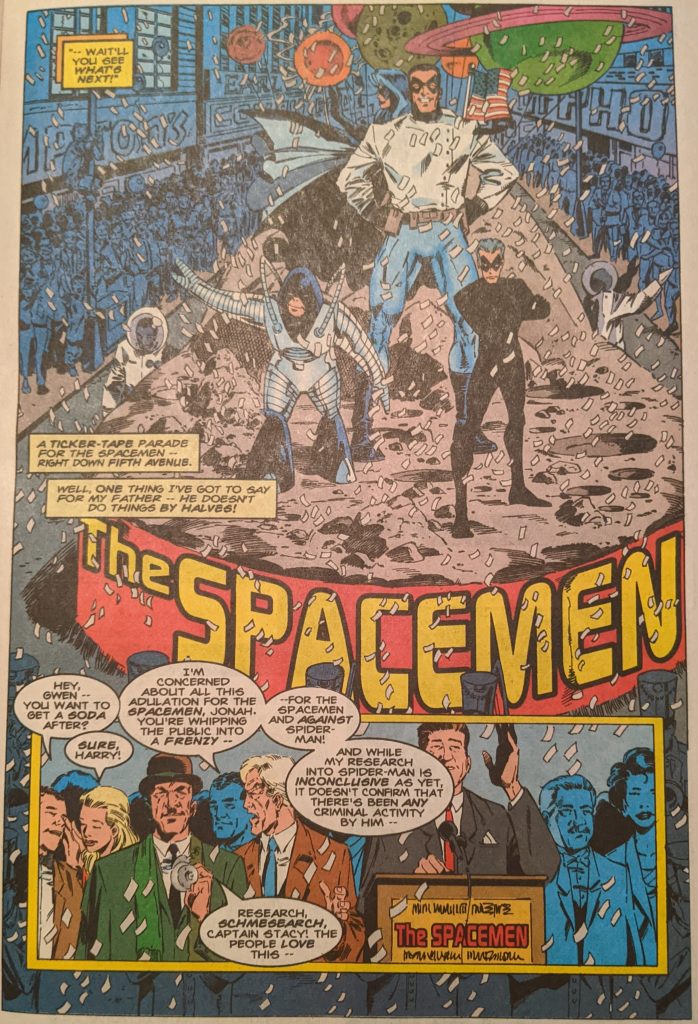 Well, look who it is. An early first appearance of Harry & Gwen. John joins George in condemning this nonsense until Spider-Man shows up.
As Vacuum envelops everyone else, Spidey realizes they used his Spider Sense to lure him into a trap, and mutters to himself that he's got to stop explaining how his powers work to bad guys. In Vacuum's spacey, Cloak-eqsue body, there's no air. The Spacemen have rebreathers, but our man fights a rare silent battle to get frees, webbing onto Satellite and spinning until he reaches escape velocity and shoots them all free. In the process, the smash through the decorations on the float, sending a cloud of their stolen cash flying into the air.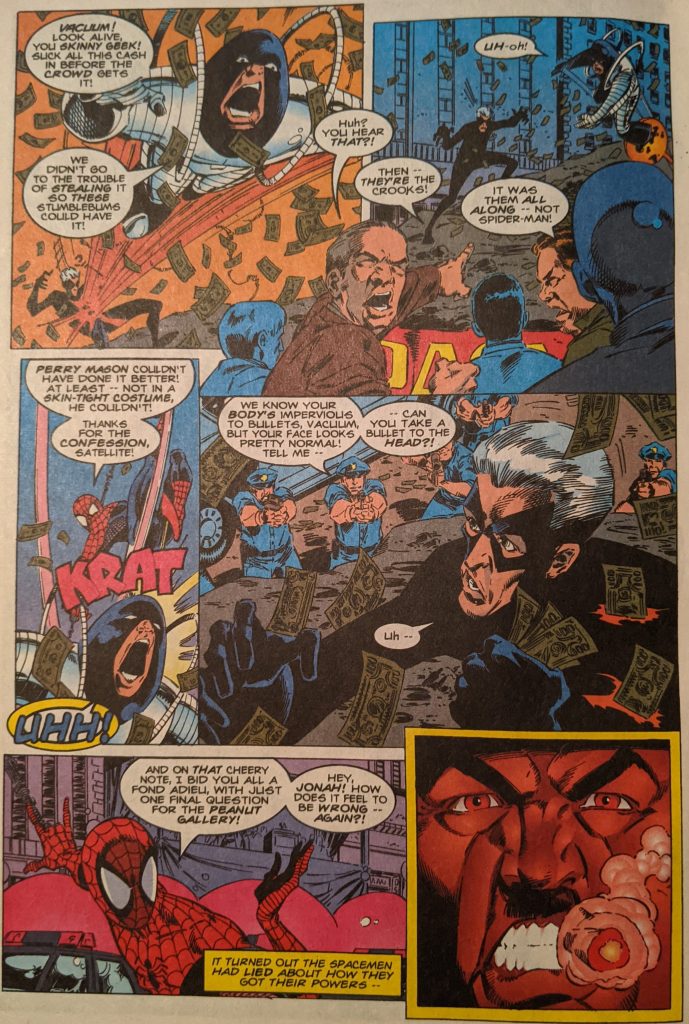 Weird structure to this one. One could say this might be an influence on JJJ deciding to take things into his own hands when he eventually creates The Scorpion. Perhaps unsurprisingly, The Spacemen do not appear in any future Marvel comics. But next post features the debut of a guy who's been around a lot…