Yes, it's espionage as you like it with Peter Parker's parents, but that's not all! This is written by Roger Stern AND pencilled by John Romita, Sr.! This is worth doing the whole gimmick! Al Milgrom inks and Steve Mattson colors. This is the first book to hit the period when I realized I could store a lot of comics in as single Silver Age bag instead of individual ones. That way you could buy fewer comic bags and also just pull a whole chunk of books out of the box to read easily. All of them will start to be stored like this before the end of the Vol. 1 era. No more obvious evidence where it came from, but I bought this one new, because obviously. Richard really looks like Peter on the cover. Let's do it.
Even Stan gets to get in on the secret agent action.
30 years after first working on Spider-Man, Jazzy Johnny hasn't lost a step! As the ersatz Danger Diabolik subdues the guard, more appear, and he fires a hail of bullets at them to cover diving overboard to escape, narrating about "the old Parker luck." That's right, it's Richard.
As The Parkers look on, the whole yacht explodes to cover the Baroness' tracks. As originally revealed in ASM Annual 5, it was just Richard who was a SHIELD agent, and Mary simply implicated in his alleged treason by being his wife, but it's the 90s, so now they're both superspies. As they should be.
I mean, it's kind of crazy no one ever bothered to dig into Richard & Mary's life before. There's so much to do, so many places to go with it. But I'm also glad it's Stern & Romita getting to finally do it. Mary flashes back herself, letting us know her dad was "Wild Will" Fitzpatrick, "a bit of a bounder" who'd worked for the OSS, but was great to her and made sure she went to the finest schools. After he died, she was distraught, but used her education and his "old cronies" to get a job in the CIA, eventually meeting Richard and becoming a field agent, and of course marrying him, with Ben & May as best man and maid of honor, respectively, as Mary no longer had any family of her own, but was welcomed into Richard's. Her reverie is interrupted as their plane lands in Bombay, where, after 2 days of casing the city, they spot The Baroness, just walking down the street.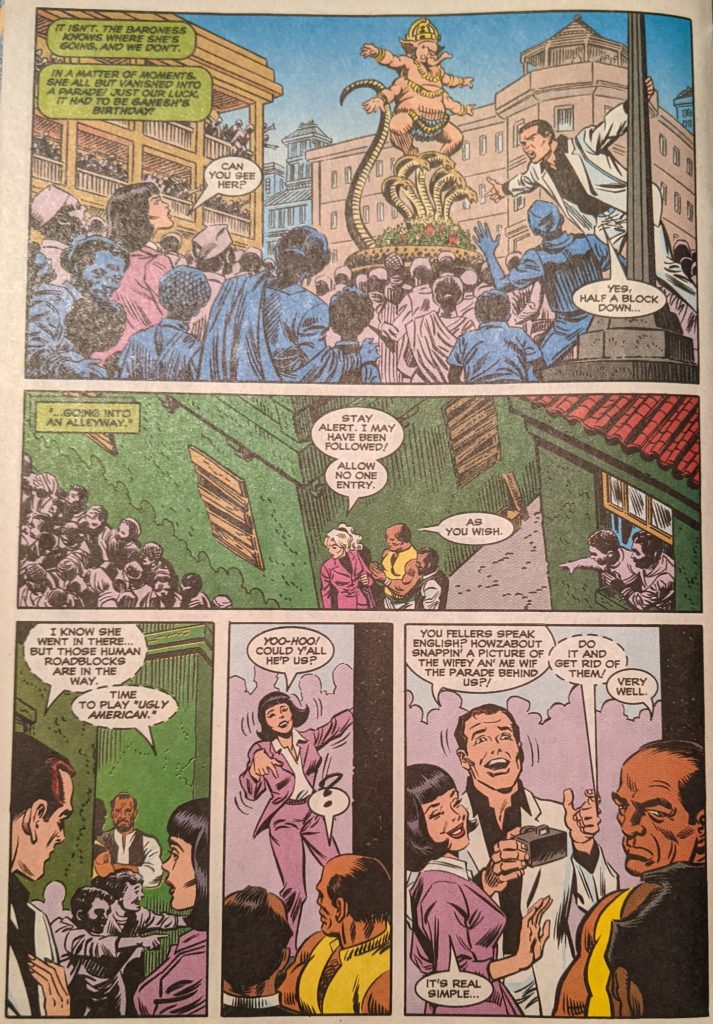 The camera emits gas when used, knocking out the muscle in true super spy fashion, and allowing our heroes to slip inside. But they're caught almost instantly, literally, in a big net, and knocked out. And when they come to…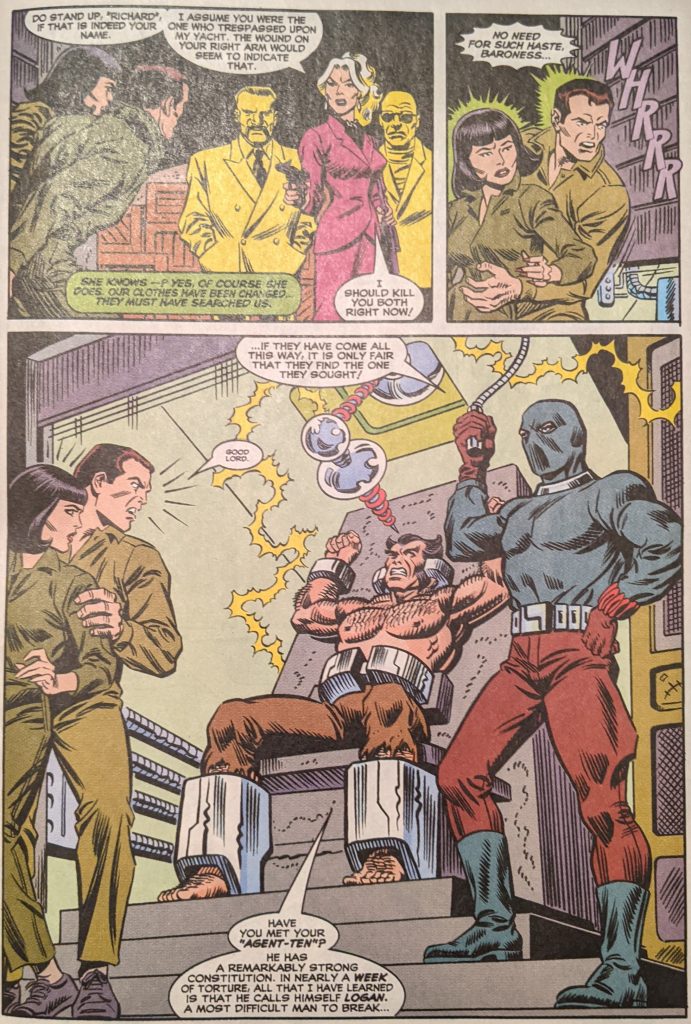 All this and Wolverine, too? Due to his long life, Logan's been shown interacting with all kinds of people throughout history, including Captain America in WWII. Only right he meet The Parkers, I guess. The big guy lets Logan loose so he can put Richard in the torture device. Mary plays the frantic, helpless female to get close, then a knee in the crotch and a punch in the face put him on the ground, allowing Richard to shake free of his captors in the confusion.
Now that was a "Flashback." It's pretty crazy to me that no one did this before, even. Stan had them turn Nick Fury from a WWII grunt into a suave superspy to cash in on the popularity of James Bond, but he coulda been doing The Adventures of Richard & Mary Parker any time. But, this issue is not over. And the rest of it is… less exciting for me, but perhaps not unexpected…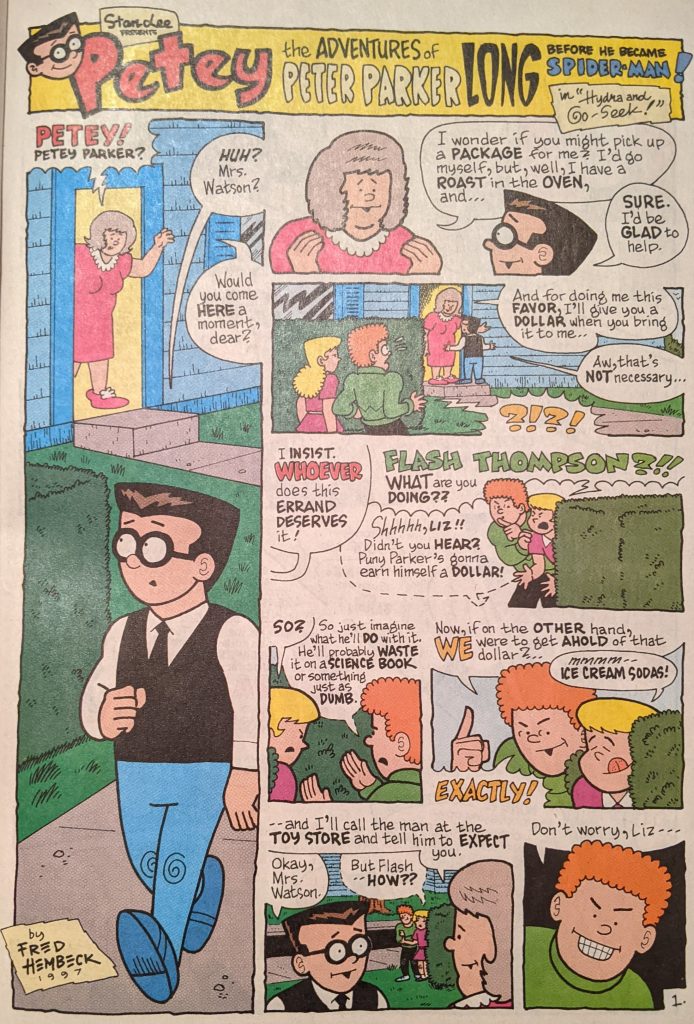 Given the volume of "Petey" strips Fred Hembeck did in the late 80s/early 90s, it only seems fair to have him back for this kind of event.
He even tied it into the main story.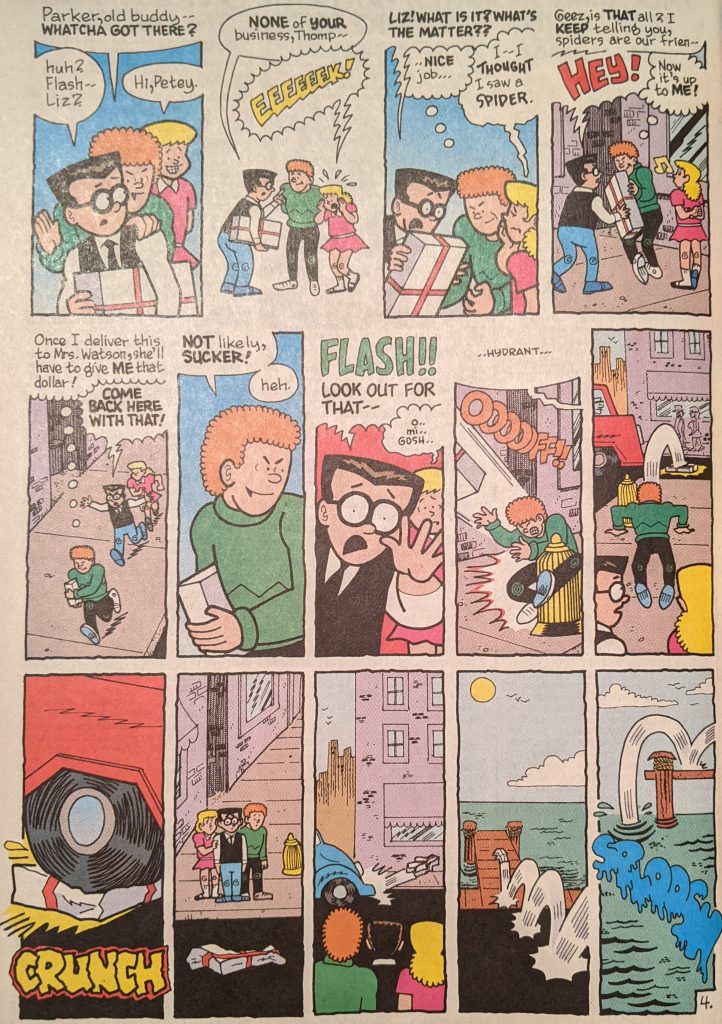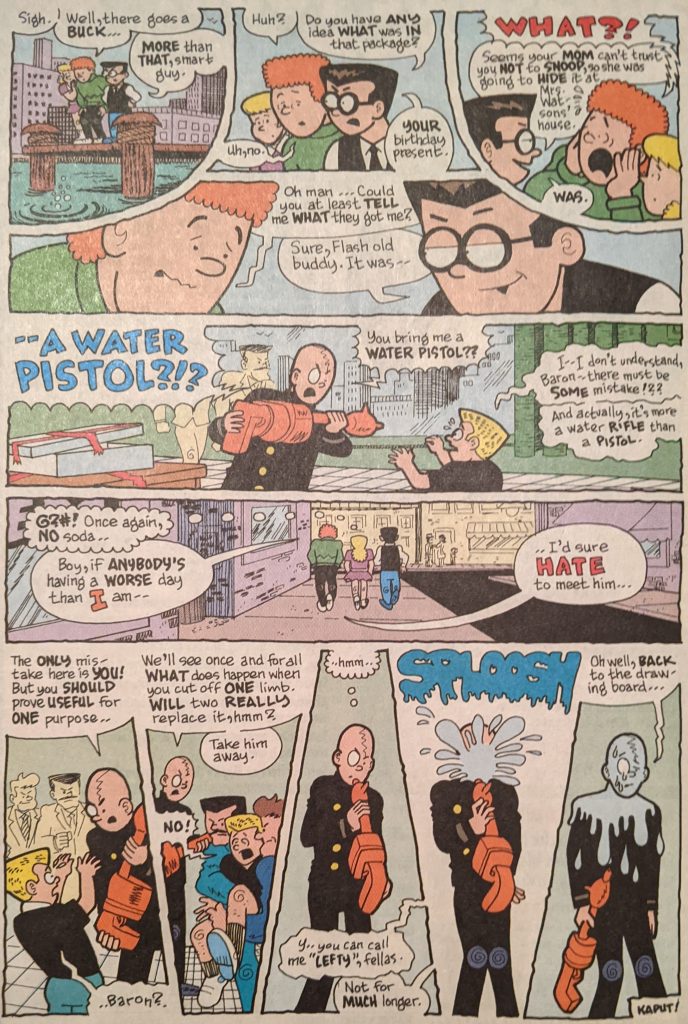 Well. that happened. Kinda takes my excitement about the first story down a bit. But only a bit. Richard & Mary Parker: Super Spies is just waiting to be made. But, with the last of the Flashbacks out of the way, we can finally go back to where it all began…