Well, we've come to the last book in this block. Can't say I'll be sad to leave. More of this Kraven nonsense. Well, I say that, but nothing going on with him in this era is nonsense compared to what happens in the early 2000s. Getting ahead, as usual. And looke, they made Ross's most recent shameless McFarlane swipe the cornerbox! Really failing upward! Holy crap, the cover of this book is really messed up! I though it was the bag! I already paid too much for it at $2.29, but in this condition? I was robbed. McKay's is a strange place. Some things are a steal, some things wildly overpriced. At any rate, as the cover suggests, Al Milgrom is now the sole inker. Wonder how he feels about the art in comics at this time. This begins with Norman's footage of Spider-Man beating him running on the news.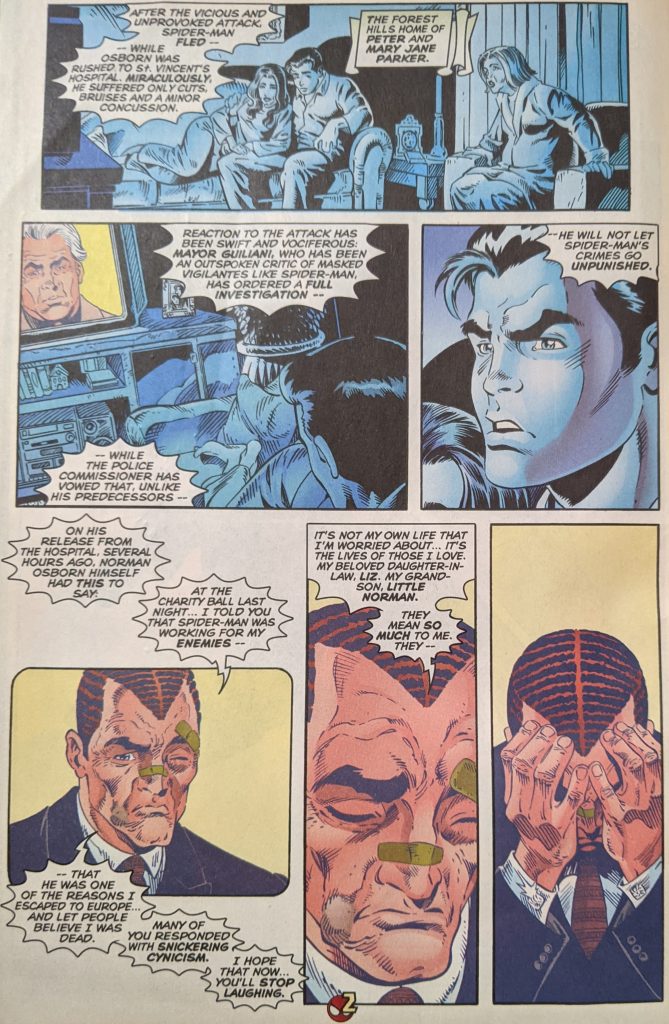 Ew, Guiliani.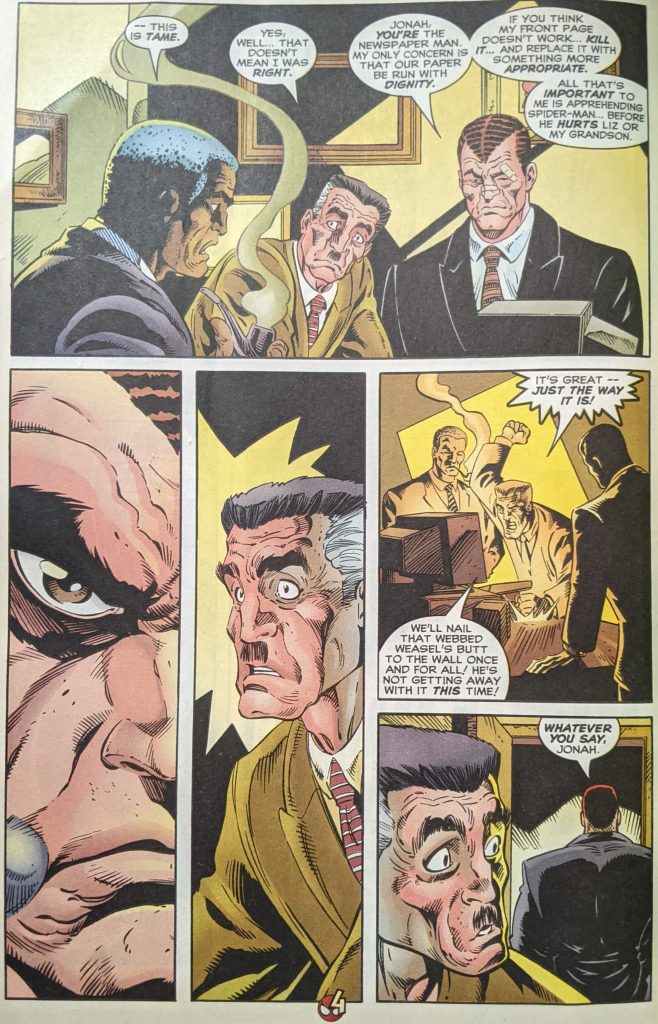 Man, what is meant to be happening there? I guess Norman gave JJJ a look? From.. from behind his head? Not done well. Robbie wants to know why JJJ is obviously afraid of Norman, but Jonah gets back into "Spider-Man menace!" mode until Robbie leaves, then hunches over in despair. At school the next day, Peter is wondering how he'll protect MJ & Anna from Norman, but MJ stops him, saying they've lived through worse (Have they?) and she's sure Spider-Man will find the evidence needed to put Norman away for good. But as they part for class, she tells him not to worry, and mutters to herself that she'll do the worrying for both of them. Then we cut to some guys robbing a bank. I guess it's later, it's suddenly raining and looks dark. They escape, but then a pair of hands rips the driver right out of their car and it crashes into a pole.
Soon, the news has arrived on the scene, where the cops have found the robbers in a mesh net, hanging from a streetlight Spider-Man style. Kraven appears on a nearby roof, saying, "Consider this a gift from Kraven the Hunter!" and then disappears.
The moment is spoiled as Osborn strolls up behind Betty, saying he admires his conviction. Well. Maybe this is the end of "Flash is a drunk." Won't be sorry to see that go. At ESU, Peter, MJ & Jill Stacy are having lunch when Peter sees the Kraven thing on TV, and hops up talking about it'd be great for news shots. Jill says they have an exam in 30 minutes, but MJ assures her he'll be back. Jill is incredulous. She probably should be. Swinging off, Spider-Man doesn't want to believe Kraven's alive, but Norman Osborn is supposed to be dead, too, and look at him. A reasonable concern. He's still pinning this on The Chameleon in his mind. He muses bitterly on how all the people he loves stay dead and all the his enemies never do (Put a pin in that one, Spidey), and remembers Soul of the Hunter, and how that felt real. Then he barely ducks a traditional Kraven poison dart, and realizes the TV thing was just to draw him out, and it's worked.
Is this the dumbest single comic book image of 1997? I mean, it's in the running. How… how? I don't even feel like getting into it. Just how. Spider-Man, Kraven, and Kraven's ridiculous elephant go crashing into a warehouse below, which somehow doesn't injure anyone, even the elephant.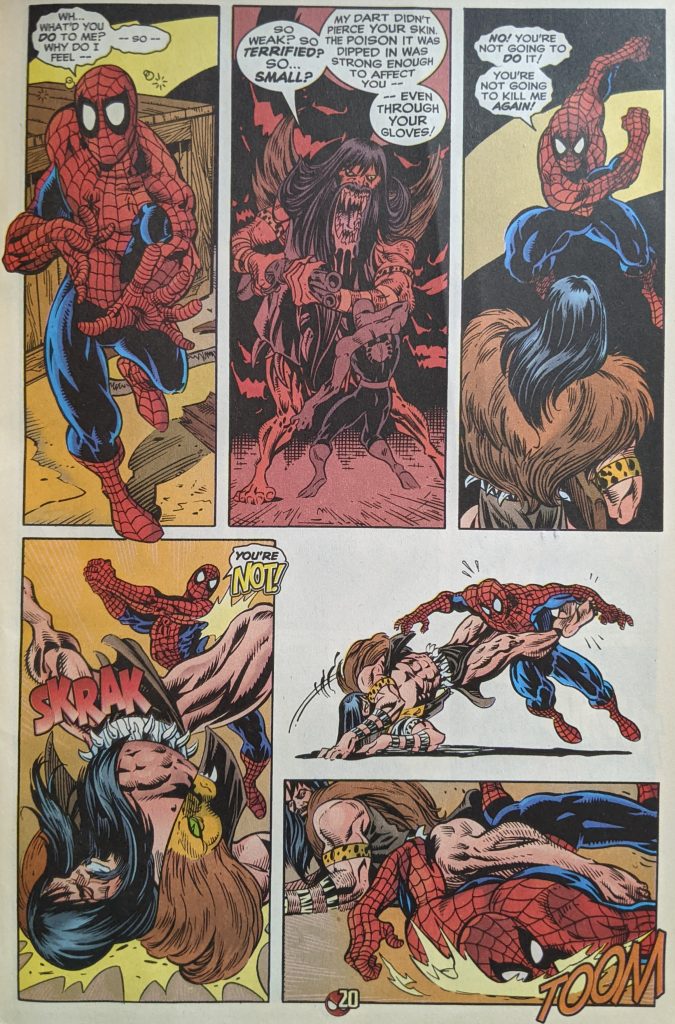 Not so much the last surviving child, as it turns out. I know it says "Aloysha" right there, but that turns out to not be his actual name. Look, who knows? I sure don't. I don't even know how he managed to poison Spider-Man if the dart missed. And I frankly don't care. I thought this issue was a stopping point and now I have to read still more of this garbage. I'm so ready to switch eras!! You know what, I don't care. This block ends on a cliffhanger. We'll see where this crap goes next time. Instead of more of this, next post, we go back… all the way back.