ANOTHER oversized issue! Sheesh! It's a wraparound cover. Here's the back:
On page one, Spider-Man saves a guy from a mugging while listing his powers for some reason, and then the splash is page 2, and also a very recognizable Spider-Man that's been recycled for all sorts of things.
Funny. Skroce missed 2 issues and gets a "welcome back" tag. This "Spidey in action" is more ambitious and less successful than Skroce's last one, but still better than average. We get a page of Electro & Delilah trying to rob an armored car, but E is so powered up he accidentally blows it to pieces and fries most of the money. Back to Spidey, who complains he's getting a headache again. I just realized he's getting dizzy in the other titles and a headache in ASM. Not the same thing, Tom! He thinks about how MJ is getting irritated with how much Spider-Manning he's doing lately as he gets home, and their alarm going off before he can get in bed doesn't help.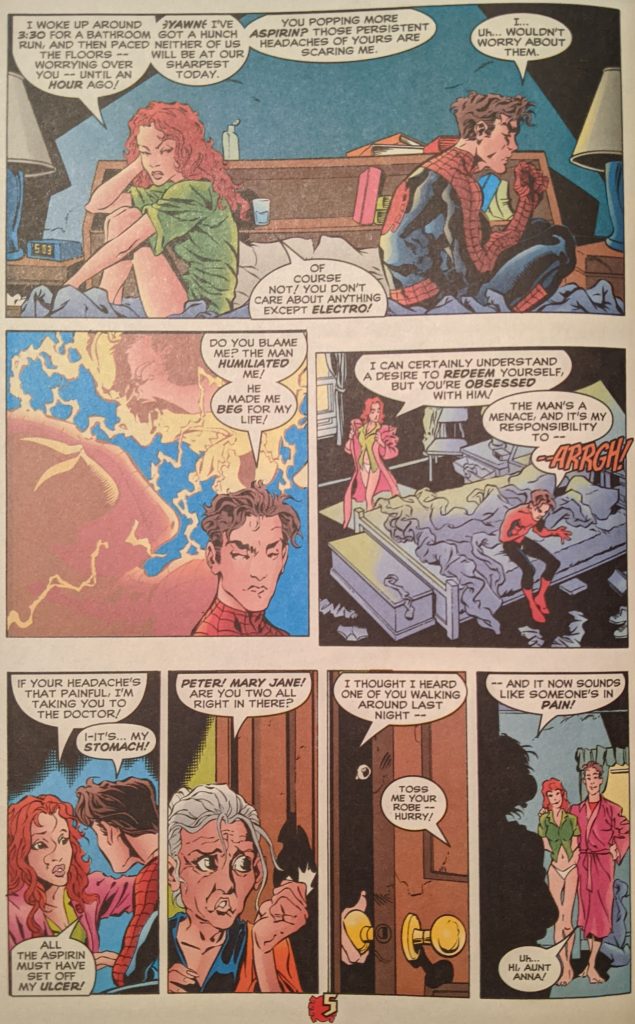 Aunt Anna literally does nothing but keep barging into their room uninvited and almost find out Peter's Spider-Man. That is her role in this series. This is terrible. Why don't they lock the door??? We cut to the growing tension between Joe & Martha Robertson. Martha makes the rather reasonable point that JJJ was recently beaten almost to death in the building and The Robertsons were recently attacked by ninjas and maybe he should find another job. He won't hear it, tho, and she storms out. Team Martha on this one, Robbie, sorry. Then it's over to The Rose and Delilah with Electro in "an abandoned power station" they're setting up as Electro's base of operations. Rose is miffed that Electro isn't living up to his end of their deal. Electro has other concerns:
You have got to be kidding me. THE SAME STUPID GAG THREE PAGES APART???
I can't with this. Who could possibly think this was a good idea? UUuuugggghh. Back at the power station, Electro spends a whole page lamenting that he can't think of a good criminal scheme while also telling no one in particular he's a real contender now. This comic is really spinning its wheels. He gets so mad he blows the place up. Good job, dumby.
Is MJ turning into The Hulk? Peter is out skipping class obsessing over Electro, as MJ feared. He's acting pretty lame lately. He wants to talk to someone about it, and can't rely on MJ since she very smartly thinks his obsession is stupid, but he thinks he knows a guy. Cut to Rose & Delilah bowling and The Rose fumes about Electro. Cut to…
Man, Skroce is really not pacing this well, and DeFalco isn't helping him out. All these quick, awkward cuts. Martha smashing into this college scene she's not in with not so much as a "Meanwhile…" Choppy and unsatisfying. Speaking of unsatisfying, that's every subplot the Stacys are involved. How is Paul Peter's tutor if he's got it in for him this bad? Man, this is the next page:
There's no flow to this comic at all. Next page, The Rose hires the True Believers to… hire someone else? I don't actually understand. Delilah is leery of working with people who were recently trying to kill them. Rose says, "Even if it means we lose Electro?" I'm genuinely confused about what's going on with this. Peter makes it to The Bugle and sees Joe & Martha arguing. Seeing them argue, he realizes that obsessing over Electro for no reason to the extent that it's upsetting his wife is stupid. Uh, yeah! Then Ben Urich tells him an envelope arrived for Spider-Man, and maybe he can deliver it next time he sees him.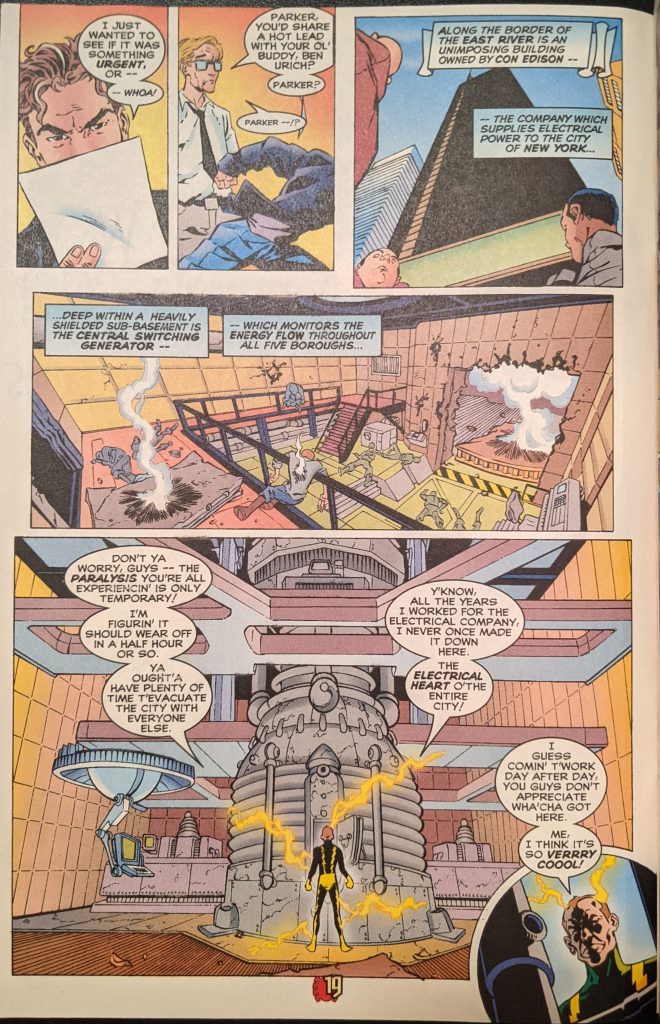 I would call that a quite imposing building.
It's… kind of ironic that Skroce goes on to be a storyboard artist considering how terribly this is flowing. So now Spider-Man just shows up in a brand-new costume, which doesn't even get a hero shot to show it off? Surely a splash page was in order? DeFalco had him think "speaking of my costume, maybe I should make some modifica–" before being distracted a few pages ago, and that's literally the only setup for this suit. Sheesh. Nate tries to shut down Electro's brain, but since "brain waves are a form of electrical energy," Electro says he can control them. With what, his brain? Slippery slope! And this somehow prevents telepathy. Whatever, man. They go blasting out onto the street and Spider-Man chases after them. Nate gets knocked out, so he was a lot of help.
That's the 3rd "Spidey in action" panel in this issue. Maybe too much of a good thing. Cut to a graveyard where some ninjas are stealing a corpse. Red ninjas, not green ones. What's that about? Too late, it gets 4 panels and we're back to the fight on the same page, with a 4th "Spidey in action" as he thinks he's on the verge of total exhaustion dodging Electro's attacks. He swaps to his new non-conducting webs and hits Electro with them. He blasts right out, somehow shredding Spidey's insulated mask without hurting the regular mask underneath or, like, his face. This almost makes a building collapse on some people, but Nate Grey saves them.
Ok, we get it with the "Spidey in action"s already! Man, I'm glad this guy only has 2 more issues on the title. Also, that was clearly a rock.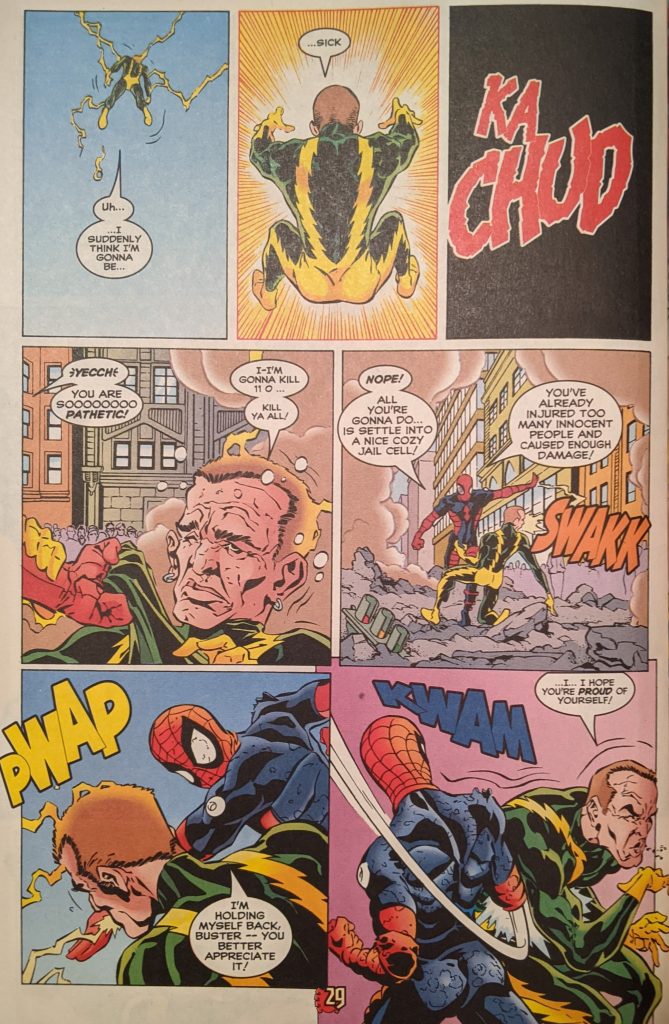 Maybe he should become Rock-Man, as effective as that was.
Electro is now so mad he's going to take out "the core o' the central switching generator" and blow up all of New York. That sounds like a real thing. He plans to go down with the ship. Nate is about to kill him first, but Spidey gives an unconvincing speech about how he shouldn't have lost his temper, this is his fault, and now he's got to save Electro from himself. Uh, ok. He manages to stop Electro from killing everyone while trying to tell him he won't let him kill himself. And when that doesn't work…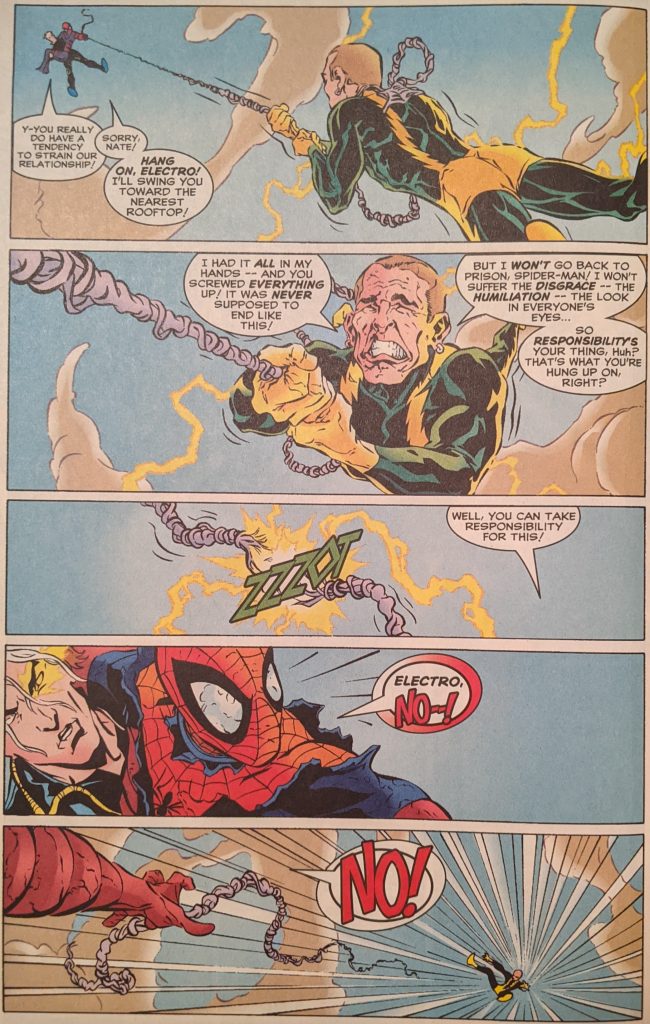 Kazakatwoom, indeed. Because we're almost out of pages, Peter meets MJ at school and they instantly sort out their recent quarrel, as if he didn't just watch the dude he was obsessing over allegedly die, and then his teacher comes up and tells him he should be more responsible. Wah wah.
Yeah, finally time to fix that mistake. How do you bring a guy who got his neck snapped on-panel back from the dead? We won't see it in this block, but it's not great! Much like this issue. A disjointed, choppy mess whose central conceit was just sort of dumb from the beginning. And it cost extra! Yay!