WALK ELECTRO-CUTED! Ralph Cabrera and Harry Candelario join Bud LaRosa on inks this month, and we open on smoe family drama in the Robertson household.
This whole Daily Bugle downsizing subplot doesn't get enough screen time to make it impactful. It could be. A moment like this is. But then it doesn't make it into the next 5 comics I read and I forget it's happening. On the next page, Electro recaps his life, which is especially funny after an issue half-dedicated to his life story last month. He thanks The Rose & Delilah for helping him get back on track, hoping to get on when "People Magazine releases this year's list of the TOP TEN MOST POWERFUL SUPER-VILLAINS!" which is a ludicrous concept, but right now, The Rose only cares that he kills Black Tarantula's Korean ninja squad. Good time to cut to Dragonfly training and reiterating that she's gotta go kill Joe. I think we're done recapping for this month, maybe.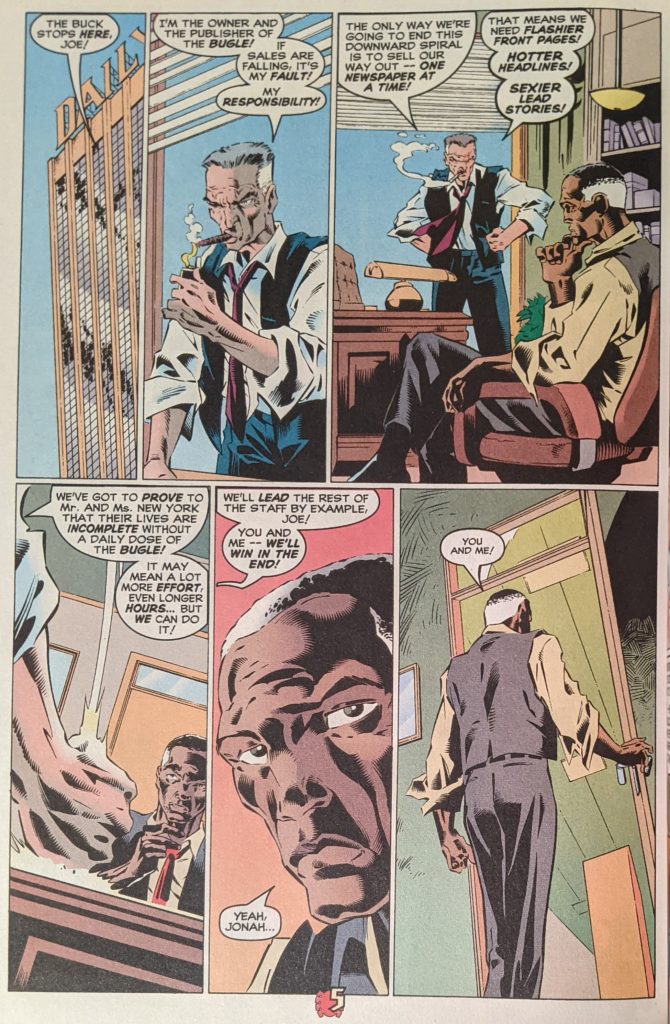 Ok, I was wrong, next page we catch up with Peter tutoring Neil, which allows us to be reminded Paul is tutoring Peter as Paul stops by and suggests Neil cut out the middle man. Neil wonders to Peter if he really should. Later, switching to Spider-Man, Peter wonders the same during an increasingly dated "Spider-Man puts on his outfit and tests his equipment and powers while explaining basic details of his life so new readers will understand" page. Always awkward.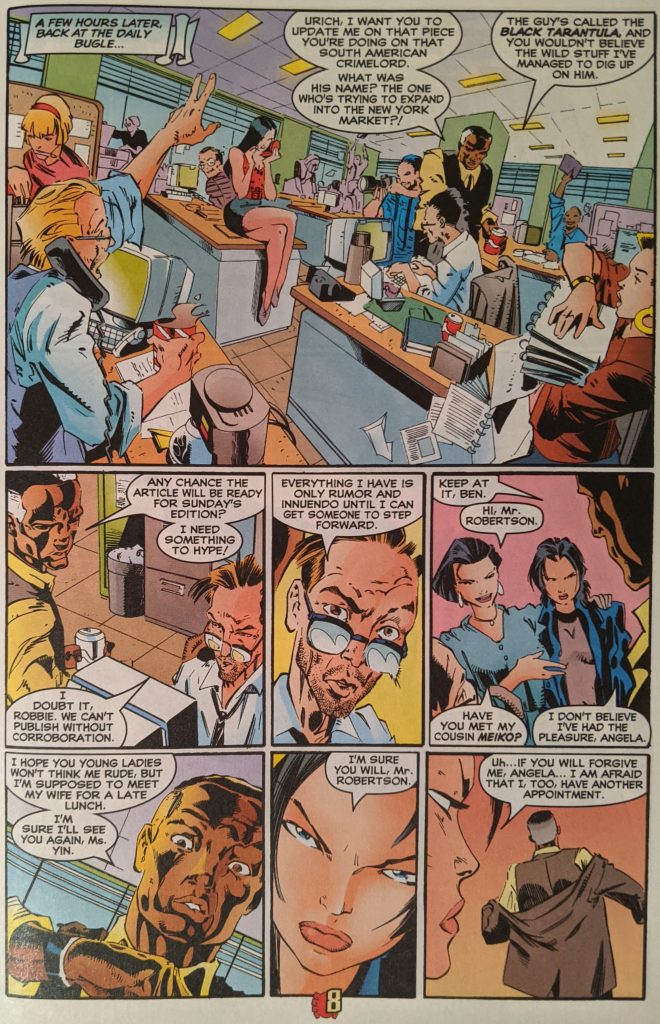 Almost time for action. First, Dragonfly emerges on the rooftops in a quasi-ninja outfit following Robbie. Then Spider-Man happens upon her following him, what luck. Then, across town, Electro closes in on some of her gang, who're headed to back her up. And finally…
Spidey is still having headaches.
That Dragonfly figure in the bottom right is almost Mike Mignola-esque. Unusual.
Electro ignores Spidey for a moment to zap the various ninjas arriving to support Dragonfly, and Martha is able to call in the story to The Bugle, tho she is furious about it, thinks Robbie has lost his mind, and says she can't take this anymore. I'd say that's fair. Electro is now trying to zap Dragonfly, but she's a named character, so she's dodging a lot better.
Uh… killing the ninjas was his job, why didn't he kill her? With her down, he refocuses on Spider-Man, who isn't doing so hot thanks to his ubiquitous headache. But meanwhile, Robbie is actually dragging the semi-conscious Dragonfly to safety. When she asks why he would help someone sent to kill him, he says that's just the kind of guy he is. Which is true, but he also wants info on The Black Tarantula, and she says honor demands she spare him, so they can chat. We cut back to the fight, with Spider-Man learning his web is burnt up by Electro's energy field, and then learning he can't beat him with water anymore, as Electro is superheating the air around him and turns it to steam. And he's got another new gimmick:
Oh come ON, Tom. "How did I allow him to debase me like that?" "How am I gonna explain this to Mary Jane?" Utter nonsense! Robbie "letting them go" is another bit of fake drama. What was he gonna do, fight them? Ask nicely that they wait for the cops? What a dumb ending. And as this comic has 9 more pages, I am yet again surprised it's over. 2 pages of letters and 7 pages of ads. ASM starts responding to Revelations this month, with the mix of disgust and delight that Spider-Man was getting. One missive rightly says the Spider-Books had been too dour and running the same storyline for too long, and that killing the baby was the last straw. He also assumed Norman Osborn is a clone, because who wouldn't, at this point, and says he's dropping the Spider-Titles after being a loyal reader for 12 years. Maybe he even did. Elsewhere, a 44-year old fan who's been around since the beginning approves of Norman's return, so it takes all kinds, I guess.