When times are at their darkest, John Romita, Jr. always reappears to give me something to enjoy during the 90s, and behold, he returns. Scarlet Spider #2 is the actual debut of Spider-Man's new creative team of Howard Mackie, Romita, the legendary Al Williamson, and Kevin Tinsley. This issue opens with Doc Ock's goon, Martinez, leading the undercover guy to be caught.
This guy went undercover with his real name???
They prepare to do whatever to Wade, digitize him, probably, and we cut to Scarlet Spider… hitching a ride on the bottom of a jet, which seems wildly unsafe. Seward has given him a lead on where Doc Ock is, and he's old school web-parachuting down to check it out.
Oh, ok. She's the one I thought was Rachel. In my defense, in that issue, they had the exact same hair. Meanwhile, presumably inside, Doc Ock is telling Wade that they're "downloading all the data they have" about Scarlet Spider directly into his brain, and he's gonna help them ruin Scarlet's rep. Her mystery ally says Wade can't hear her.
Well, now the guy's revealed, and I still don't know who he is. Kinda looks like the X-Men villain Exodus, but that wouldn't make any sense.
Even this stupid cyberspace nonsense looks cool with JRJR at the boards! Romita, Jr. fanblog is back! Outside, The Briggs person is threatening to shoot Scarlet if he tries to go inside, but then inside explodes, and he has to dive her to safety.
Uuuuugghhhhhh, why did they need this guy's brain to do this stupid nonsense??? Ugh. I am so ready to be done with this crap. In "cyberspace," we learn they've just lost control of Wade's Scarlet doppleganger, but they're not too concerned. While Ock goes to make sure that goes ok, "Master Programmer" decides to deal with Seward, finally. We cut to Tso and Smythe having a pretty inconsequential conversation that ends with Tso wondering why Ben Reilly didn't come to work (Why does he keep going to work for an obvious mob guy?!!?!?!?!)
We got a mini-clone saga on our hands within the regular clone saga. How delightful. Back at her base, Ock has her goons wheel Wade, encased in some truly insane Romita, Jr. machinery, into a room with a similarly entangled person, and they can talk with each other, even tho Wade's supposed to be controlling a "solid hologram" Scarlet Spider right now? Anyway, his roommate is Stunner.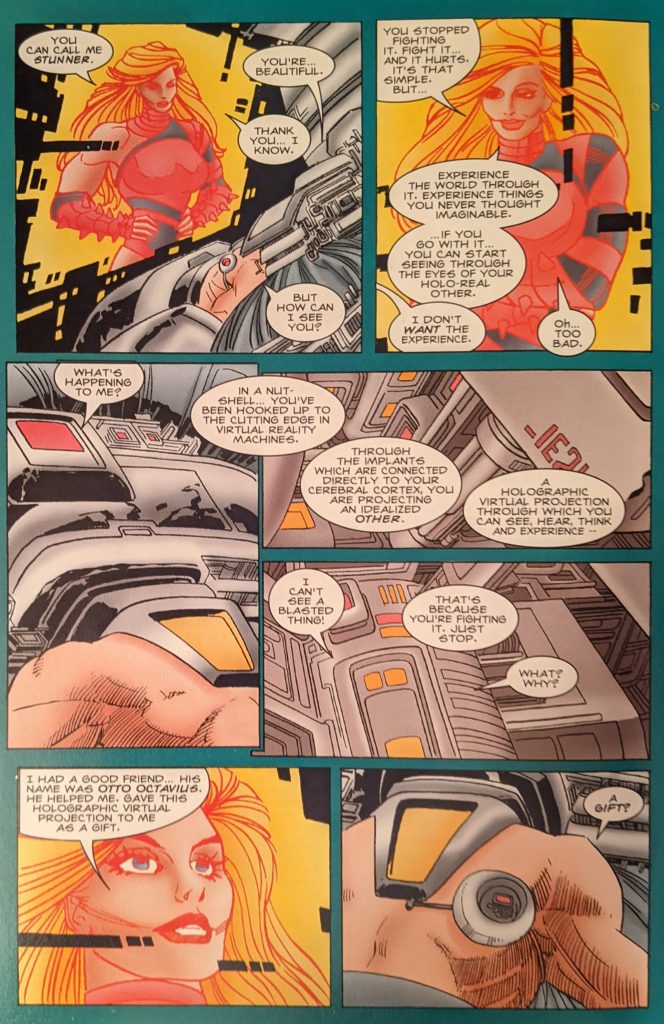 Oh yeah! Ok! I had completely forgotten why Stunner disappeared from time to time. Surely this wasn't the original plan. She was Doc Ock's girlfriend and she was just a hologram? I dunno, man. Once again, the politics of Stunner are something I don't even wanna get into. How's the hologram webbing things up? He's managed to web the entire Daily Bugle building, and he's in the process of pulling it down to bits.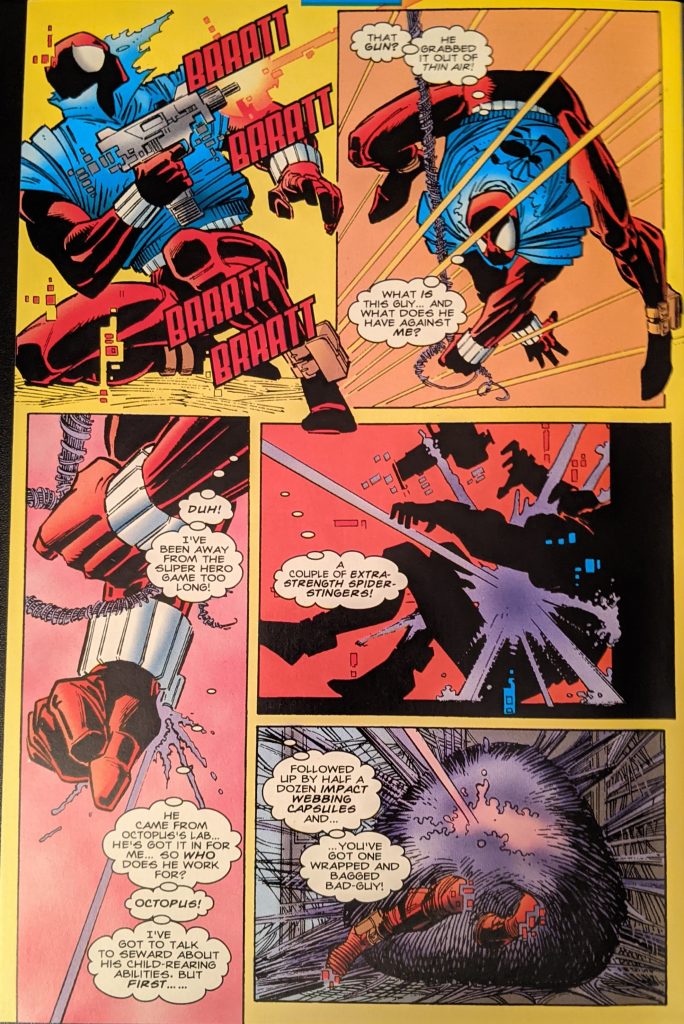 Cover justified, time to wrap up.
Hard to believe they'll finish all this up next post. A lot of nonsense up in the air. But I guess we'll see.