We've gone this whole block without seeing any Spectacular, and that's because ol' JM DeMatteis has a 6-part story kicking off this issue. Can't say I've been looking forward to it, and the reason's right on the cover. Time for Sad Times Spider-Man, and this one sets up one of DeMatteis' worst decisions ever on the title. But that's getting ahead of myself. I've never read this story, so let's see how it goes. It's still Sal Buscema inking himself and Bob Sharen on art duties.
And we're off. Whatever that was, it appears to be in the past, as the next page is Vermin running through the sewers internal monologuing about how he's free and they can't keep him trapped behind walls and also he hates the light.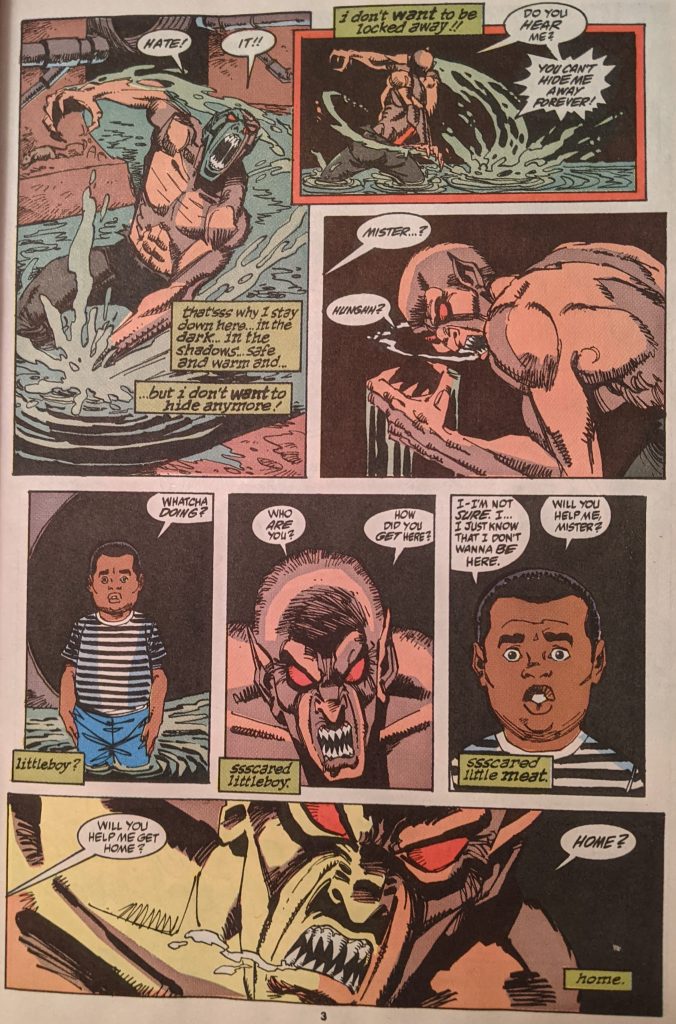 I am largely with Vermin, visa ve light. Kind of a nocturnal guy, myself. I don't think that kid's seen enough horror movies. Or… has any common sense. Smash cut to a table full of gruesome photos of the various staff Vermin killed escaping wherever he was on page one, and then the reveal of one Dr. Ashley Kafka's first appearance.
Oh yeah, we're in for a real no-fun time. I wonder what Sal thinks. I wonder what Sal thinks in general. Sal's drawn so many Spider-Man comics for so many writers. Probably worked with more writers per capita on the character than any artist ever. I wonder what his feelings are on the different kinds of stories he drew over the decades. In the oft-referenced Comic Creators On Spider-Man, he briefly discusses working with Len Wein, Gerry Conway, Bill Mantlo & JM DeMatteis, and had nothing but good things to say about all but Mantlo, who he said asked for unreasonable things and tried to dictate too much what the layouts should be. He said he had a ball working with JM, so I take his word for it. But did he really think Spider-Man should be all sad and angry all the time?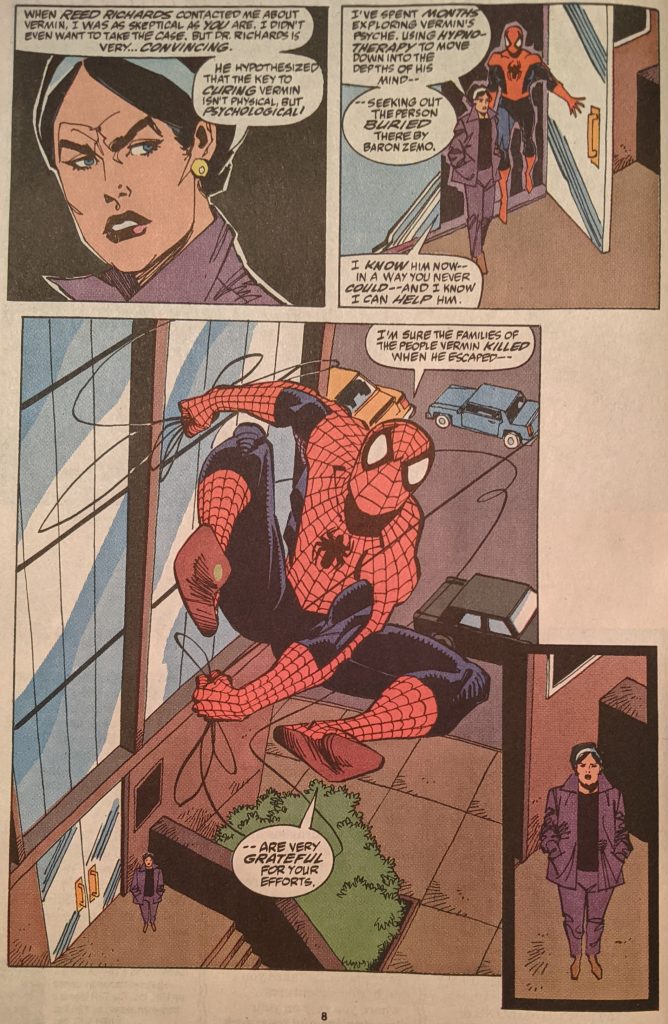 Spidey swings off, thinking Dr. Kafka didn't deserve that, and thinking his own guilt about turning Vermin over to Reed in the first place is what made him act so mean. He thinks about being in the grave again, and then thinks he's made his peace with that (With a note saying he did so in the as-yet-unpublished Soul of the Hunter, ya see, which prompted me to read that after this), and doesn't want to think about these things anymore. He sure didn't stay healed very long! He hopes Vermin will just disappear, and as he thinks that, Vermin pops up out of the sewer with that boy in his arms. He says he needs to feed, but the boy reminds him he said he'd take him home. Vermin wants to know why the boy trusts him, to which the boy replies, "I dunno. I just do," which, you know, way to address the obvious nonsense of your plot head on.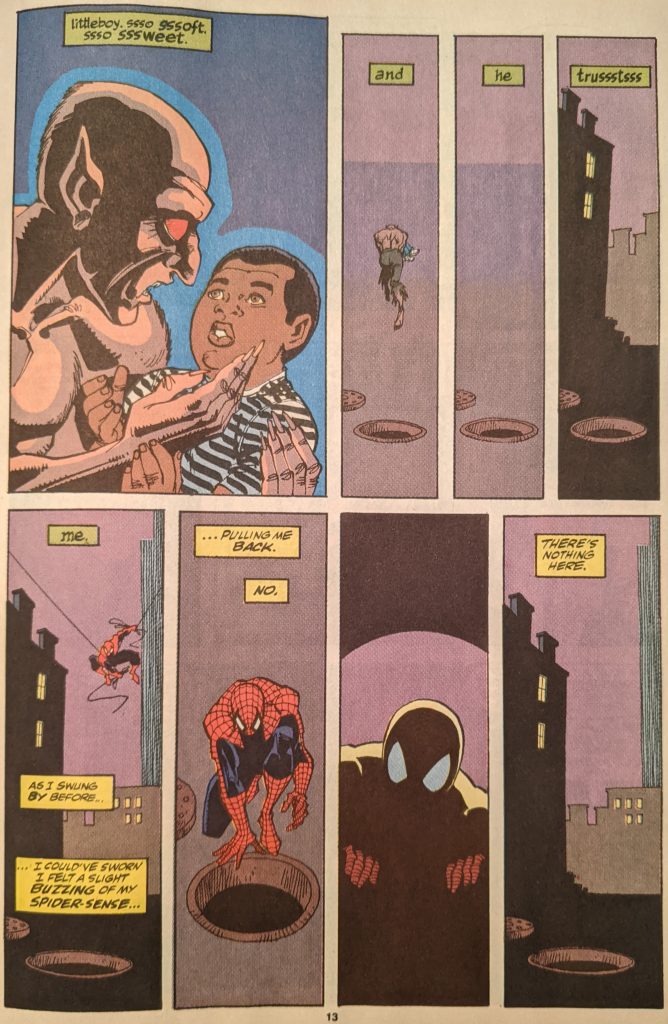 Fun fun. But hang on, the other thing that needs setting up is here.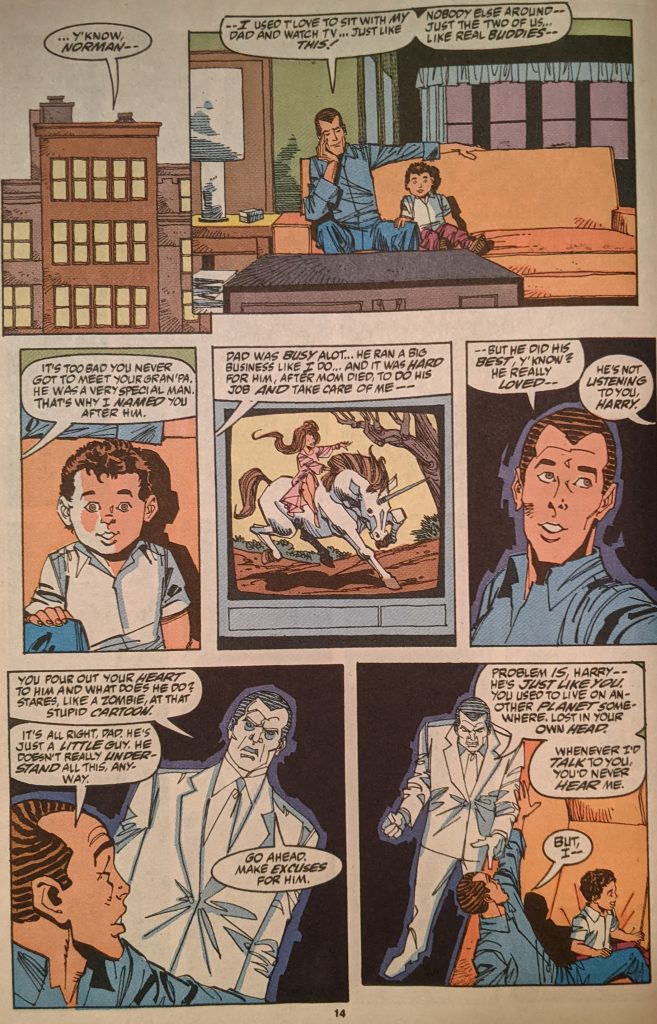 Gonna be a real smorgasbord of despair, this one! I choose to enjoy the fact that Normie is dressed like a wee Bruce Banner, because ain't much else gonna be enjoyable about any of this. To whit, MJ is home, watching a movie she loved as a kid and finding it terrible now, when she hears a "kreeeek" of the skylight, but finds Peter isn't home. Spider-Man is swinging away, thinking he was so close to just heading home to his wife, but couldn't rest with Vermin out there. He promises the Dr. Kafka in his head that he'll remember Vermin is a man and not a monster.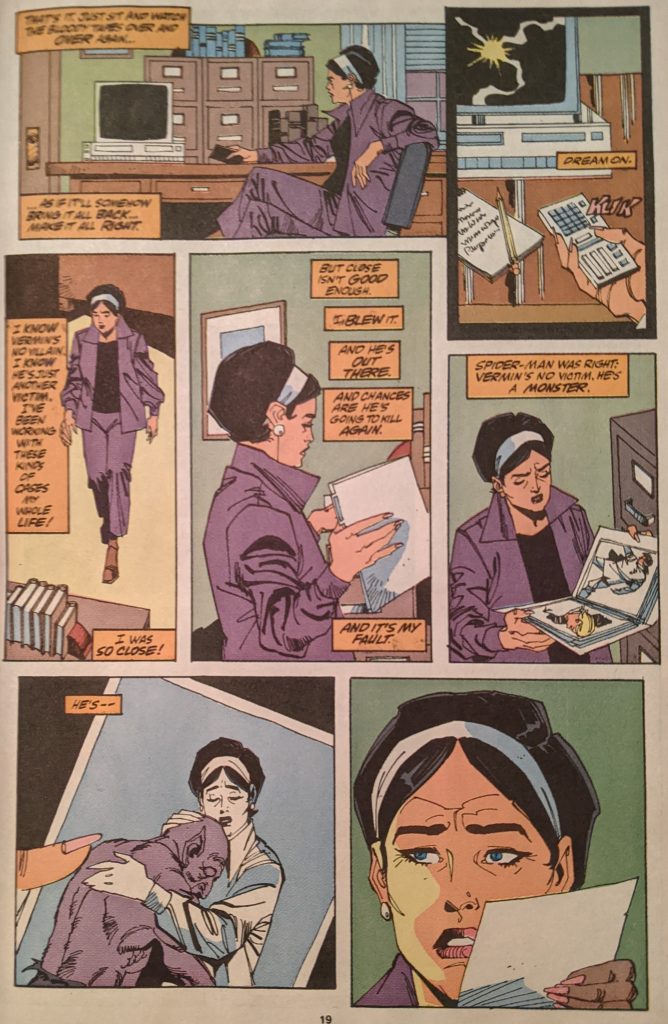 Dr. Kafka sure got a makeover later. Out in the night, Spider-Man hears a woman get yanked into an alley, and thinks he's got Vermin now, but it turns out to be just your regulation mugging. Spidey's so unhinged that the mugger is terrified, and Spidey swings off, worrying if he doesn't find Vermin before he kills someone, that death will be on his head.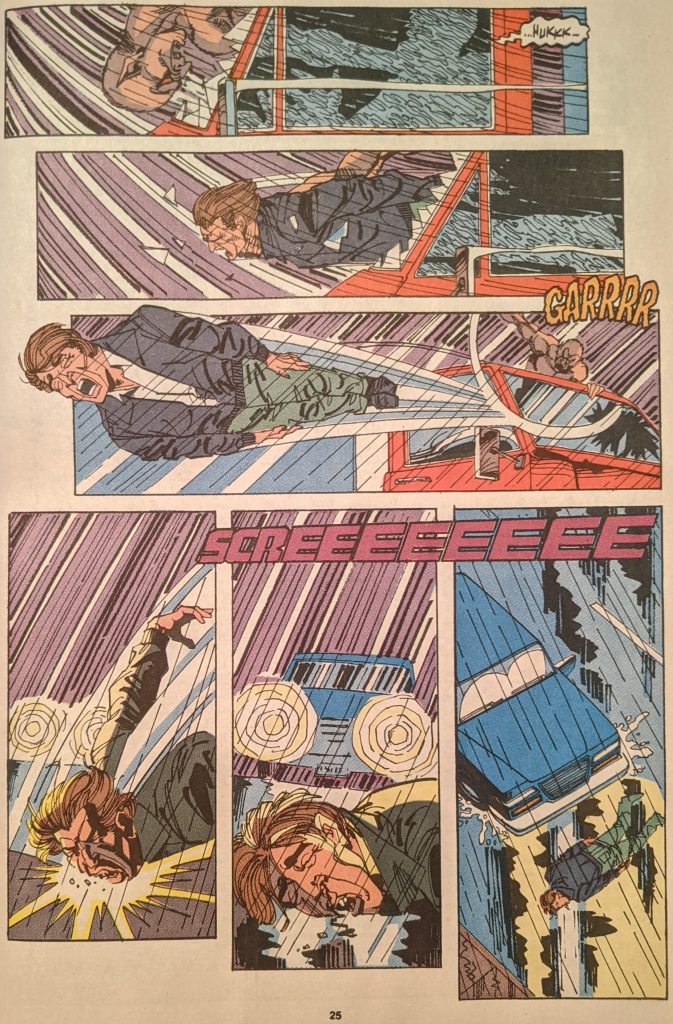 Too late! While you worry that Vermin's killed that boy, it turns out he has not, and rather comically, he packs the kid into his newly stolen truck and drives off. We see Peter and Harry in parallel, neither one able to sleep, and then…
5 more issues of this. Probably far worse than this. McFarlane talks in his letter columns about how his dark and depressing Spider-Man is him trying to be different from the other titles, but… Whoops! A more competent writer is beating you to it, buddy!