While Todd McFarlane's art seems so… not too good to my adult eye, at the same time, it's as simple as looking at this cover to see why he became the biggest name in comics almost as soon as he hit Spider-Man. His stuff stands out for miles. Alex Saviuk is a perfectly fine comics artist, but compared to Todd, this looks so regular. As it turns out, there's a lot of good things about "regular," but when the average age of the readership is like 13… easy to see how things went the way they did. We got noted Clone Saga villain Terry Kavanaugh writing, Alex Saviuk drawing, inks by Keith Williams, Bud LaRosa and Kevin Tinsely, and colors from Bob Sharen, Joe Rosas & Nel Yomtov. Busy month in the credits. As for the story, Spider-Man is BACK IN THE SEWER.
Man, Spectacular 176 feels like ages ago, but I guess it was just October. Spidey escapes the sewer, finding the clothes webbed to his back ruined, but the invitation mostly intact, and swings home to change. As he leaves, mysterious figures who're obviously Cloak & Dagger try to flag him down, saying he thinks they're dead. Does he? They say they need to find Anna…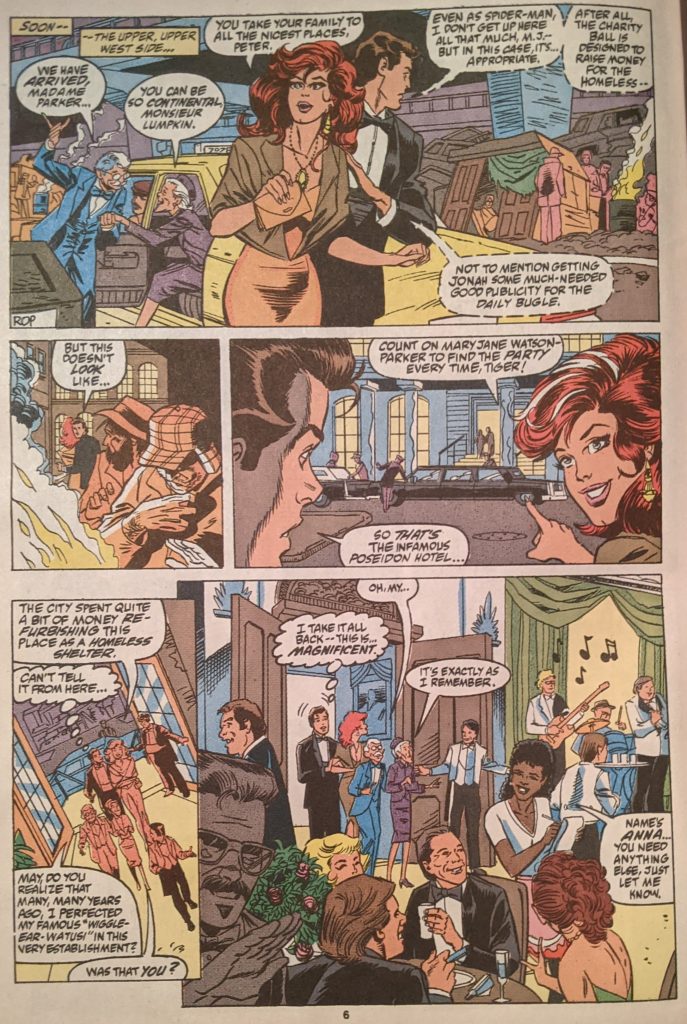 Oh, hey, there's Anna, whoever she is. The Spidey writers sure are into Willie Lumpkin's incredible ear-wiggling powers. We learn Anna is a resident of this homeless shelter, and that they've let residents work this gala to get some money. This is kinda cool. But, deep in the bowels of the building, something evil and as yet unseen is afoot.
Well, that's some wacky business. Wackiness continues on the next page, but then as JJJ & Robbie are set to go up on stage and give a speech, Peter's danger sense warns him something bad is under said stage. But nothing happens. As JJJ starts talking about how great he is, the buzzing doesn't stop, but no threat emerges. Meanwhile, Anna from earlier takes a break and heads down to her room, but unaware that she's stalked by a shadow that looks a lot like the big brute on the cover.
Oh, wow, so this is Kavanaugh picking up the thread from the juuuuuust cancelled Cloak & Dagger, Vol. 3. #19 was the final issue, and, coincidentally, the only issue I have. Now why do I have it? I would've told you it came in the oft-reference Marvel comic box with 25 issues in it, but I feel like it's maybe a bit too late for that. I mean it had ASM 314 in it, and this issue's out the same month as 348. I dunno, whatever. Between issues 13 and 19, that Cloak & Dagger book had 3 different writers and 3 different art teams.Trouble was brewin'. But the last writer standing was one Terry Kavanaugh, so this isn't too surprising. I just saw the great Rick Leonardi and Al Williamson worked on 12-16, and Spider-Man is in 16-18. Maybe I should get those. Any chance to see Rick draw Spider-Man is worth taking. Rick drew the 4-issue Cloak & Dagger, Vol. 1 and most of Vol. 2, as well, he just kept coming back. I'm getting way off track here.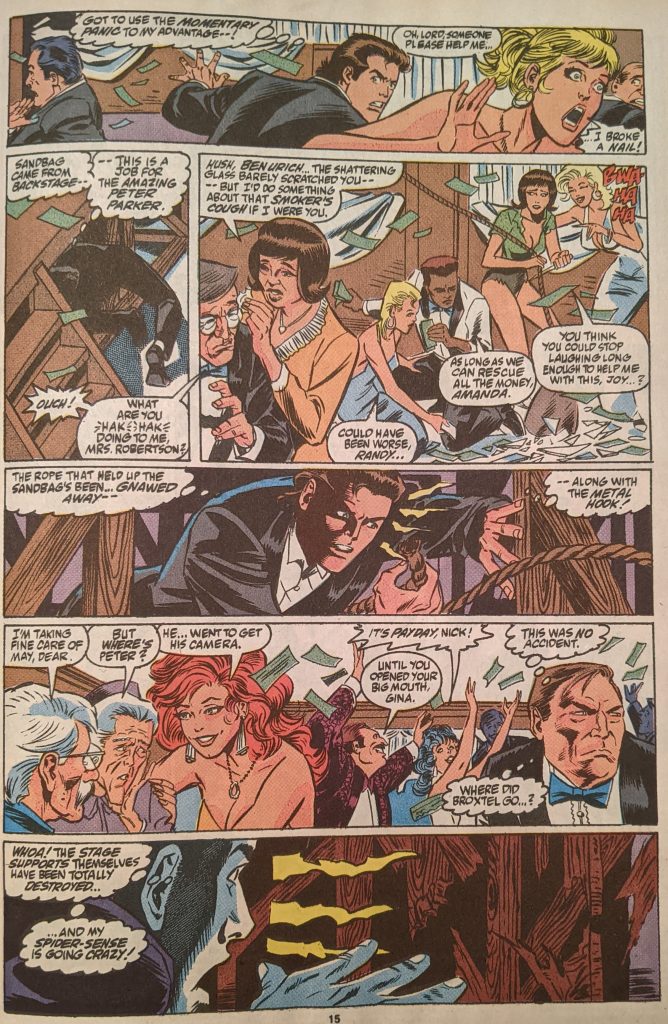 Why is money everywhere? I'm very confused. I guess all the money was going in a big glass bowl in front of the stage, but it was never explicitly stated or had any attention drawn to it. Hidden under the stage, Peter begins shoring up the rickety supports with webbing, but then the whole backdrop falls down, furthering the chaos. Harry, Liz, Flash & Felicia start trying to direct people to the exits and make sure no one gets hurt, which is pretty cool, seeing the cast do some heroing of their own, but then the lights go out.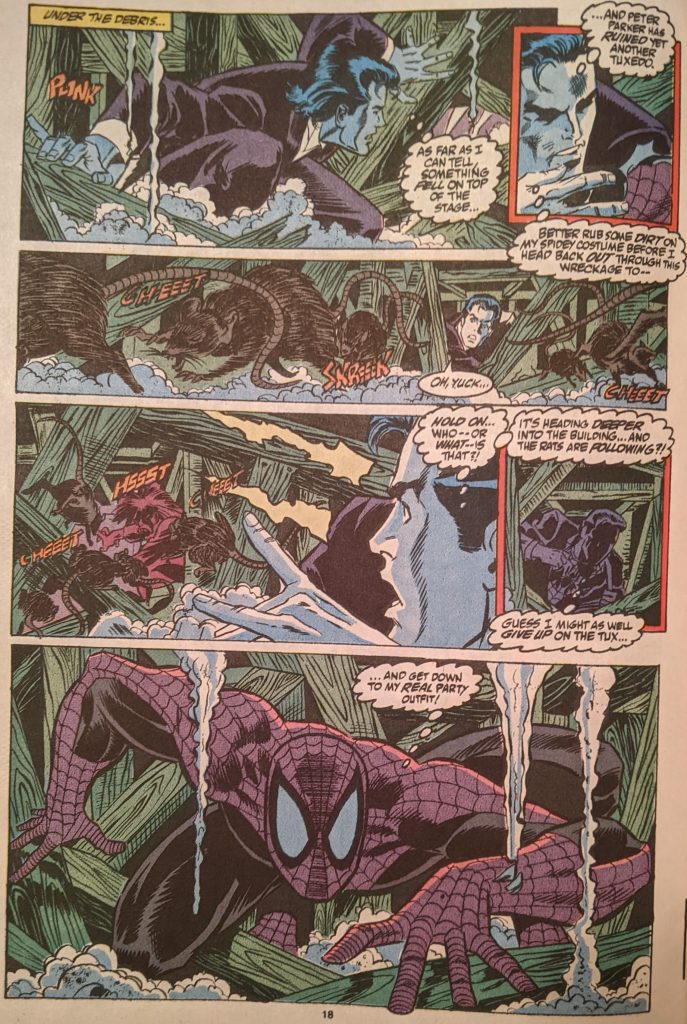 Well, this got weird. Starting to feel like I really should've read those Cloak & Dagger comics. Back at the party, the gang is really trying to avoid a stampede for the exits, Aunt May wants to know where Peter is, and someone finds the clothes of the guy who seemed to start all this without him in them.
Spidey knows about the Morlocks, of course (Since MTU 136, at least!), but Anna's sure taking this in stride. Upstairs, it turns out the guy who started the chaos is Firebrand from the cover, who comes flying in to menace the assorted folks, and back down below…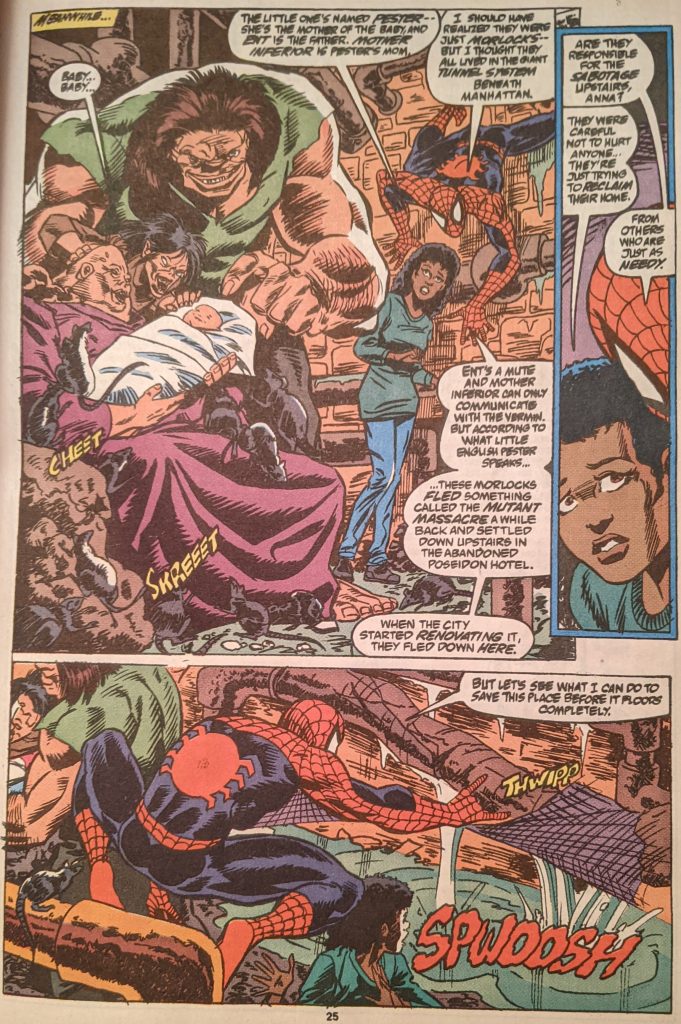 Things are lookin' bad all around. That cover sure hyped up the Morlock guy as a threat despite the situation. Firebrand was one of the villains Scourge killed when he took out The Bar With No Name. That sure keeps being surprisingly relevant to the Spider-Titles some 5 years later.