I cannot stress enough how disappointing this series was to a 12-year old me. In addition to my beloved Spider-Man, Todd McFarlane drawing such characters as Hobgoblin, Ghost Rider, Wolverine and Morbius, I get to see all these characters in his style, and yet I also had to deal with these nonsense stories with very little action, villains standing around giving speeches and Spider-Man complaining constantly instead of cracking jokes. Rick Parker is once again credited for his work this month. Tom DeFalco is credited as "Bad One." Todd is beefing openly, seems like. In yet another shockingly prescient move, this issue more or less has an opening text page summing up last issue, standard issue in Marvel Comics from the early 2000s. I am genuinely amazed that Todd was a prophet. In a big 2-page spread, Spider-Man complains a little and also makes fun of the underground homeless people for smelling bad, which is nice. Spidey leaps up onto the ceiling to get some breathing room as the weird pink guy from last issue bemoans how his people have fallen under Morbius' spell. And then Todd, bless him, finally writes a Spidey gag that I actually laughed at: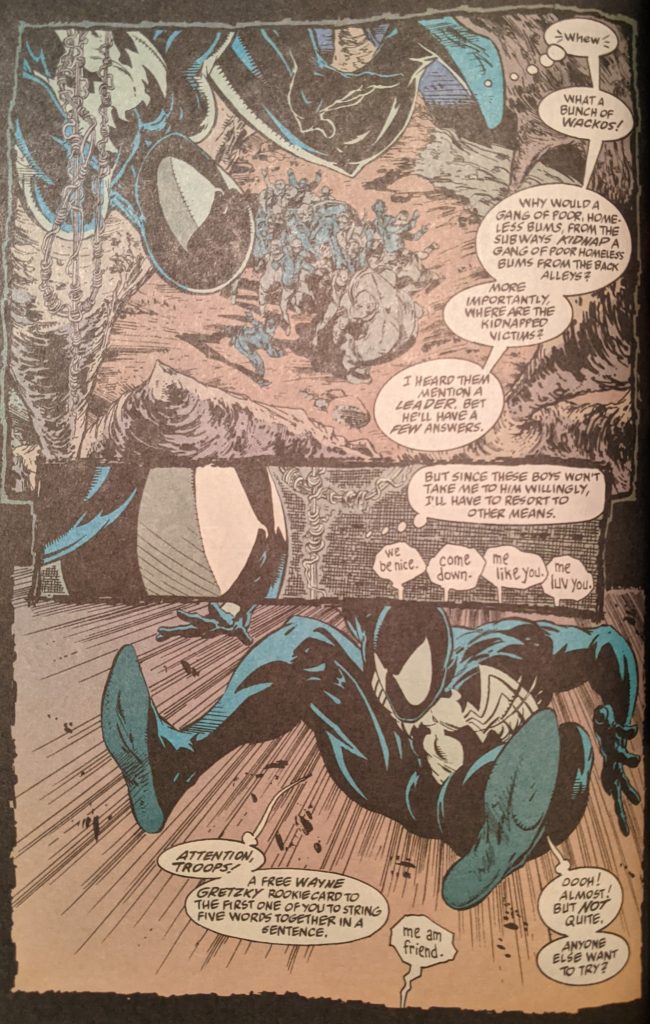 He did it! He was getting there! Maybe if this wasn't his 2nd-to-last issue, he would've eventually found a rhythm for the character. Probably not. Just 'cuz this is a Spider-Man blog, look at this ad for a Punisher video game featuring a rare Spider-Man drawn by Jim Lee:
As the weirdos begin to attack again, Spider-Man makes the incredibly strange decision to web several of them to each of his limbs in big web cushions, hoping that will keep their friends from attacking him, and demanding to know who their leader is.
Now that's an unusual tactic. Well, a couple of them, really. Acting crazy works, and they all leave our hero alone. The ones webbed to him take him in the direction of their leader, and then he takes them off and continues alone. Along the way, he notes the black suit didn't help him at all and he could've spared MJ the pain of seeing it. Mm hm. I bet that guy who was upset that Spider-Man loves his wife was so mad about that.
I'm realizing part of the stylistic shift is Todd's Spidey is much leaner all of a sudden. Less buff, and no longer possessed of those insane thunderthighs and a mysterious 3rd buttcheek when drawn from certain angles. I wonder if that was on purpose or what.
Despite acting all weird like anyone does in a McFarlane issue, Morbius isn't too out of character. In a 2-page spread, Spidey demands to know where the kidnapped guys went (Uh, guess), and Morbius talks about how he couldn't just die of hunger, but didn't want to play god anymore, so he lets these people choose his victims for him. Which is not out of line for the kind of rationalizations we've seen him make before. It really kinda does seem like Todd's slowly getting it.
Some weird bits like that "Don't you dare" aside, and beyond the fact that these 2 panels didn't really need to be a whole page, it is almost a Spider-Man story. But then it wanders back into weird Todd territory, each of the 2 guys accusing each other of attacking him and having more of a yelling argument than a fight, really. Then they stop even sort of fighting and just keep talking, which is exactly what you want when you're 12.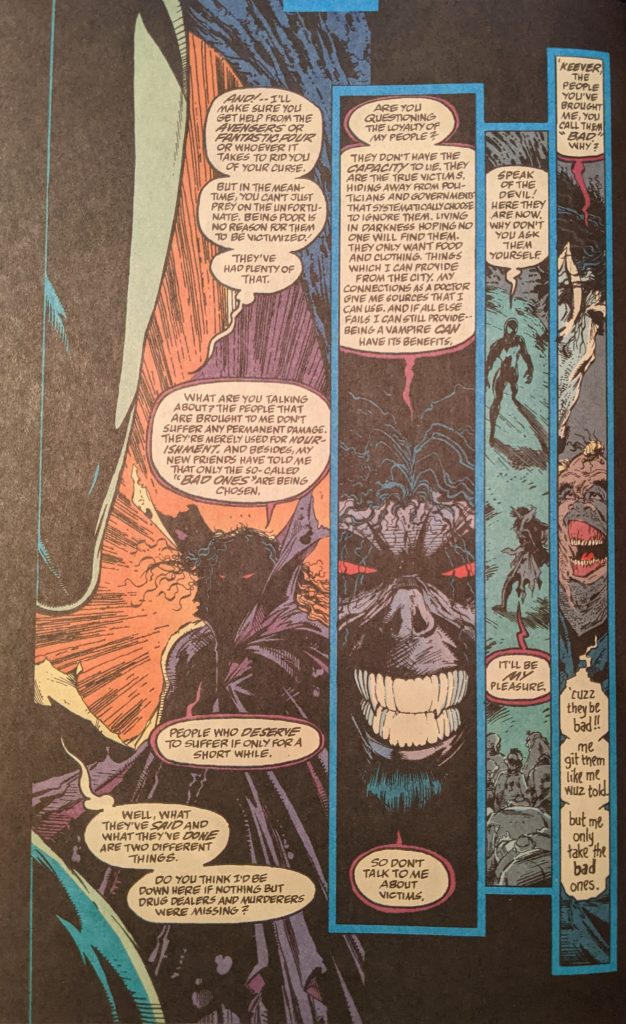 Looking like Spawn in a fright wig, a gratuitous splash page finds Morbius asking his newfound followers and quickly realizing they are really dumb and have no idea. Even tho he already knew they're really dumb and has used that as part of his rationalizing why they need him.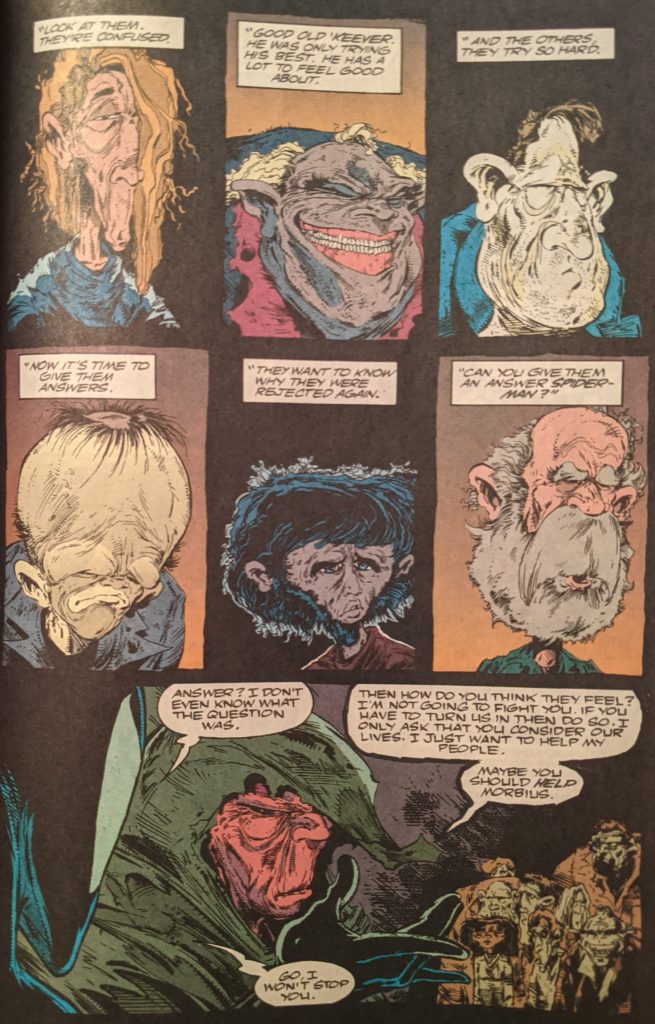 Another largely pointless bunch of yelling comes to another anticlimactic conclusion! This felt like a remake of the Hobgoblin story sometimes. Spider-Man rarely looked like he was actually swinging in a McFarlane comic, but as he gets really into Spidey holding 10 webs at once, it's a whole other level of "what am I even looking at?" This issue's letter page features only one snipe comment by Salicrup, and then he announces he's leaving. Which makes sense. Danny Fingroth was editing all the books except this one. Bit odd. Maybe Jim was supposed to be focusing on helping Todd become a better writer and didn't have time for other books. In fairness, I do think Todd got a little better over time. A little. Salicrup also lets readers know Todd got hit in the face with a baseball while playing, and next issue will be a fill-in while he recuperates. By whom? Well, it'll be a long time before we see it, so it doesn't matter.