Well, we're back, and just in time to see Spider-Man get run over by a van, probably.
Oh, look who it is.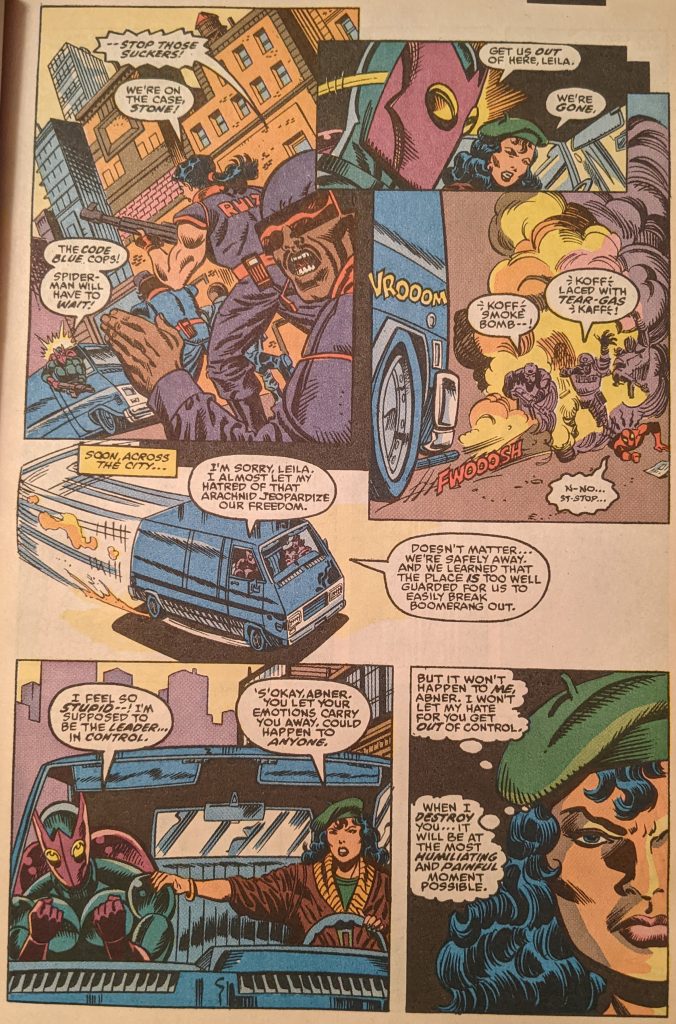 Ah, yes. Code: Blue. Wearing… purple. Do they always have their names on their backs like football players? So silly. What's up with Leila? No idea. A still-dazed Spidey stumbles past the Code: Blue gang to leap up and interrogate Shocker. He somehow noticed it was his cell that got blown open, and wants to know if that was the plan all along. But Herman's obvious fear makes it clear he's telling the truth, and Spidey leaves. Elsewhere in the prison, in a special cell, we find Boomerang. He's described as being able to make anything into a weapon, like he's Bullseye and not some 4th rate schmoe, so they have him in a place where he can't reach any objects. His attorney and the Assistant DA prosecuting him show up, one demanding he be put in general population and the other denying it. Ok, sure.
Speed Demon's plan to sweep Leila off her feet even as they're expecting Fred back any day seems a bit misguided. Boomy considers his options. He's not into betraying the team, but he's worried his slick lawyer is all talk. But, he thinks, Leila told him he'd take care of something for him when she last visited, and he hopes that undisclosed thing goes well. Back at their spot, The Sinister Syndicate all agree they're ready for their next job. Beetle thinks about planting evidence to make sure Fred goes away for good, but decides against it.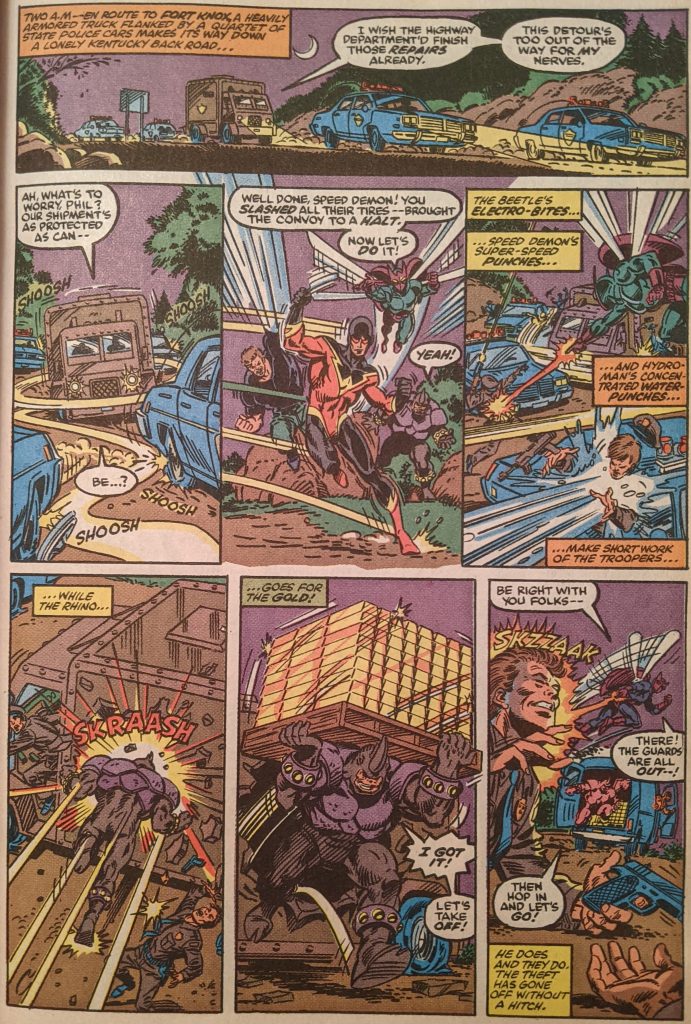 And that's that! I guess there isn't always a superhero around in Kentucky. Why do the villains insist on living where all the heroes do? 2 days later, back in New York, the gang has just split up the cash from fencing the gold. Speed Demon privately tries to get Beetle to betray Boomerang like he was already considering, but he says no. Then he finds Rhino getting ready to leave, to go get out of the suit like he said, and convinces him to stay by telling him he'll need more money once he's normal again. Meanwhile, in jail, Boomerang is beginning a signed confession to rat out his buddies, until he sees a baseball game on TV and remembers he's a team player and refuses. Really. What a dope.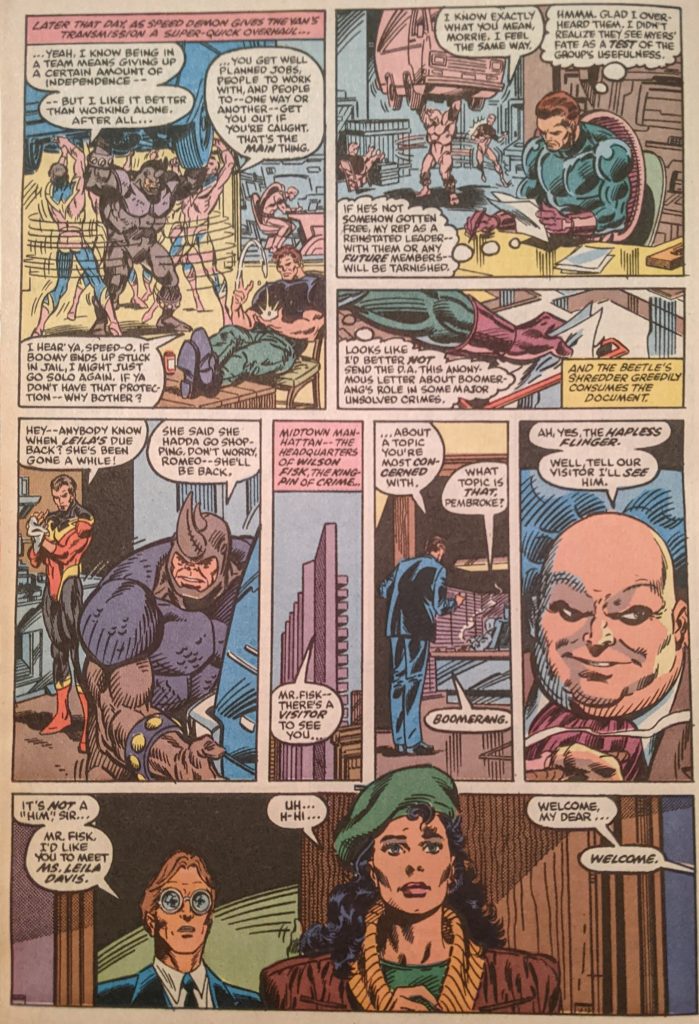 I'd swear Leila was blonde last issue, but I don't care enough to go back and look. The next page is a splash of Kingpin standing up and saying "Welcome" again, which… ok. Don't get that at all. The next day, Speed Demon keeps trying to woo Leila, who thinks to herself if she can't get Boomerang out of jail, Speedy might be a useful tool for her true goal, whatever that is. Lot of secret plans in this. Back at The Tombs, Boomerang is introduced again like we haven't seen him yet in this issue (???), thinking about how his trial is tomorrow (That was fast!). Leial shows up to let him know in slightly coded language that Kingpin has forgiven his grudge against Boomy and Beetle has forgiven him too, before leaving immediately. She thinks it was hard to see him, but she can't lose sight of her real purpose.
Well, that's weird.
Man, this trial went fast! It's almost like no one cared about making it realistic at all! The villains easily demolish the much-vaunted Guardsmen and then Beetle grabs Fred. He tells him they took a vote and decided to spring him if he lost, but also says he'd have left Fred to rot if it was up to him, which is… not productive in this moment, I would think. It riles Boomerang up, but of course…
Hydro Man begins to overwhelm Spidey (For some reason? Why doesn't he move?) as more cops burst in, but they're immediately subdued by Speed Demon. Except for one random cop who hits Hydro Man in the head and saves Spidey. That cop is laid out by Boomerang, who is subsequently webbed to the wall. The other villains realize they better run and leave Boomerang behind, much to Speed Demon's delight. A badly beaten Spider-Man manages to get a tracer on Rhino's foot as they flee. We learn Kingpin paid the lawyer to throw the case and broke his word to Leila, and also that she expected that, and wonders if she can trust the Syndicate, or if she'll have to "destroy them all." Curious. She's not Llyra, is she? From that one time in Denny O'Neil's run? She appeared as a black-haired human when she charmed Peter. Fingroth seems to like pulling old threads. But what would be her angle? Anyway, Beetle finds the tracer, and puts it in a "null-box" so it won't work anymore (wut?), even as Rhino says he is 100% out after today. He agrees to help them move to a new base and that's it. With him quitting, Beetle thinks there's no reason not to pursue his own agenda.
Well, standing there thinking about it probably ate up at least a couple of them, dummy. Anyone's guess where this is headed. Which is nice, actually. It may not be essential reading, but at least it's not predictable.