And now for something… well, not completely different, but… not often you get a book about villains, but in what would become a pretty common attempt to get more Spider-Man product on the market, why not? The covers to this series fascinate me. They sure look like Mark Bagley was involved, and yet they all just say "Milgrom." And if you think it's because he's trying to get with the times, well, that would be a reasonable assumption, but for the art awaiting inside this issue. I passed on this series as a kid, of course. No money, none of the big name artists involved, and who cares about any of these villains, anyway? Not exactly the A-List. But it did so well it spawned a sequel, and much later even a revival in the 2010s, so I thought now would be a good time to check it out. On deck, we have Danny Fingroth writing, Al Milgrom and Kerry Gammil penciling, Mike Machlan inking and a return of Paty Cockrum on colors, now credited with her full name! How nice for her. Special thanks is given to Mark Gruenwald, John Byrne and Michael Higgins. It begins with Punisher about to execute The Shocker on page one!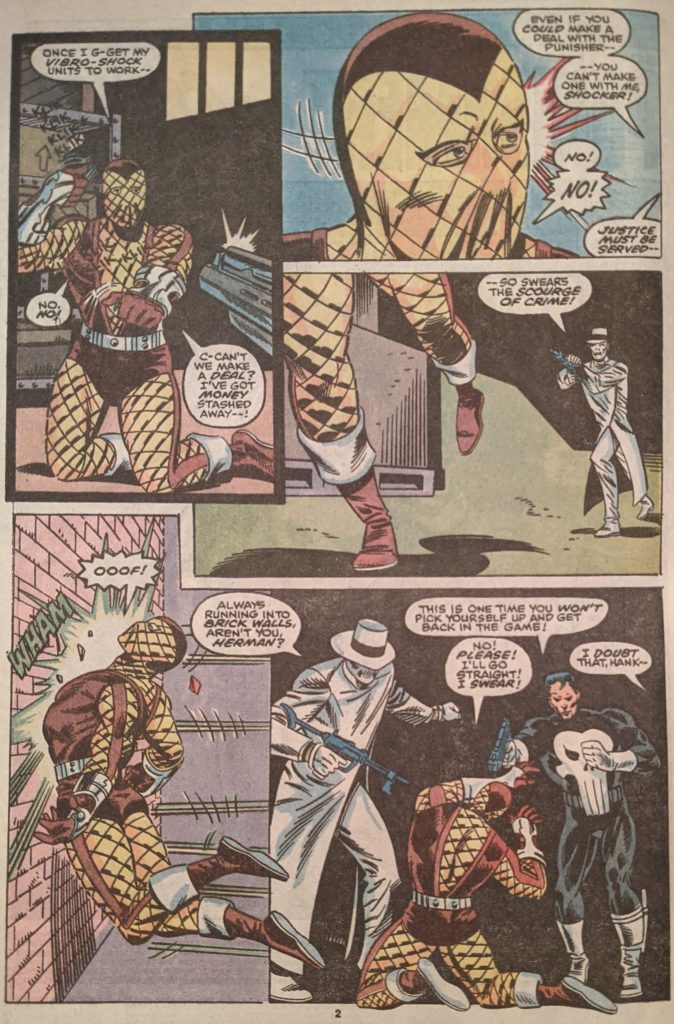 The Scourge story ended with the character seemingly killed. But of course, no IP goes untouched for long, and it turned out he was just part of a network of Scourges and now they dress like this instead of wearing disguises and etc, etc, etc.
I mean, this art is neither the surprisingly 90s Spider-Man on the cover nor the Spider-Man of Milgrom's Spectacular run. This is just not so good. Anyway, Spider-Man beats up the other 2 and then turns into a monster so he can kill Shocker himself and then Shocker wakes up, naturally. He's in jail, and reveals he has this nightmare all the time. He lives in fear, thinking someone like Scourge or Punisher will kill him if he gets out and maybe even kill him while he's in. He hears Abner Jenkins is getting out tomorrow, and wonders how he can just go back to his old life. And maybe he's not.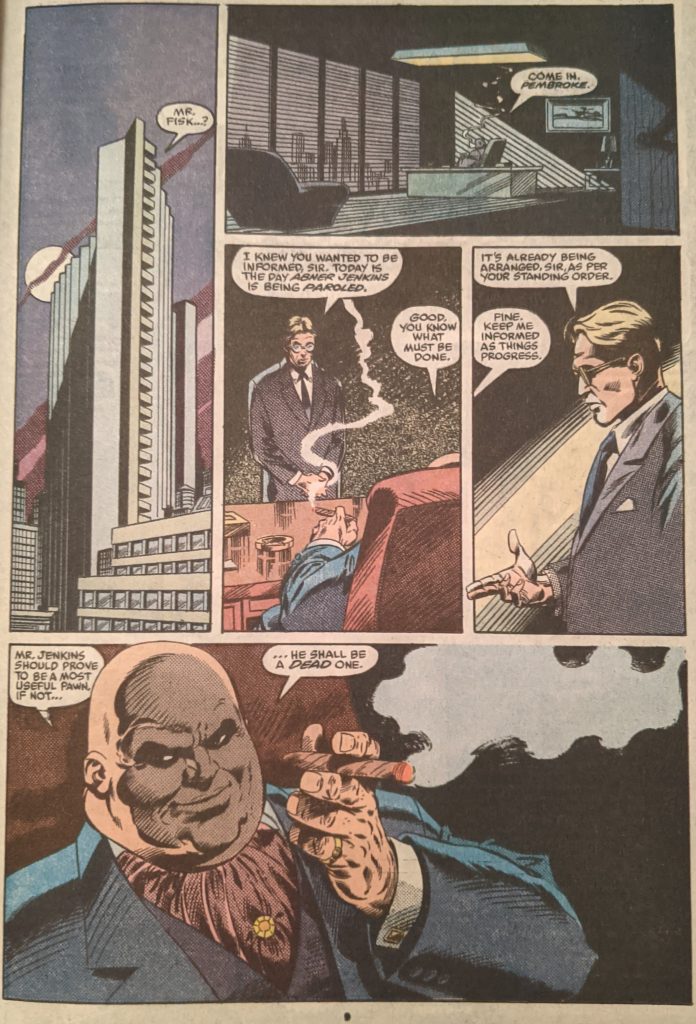 Who's Abner Jenkins? Well, naturally…
We see Beetle show off his various powers and then change back to normal clothes and leave. A few days later, a blur zips into an old building and…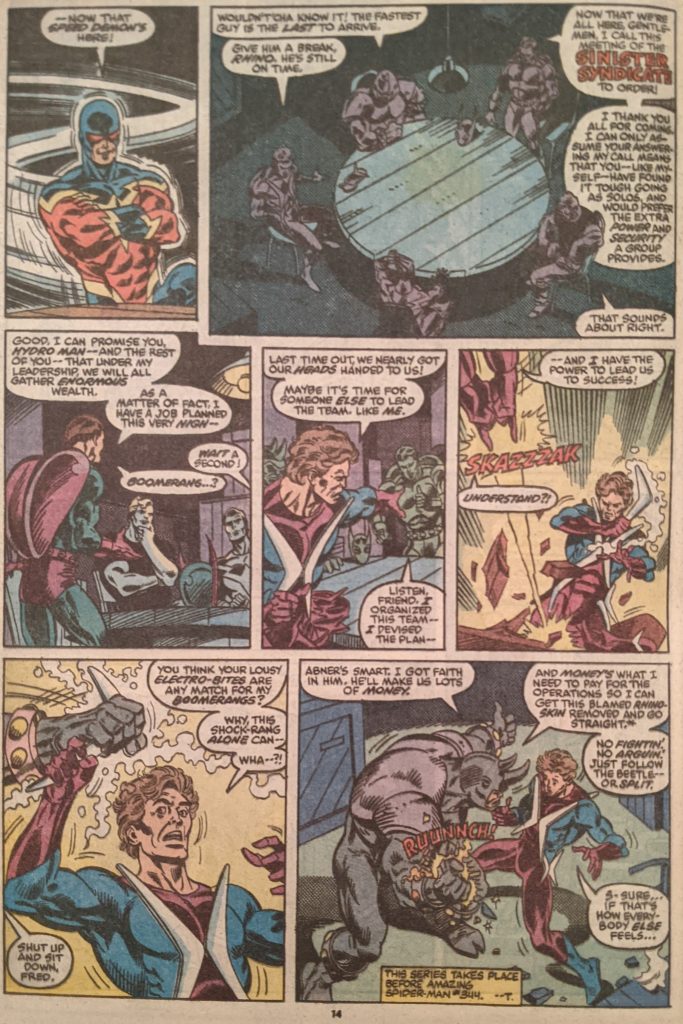 Before ASM 344??? But the first issue was published the same month as ASM 347! Ugh. Also ugh: Despite the cover copy that seems to imply they're teaming up for the first time, yeah, this is just The Sinister Syndicate, last seen in ASM 281, which I find myself surprised to note is not on the blog yet. I get confused. Anyway, Speed Demon thinks to himself that Beetle's heart doesn't seem in this, but he goes along. We learn Boomerang brought his girlfriend, Leila, to be their getaway driver, which doesn't go over well with the group. But as they speed off in her van to their heist, they almost run over a dude. And unfortunately for them, that dude is Peter Parker.
The goons get to stealing gold and taking down guards, but then Spider-Man appears. He's not excited about fighting them all at once, but he's got no choice. Beetle almost loses his nerve, but instead starts a charge. Meanwhile, Kingpin is informed they guys ran into Spider-Man (How?), and then it's back to the fight.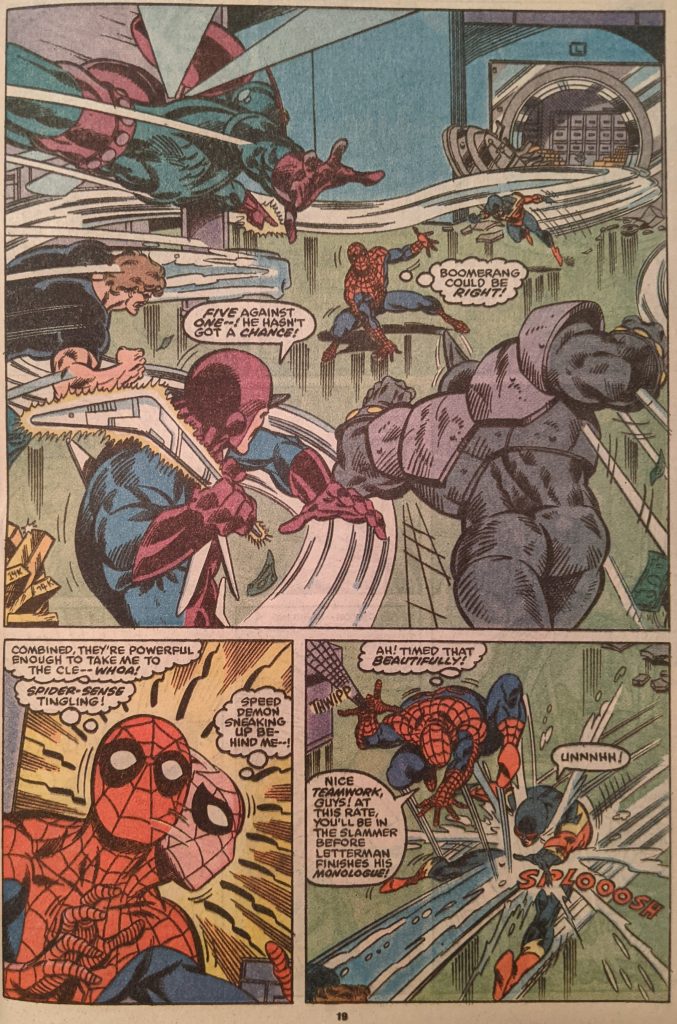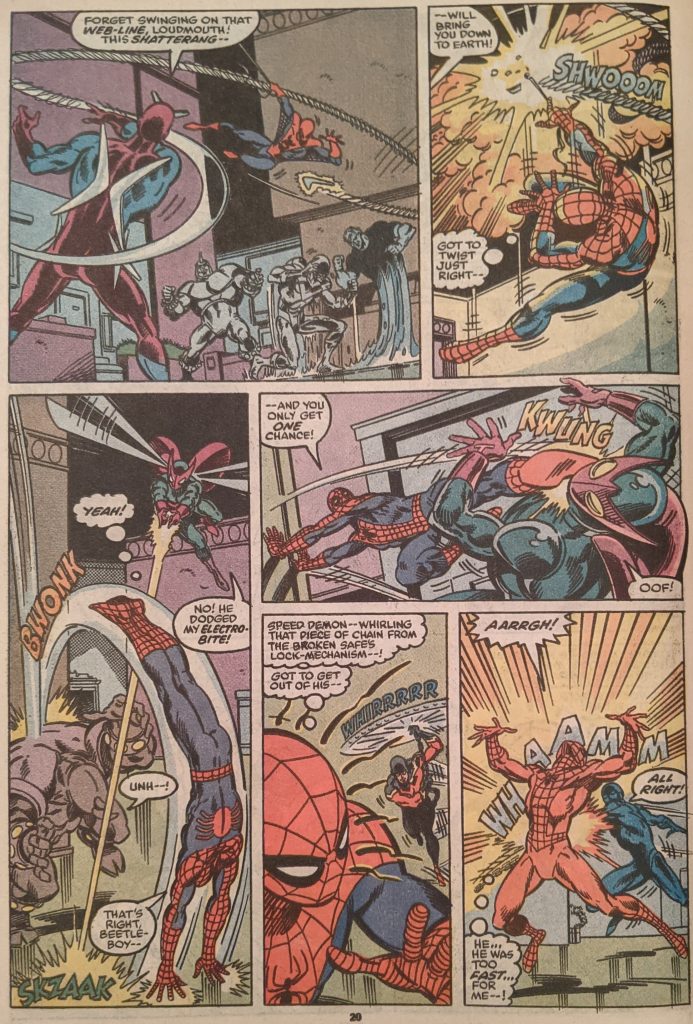 The assembled villains are about to kill Spider-Man when Rhino stops them. He says his only reason for doing any of this is to get out of his Rhino suit and go straight, he doesn't want a murder rap. Beetle reluctantly agrees, thinking he needs Rhino for his future plans. The villains grab the gold and run. But, as Spider-Man is wondering how he wound up owing his life to Rhino…
Would you believe those 2 are roommates in current comics? I don't. It's terrible. Anyway, Beetle forces Boomerang's girlfriend to drive them away without him, and Speed Demon decides to try to move in on her. That should go well. The next day at their hideout, Beetle introduces Leila to his personal lawyer, who guarantees he'll have Boomerang out of jail in no time. But then all the other hoods seem some guys loading up all their stolen gold, and Beetle has to tell them the truth: Kingpin arranged his early release from jail, and this is the payback.
As soon as Kingpin's guys are gone, the other villains converge on Beetle. They don't want to hear his excuses and Hydro Man almost kills him, but Rhino decides Beetle did lead them through a god job back there, so he'll let him stay as their boss. The others decide to, as well, but Rhino warns Beetle if he betrays them again, he dies.
Svakooom, everybody. Guess Spidey's dead for sure next issue. For sure.