Striking cover. I wonder who did it? I can't quite guess. And as the text suggests, The Scourge of The Underworld isn't done with this title yet. In this era Tom DeFalco was apparently often very late with his stories. This issue would seem a result of that. A plot by DeFalco gets a scripted credited to both Peter David and Jo Duffy. Pencils by Mike Harris, inks by Vince Colletta, colors by J. Ferriter. We get rolling with The Scourge of The Underworld listening to a morning radio DJ talk about him. He's getting dressed in (a very realistic mask and) a cop uniform as he prepares to go kill Flash Thompson, The Hobgoblin. Of course, we know Flash isn't The Hobgoblin, but he doesn't. An anonymous source is quoted as saying Flash was always "an obnoxious son-of-a-gun."
Always weird when someone just hits you with a Romita like that bottom right panel. As is so often the case in this period, the titles are trying to work together, but the other ones trying to exist between issues of a story like this doesn't work too well.
Oh, ho! Ned Leeds of all people was the one talking trash in the press! This is the 2nd time we've seen Kate Cushing try to force Peter to use his personal connection to someone to get a story. Kinda gross! Peter reluctantly agrees, saying someone else will do it if he doesn't, and departs. Robbie wants to know why Ned seems to have beef with Flash, but Ned tells him it's none of his business, and also departs. Robbie worries Ned has changed a lot over the years. Meanwhile, Brian DeWolff gets off a bus! You know, The Wraith, last seen (Around here, at least) in MTU 51. That can't be good news.
Peter David's Peter Parker goes nuts for literally any woman he sees. Granted, I guess they're all drawn as flawless beauties, but it's still comical. That cop is Scourge, of course, but Peter lets his buzzing Spider Sense go, too distracted by the ordeal ahead of him. Sharon wants to know if Peter is on Flash's side or not, saying he'll need friends during this. Peter doesn't know if they are friends, of course, and is really not having a great day. Peter very nearly goes through a metal detector with his webshooters on before realizing and making a lame excuse to go to the bathroom. He stashes his webshooters in the ceiling tiles, while thinking he told "Denise Bove-with-the-accented-E" that he would keep an open mind, which… I think means they changed the lawyer's name and messed up? Who's Denise Bove? But then someone comes in the bathroom. His Spider Sense goes off again, but he attributes that to the intrusion. He thinks he's not been back in this police station since the Sin-Eater incident, and how that whole ordeal kinda soured him on cops.
Apparently Bill Mantlo took Brian (And Jean DeWolff) to a run on Iron Man, making a superhero of The Wraith. But now he's gone a little nuts.
David walking back a bit of that idea that Peter brought all the teasing in the old days on himself, but not all of it. You might expect a long conversation, and you'd get it in a post-2000 comic, but instead we jump ahead. The cop who is Scourge incapacitates a guy for his ID and leaves him in the bathroom. Then Peter comes out of his meeting with Flash and, after saying good-bye to Sharon, heads to the bathroom to get his gear. Scourge ones again sets off his Spider Sense, but seeing the dazed guy in the stall is what it takes for him to become Spider-Man and investigate. Going up into the ceiling tiles to get his stuff and leave his clothes, he continues into the air ducts, so as not to cause a scene in the police station. And then he gets to Flash's cell.
Some SWAT guys pick a bad time to roll into this part of the precinct and see our hero beating up a cop, so he has no choice but to go after them, too. He's trying not to hurt anyone, but he's making a real scene. Scourge realizes he can't kill Flash with his exit route full of fighting, so he tries something else.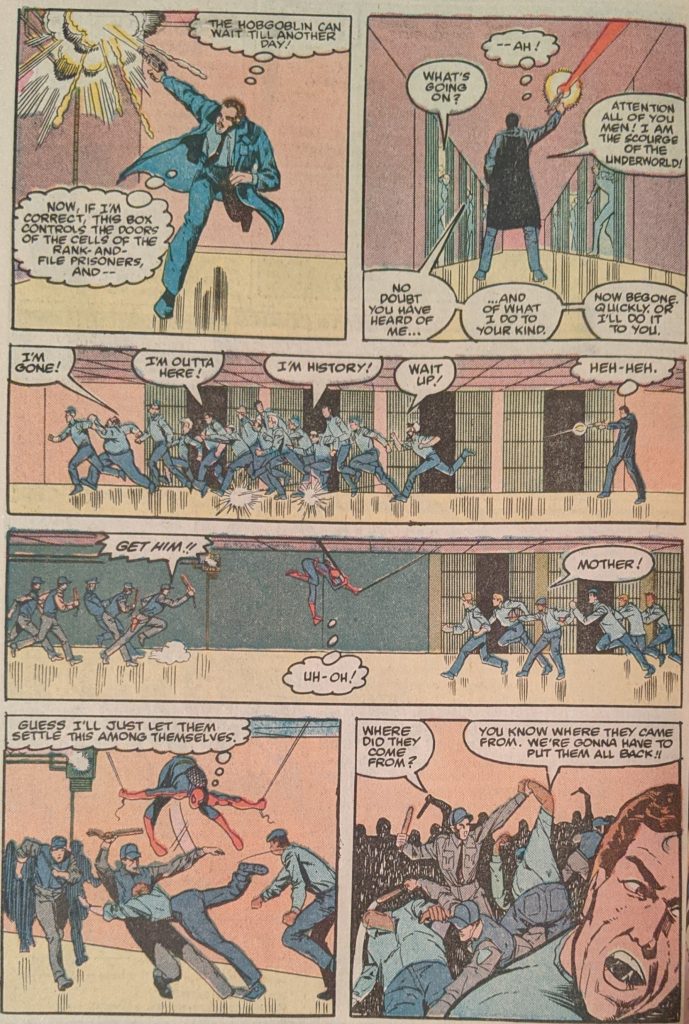 Tear gas is deployed, and both Spidey and Scourge escape in the confusion. But also, The Wraith is walking up to the back door.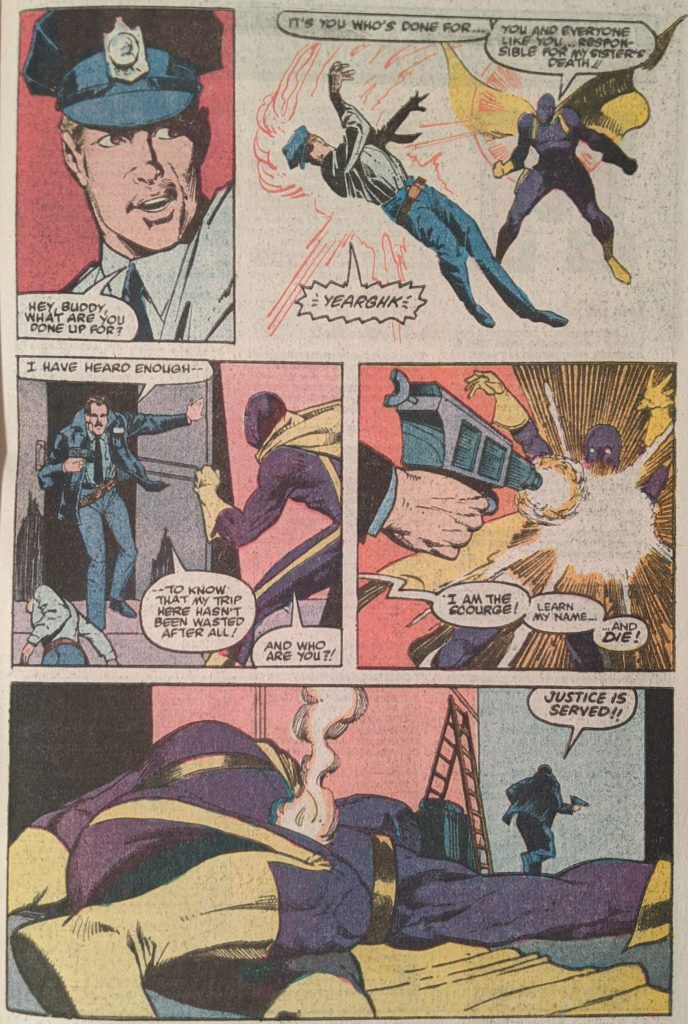 Well, that was random. Why even bring Brian into this? And to reverse him apparently being a hero, even? Strange.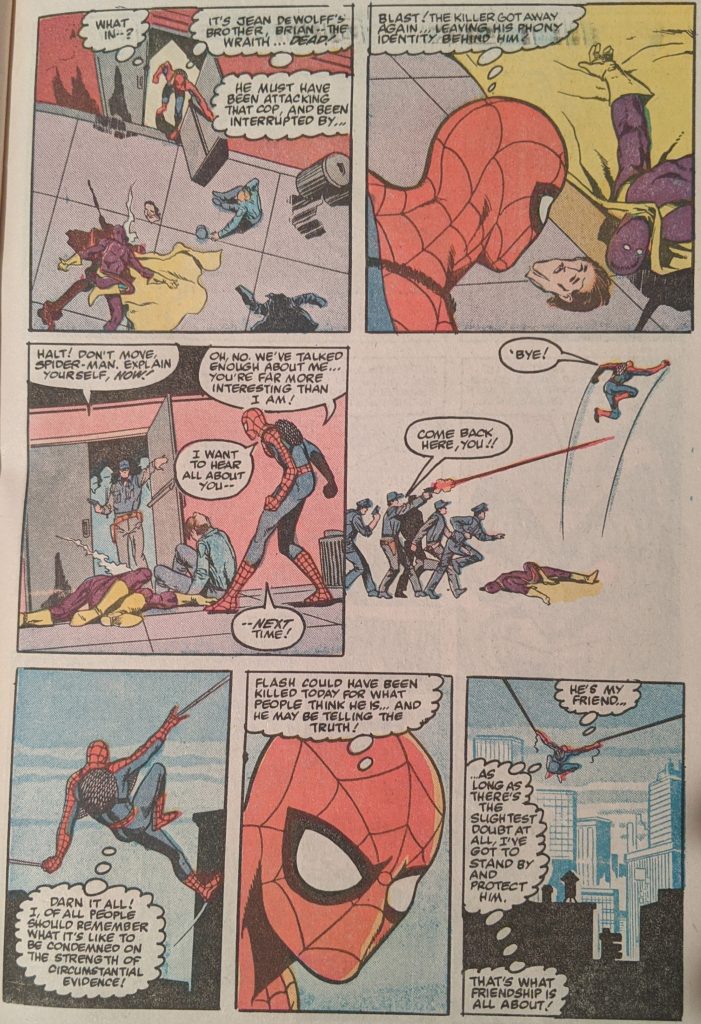 Love seeing Hobby carry his folded up glider under his arm, that's funny to me. If Hobgoblin isn't Ned, they sure want you to think so. Pretty good issue, though. Good tension to it. Funny to me how the most memorable ASMs of this block were rush jobs. You picked the wrong months to be lazy, y'all. Next time: Things get weird. Real weird.