Spidey sure has been caught in an usual amount of crossfires of late! 2 in a row! This month, David Michelinie is back after doing issues 8 & 9, and this time he'll stay awhile. He joins Mike Harris, Kyle Baker & Bob Sharen. As the issue begins, Mrs. Muggins is telling Peter having his apartment firebombed violated his lease, and he has 2 days to repair the place or he's out. The various facts and circumstances don't seem to interest her as she stomps out of the unit.
Oh my Gooooood, do something with the stupid notebook already!!! I don't even remember how long this drags out, but the first time I read it, I was only reading ASM, so now it feels even longer. Peter realizes he's only got 15 minutes to make visiting hours at Nathan's hospital room, and he doesn't want to let Aunt May down, so he changed into his Spidey togs to make better time. Meanwhile, The Black Fox tries to sneak into a 2nd story window, almost falls, and tells himself he's getting too old for this. Michelinie's weird love for this character really started early. He's sneaking into the home of Andre Boullion, his favorite fence, last seen being arrested in ASM 265, to talk about the next item he plans to steal now that Andre's lawyers had his case thrown out.
Michelinie's idea of Nathan as a jerk started early, too. MJ seems more involved in Peter's life than he is right now. Robbie says he thinks Jonah wants his old job back, but assures Peter that won't happen. Peter asks if he can have an advance on future photos to try to get out of his financial crisis, and Joe would give it to him, but the suddenly-arriving Kate Cushing will not, and she's the City Editor, so he's screwed. As he leaves, he once again thinks of that stupid notebook, wondering how he'd even go about selling it if he did try to. He worries it would be suspicious as Peter Parker and immoral as Spider-Man. Sure thing, buddy! That night, at The Carnelian Embassy, some security guards are surprised by a laughing teddy bear that promptly explodes, shooting…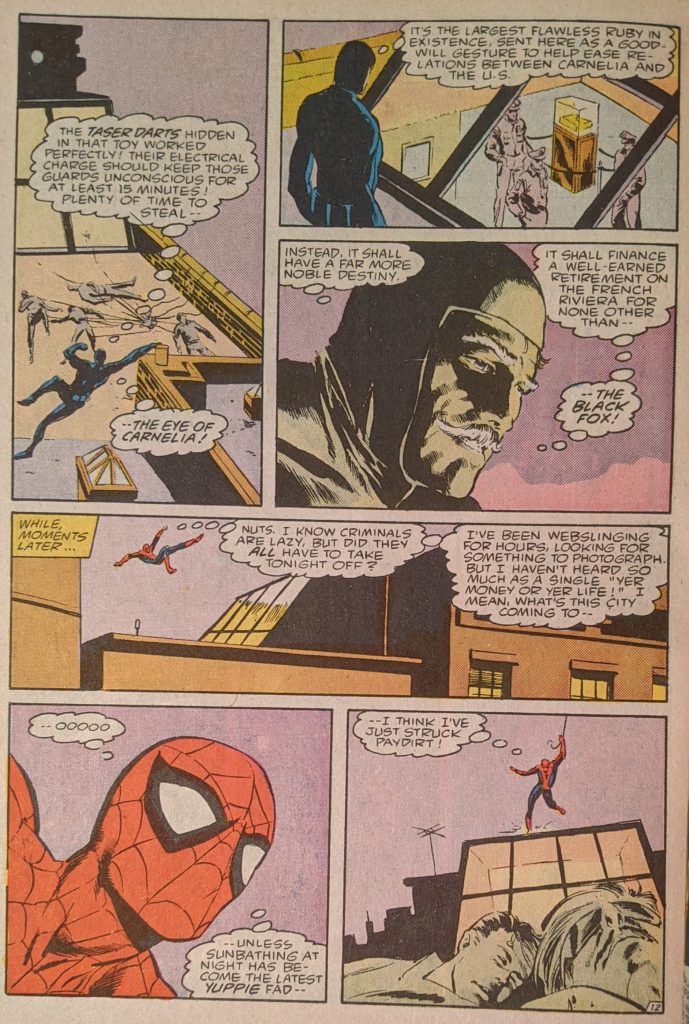 Spider-Man soon sees the culprit, and recognizes him. Realizing The Black Fox's story about a wife & kid and going straight was clearly fake, he sets up his camera to get some pictures of their rematch, but then a security guard walks in.
Our man makes the bizarre choice to start fighting the guards instead of just subduing anybody. I mean… what? Then more guys rush in, and Spidey finally realizes this is an embassy and he's maybe committing an international crime. But he's committed, and there's a lot more guns in the room now, so he's still going. So while he fights a foreign country's military, The Black Fox escapes out the skylight. Spider-Man soon follows suit, thinking about the photos he just got.
Spider-Man returns home, spends an entire page acting silently pensive about his dumb notebook, and then leaves again. He picks up his tracer signal and arrives at Andre's place.
Well, that went pretty badly! I guess we'll see how this shakes out next post, along with the introduction of a now-familiar face…