Well, this looks bad. Pretty significant team change inside, with Peter David taking over writing and Sal Buscema taking over pencils. Bob McLeod hangs on for finishes and Bob Sharen for colors. MJ and Peter are surveying the damage to his home.
"They were rank amateurs!" is maybe not the most comforting thing to focus on at the moment, sir.
Years? I should hope he remembers the circumstances of how he got all his stuff, since he got it all at the same time in ASM 163. Peter thinks maybe he could just turn the kids in, but he doesn't know any of their names. MJ can tell he's gonna spider up regardless and takes her leave. Her unease about this situation and theirs is pretty palpable here. Soon our man is swinging away from the scene of the crime, and he finds his prey with surprising ease. They're just walking down the street talking about how they're not scared of Spider-Man. They split up, and the leader, Reno, heads home to try to talk his hitman brother into taking him when he leaves.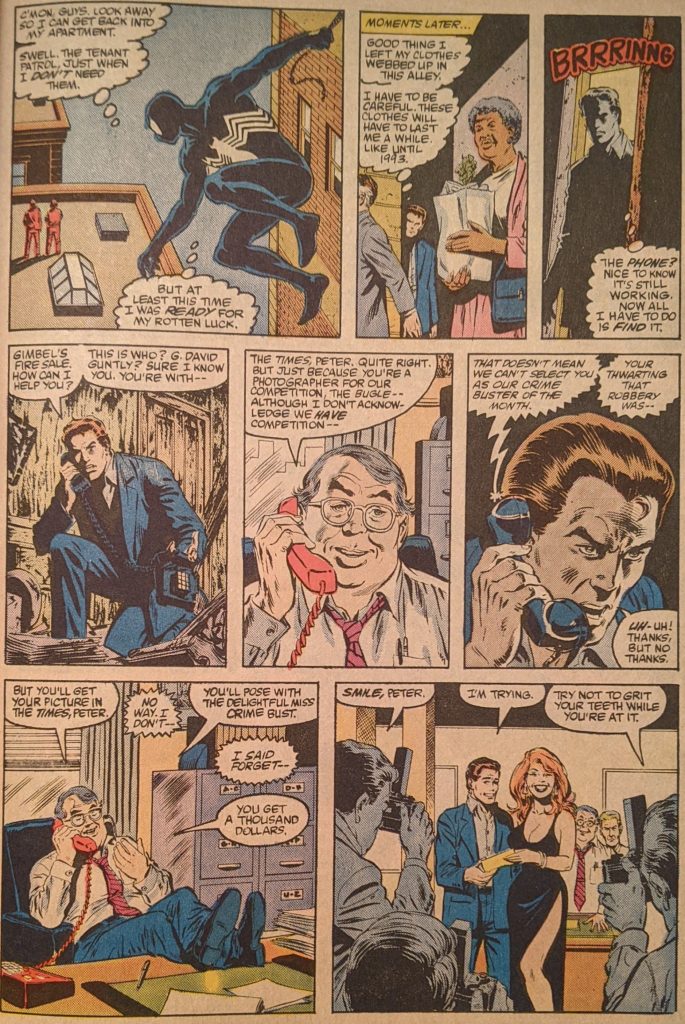 That is an extremely Peter David gag. "Miss Crime Bust?" $1000 for… for what? This is weird. Meanwhile, at The Bugle, JJJ is furious the story about Peter was buried in the back of the paper. Robbie says it's because they both have a policy against vigilantes, but JJJ cuts him off, saying he only hates Spider-Man and what Peter did was heroic. He wants to cover Peter's award from The Times on the front page and write an editorial about how New York needs more people like Peter and none like Spider-Man. Robbie's not into it and doesn't back down. JJJ gives in. But Robbie tells Kate Cushing JJJ was right, that he let his personal opinions get in the way of the story. While they talk, cops round up the 3 kids.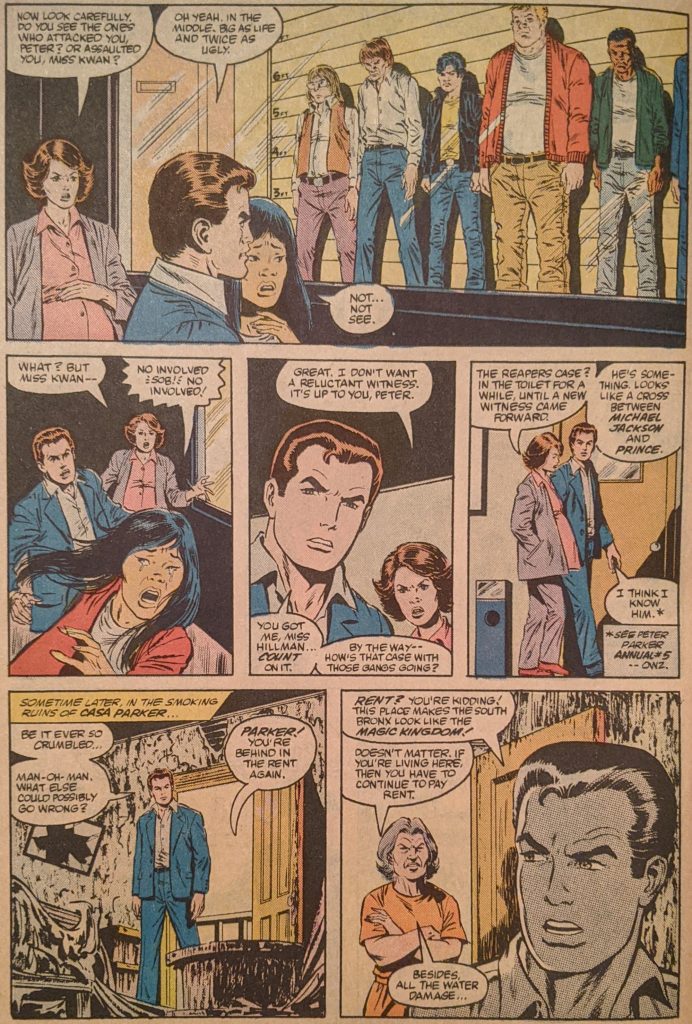 If you think that little aside about TAC Annual 5 means we're going to be seeing Ace again, well, you got it. Peter impulsively signs his $1000 over to Mrs. Muggins to get her off his back before realizing he really needed it. Meanwhile, Hector the hitman bails his brother and friends out of jail. Peter heads to The Bugle, hoping to get an advance, but finds everyone celebrating his heroism. JJJ says he has big plans for Peter as soon as Now Magazine is up and running. He leaves Peter in his office to read the editorial he's written about him, which of course, compares him to that no good Spider-Man. 
Peter's really getting pushed over the edge a lot lately. Reno hangs up the phone at his place, happy to think he's terrified Peter… and then Hector announces he's off to kill Peter. The other boys are not into this, saying they could go to prison for hiring a hitman.
Peter's Spider Sense warns him not to go out the skylight. Hector decides he'll just have to go over there and kill Peter face to face. Spider-Man emerges from the apartment once the danger sense goes silent. And misses a call from Mary Jane, who decides to go over and give him someone to talk to. But now Hector has kicked in the door and, finding the place empty, decides to wait til Peter comes back. But he's off finding the kids, who're running to stop his assassination. He assumes they're running from some ill deed, and webs them up, mouths included, to wait for whoever's chasing them. Webbed silent, they can't tell him they're trying to stop him from being murdered.
Perplexed, Spider-Man rips the web off Reno's face, and quickly learns of the impending attempt on his life. He leaves the boys webbed up and swings off. MJ arrives at the apartment, thinking Peter seems to have more problems than anyone possibly could. She enters the apartment without thinking much of the door being ajar…
Bit of an awkward wrap-up. I kind of assumed this would carry into next issue given the reading order they published. Maybe it will, somehow. As of this issue, Danny Fingroth is gone, as randomly as he arrived. And after one more fill-in by Peter David, a very familiar name will take over for awhile. Wonder what dragged Danny away so fast he could only plot half a 2-part story. I guess I'll never know.