Not Al Milgrom's finest hour, this cover. The longer you look at that Spider-Man, the wonkier it gets. Maybe he was especially overworked this month. Looks like an explosive time for our heroes this month. This month's offering is from Cary Burkett, Brian Postman, Mike Esposito & George Roussos. Brian Postman is a new name to me. Page one has the cover-pictured Dreadnought Robot stalking Spider-Man as he swings through the city. I first encountered Dreadnoughts as bad guy cannon fodder in the Marvel Super Heroes Role Playing Game as a kid. I also quickly learned I needed more than just my brother and I to play a role playing game.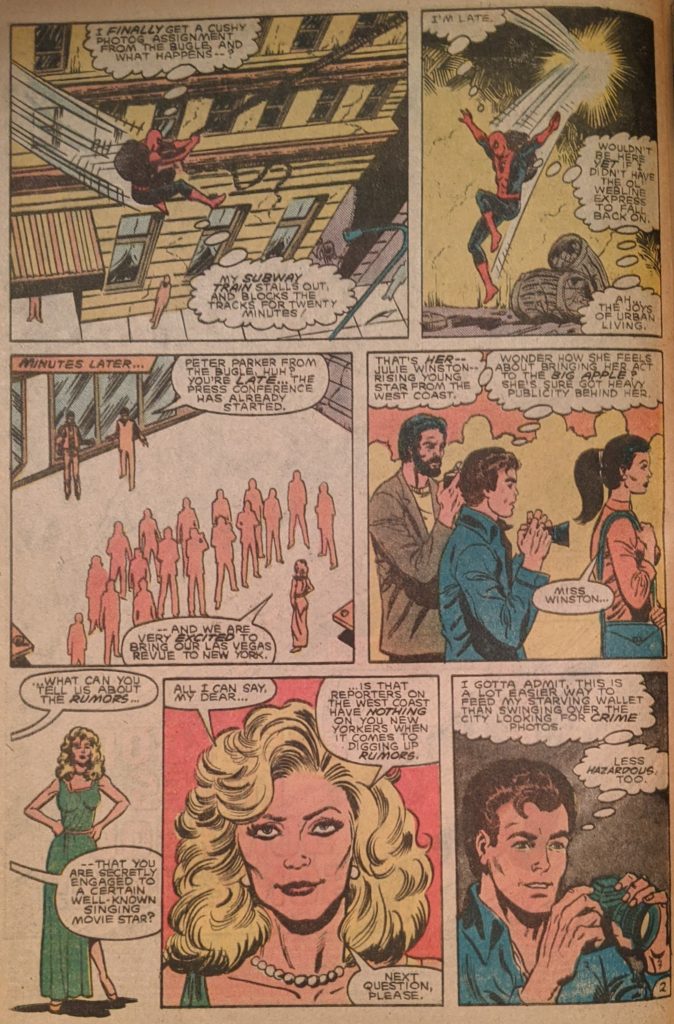 Whose face is that? Is that Debbie Harry?
As Spider-Man tries to keep Winston clear of the robot, it analyses his trajectory and launches a flurry of darts from its knuckles, cutting his webline and dropping him on the floor and Winston into its waiting arms. The robot then zaps our hapless hero, caught off guard since he doesn't know from Dreadnoughts. He barely gets a tracer on the big robot as it flees with its prize. And, as spoiled last post, Spidey doesn't have his Spider Sense right now, so he's got to rely on his old electronic tracer.
Improbably, given their appearances, these 3 guys first met in World War II, as part of The Howlin' Commandos. Various chicanery has been used to keep them vital into the present day.
Fury mentions The Dreadnoughts are Hydra tech, but they sold the plans to The Maggia, just to tie up that loophole, before saying kidnapping is more an FBI thing. Dino storms out, which is just how Nick wants it. He plans to find Julie, but he doesn't want Dino trying to get involved. Leaving Dum Dum to be his backup, Nick sets out to solve the case. He starts by bugging the office of a lawyer he knows works for The Maggia, assuming he brokered this bi-coastal operation. As he waits to hear something of value, we check back in with Peter Parker at The Daily Bugle, getting yelled at by JJJ for not getting pictures of the kidnapping. But as he leaves, his tracker pings, and soon Spider-Man is swinging off for some payback. Nick Fury has already made it to the docks thanks to info he got off the mob lawyer. As he tells Dum Dum he's moving in over the radio, Dum Dum is taken by surprise by an unseen visitor.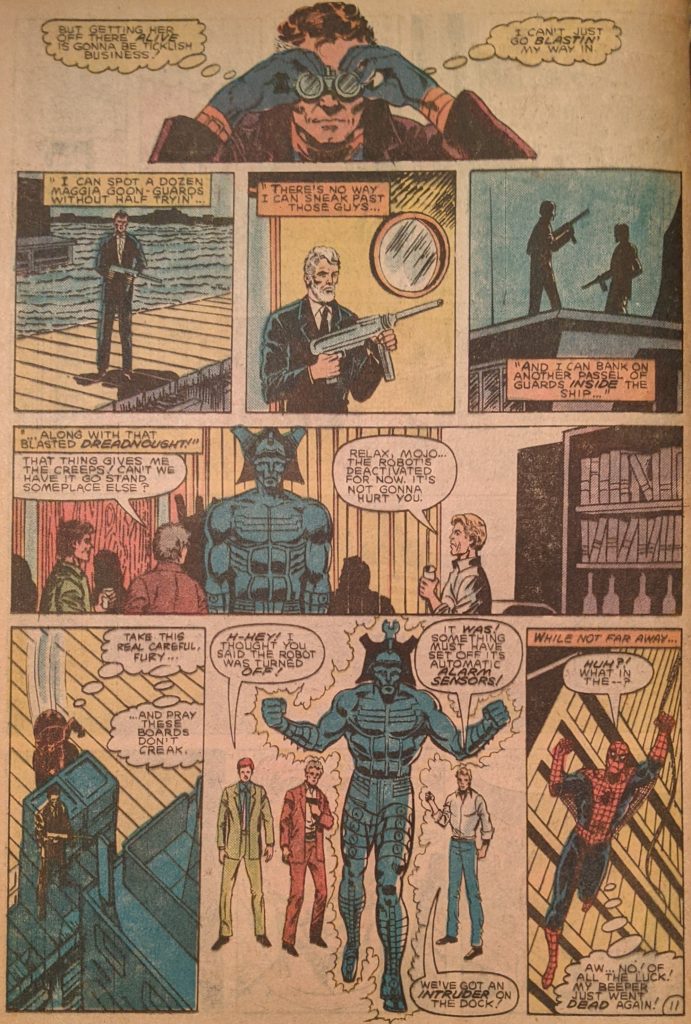 As Fury knocks out a guard on the boat, the Dreadnought comes crashing towards him. He manages to hold his own, but then the mob goons are opening fire on him.Lucky for him, that's when Spider-Man finally catches up.
But the Dreadnought elecs to go right through the crates Nick's hiding behind, and soon he's grabbed and zapped unconscious. For his part, Spider-Man heads into the boat and finds Julie, but when he approaches her, the Dreadnought comes through the wall, and then Julie hits Spider-Man over the head with a bottle from behind while he's distracted. Thus, we find out heroes tied up and at the mercy of the goons, the robot, and the woman they came to rescue.
No surprise there.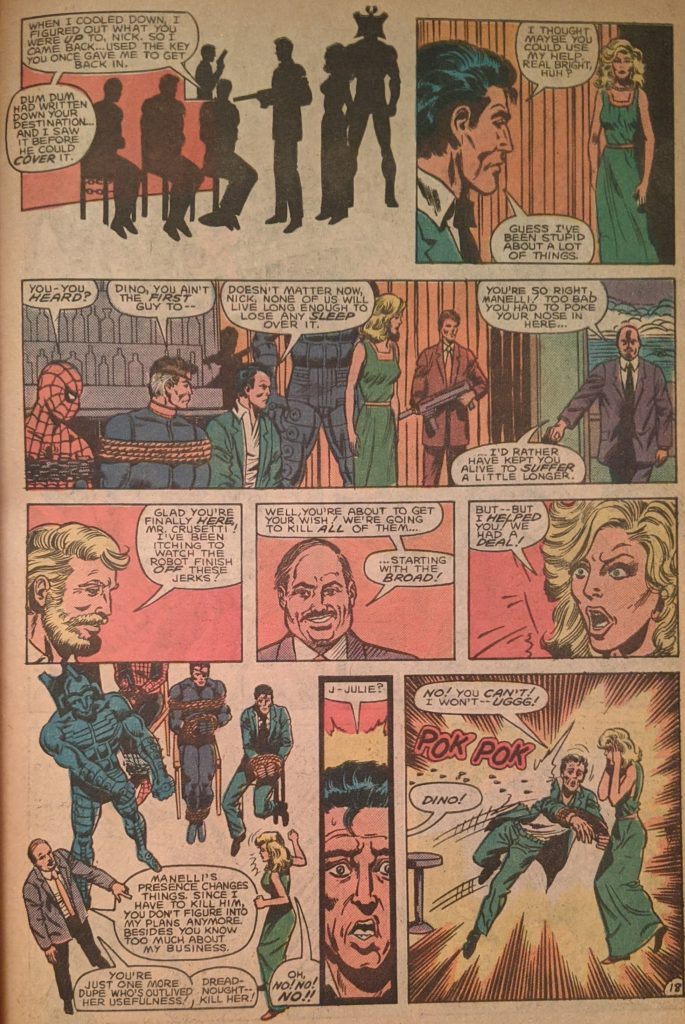 No surprise there, either.
I only ran that page because the first panel is pretty cool. Fury says SHIELD developed the collar to counter the Dreadnought. It just has to be attached to its head and it'll shut down its systems. Seems like SHIELD could've come up with a more easy plan. Anyway, as Fury takes out some goons and catches Cruisetti, Spidey gets the thing on the robot's head, saving the day.
Bit of a hurry up ending, but there you have it. And that brings MTU back to where we picked up all the way back in Block 7. 2019 feels pretty far away, at this point. With this, there are only 6 Spider-Man starring-issues of MTU left that I haven't read. But we won't roll back to those for awhile yet. Let's see how bad the next 2 issues of TAC spoil ASM before we get back to it…