The bottom corner feels like JRJR, but who knows? Maybe it's a dead-on impression. Is this a bigger or smaller stunt than MTU 137? On the one hand, MTU was absolutely ludicrous. On the other hand, Fred Hembeck is the rare cartoonist to ever make any real in-roads into superhero comics. Mainstream comics have gone through a lot of stylistic changes, and they vary from company to company, but actual cartoony art has generally not been welcome anywhere, at any time. Maybe it's the fear that it would seem like they weren't taking the material seriously (Oh no, oh no). And into that world and that attitude wanders this guy. So is just having Fred Hembeck draw this month's TAC actually a crazier stunt than Aunt May, Herald of Galactus? Maybe. For my part, I hated his work as a dumb child who worshipped Todd McFarlane and rarely found others who measured up, and I have to admit, even as an adult who loves all manner of cartoonists, still not that into it. But Hembeck has managed to get plenty of work published in a medium and genre not particularly interested in cartoonists for decades, even doing a rather infamous one-shot called Fred Hembeck Destroys The Marvel Universe that had me and my lil' elementary school buddies buzzing for sure, and that's really impressive. However, this issue begins drawn by Al Milgrom. BIll Mantlo writes, Al & Fred pencil, Jim Mooney inks Al, Jose Delbo inks Fred, and Bob Sharen colors the whole thing, which starts in the Marvel offices.
Al drawing himself as the caricature he uses in Marvel Fanfare and everyone else more realistic is fun.
In-jokes abound on every page. These guys are clearly having a blast. The business continues as Al shows the pages he's already drawn for this issue, but Bob says they'd be fine if Danny was here, but since he's not, they're going in a different direction.
And so, with all that out of the way, the story actually begins, with The Fly attacking a garbage scow, come to steal their cargo. Because he's a fly and all, get it?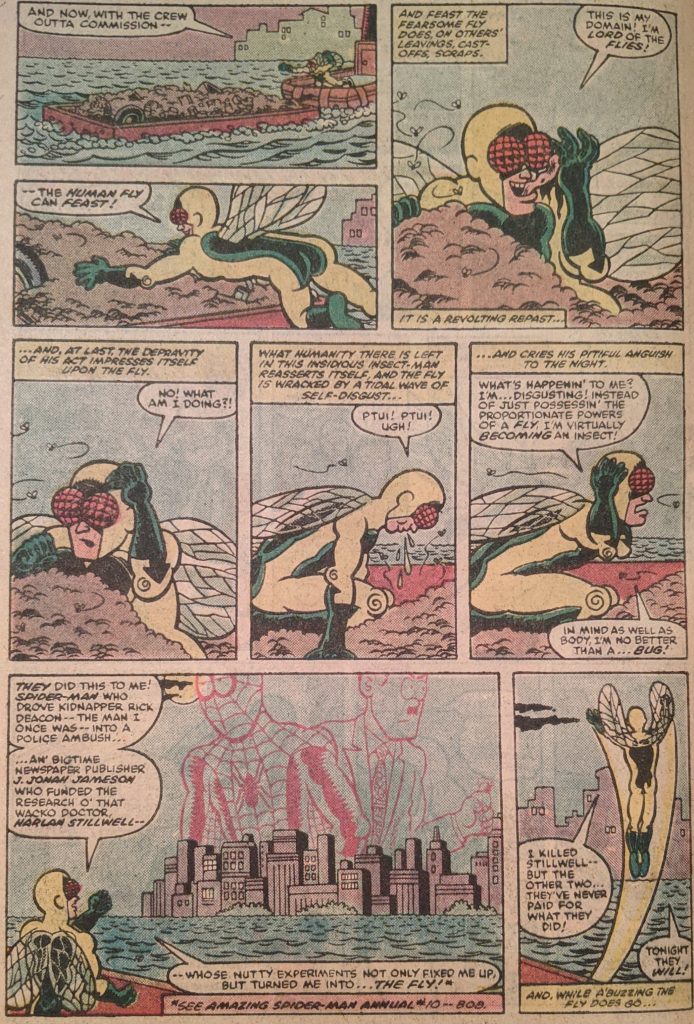 Alrighty. Bill Mantlo's comics can get so goofy it's hard to know if this was even meant to be a gag. We cut to Spider-Man and Black Cat swinging through the night. Spidey has a lot on his mind, worrying about what happened with Hobgoblin and about Black Cat in general, until she leaps in front of him in mid air…
This is what I was expecting. A totally normal issue of Spectacular, just drawn by Fred Hembeck. We jump to JJJ working late at The Daily Bugle, re-typing some of his text from way back in TAC 40 before saying he swears he's written this before and throwing it away. And not far away…
I mean, how could either of them not see trouble brewing in their relationship right this moment? But they'll have to wait to hash it out, because The Fly swoops past them and bursts into JJJ's office bent on revenge. Spidey spends a page recapping Fly's origin, again, the only gag being it's drawn by Hembeck, and then sets out to save Jonah. But Felicia insists on coming, saying they share everything now and he better get used to it. They're almost too late to save JJJ, but The Fly sees a knocked over soda can and can't help stopping to drink some of it, like a fly. JJJ notes this bizarre development as the cavalry arrives.
Spider-kittens is a good bit. How does The Fly have 360 vision when his eyes are firmly in the front of his head? Spidey gets knocked into the stairwell down to the press room, which he uses to try to get the fight away from Felicia. After some comedy business with the employees down there, the fight resumes. But as one of the press guys flees, he throws the sandwich he was eating, and The Fly is once again distracted by abandoned food. Unfortunately, the sandwich lands on JJJ, bringing him back to The Fly's attention. The villain picks him up and prepares to drop him into the running presses.
Strangely, The Fly is not wrong about Spider-Man being just like him one day, but it'll be a long time.
While this is obviously going to end badly, I've never seen the actual moment where Peter unmasks for her. But I will, in our very next post. Like I said, despite most of this technically being a normal issue of TAC, I think it might be the bigger stunt. There certainly weren't any other Marvel titles on the stands that looked like this one this month.