So, obviously this is not going to be a Spider-Man comic, but all things considered, I'd say it's within our purview. While ASM 248 didn't take advantage of the invitation to get wacky that was Assistant Editor's Month, well… MTU sure did. This printed fever dream is presented by writer Mike Carlin, penciler Greg LaRocque, inker Mike Esposito, and colorist Bob Sharen. And it starts with a literal bang, as a planet explodes and takes Galactus' current herald, Nova, with it. Not that Nova. Or that Nova, for that matter. This is Frankie Raye, one-time love interest to Johnny Storm who wound up a fiery space being for Reasons. And she's dead now. Maybe.
Tumbla V! That's where everyone on Tumblr is from. Galactus sure thinks Nova is dead, which is odd, and actually mourns her death, which is also odd. He's so weak from not munching any planets recently that he doesn't know what to do but head to Earth to try to find one of his old heralds. Earth, where, at that moment, Peter Parker is taking his beloved Aunt May to the circus. And they're not alone.
Honestly, I think I'd read a whole book of just this. But in a rather difficult to buy twist, Reed sees a newspaper headline that convinces him there's trouble in San Diego that only the Fantastic Four can take care of. What on Earth could both warrant rushing across country and still be an issue by the time they saw it in the paper? Whatever it is, Peter sees Reed getting worried, and decides maybe Spider-Man should be there, too. No one else in the FF wants to go, tho.
Ben loving the circus and refusing to leave is really great. LaRocque is doing great things with it in the art, too.
This premise is ridiculous, but hey, it's Assistant Editors' Month, we've not yet begun to get ridiculous. While I'm certainly aware of this infamous comic, this is my first time actually reading it. The various heroes get to The FF's home and take off, Ben complaining the entire way… and as soon as they leave, Galactus appears, looking for Reed. His time is running out, and as he sense's Reed's unique power signature getting fainter as he get further away, he senses a similar one, a powerful one, not too far away. That powerful individual is currently having a great time at the circus with Aunt May and Mary Jane. And May is having a wonderful time spending time with a child for the first time in a long time. But then Galactus has to rip the roof off the place and ruin everyone's good time.
May standing up to Galactus is A+ stuff.
This is legitimately hilarious.
This may have just become my favorite comic book! Oh, man. May sets out in search of more Twinkles, finding and leaving Franklin with Mary Jane, who is shocked, to say the least. May flies off, thinking that she's been made perfect. "No more arthritis. No more Geritol. No more bingo." But she notes that, despite all that, she still feels strangely bad. Back a the circus, Galactus is marveling at how much Twinkles seem to nourish him. "Why, each serving contains my minimum daily requirem–" But he is interrupted by the return of Aunt May with more Twinkles. I cannot stress enough how much I am enjoying this comic.
Oh man. We are then treated to a one-panel montage of May flying around the world, collecting literally all the Twinkles on Earth. She piles them up around Galactus, who absorbs them all, regaining some of his usual power. Aunt May gets the incredible line "You have extracted the energies of all the Twinkles on Earth" before Galactus tells her the time has come for her to take up the more traditional duties of his herald.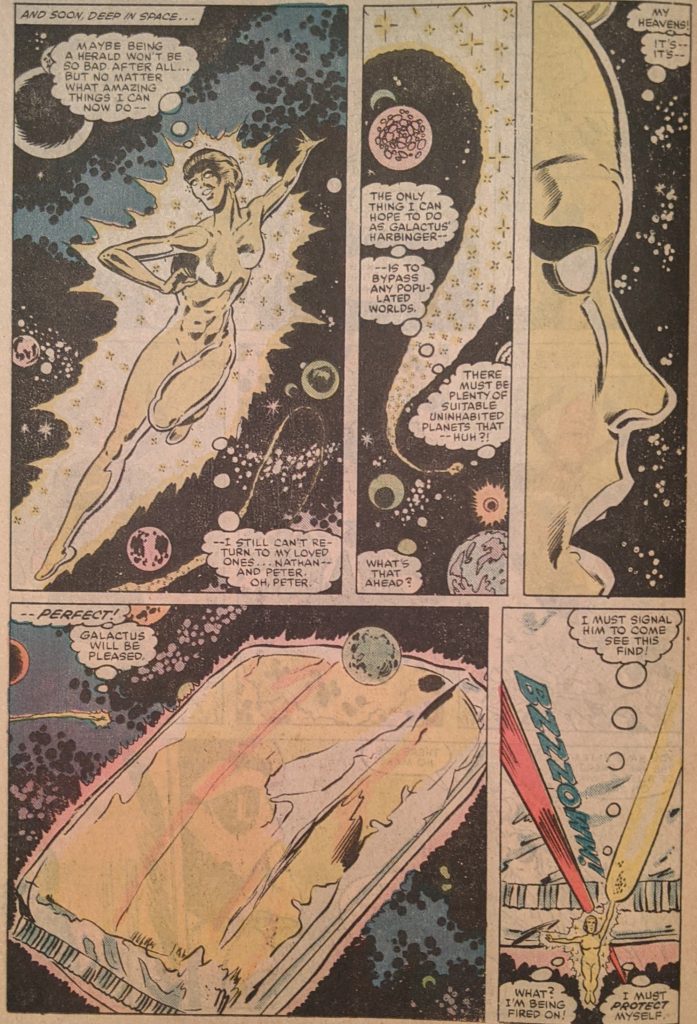 If this book didn't win awards, there's no justice.
May suggests Galactus make the Space Dough Boy his new herald. He'd never have to consume a planet again. Space Dough Boy is honored by the suggestion, and Galactus agrees. Aunt MAy has solved the biggest problem in the Marvel Universe! Galactus tells her to keep and enjoy her powers as a reward for her service, and she heads back to Earth, hoping everyone can adjust to the new May, including her.
Well, they got us there, they didn't say it wasn't a dream. What a fun issue. What a ludicrous, fun time. Assistant Editor Bob DeNatale says in the letters that he's always wanted to see a villain truly defeated by Hostess products ever since the infamous ads of that nature in the 70s, and he's finally had his dream fulfilled. And now I know why Stan Lee saw this comic to be able to write in about it. Someone must've told him he appeared in it. What a fun diversion. Will Spectacular's Assistant Editors' Month issue prove as funny? Probably not, but we'll see.