Wonder Man! Not the most famous Avenger, but like any character, he has his diehard fans. His history outside of the stories is maybe more interesting than inside them. Created to be an Avengers villain-turned-hero in the 60s, DC was not happy to see a Marvel character with "wonder" in the name, and Stan Lee agreed to get rid of him, so he died. But years later, when DC introduced Power Girl after Marvel already had Luke Cage, Power Man, all bets were off, and Simon Williams, the ionic energy powered hero known as Wonder Man, came back from the dead in short order and went on to a long career as an Avenger (and a Hollywood actor, which is a pretty unusual day job for a superhero). And apparently "The Mauler" has already warned him he can't be stopped. It seems like an art team has firmed up for MTU (Until Frenz jumps to ASM in 2 months), but the writer is different every month. This month, David Michelinie steps in. To start things off, Spider-Man is being watched by someone on monitors as he swings around, the watchers say to activate the decoys in the area. Thus, our hero suddenly sees a robbery in progress and, setting up his camera, leaps into action.
Spidey makes short work of the goons and leaves them for the cops, but then the mysterious people who were watching him, led, we're told, by one Daniel Steyr, descend in a hovercraft and cut a section out of a girder Spider-Man webbed, taking the sample of webbing and flying off. That's can't be good. Meanwhile, Spidey himself has returned home, and may be coming down with a cold.
Well, ok. Coulda just asked! Steyr's chosen agents turn out to be Wonder Man, currently only a reserve Avenger and apparently working for him, and The Mauler, apparently an Iron Man villain. Obviously, I don't know much about either in this time person. Speaking of Wonder Man, his job with Steyr's company is apparently letting them test weapons on him, like a rocket that's just been fired.
Impervious people being used to test dangerous thing is a genius idea. But why would he wear what passes for his superhero costume in this era if he knew it would get blown up? Seems wasteful! Simon has had a lot of conflicting feelings about being an Avenger over the years. Steyr appears and asks Simon if he'd like to earn a thousand dollar bonus. When he agrees and leaves to get changed, he asks The Mauler if he still thinks he can take Wonder Man after seeing him walk off that missile, and he says yes. Two days later, Peter Parker is at The Daily Bugle trying to scrounge up work when JJJ is presented an ad for Steyr having a demonstration of a new material "even stronger than Spider-Man's webbing." Our hero thinks he needs to see what that's about, so…
The Spider-Mans in this are weirdly a lot less Ditko. Spidey webs Wonder Man's hands to prove his webbing is the real deal, and then Steyr calls in The Mauler, who immediately buries Wonder Man in a pile of rubble that used to be a wall. Spidey dives in, but having no experience with his foe, he's caught off guard and knocked out. Mauler picks him up and flies away just as Wonder Man gets free of the rubble and the webbing. Simon quickly puts together that this can't be a coincidence, and that he's been duped.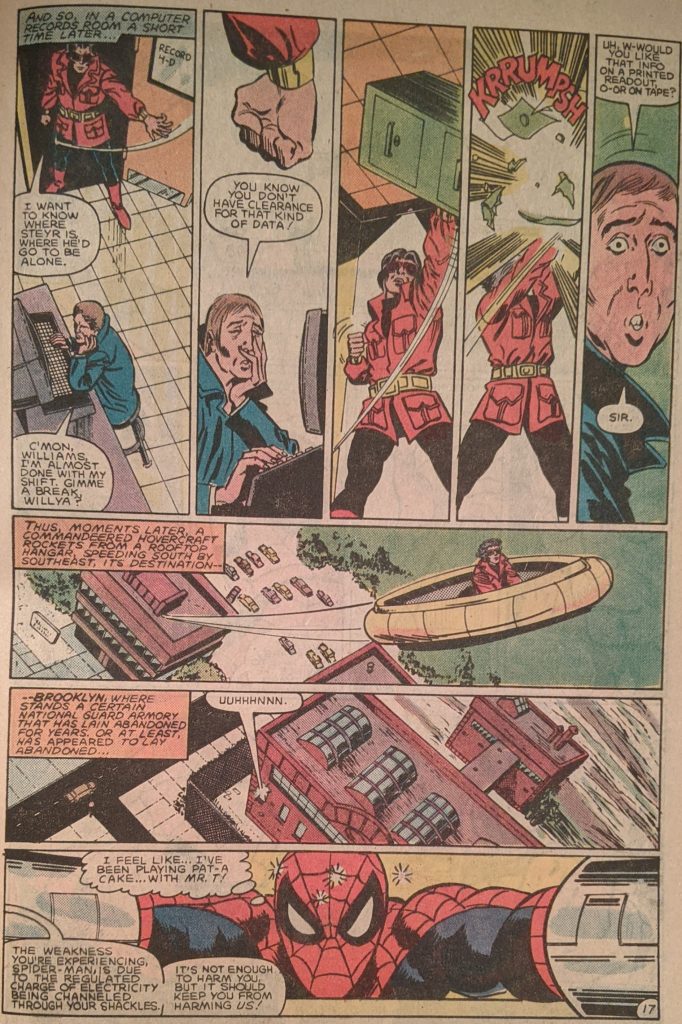 Pat-a-cake?
Again: Could have just asked! One of the first things Peter tried to do was sell his web formula, and he still needs money, he probably could've been talked into something. Instead, fake crimes and kidnapping it is. Don't worry about Spider-Man, tho, Wonder Man samesh in through the wall and sets him free before anyone has time to react. Spidey tells Wonder Man to deal with Mauler while he chases the fleeing Steyr. Steyr runs into a corridor that suddenly sprouts all kinds of guns used for testing and catches our man in a pretty intense crossfire. But as Steyr tries to make his escape, some cops rush in.
Neither of our heroes seems to broken up about a guy getting ventilated here, but that's weirdly common in MTU. This issue felt like it ran out of time. All that setup and no real fight with The Mauler, even. The Steyr guy's "doing the wrong things for the right reasons" but didn't get the chance to make a lot of sense. But, I guess that's MTU for you. Hard to do more nuanced stuff when there's a different co-star every issue. This month features a letter from future pro Evan Dorkin, who wants to see more unusual and less big name characters in this title. Boy, is he going to get his wish next issue…