Here we have a pretty famous issue. 2 stories this month, and JRJR and Terry Austin representing both on the cover is pretty slick. $6, but not bagged upside down. First we have the inevitably named "And He Strikes Like Thunderball" by Stern, Romita, Jr. Brett Breeding & Bob Sharen. And, uh, he does strike like thunderball, right on page one, hurling his signature ball & chain.
Spidey wanders back into the demolished shop and calls 911 for ambulances and "every cop on Long Island" while Thunderball walks off recapping who he is and what his deal is. He has realized The Wrecker's crowbar is acting as a repository for The Wrecking Crew's shared power (Since it was enchanted well before the others), and that he made a mistake trying to supervillain on his own while the other 3 members of the gang are in jail without it. He thinks to himself that, with the crowbar, he's a one-man Wrecking Crew.
Every time Brett Breeding shows up on the blog, the comics look top notch, and this one is no different. Spidey attempts to take down TB by whacking him repeatedly with the crowbar while he's blinded, but it has little effect. Their battle so spills onto a congested freeway.
You can almost feel the action in that middle tier. As the cops show up and fail to accomplish anything, Spidey comes up with a plan, webbing the crowbar to a cable from the transformers and throwing it to his foe, in the hope of zapping Thunderball into submission. Thunderball is even impressed by the idea, but not afraid as he throws his own weapon back in return.
A big Skraboom!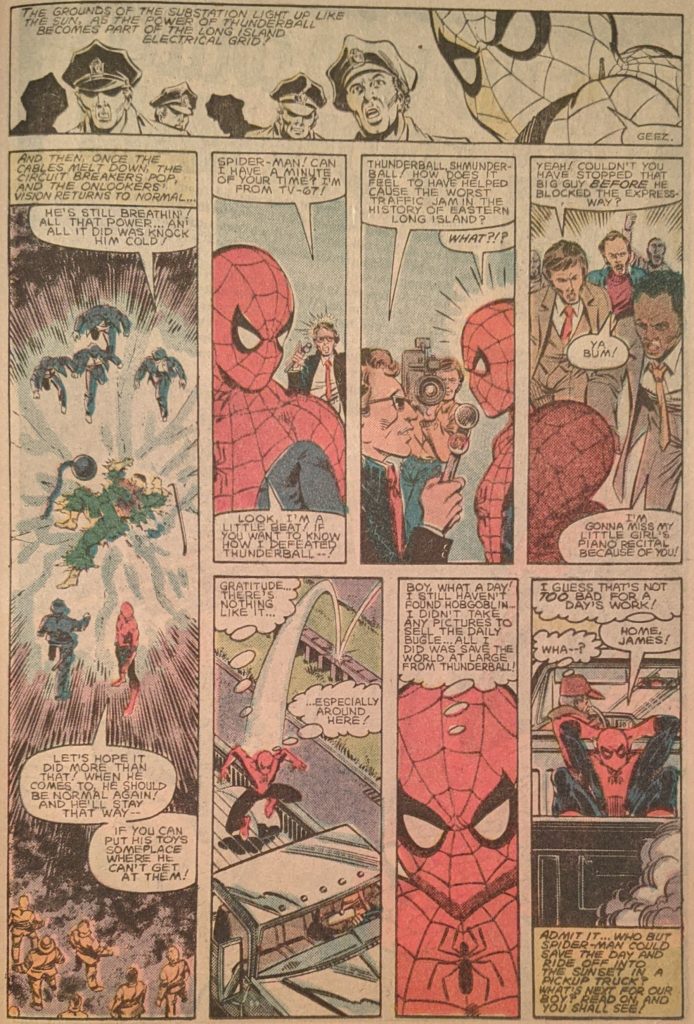 Neat and tidy. TB will continue on to plenty more villainous exploits with his usual gang from here. In recent years, Ta-Nihesi Coates tried to reform Thunderball in the pages of Black Panther, but no one else at Marvel seemed interested. But wait, there's the 2nd story, which is the reason this issue is so fondly remembered. It's Stern, Ron Frenz, Terry Austin & Christie Scheele bringing you
Frenz' Ditko impression is in full effect. Look how inconsistent the webbing is on the suit. Spider-Man tells tim he saw the article in the Bugle and had to come meeting his biggest fan. Tim begins to proudly show off his Spider-Man collection, which includes newspaper clippings going back to his earliest appearances, as well as kinescopes from his TV appearances. When Tim asks where his powers came from, Spidey makes the surprising choice to tell him the truth, leaving out the details of his identity.
Again, leaving out identifying details, Spidey relates the story of the burglar, and begins to get sad talking about it. Tim snaps him out of it by showing off more of his collection. Tim shows him some bullets he personally dug out of a bank wall where Spider-Man stopped a robbery, and a scrapbook of retractions JJJ has had to post about him over the years. They have a great time, but Spidey eventually says he should be going. As he does, tho, Tim asks if he'll tell him who he really is.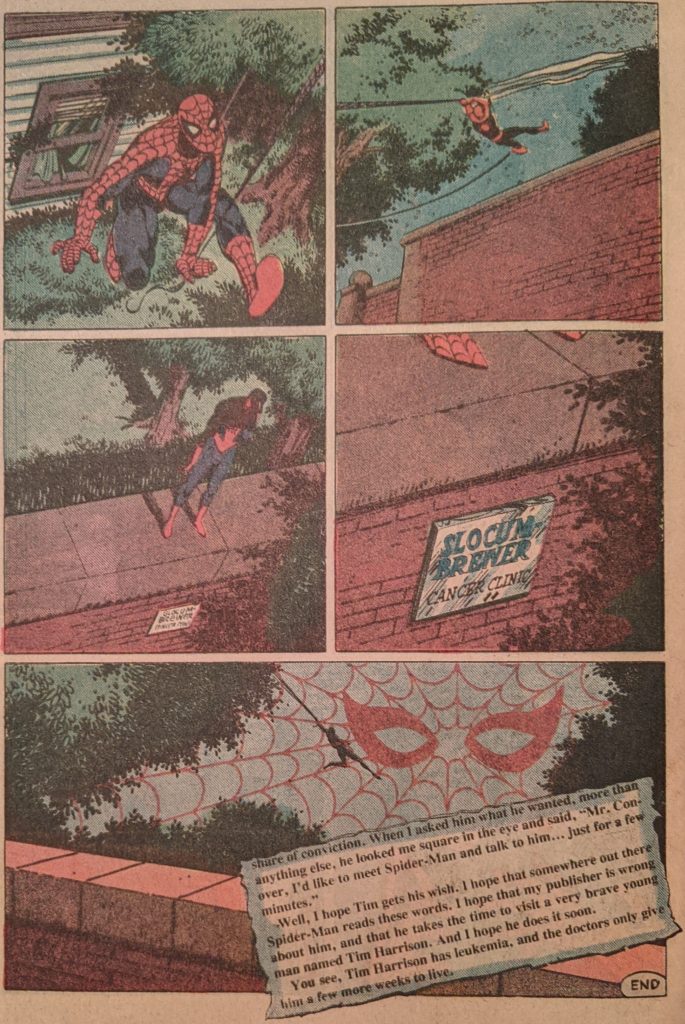 Comics have been jamming re-tellings of Spider-Man's origin into stories for decades, but no one ever did it as memorably as this. It's a shame John, Jr. didn't get to draw it, but it's still one that's stuck with people ever since it came out. This issue is part of a somewhat infamous stunt called Assistant Editor's Month. The bosses were allegedly away at a conference or something, and the assistants allegedly commissioned unusual fare while no one could stop them. Obviously, probably fake, but it led to some very weird comics. Not this one, tho. Assistant Editor Bob DeNatale says in the letters he wanted some serious drama to balance out the shenanigans going on in the other titles. What kind of shenanigans? Oh, we'll see soon. First we gotta see the MTU and TAC we skipped for this 2-parter.